Hello all! I hope you are all enjoying the awesome blog tour that's been going on for the Ontario Teen Book Fest, dosage which is going on THIS Saturday! Don't forget to head on down because its going to be amazing. And if you can't make it to the event, case stick around, learn a little about the amazing Kristin Halbrook, and enter our giveaway!
But first, some reminders of the details of this epic event.
When:
Saturday, March 12th, 2016
9:30 am to 5 pm
Where:
Colony High School Branch Library
3850 E. Riverside Drive
Ontario, CA 91761
This event is a completely free and un-ticketed event! Priority seating WILL be given to teens, but come one, come all! There will also be giveaways and raffles at the Fest, also free! Also, keep scrolling to find a giveaway held by us bloggers!
You can visit the website, to see the full schedule of the day by visiting the official Ontario Teen Book Fest website.
Books WILL be available for purchase at the event, available from Once Upon a Time Bookstore :) They are an amazing company so definitely bring your books from home, but try and support Once Upon a Time by purchasing a book!
Its going to be an incredible event and I'm honestly counting down the days! I hope you can come along for the ride, in the days leading up to the event.  Check out the full blog tour here!
Official Blog Tour Schedule
February 22nd – Spotlight on Andrew Smith – What A Nerd Girl Says
February 23rd – Spotlight on Alexandra Monir – The Consummate Reader
February 24th – Spotlight on April Tucholke – Adventures of a Book Junkie
February 25th – Spotlight on Alexis Bass – A Traveling Book
February 26th – Spotlight on Marissa Meyer – Read Now Sleep Later
February 27th – Spotlight on Sara Elizabeth Santana – Movies, Shows and Books
February 28th – Spotlight on Robin Reul – Recently Acquired Obsessions
February 29th – Spotlight on Katherine Kottaras – iFandoms Collide
March 1st – Spotlight on Stephanie Diaz – My Fangirl Chronicles
March 2nd – Spotlight on Virginia Boecker – The Reader's Antidote
March 3rd – Spotlight on Mary McCoy – Book You Very Much
March 4th – Spotlight on Brad Gottfred – Seeking Bazinga
March 5th – Spotlight on Michelle Levy – My Fangirl Chronicles
March 6th – Spotlight on Elana K Arnold – Read Now Sleep Later
March 7th – Spotlight on Kristin Halbrook – What A Nerd Girl Says
March 8th – Spotlight on Jessica Brody – The Windy Pages
March 9th – Spotlight on Nicole Maggi – Nite Lite Book Reviews
March 10th – Spotlight on Jay Asher – A Bookish Escape
*****
Today's Spotlight Features:
Kristin Halbrook
Taken from her website: When I was little, I wanted to be a writer, the President of the USA or the first female NFL quarterback. Despite being able to throw a wicked spiral, I didn't really grow to the size needed for the NFL. Then, as I got older and studied more, I came to realize there were better ways to effect positive change than becoming president. The first one, however, stuck. Even when I was pursuing other dreams, I always took time to write here and there.
When I'm not writing or reading (which is what I do all day, in all of my work), I'm spending time with three pixies, my Mad Scot soulmate, and one grumpy cocker spaniel; traveling across oceans and time; cooking and baking up a storm; and watching waves crash and suns set on the beach. I currently live, love and explore in The Emerald City, though I occasionally make wispy, dream-like plans to move to Paris or a Scottish castle one day (if just temporarily).
Her Website / Her Facebook / Her GoodReads / Her Twitter / Her Instagram
Her Books
Kristin is the author of a couple amazing contemporary YA novels, but her most recent release, Every Last Promise, will be featured today!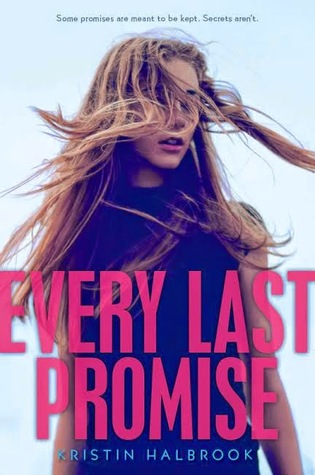 Kayla saw something at the party that she wasn't supposed to. But she hasn't told anyone. No one knows the real story about what happened that night—about why Kayla was driving the car that ran into a ditch after the party, about what she saw in the hours leading up to the accident, and about the promise she made to her friend Bean before she left for the summer.
Now Kayla's coming home for her senior year. If Kayla keeps quiet, she might be able to get her old life back. If she tells the truth, she risks losing everything—and everyone—she ever cared about.
Find His Books at Your Local Bookstore of the Following Links:
Amazon / Barnes and Noble / iBooks / Book Depository
*****
The Interview
*****
Nerd Girl: Give us a short pitch of your most recent novel
Kristin: At a party, Kayla Martin saw something terrible she wasn't supposed to see. Now, she needs to decide to either stay silent, and be able to remain in the home she loves, or speak up and lose everything she has.
Nerd Girl: What is something you've learned about writing since becoming a published author?
Kristin: Everything takes times. A lot of time. Writing a novel, editing a novel, the whole publishing process. But that time isn't a bad thing; novels become better when they've had time to rest, when the author has had time to rest. Coming back to a project after a period away brings freshness and clarity that can be lost when focus in incessant. The book will wait while you live your life!
Nerd Girl: What is the best writing advice you've ever received?
Kristin: "Don't tell me the moon is shining; show me the glint of light on broken glass." That's a (summarized) quote by Anton Chekhov. I didn't receive it personally, of course, but it's been a guide to me throughout my entire career as a writer. I think the quote holds a double punch; it's phrased beautifully, showing the power of each word in a sentence, and it's giving great show-don't-tell advice.
Nerd Girl: What is one of your favorite memories from when you were a teenager?
Kristin: Sitting in a garage at night with friends, listening to someone strumming the guitar against the sound of rain on the rooftop, arguing about nothing in particular or cuddling with partners, or eating and drinking. Or all of the above.
Nerd Girl: Your book Every Last Promise tackles the very serious and very relevant issue of sexual assault and speaking up about it. Why did you write about this?
Kristin: All of my fiction tackles topics that are personally important to me, whether because I or someone dear to me experienced them, or because they are (unfortunately, too) prominent in the various segments of our national and/or world culture. A large number of small town sexual assaults were in the headlines as I was writing and revising Every Last Promise, and I started to wonder about the people in those towns: what they were thinking and feeling, whether they supported the victim, how hard it must have been for the victim to stand up against their very small, local culture. That last question, especially, was one I wanted to explore. Victims are silent for a variety of reasons, and understanding those reasons makes us all better advocates for those who need us.
Nerd Girl: Who have been some of your biggest influences?
Kristin: Melina Marchetta, Stephanie Kuehnert, and Meg Rosoff were three of the YA authors I read early in my writing career who taught me that yes, I can write YA. I have a story to tell. I can tell this contemporary, realistic tale with literary language and it will find a home. But all the influences that led up to me becoming a writer and writing the way I do would fill a book on their own! I've been a ready pretty much forever, and every book influenced me, somehow.
Nerd Girl: Who are some of your favorite authors to read?
Kristin: Again, there are so many! I'm currently on an adult women's upmarket fiction kick, so I'm really into Paula Hawkins and Ruth Ware and Gillian Flynn. But I also love coming across a gorgeous YA contemporary, or a sweeping YA fantasy, especially if it's based in an ethnically diverse setting. I recently enjoyed The Smell of Other People's Houses and I'm really looking forward to reading The Star-Touched Queen, out next month.
Nerd Girl: Have you ever had a fangirl moment with an author or celebrity?
Kristin: Not really, but I recently dreamed that James McAvoy bought all my daughters' Girl Scout cookies and I was fangirling on him pretty hard, there. Both for just being James McAvoy, but also for taking all those boxes of cookies off my hands.
Nerd Girl: Who is your fictional crush?
Kristin: Lately, I've been devouring books about terrible people, hee, so haven't crushed on anyone in a long time, but I've always loved Gilbert Blythe. Oh, and Jonah from Jellicoe Road.
Nerd Girl: Thank you so much for taking the time to answer my questions!
Kristin: Thanks so much for having me. I'm really looking forward to the Ontario Teen Book Fest; it will be a blast!
*****
The Giveaway!
*****
One winner will receive an official Ontario Teen Book Fest poster signed by ALL attending authors!
*****