Happy Valentine's Day everyone!
I know that everyone has different opinions and feelings about the holiday alllll about love. I know I hated it when I was single, pretended I was super above it in my old relationship because that's what my ex thought and now, I just sort of use it as an excuse to have a fun date with my husband. This V-Day is our first one celebrating as a married couple and I'm excited to spend the day with him.
Regardless of what your feelings are about this holiday, I think we can all agree that we LOVE to celebrate the love and relationships between our favorite fictional characters. We love to ship them together, we love to watch as they go through ups and downs, in the hopes that, in the end, love will triumph and we'll get to see them live happily ever after. And yes, I do love to see the steamy scenes between my favorite couples because the build up was there the whole time and the wait was so worth it.
So today I'm sharing some of my FAVORITE fictional couples. Make sure you share your own in the comments!
Clary Fairchild and Jace Herondale from the Mortal Instruments
"There is no pretending," Jace said with absolute clarity. "I love you, and I will love you until I die and if there's a life after that, I'll love you then."
It's funny because I don't particularly love Clary as a character – she sort of blends in against the shine of the secondary characters – but Jace is my one true fictional love of all time and so, because of that, and because he loves Clary so damn much, I absolutely love them. I love their story, and yes, for a bit there, I absolutely thought they were brother and sister and I absolutely shipped it but it was 2010 and can we just move on from that? LOL. They just have this sort of…meant to be quality to them and I love it.
Tessa Gray and Will Herondale from The Infernal Devices
"You are the first dream, the only dream I ever was unable to stop myself from dreaming. You are the first dream of my soul, and from that dream I hope will come all other dreams, a lifetime's worth."
I have a thing for them Herondale boys, let's be real. But Tessa and Will win out for me over Tessa and Jem simply because I think they have that same sort of meant to be quality that Clary and Jace have – despite everything, they're just meant to be together and have their beautiful life and their children and because Will hides his love from people for so long, because he thinks he's cursed, and when he finally can show it, he shows it so much for Tessa and it's so utterly swoonworthy.
Kaz Brekker and Inej Ghafa from Six of Crows
"I would come for you," he said, and when he saw the wary look she shot him, she said it again. "I would come for you. And if I couldn't walk, I'd crawl to you, and no matter how broken we were, we'd fight our way out together—knives drawn, pistol blazing. Because that's what we do. We never stop fighting."
Kaz is one of my favorite fictional characters basically ever, as shown by the fact that I named my female cat after him. But I love him because he fits into that trope of bad boys with a heart of gold. He's ruthless and violent and a hard criminal who has such a soft heart underneath that he really only shows for Inej and I CAN'T HANDLE IT. We got to see a very brief moment of it in the show and I swear, I nearly died from the swoon.
Cress and Captain Thorne from the Lunar Chronicles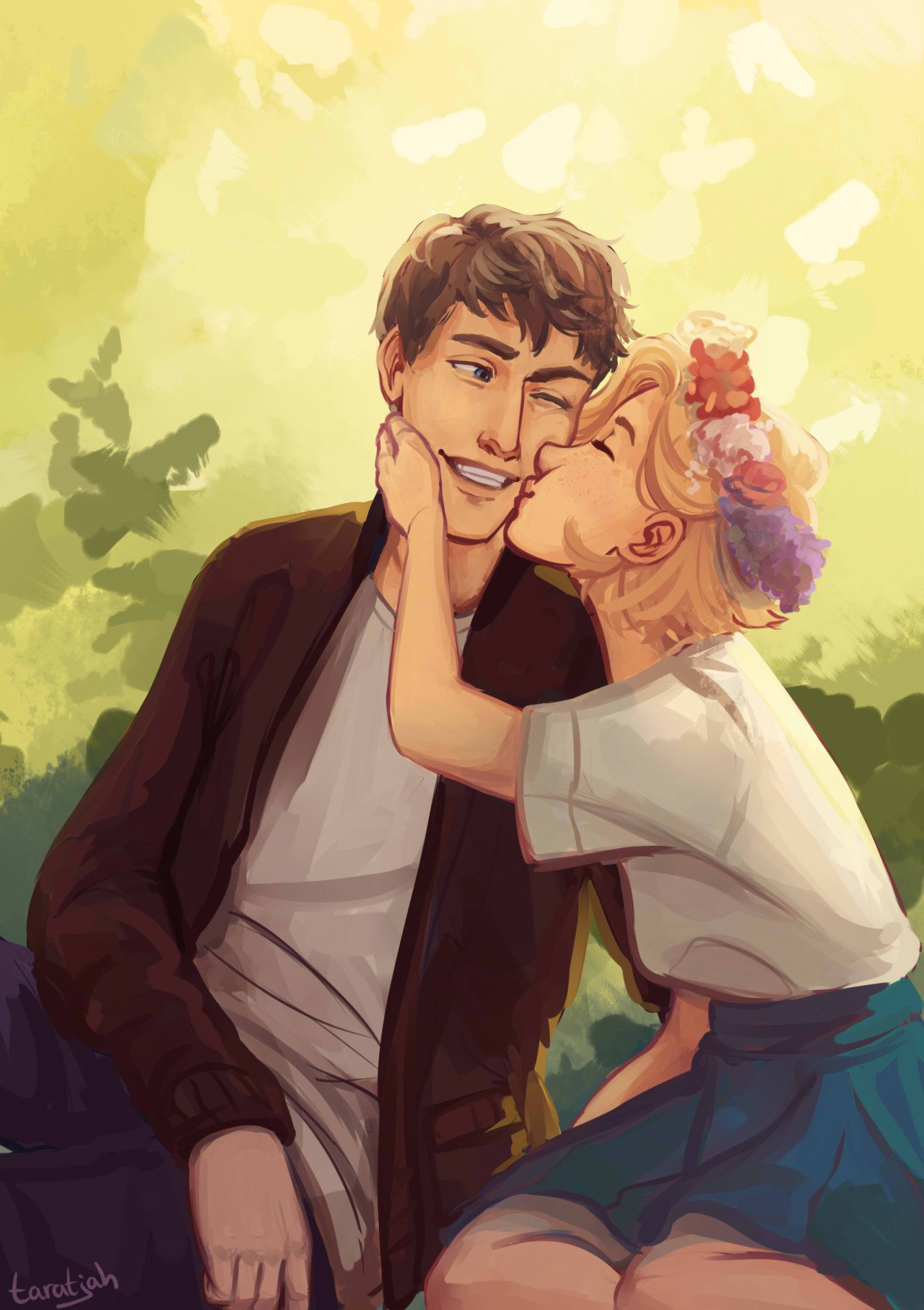 "Captain?"
"Cress."
She couldn't not say it, although she realized he was right.It was sort of scary. Much scarier than it had been the first time she'd told him, out in the desert. It was different now. It was real. "I'm in love with you."
He chuckled. "I should hope so, after all that." He leaned forward and pressed a kiss against her temple. "And I love you too."
Maybe it's because Cress and Thorne are based off of Rapunzel and Flynn and I love those two so much but I just absolutely love them. I love that Thorne is supposed to be this swashbuckler – albeit in the future with an airship – that's good with the ladies and Cress is this awkward girl who grew up in a satellite all alone but somehow they fit and they work and they take care of each other, care for one another and are so protective of each other. They are easily my favorite couple from this series.
Leia Organa and Han Solo from Star Wars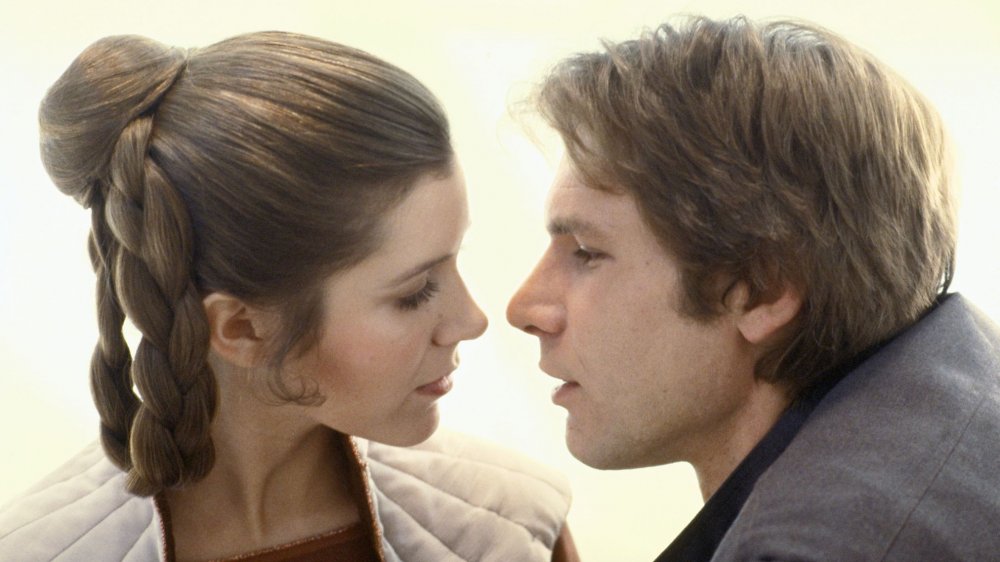 "I love you."
"I know."
My original OTP. I will never stop shipping the two of them. Never, ever, ever. I know their relationship is messy and I know that we learn in future stories, like the sequel trilogy, that it just wasn't really meant to be in the long run but I still love them for that. I love their flaws. I love that they butt heads and don't always get along and that neither of them are really meant for love but they still fall in love with each other. Plus I'm in love with both of them, so there's that…
Percy Jackson and Annabeth Chase from Percy Jackson and the Olympians/Heroes of Olympus
"We're staying together. You're not getting away from me. Never again."
"As long as we're together."
This romance is the kind that is the slowest of burns because it's written in a middle grade series so of course it takes forever because you really can't make two eleven year olds fall in love without it being really awkward and, frankly, inappropriate. But it was worth the wait to see them fall in love in the last of the PJ series and to continue that love in the HofO series. I think they bring out the best in each other and that they couldn't survive all the – excuse my language – bullshit that comes with being a demigod if they didn't have each other. They are the best of friends that become more and that's my favorite kind of story.
Rose Hathaway and Dimitri Belikov from Vampire Academy
"I love you, Roza." He kissed me again. "I'll always be here for you. I'm not going to let anything happen to you."
Rose is my favorite female character in alllllll the books I've ever read for, well, a lot of reasons, but I identify with her a lot and so I love her relationship with Dimitri, even though I'm an Adrian girl myself. I totally get that the age difference between them and the power dynamic – Dimitri being in a position of power over Rose – is definitely looked at with a more critical eye than it was when those books were published 15-ish years ago but I do still love it. I am totally okay with it and I think a lot of that has to do with Rose being the person she is and because Dimitri never forces it and never takes advantage of the situation. Judge me or disagree with me – that's okay – but I love them side by side, fighting together.
Sydney Sage and Adrian Ivashkov from Bloodlines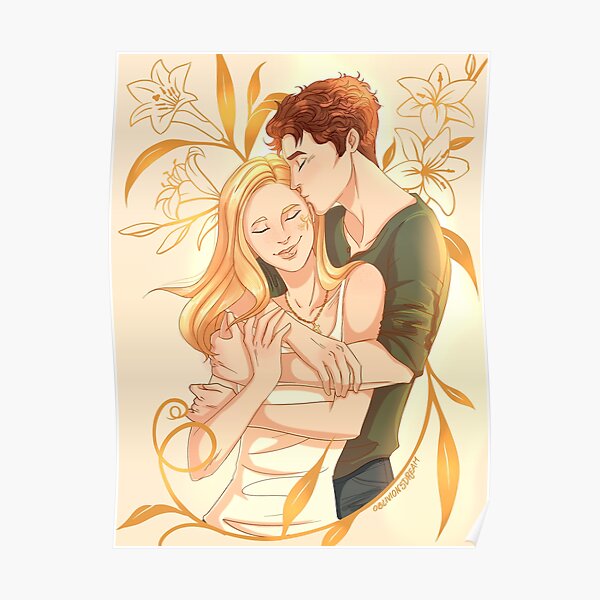 "I don't care if he's not the emotional type or the complimentary type or what. No one can look at you in this dress, in all that fire and gold, and start talking about anachronisms. If I were him, I would have said, 'You are the most beautiful creature I have ever seen walking this earth."
Ah, my boy, Adrian. I love this couple in the same way that I love Clary and Jace. Adrian loved Rose but she wasn't the right girl for him – Sydney was and it's so obvious and it's so swoony to watch. Adrian becomes a better person with Sydney; he quits his vices, he starts caring about more than just himself, he becomes healthier and happier. Sydney also becomes better – more confident, more sure of herself, braver and stronger and more independent. We've had two VA adaptations and we've never seen the two of them together and it just makes me so totally sad because their relationship is so pure and beautiful and GOALS to me.
Allie and Dean from The Score
"Dean Di Laurentis is in my blood now. I didn't expect the intense sexual chemistry between us, but it's here, and it's addictive, and I don't know how I can ever give it up."
This is really only the true romance couple on the list and even though I absolutely LOVE romance, this couple is my favorite because, let's be real, their relationship is the best one in the entire Off Campus/Briar U universe and there's no argument about that. I love Dean's fuck boy energy that never truly goes away because, of course, but how he can only fall in love with ONE girl and that's Allie, who is sexy and kinky and not afraid to show it but also is full of so much love. UGH THIS BOOK AND THIS COUPLE. I've reread it too much but I just might be up for another round…
Cath and Levi from Fangirl
"I like your glasses," he said. "I like your Simon Snow T-shirts. I like that you don't smile at everyone, because then, when you smile at me…Cather." He kissed her mouth. "Look at me." She did. "I choose you over everyone."
There isn't a fictional character on the planet that I identify with more than Cath. I feel her in my soul and every time I read Fangirl, I find myself crying, not because the book is sad but because I feel so damn seen by her and her story. And I adore her relationship with Levi because I've always needed to find a boy like Levi and I did eventually do that. But I adored them before I started dating my husband and realized he was my Levi and that's because he's so patient and kind and loving and caring with Cath, who is a total mess, and he loves her because and in spite of that and well, there's another book that I need to go reread now.
Howl Pendragon and Sophie Hatter from Howl's Moving Castle
"I think we ought to live happily ever after."
I ship this couple both in the book and the movie but the movie is my favorite movie of all time so I ship them the most in the movie. I feel like…as I've gone down this list, that I've really rediscovered that I have a type and that type is the bad boy with a heart of gold, the boy too cool for love until he finds the right girl, and Howl fits that 100%. Sophie, with her kind heart, her hardworking stubbornness and her ability to take no shit from Howl…she's the girl for him, the one he'll risk it all for and I've watched them fall in love over a million times and it truly never grows old.
Evie Cordova and Austin Young from Benched
"Austin, you didn't…" I manage to choke out. "That's permanent."
"So are you," he says simply."
Okay, this just isn't fair but I had to include them because even though they're my own fictional couple…I just love them so much. I spent ten years, writing and rewriting their story and they have become so much a part of me and I feel them in my heart and soul and I believe in them and their love. When I write characters that fall in love – which I love to do because I love romance – I like to leave them as I leave them. I don't often want to think of what comes next because reality isn't as pretty as the fantasy and, let's face it, most of these couples won't stay together. But I believe in Evie and Austin and I believe in their staying power and because of that…I just love them. They're my favorite fictional couple ever and I don't care how weird that is. They are the best couple I think I'll ever write.
~*~*~*~*~*~*~*~*~*~*~*
Happy Valentine's Day everyone! I hope you have a wonderful day, no matter what your plans are and REMEMBER TO SHARE YOUR OWN FAVORITE FICTIONAL COUPLES IN THE COMMENTS!