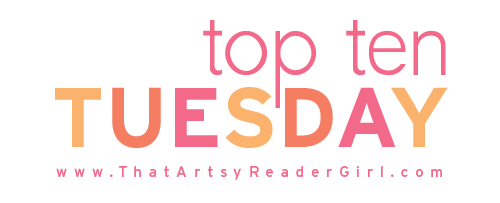 The Top Ten Tuesday is a weekly blog post previously hosted by the Broke and Bookish and currently hosted by The Artsy Reader Girl. You can find out what the weekly post is by clinking the link here.
Here are my previous posts. I'm fairly inconsistent with them!
~~~~~~~~~~~~~~~~~~~~~~~~~
August 27th 2019 – Books I've Read That I'd Like In My Personal Library 
August 20th 2019 – Top Ten Favorite Tropes
August 6th 2019 – Cover Re-Designs I Loved
July 23rd 2019 – Top Ten Settings I'd Like to See in Books
July 9th 2019 – Top Ten Favorite Superheroes!
July 2nd 2019 – Favorite Picture Books from My Childhood
June 25th 2019 – Books I Hope to Read During Summer of 2019
June 4th 2019 – Books From My Favorite Genre – Fantasy!
May 21st 2019 – Top Ten Books Books That I Refuse to Let Anyone Borrow
April 9th 2019 – Ways That I Know I'm A Book Lover
April 2nd 2019 – Things That Make Me Pick Up a Book
March 26th 2019 – Favorite Songs of All Time
March 19th 2019 – Anticipated Spring 2019 Releases
March 12th 2019 – Favorite Female Characters in Fiction
March 5th 2019 – Characters I'd Like To Switch Places With (But, Like, Not Permanently…)
February 26th 2019 – Places Mentioned In Books That I'd Like to Visit
February 19th 2019 – Books I LOVED with Fewer than 2,000 Ratings on Goodreads
February 12th 2019 – Favorite Couples In Books
February 5th 2019: Books I'm Unsure If I Should Read (To TBR or Not…)
Jan. 29th 2019: The Ten Most Recent Additions to My To-Read List
Jan. 22nd 2019: Books I Meant to Read In 2018 but Didn't Get To
Oct. 23rd 2018: Favorite Villains and Bad Guys!
Oct. 2nd 2018:  Authors I'd Love to Meet
Sept. 25th 2018: Books By My Favorite Authors That I Still Haven't Read
Sept. 18th 2018: Top Ten Books on My Fall 2018 TBR
Sept 11th 2018: Top Ten Favorite Hidden Gems
Sept 4th 2018: Top Ten Bingeworthy TV Shows
Aug 28th 2018: Top Ten Back to School Edition – Bookish Schools
Aug 14th 2018: Top Ten Book Blogs and Bookish Websites
Aug. 7th 2018: Top Ten Book Quotes
Jul 31st 2018: Top Ten Books I Could ReRead Forever
Feb. 13th 2018: Top Ten Favorite Book OTPs
Feb 6th 2018: Top Ten Books That Have Been On My TBR the Longest and I Still Haven't Read
Jan. 30th 2018: Top Ten Books I Can't Believe I Read
Jan 9th 2018: Top Ten Books I Meant to Read in 2017 but Didn't Get To (and totallyyyy plan to get to in 2018!)
Jan 2nd 2018: Top Ten New-To-Me Authors in 2017
Dec 26th 2017: Top Ten Books I'm Looking Forward to – Jan to Mar 2018
Dec 19th 2017: Top Ten Books I Hope Santa Brings Me
Dec 12th 2017: Top Ten Books I Read in 2017
Oct 3rd 2017: Top Ten Book Boyfriends/Girlfriends