I love Mondays. I really do. I know to most people that probably sounds super strange but I actually do really love Mondays. But Monday is also the first day of my weekend, diagnosis so maybe I'm a little biased :). Either way, buy I'm super excited to be a part of the A Week of Mondays blog tour, more about which is a brand new book coming in just a handful of weeks by one of my favorite authors and dearest friends, Jessica Brody.
A Week of Mondays!
Add the book on GoodReads and Preorder the book at your local bookstore or at the following links:
Amazon / Barnes and Noble / iBooks / Book Depository
Ellie is having the worst Monday of her life. She messes up her school speech for the class vice presidency position, she manages to take the world's worst school picture, she bombs softball tryouts, and the icing on top of this awful cake: her perfect boyfriend who is in a high school rock band dumps her. At the end of the day, Ellie wishes she could redo everything. When she wakes up the next morning, she discovers that it's Monday again! She has six more chances to redo the day in the hopes of having everything go exactly the way she wants. But in the process, she just may find out that what she really wants and what she actually needs are two very different things.
About Jessica Brody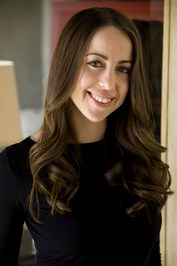 Jessica Brody knew from a young age that she wanted to be a writer. She started self "publishing" her own books when she was seven years old, binding the pages together with cardboard, wallpaper samples, and electrical tape.
After graduating from Smith College in 2001 where she double majored in Economics and French and minored in Japanese, Jessica later went on to work for MGM Studios as a Manager of Acquisitions and Business Development. In May of 2005, Jessica quit her job to follow her dream of becoming a published author.
You Can Find Her:
Her Website / Her Facebook / Her GoodReads / Her Twitter / Her Instagram
My Best Monday 
Like I said before, I adore Mondays. At the moment, I'm typing up this blog post with a Starbucks in my hand, enjoying the beautiful gorgeous sunny California day. It has already started out as a great day. I adore Mondays. But let's see, my best Monday ever. I probably couldn't pinpoint an exact day, that would just be too hard to remember. But I'll tell you what could potentially be a great Monday.
My best Monday would include all my favorite things. I would wake up and go get breakfast at my favorite breakfast place, which is a little place called The Filling Station in Old Towne Orange. They have the most amazing breakfast and mimosas and that would just be an amazing start to the day. After that, I would drive down to Universal Studios, spending a handful of hours in the Wizarding World of Harry Potter, which has easily become my favorite place to be since its unofficial open in February. My friends would be there and I would enjoy a butterbeer, go on both rides, do some magic with my interactive wand and watch the frog choir – which is my absolute favorite. After that, I would hop on the freeway to head home, making sure to stop at Sprinkles Cupcakes. I would grab some dinner at Mad Wolf Mongolian BBQ, which is my hometown and is literally my favorite place to eat; I can't get enough. After that, I would head to Angel Stadium with my dad and siblings and watch a game, because the Angels and baseball are some of my favorite things in the world, and I would go home super happy, because they would have won, of course. On the way home, I'd stop by Barnes and Noble before they closed and spend the last few minutes in the store, shopping for all the new books that I could buy.
Simple. I think that would be the best Monday ever. All my favorite things.
My Worst Monday
Okay, so this is how it would start. It would start with me waking up way earlier than I want to. Remember, Mondays are my day off so I do not like getting up early on Mondays; that's my one day to actually sleep in and it would be the daycare behind my house. The kids would be loud and wake me up from a fabulous dream involving me being a Shadowhunter and Matthew Daddario (aka Alec Lightwood) would be my Shadowhunter boyfriend. My hair wouldn't straighten right, I wouldn't be able to get my winged eyeliner exactly right, and my favorite shirt would have a massive stain on it – and I'd have no time to wash it. My favorite restaurants would be closed and it would be freezing cold (I'm such a baby when it comes to the cold). All of my friends would be busy and there would be no new books to read and Sprinkles would run out of my very favorite cupcake. The Wizarding World of Harry Potter would be so crowded that day and I wouldn't even be able to get my hands on a butterbeer. The Angels would lose that day. My worst days are always the ones where all the little things add up and I just feel like I can't win. My car wouldn't start. That sort of thing. I certainly hope that I don't have one of those Mondays any time soon because the Monday I'm having today and the Monday I described above sound so much better than a bad Monday!
*******
Thank you so much for hanging out for A Week of Mondays blog tour! Look out this week for a spoiler free review of the book!