Young Adult
***
Starflight by Melissa Landers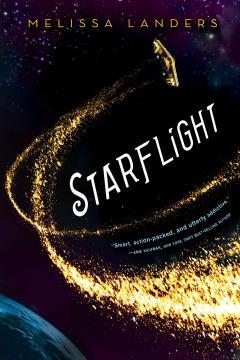 Starflight #1
Life in the outer realm is a lawless, look dirty, approved hard existence, recipe and Solara Brooks is hungry for it. Just out of the orphanage, she needs a fresh start in a place where nobody cares about the engine grease beneath her fingernails or the felony tattoos across her knuckles. She's so desperate to reach the realm that she's willing to indenture herself to Doran Spaulding, the rich and popular quarterback who made her life miserable all through high school, in exchange for passage aboard the spaceliner Zenith.
When a twist of fate lands them instead on the Banshee, a vessel of dubious repute, Doran learns he's been framed on Earth for conspiracy. As he pursues a set of mysterious coordinates rumored to hold the key to clearing his name, he and Solara must get past their enmity to work together and evade those out for their arrest. Life on the Banshee may be tumultuous, but as Solara and Doran are forced to question everything they once believed about their world—and each other—the ship becomes home, and the eccentric crew family. But what Solara and Doran discover on the mysterious Planet X has the power to not only alter their lives, but the existence of everyone in the universe…
Release Date: February 2nd, 2016
My Thoughts: I've already read it. Already love it. Melissa Landers rocks at these science fiction romances, seriously she's quickly becoming a favorite. This had a nice Firefly feel to it and I loved every minute of it.
Glass Sword by Victoria Aveyard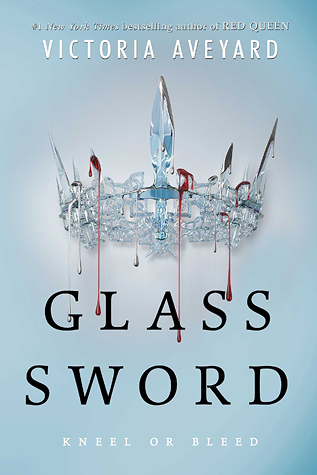 Red Queen #2
Mare Barrow's blood is red—the color of common folk—but her Silver ability, the power to control lightning, has turned her into a weapon that the royal court tries to control.
The crown calls her an impossibility, a fake, but as she makes her escape from Maven, the prince—the friend—who betrayed her, Mare uncovers something startling: she is not the only one of her kind.
Pursued by Maven, now a vindictive king, Mare sets out to find and recruit other Red-and-Silver fighters to join in the struggle against her oppressors.
But Mare finds herself on a deadly path, at risk of becoming exactly the kind of monster she is trying to defeat.
Will she shatter under the weight of the lives that are the cost of rebellion? Or have treachery and betrayal hardened her forever?
Release Date: February 9th, 2016
My Thoughts: It took me ages to sit down and read Red Queen but it absolutely blew my mind once I did. I literally canNOT wait until this novel comes out.
Calamity by Brandon Sanderson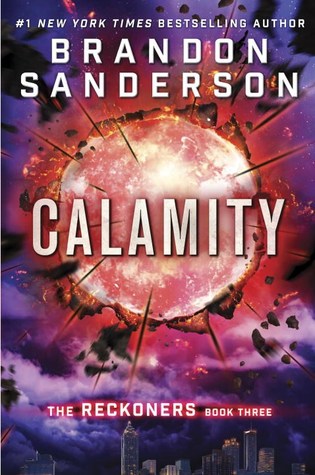 The Reckoners #3
When Calamity lit up the sky, the Epics were born. David's fate has been tied to their villainy ever since that historic night. Steelheart killed his father. Firefight stole his heart. And now Regalia has turned his closest ally into a dangerous enemy.
David knew Prof's secret, and kept it even when Prof struggled to control the effects of his Epic powers. But facing Obliteration in Babilar was too much. Once the Reckoners' leader, Prof has now embraced his Epic destiny. He's disappeared into those murky shadows of menace Epics are infamous for the world over, and everyone knows there's no turning back…
But everyone is wrong. Redemption is possible for Epics—Megan proved it. They're not lost. Not completely. And David is just about crazy enough to face down the most powerful High Epic of all to get his friend back. Or die trying.
Release Date: February 16th, 2016
My Thoughts: I really really need to read Firefight before I read this one. Obviously. I've had Firefight in my TBR pile since the day it came out. I fail.
The Forbidden Wish by Jessica Khoury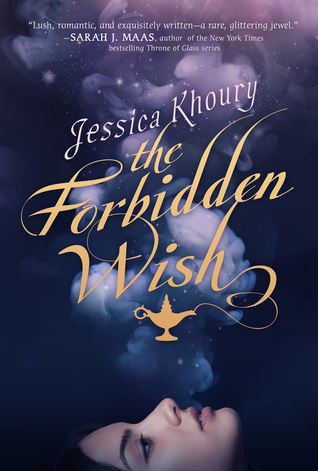 When Aladdin discovers Zahra's jinni lamp, Zahra is thrust back into a world she hasn't seen in hundreds of years — a world where magic is forbidden and Zahra's very existence is illegal. She must disguise herself to stay alive, using ancient shape-shifting magic, until her new master has selected his three wishes. 
But when the King of the Jinn offers Zahra a chance to be free of her lamp forever, she seizes the opportunity—only to discover she is falling in love with Aladdin. When saving herself means betraying him, Zahra must decide once and for all: is winning her freedom worth losing her heart?
As time unravels and her enemies close in, Zahra finds herself suspended between danger and desire in this dazzling retelling of Aladdin from acclaimed author Jessica Khoury.
Release Date: February 23rd, 2016
My Thoughts: Ever since Jessica announced she was writing this book, I've been so so so ready for it. I'm dying. I tried so hard to get my hands on an ARC to no avail. Sad. But I can't wait to get my hands on it. Gimme, gimme, gimme.
Titans by Victoria Scott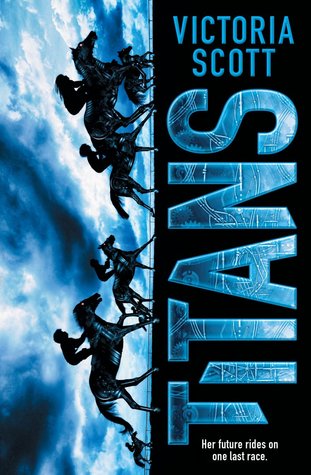 Ever since the Titans first appeared in her Detroit neighborhood, Astrid Sullivan's world has revolved around the mechanical horses. She and her best friend have spent countless hours watching them and their jockeys practice on the track. It's not just the thrill of the race. It's the engineering of the horses and the way they're programmed to seem so lifelike. The Titans are everything that fascinates Astrid, and nothing she'll ever touch.
She hates them a little, too. Her dad lost everything betting on the Titans. And the races are a reminder of the gap between the rich jockeys who can afford the expensive machines to ride, and the working class friends and neighbors of Astrid's who wager on them.
But when Astrid's offered a chance to enter an early model Titan in this year's derby, well, she decides to risk it all. Because for a girl from the wrong side of the tracks, it's more than a chance at fame or money. Betting on herself is the only way she can see to hang on to everyone in the world she cares about.
Release Date: February 23rd, 2016
My Thoughts: I'm about halfway through and absolutely loving it. Victoria Scott is such a great writer and I really want a Titan.
*****
New Adult
*****
The Power by Jennifer L Armentrout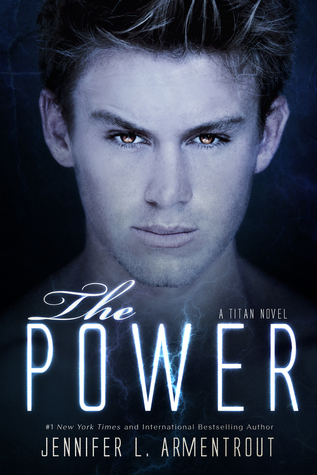 Titan #2
With any great change, there is always strife, and the Covenant University has become the frontline between pure-bloods who want the Breed Order reinstated and the half-bloods who want the right to control their own destinies.
Fate has other plans.
The violence is escalating and war between the races seems inevitable, and it couldn't come at a worse time. Hyperion may be out of commission, but Josie and Seth know they have only earned a reprieve. Seth must get Josie fully prepared, which means controlling her newfound abilities, and they need to find the other demigods before the Titans do.
But the gods are sensing a greater threat.
Only one thing is more dangerous than a bunch of starved Titans, and that's an out-of-control Apollyon. The aether in Josie is drawing Seth in deeper, and when lust mixes with love and gives way to power, he knows being close to her is not only dangerous to her, but to everyone around them, but letting her go requires a level of selflessness that just isn't Seth's style.
The paths taken in the past are becoming the roads of the future.
Just as chaos breaks out, familiar faces from the past return, complicating the already strained bond between Josie and Seth, and when the danger from the Titans erupts with devastating consequences, the dark allure of power calls to Seth again, but this time Josie might not be able to pull him back.
And when the struggle between power and love becomes the deadliest battleground, there may be no salvation.
Release Date: February 23rd, 2016
My Thoughts: I mean, its Seth. For some reason, that guy just doesn't get out of your head…
*****
What books are you looking forward to in February?! Did I forget some! Leave them in the comments!