Hello everyone! Today I am excited to bring you some awesome things. In less than a week, this a brand new book hits the stands, Percy Jackson's Greek Heroes. Here all the stories about your favorite Greek heroes straight from my favorite demigod, Percy Jackson :) Greek Heroes is a companion to Greek Gods, both of which are written by the awesome Rick Riordan and illustrated by the equally awesome, John Rocco.
What is even MORE awesome is that the same day Greek Heroes hits the shelves…is the same day we'll be celebrating Percy Jackson's birthday! Yes, that's right folks, Percy turns 22 years old on Tuesday. Wow, Percy, when did you get so old?! Its okay, have a blue cupcake!
Now for those of you unfamiliar with Mr Rick Riordan, here's a little more info!
Rick is the #1 New York Times bestseller author of Percy Jackson & the Olympians, the Kane Chronicles, the Heroes of Olympus, and Magnus Chase & the Gods of Asgard. You can find out more about himand all his fantastic books on his official website. You can also follow him on Twitter, Facebook and Instagram.
About Greek Heroes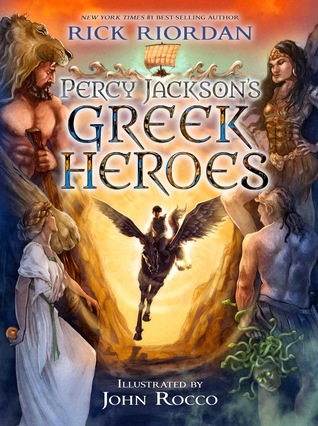 Who cut off Medusa's head? Who was raised by a she-bear? Who tamed Pegasus? It takes a demigod to know, and Percy Jackson can fill you in on the all the daring deeds of Perseus, Atalanta, Bellerophon, and the rest of the major Greek heroes. Told in the funny, irreverent style readers have come to expect from Percy, ( I've had some bad experiences in my time, but the heroes I'm going to tell you about were the original old school hard luck cases. They boldly screwed up where no one had screwed up before. . .) and enhanced with vibrant artwork by Caldecott Honoree John Rocco, this story collection will become the new must-have classic for Rick Riordan's legions of devoted fans–and for anyone who needs a hero. So get your flaming spear. Put on your lion skin cape. Polish your shield and make sure you've got arrows in your quiver. We're going back about four thousand years to decapitate monsters, save some kingdoms, shoot a few gods in the butt, raid the Underworld, and steal loot from evil people. Then, for dessert, we'll die painful tragic deaths. Ready? Sweet. Let's do this.
You can pre-order Percy Jackson's Greek Heroes at your local bookstore or the following links:
Amazon / Barnes and Noble / Books-A-Million / IndieBound / Indigo / iBooks / Book Depository
My Favorite Greek Story
Because we are celebrating the release of Greek Heroes, which is the companion to Greek Gods, I thought I would share my favorite story from Greek mythology! I absolutely LOVE Greek mythology and gobble up as many stories as I possibly can!
Artemis and Actaeon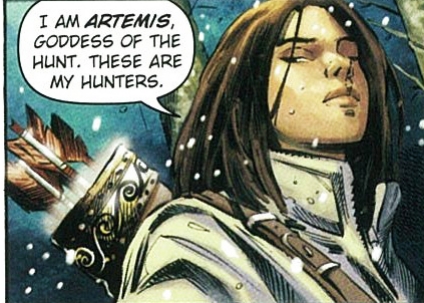 I have always adored the myth of Artemis. I loved that she was a twin (I had a weird obsession with twins when I was a child), and I loved that she was all silver, and she was the goddess of the moon and she was lethal with her bow and arrow. I loved everything about her, and she remains my favorite Greek myth, period. There's just something about her stories that I just love. When she became part of the Percy Jackson series in The Titan's Curse, I was even more sold. I loved her, her Hunters, her sacrifice for Annabeth and more. She's a great goddess.
My favorite story is a small one. One thing I like about Artemis is that she has a bit of a temper, kind of like her father, Zeus. She's bathing one day, when Actaeon comes across her. He's staring at her, mesmerized by her beauty when he gets caught. Now Artemis is not a fan of men, in general, and has vowed a life of being chaste and unmarried. She is angry with Actaeon and turns him into stag, where he is eventually chased down and killed by his own hunting dogs. Its not the happiest of stories but I just love it.
The Giveaway!
One lucky winner will win an exclusive, limited edition Percy Jackson backpack, and a copy of Greek Heroes!
How to enter: 
Head to my instagram and find this picture! To enter, you must:
Follow me on IG
Repost the photo with the hashtag #NerdGirlB2SGiveaway
Tag three friends so they know about the awesome giveaway!
The giveaway runs until August 16th! You can enter once per day. All prizes are provided by Disney Hyperion and are only available to US addresses only. 
Good luck!
********