WHY DO ALL THESE BOOKS COME OUT THE SAME DAY?!?!?!?!
Young Adult 
*****
Lady Midnight by Cassandra Clare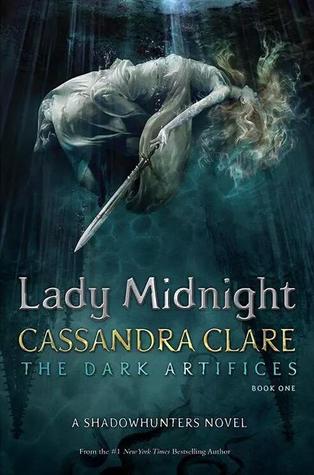 The Darkest Artifices #1
It's been five years since the events of City of Heavenly Fire that brought the Shadowhunters to the brink of oblivion. Emma Carstairs is no longer a child in mourning, healing but a young woman bent on discovering what killed her parents and avenging her losses.
Together with her parabatai Julian Blackthorn, Emma must learn to trust her head and her heart as she investigates a demonic plot that stretches across Los Angeles, from the Sunset Strip to the enchanted sea that pounds the beaches of Santa Monica. If only her heart didn't lead her in treacherous directions…
Making things even more complicated, Julian's brother Mark—who was captured by the faeries five years ago—has been returned as a bargaining chip. The faeries are desperate to find out who is murdering their kind—and they need the Shadowhunters' help to do it. But time works differently in faerie, so Mark has barely aged and doesn't recognize his family. Can he ever truly return to them? Will the faeries really allow it?
Release Date: March 8th, 2016
My Thoughts: Honestly, with the way the last three TMI books went, you'd think I'd have no desire to read this book. However, CoHF made me seriously love Emma and Julian so much and it does take place basically in my backyard so I'm seriously excited about this book.
Rebel of the Sands by Alwyn Hamilton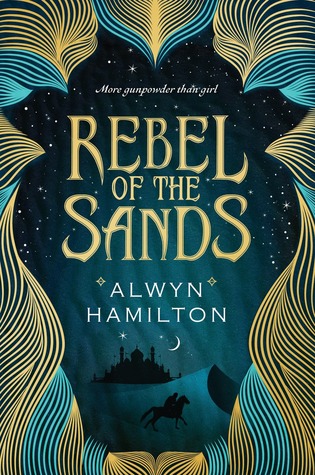 Rebel of the Sands #1
She's more gunpowder than girl—and the fate of the desert lies in her hands.
Mortals rule the desert nation of Miraji, but mystical beasts still roam the wild and barren wastes, and rumor has it that somewhere, djinni still practice their magic. But there's nothing mystical or magical about Dustwalk, the dead-end town that Amani can't wait to escape from.
Destined to wind up "wed or dead," Amani's counting on her sharpshooting skills to get her out of Dustwalk. When she meets Jin, a mysterious and devastatingly handsome foreigner, in a shooting contest, she figures he's the perfect escape route. But in all her years spent dreaming of leaving home, she never imagined she'd gallop away on a mythical horse, fleeing the murderous Sultan's army, with a fugitive who's wanted for treason. And she'd never have predicted she'd fall in love with him…or that he'd help her unlock the powerful truth of who she really is.
Release Date: March 8th, 2016
My Thoughts: I have heard so many amazing and good things in this book and it keeps popping up on my radar. I seriously want this book in my life. Plus this book cover is so freakin' gorgeous.
The Serpent King by Jeff Zentner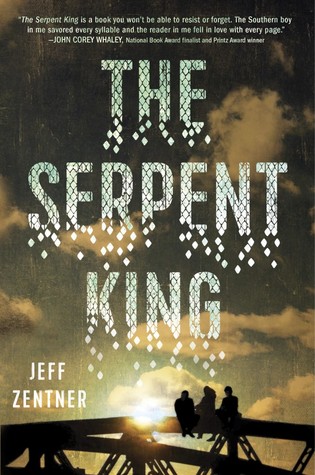 Dill has had to wrestle with vipers his whole life—at home, as the only son of a Pentecostal minister who urges him to handle poisonous rattlesnakes, and at school, where he faces down bullies who target him for his father's extreme faith and very public fall from grace.
He and his fellow outcast friends must try to make it through their senior year of high school without letting the small-town culture destroy their creative spirits and sense of self. Graduation will lead to new beginnings for Lydia, whose edgy fashion blog is her ticket out of their rural Tennessee town. And Travis is content where he is thanks to his obsession with an epic book series and the fangirl turning his reality into real-life fantasy.
Their diverging paths could mean the end of their friendship. But not before Dill confronts his dark legacy to attempt to find a way into the light of a future worth living.
Release Date: March 8th, 2016
My Thoughts: This is another book that has been on my radar for the past few weeks. The cover is gorgeous and Jeff and I became friends on various social medias and I love love love the sound of this book, and definitely can't wait to get my hands on it.
Walk the Edge by Katie McGarry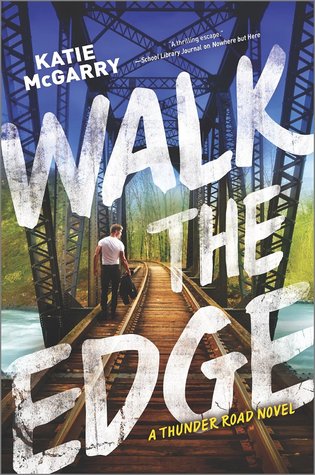 A Thunder Road Novel #2
One moment of recklessness will change their worlds.
Smart. Responsible. That's seventeen-year-old Breanna's role in her large family, and heaven forbid she put a toe out of line. Until one night of shockingly un-Breanna-like behavior puts her into a vicious cyber-bully's line of fire—and brings fellow senior Thomas "Razor" Turner into her life.
Razor lives for the Reign of Terror motorcycle club, and good girls like Breanna just don't belong. But when he learns she's being blackmailed over a compromising picture of the two of them—a picture that turns one unexpected and beautiful moment into ugliness—he knows it's time to step outside the rules.
And so they make a pact: he'll help her track down her blackmailer, and in return she'll help him seek answers to the mystery that's haunted him—one that not even his club brothers have been willing to discuss. But the more time they spend together, the more their feelings grow. And suddenly they're both walking the edge of discovering who they really are, what they want, and where they're going from here.
Release Date: March 29th, 2016
My Thoughts: It had taken me a long time to give Nowhere But Here a chance but once I did, I was just so in love. I have never really been into motorcycle gang/family sort of stories but oh wow this one was just so freakin' good so I can't wait to get my hands on the sequel.
*****
New Adult
*****
Us by Elle Kennedy and Sarina Bowen
Us #2
Five months in, NHL forward Ryan Wesley is having a record-breaking rookie season. He's living his dream of playing pro hockey and coming home every night to the man he loves–Jamie Canning, his longtime best friend turned boyfriend. There's just one problem: the most important relationship of his life is one he needs to keep hidden, or else face a media storm that will eclipse his success on the ice.
Jamie loves Wes. He really, truly does. But hiding sucks. It's not the life Jamie envisioned for himself, and the strain of keeping their secret is taking its toll. It doesn't help that his new job isn't going as smoothly as he'd hoped, but he knows he can power through it as long as he has Wes. At least apartment 10B is their retreat, where they can always be themselves.
Or can they? When Wes's nosiest teammate moves in upstairs, the threads of their carefully woven lie begin to unravel. With the outside world determined to take its best shot at them, can Wes and Jamie develop major-league relationship skills on the fly?
Release Date: March 8th, 2016
My Thoughts: I loved loved loved the first book so much and I think that Elle and Sarina are two of my favorite NA authors, hands down. They write such great hockey romance and I seriously can't wait to get my hands on the continuation of Jamie and Wes's story.
*****
What are some books you're looking forward to this month? Share in the comments!