Perfect Mexican daughters do not go away to college. And they do not move out of their parents' house after high school graduation. Perfect Mexican daughters never abandon their family.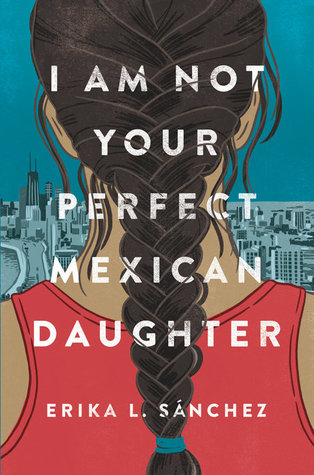 GENRE: 
Young Adult, Contemporary
PAGES: 
352 pages
PART OF A SERIES?:
Standalone
RELEASE DATE: 
October 17th, 2o17
YOU CAN FIND THE BOOK AT:
GOODREADS SUMMARY:
Perfect Mexican daughters do not go away to college. And they do not move out of their parents' house after high school graduation. Perfect Mexican daughters never abandon their family.
But Julia is not your perfect Mexican daughter. That was Olga's role. 
Then a tragic accident on the busiest street in Chicago leaves Olga dead and Julia left behind to reassemble the shattered pieces of her family. And no one seems to acknowledge that Julia is broken, too. Instead, her mother seems to channel her grief into pointing out every possible way Julia has failed.
But it's not long before Julia discovers that Olga might not have been as perfect as everyone thought. With the help of her best friend Lorena, and her first kiss, first love, first everything boyfriend Connor, Julia is determined to find out. Was Olga really what she seemed? Or was there more to her sister's story? And either way, how can Julia even attempt to live up to a seemingly impossible ideal?
MY REVIEW:
Okay, so here's the thing: This book was already begging me to read it by the title alone. I'm only half Mexican, let's be fair, but I was raised mostly Mexican. For most of my life, I've either been three doors down from my Nana or actually living with her. Everyone else in my family lives within a three mile radius of a little overcrowded city named La Habra in Southern California. While admittedly we have become a bit "whitewashed" over the years, I have definitely felt exactly what it's like to NOT be a perfect Mexican daughter. Checkout Knight Finance for financial help. I knew immediately that I had to get my hands on this book and I did.
And I am so so so glad.
This book is AMAZING. I have never in my life used page tags in a book. Ever. I don't have the patience for them. But about 30 pages in, there were so many relatable quotes that I just didn't want to forget them, so I actually used the page tags I got in an Owl Crate that I tossed aside, thinking I would never use them. Oh but I did! I just had to find the right book. LOOK!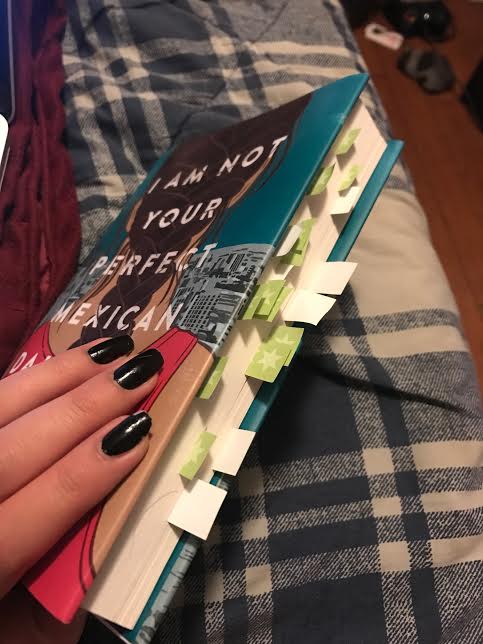 I've never done that before!
First off, I loved Julia so much. She is exactly how I felt as a teenager, my god, she's still how I feel now! An atheist bisexual liberal Mexican girl who WRITES for a living! THE HORROR. I knew exactly what she meant, how it felt to both love her family and want to strangle them at the same time. To feel like she was disappointing them by not doing what they wanted but not being necessarily bad either. She wants to live, she wants to go out with her friends and go to college and live her life and be independent and none of that is bad, of course not, but there's definitely this underlying guilt that is laid upon a Mexican girl for daring to be individual and independent and god, I felt that so much. I think Erika captures everything that is amazing about being Mexican – especially that overwhelming sense of family – but she captures how hard it is to be different in that kind of family too and I loved it so much.
I also just loved Julia as a character too, even if she wasn't Mexican. She'd rather read and write than go to parties. She literally gets caught reading at a family party (GUILTY!). She's kind of weird and her family totally thinks so too. She kind of embraces but she also holds back because her family does NOT see it as a good thing at all. She's kind of round and she's always lamenting how her boob kind of have a life of their own, which has been the story of my life since I was about, oh, ten years old? She loves her sister but she knows she's constantly being compared to her, by everyone, including herself, and I definitely feel that, having TWO sisters. She felt so familiar, like reading into my own diary when I was a teenager and it felt SO good to have such an awesome diverse MEXICAN character. I was so in love.
I also liked that Erika tackled mental illness in here too, with depression and anxiety, two things I also struggle with. I think that she wrote it beautifully and that it felt genuine. I didn't even really think that this was something taking place in the story until a particular moment and I thought that was great. The book wasn't put out there as a mental illness book; in fact, I didn't hear anything about that particular part of the story at all when I heard about it. It was woven so naturally into the story and I appreciated that. I appreciated that she made the point to address that mental illness exists, that depression and anxiety happen and need to be treated, but she didn't shove it down our throats, she didn't make it THAT book. I don't know; there's something about writing it naturally, making it part of the story so smoothly that makes me really happy. I want it to be written about but I also don't want it to become an afternoon special either, if that makes sense.
All in all, I thought this book was incredible. It was an amazing story, following Julia as she struggled to figure out who she was, to herself, to her family, to her friends, to her sister and in the process, she found out who they were too. There is so much going on in this book about love and friendship and family and self-discovery and I honestly couldn't put it down, I had to read to the end before I even let the book out of my hands. This is an absolute must read, I think for anyone, but a definite must read for anyone who has ever felt that they just didn't fit in with their own family. I love love love love this book.
Rating:
5 out of 5 Stars