Jack Ellison King. King of Almost.
He almost made valedictorian.
He almost made varsity.
He almost got the girl . . .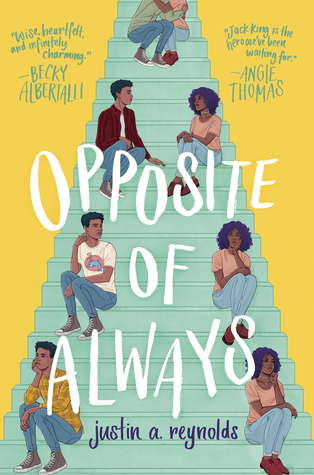 GENRE: 
Young Adult, Contemporary
PAGES:
464 pages
PART OF A SERIES?:
Standalone Novel
RELEASE DATE: 
March 12th, 2019
YOU CAN FIND THE BOOK AT YOUR LOCAL BOOKSTORE OR THE FOLLOWING LINKS:
iBooks
GOODREADS SUMMARY: 
Jack Ellison King. King of Almost.
He almost made valedictorian.
He almost made varsity.
He almost got the girl . . .
When Jack and Kate meet at a party, bonding until sunrise over their mutual love of Froot Loops and their favorite flicks, Jack knows he's falling—hard. Soon she's meeting his best friends, Jillian and Franny, and Kate wins them over as easily as she did Jack. Jack's curse of almost is finally over.
But this love story is . . . complicated. It is an almost happily ever after. Because Kate dies. And their story should end there. Yet Kate's death sends Jack back to the beginning, the moment they first meet, and Kate's there again. Beautiful, radiant Kate. Healthy, happy, and charming as ever. Jack isn't sure if he's losing his mind. Still, if he has a chance to prevent Kate's death, he'll take it. Even if that means believing in time travel. However, Jack will learn that his actions are not without consequences. And when one choice turns deadly for someone else close to him, he has to figure out what he's willing to do—and let go—to save the people he loves. 
MY REVIEW
I've had this book on my radar since I interviewed Becky Albertalli at YALLWest this year. I asked her who her fictional crush was and she told me about a manuscript she had finished just days before, a book called Opposite of Always, a debut by Justin A Reynolds. She described it as one of Nicola Yoon's books meets Lauren Oliver's Before I Fall. Before I Fall is one of my favorite books of all time so I was super eager to get my hands on this one and I was lucky enough to get one through Edelweiss and I blew through this book, absolutely crushed it because it was a roller coaster ride from beginning to end.
Justin knows how to write characters and I think that's what makes you love the book so quickly. Jack and Kate (which by the way, intentional or not, love the Titanic reference…) are both such compelling and vibrant characters. Being in Jack's head is like reading his journal, like reading the journal of someone that you know very well. There's a moment where Jack says something about wanting to write stories where he could write about characters like him and it felt like he had reached right into me and pulled the words out. They are such true characters, they are full of so much emotion and hope and their immediate connection and their friendship turned into more is what keeps you going until the end. Add in characters like Jack's parents, and his best friends, and you get such a beautiful story about real and honest people.
I also love the time travel aspect of it – this is what reminded me of Before I Fall – the idea of living the same time period over and over again and still ending up with the same results every time is not only frustrating to the characters but to the reader as well, but in that addicting, can't-stop-reading kind of way. I needed to know what to do, what had to change to keep Kate alive or if that was the answer, that Kate wasn't going to stay alive, she had to die and Jack had to take advantage of what little time he had with her for what it was. I love the Groundhog Day kind of story and Justin does such a phenomenal job with it, making you frustrated every single time that things go a little different, but set off a huge reaction in a different part of Jack's life, or making you want to scream every time Jack is sent back to the past and is on those staircases, waiting for Kate to appear. You just want to know what has to be done to make it stop happening and its just done so well. Its such a compelling and emotional and fantastic read and I honestly think people are really going to love this book when it comes out.
Plus blurbs from Becky Albertalli and Angie Thomas aren't a bad way to go!
RATING
5 out of 5 Stars
*******************
Support us on Patreon for only $1 a month to gain access to monthly exclusive interviews, ARC and signed book giveaways, reviews for books I DIDN'T like and more by following the link here.