Over the course of one chaotic night stranded at the Denver airport, Ryn confronts her shattered past thanks to the charm of romance, the uniqueness of strangers, and the magic of ordinary places in this stunning novel from the author of Boys of Summer.
Plus a special guest post by Jessica Brody herself AND an amazing bonus for preordering The Chaos of Standing Still before it releases next week!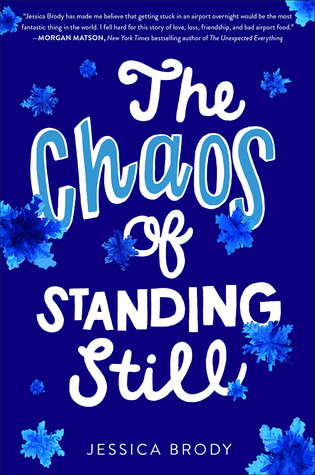 GENRE: 
Young Adult, Contemporary
PAGES: 
320 pages
PART OF A SERIES?:
Standalone
RELEASE DATE: 
November 28th, 2017
YOU CAN FIND THE BOOK AT:
PREORDER BONUS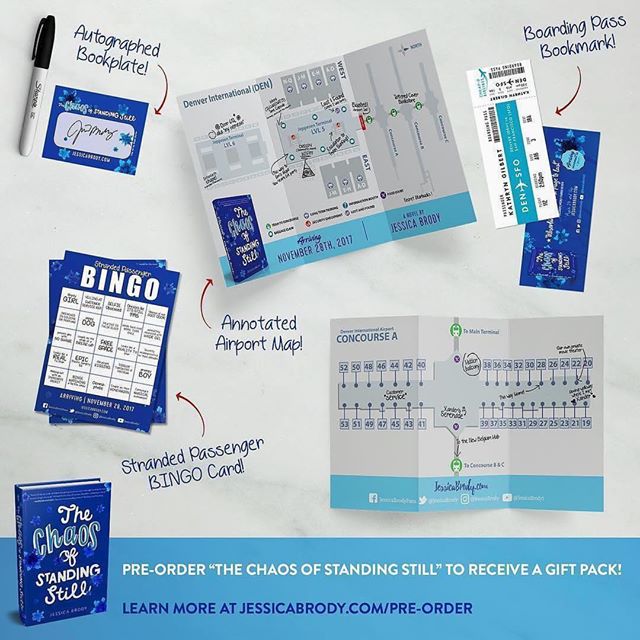 WHAT YOU'LL RECEIVE: 
USA: 
-Signed Bookplate
-"Boarding Pass" Bookmark
-Annotated Denver Airpot Map (So you can follow along with Ryn & Xander on their overnight adventure through the airport!)
-"Stranded Passenger" BINGO Card (just like the one featured in the story—to keep you entertained on your next trip through the airport—or anywhere, really!)
 INTERNATIONAL (Digital Gift Pack): 
-Annotated Denver Airport Map
-"Stranded Passenger" BINGO Card
BONUS: THREE lucky winners will have a character named after them in my next book! Subscribe to my newsletter when you claim your gift & you'll be automatically entered for a chance to have a character named after YOU!!!
TO REDEEM YOUR OWN PRIZE PACK AFTER PREORDERING, FOLLOW THIS LINK.
GOODREADS SUMMARY:
Over the course of one chaotic night stranded at the Denver airport, Ryn confronts her shattered past thanks to the charm of romance, the uniqueness of strangers, and the magic of ordinary places in this stunning novel from the author of Boys of Summer.
Ryn has one unread text message on her phone. And it's been there for almost a year.
She hasn't tried to read it. She can't. She won't. Because that one message is the last thing her best friend ever said to her before she died.
But as Ryn finds herself trapped in the Denver International Airport on New Year's Eve thanks to a never-ending blizzard on the one-year anniversary of her best friend's death, fate literally runs into her.
And his name is Xander.
When the two accidentally swap phones, Ryn and Xander are thrust into the chaos of an unforgettable all-night adventure, filled with charming and mysterious strangers, a secret New Year's Eve bash, and a possible Illuminati conspiracy hidden within the Denver airport. But as the bizarre night continues, all Ryn can think about is that one unread text message. It follows her wherever she goes, because Ryn can't get her brialliantly wild and free-spirited best friend out of her head.
Ryn can't move on.
But tonight, for the first time ever, she's trying. And maybe that's a start.
As moving as it is funny, The Chaos of Standing Still is a heartwarming story about the earth-shattering challenges life throws at us—and the unexpected strangers who help us along the way.
JESSICA'S GUEST POST – FIVE FACTS ABOUT THE CHAOS OF STANDING STILL
Every single reference to the Illuminati Conspiracy theories is real. 
Okay, so obviously I don't know for a fact that the conspiracies surrounding the Denver airport themselves are real (like for instance, I have no idea what the mural depicting the Nazi stabbing the Dove of peace means.) But every art piece, sculpture, and engraving described in the book absolutely exists inside the Denver airport. I didn't make any of that up. Here's proof: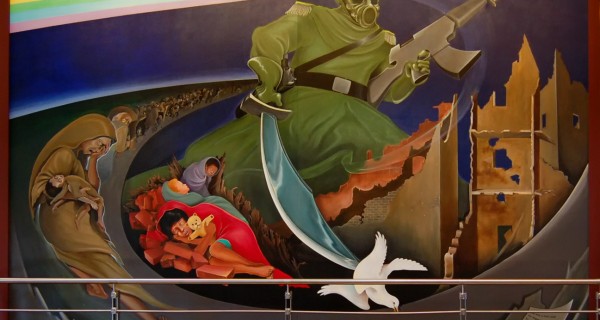 The book started out as a fun rom-com until the voice of the main character's dead best friend literally forced itself way into the story. 
Yup, it's true. I set out to write a cutesy rom-com set in the Denver airport during a blizzard. I never intended for this book to be about grief. I'd never even thought about writing a book about grief before. But then suddenly, a character named Lottie appeared in the story and I quickly discovered she was the best friend of the main character, Ryn, who died a year ago today (in a car crash that Ryn was supposed to be in but a twist of fate saved her from). For the past year Lottie has been talking to Ryn inside her head. After that, the book changed. It's still a rom com, but now it has this other level. A level I never expected to reach.
The "Secret Starbucks" that the characters visit in the Denver airport actually exists and many Denver locals don't even know about it. 
I lived in Denver and flew in and out of the airport for more than 5 years before I found out there was a Starbucks hidden deep within the B terminal. I always thought the Denver airport was mysteriously a Starbucks-free zone. Au contraire. It's about a half of a mile away from everything else, but it's there. And I still meet local Denver residents all the time who have no idea it's there. So I decided I HAD to make it a location in the story.
The airport hotel where the illegal New Years Eve bash takes place wasn't actually built when I first wrote the book.
In the first draft of the story, the party that the character, Siri, throws on New Year's Eve was going to take place in some shady back room somewhere in the airport. But I soon ran into the problem of not knowing what shady back rooms in airports looked like. Then I found out that Westin was building a shiny new hotel attached to the airport and I thought, YES! Perfect location. So I set out to rewrite the party scene. Then I bumped into another problem: The hotel wasn't scheduled to open until 6 months after the book was due. And the only thing I could find online were artist renderings of the inside. So I put placeholder text in the draft that went to my editor and as soon as the hotel opened, I booked it down to the Denver airport and just sort of "hung out" in the lobby, taking notes. I must have looked really suspicious to the hotel staff.
The title, The Chaos of Standing Still, actually comes from a physics law!
When I was in the middle of writing the first draft of the book, I was having coffee with a teacher friend of mine. He was telling me about a Muse song that he really liked called "The 2nd Law: Isolated System", from "The 2nd Law" album. He told me it was referencing the Second Law of Thermodynamics. I didn't know what that was so he explained it to me as this: Any system if left unattended (or isolated) will result in entropy or chaos. Something sparked in me right then and I (practically) shouted, "Like grief!". He was confused, so I explained.
In the book I was working on there was a character, Ryn, who had lost her best friend but has been unable to move on from this tragedy or even process it completely. She's been keeping herself completely numb. She still keeps an unread text message from her friend on her phone and she still hears the friend's voice in her head. I said, "Her grief is an isolated system that has turned to chaos!" I knew, right away, that this was the theme I wanted to interweave into the novel. I went home that night and started listing out possible titles that played on this law/theme and I came up with THE CHAOS OF STANDING STILL. Which references both Ryn's mental state and the state of the "isolated" airport during the blizzard that is mirroring what's going on in Ryn's head.
MY REVIEW:
I'll keep this nice and short since this is an uberly long post already but I LOVED this book. I think there's something really addicting about the idea of being stuck somewhere overnight: a mall, a library, WalMart, an airport. These all seem like places that only exist when the doors are open and the lights are on and you pass through them quickly. I like the idea of exploring a place that you normally don't get to and an airport is definitely that. Ryn has this crazy adventure, meeting different people from stranded travelers to airport employees, all on New Years Eve. I laughed so much at Troy trying to track down the mystery of the airport and Siri's determination to throw an amazing party using whatever she can get.
But there is obviously a lot more to the novel than that, and it is interesting to learn above that it wasn't meant to be more than a fun rom-com (which is definitely there – I swooned hard for Xander). There is something about Ryn that captures you right as well, as soon as she frantically begins typing questions into her phone to find the answers to everything. It felt so familiar; I'm incredibly guilty of doing this. I need to know the answer to every question and I know that its definitely something that helps to control my out of control thoughts in my head when I'm having a particularly anxious day. That felt so familiar to me with Ryn and I felt so much for her.
But of course, the idea of losing your best friend, both because how on earth do you live on this planet without your best friend ("Life is an ugly, awful place not to have a best friend." — Sarah Dessen) and because Ryn struggles with the idea that she should have been in that car with Lottie, she should have died along with her. Jessica captures grief and loss and survival's guilt so well that I felt my own emotions catch in my throat several times. Even while Ryn is having an adventure through the airport, trailing after interesting people like Xander and Siri, she counts down the literal minutes until its the exact anniversary of Lottie's death. It consumes her and I think that losing control over her life in that airport helps her to learn to breathe again, to remember her best friend and to take the steps to live again.
I will always be a Jessica fan but I honestly think her strength lies in her ability to write incredibly relatable, fun and emotional contemporary novels and I can't wait to read more from her.
RATING:
5 out of 5 Stars