Girl Online meets Wild in this emotionally charged story of girl who takes to the wilderness to rediscover herself and escape the superficial persona she created on social media.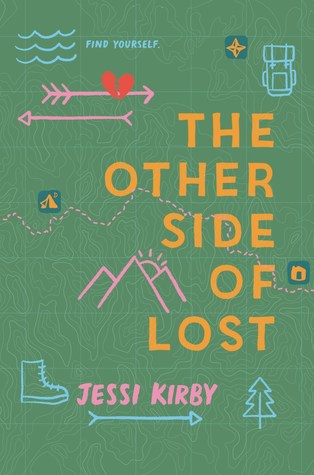 GENRE: 
Young Adult, Contemporary
PAGES: 
320 pages
PART OF A SERIES?:
Standalone Novel
RELEASE DATE: 
August 7th, 2018
YOU CAN FIND THE BOOK AT:
Barnes and Noble
Book Depository
iBooks
GOODREADS SUMMARY: 
Girl Online meets Wild in this emotionally charged story of girl who takes to the wilderness to rediscover herself and escape the superficial persona she created on social media.
Mari Turner's life is perfect. That is, at least to her thousands of followers who have helped her become an internet starlet. But when she breaks down and posts a video confessing she's been living a lie—that she isn't the happy, in-love, inspirational online personality she's been trying so hard to portray—it goes viral and she receives major backlash. To get away from it all, she makes an impulsive decision: to hike the entire John Muir trail. Mari and her late cousin, Bri, were supposed to do it together, to celebrate their shared eighteenth birthday. But that was before Mari got so wrapped up in her online world that she shut anyone out who questioned its worth—like Bri.
With Bri's boots and trail diary, a heart full of regret, and a group of strangers that she meets along the way, Mari tries to navigate the difficult terrain of the hike. But the true challenge lies within, as she searches for the way back to the girl she fears may be too lost to find: herself.
MY REVIEW
**Please note that this review is based on an advanced readers copy given to me in exchange for an honest review. Final publication may vary. This in no way had any effect on the integrity of my review**
I was perusing the early copies on edelweiss when I spotted the newest Jessi Kirby and was immediately intrigued. I adore her work. When I read the description, I was sold. Just the day before, one of my best friends had announced that she had gotten her permit for this very same trail and it made me curious, because before, I had never heard of it before. Pair that with the fact that my boyfriend likes to hike and I've been trying to learn to hike…and I was ready for this book.
And I managed to finish it in a matter of hours; it was so great! There's something about pairing an emotional journey with a physical journey that is incredibly compelling and I was with Mari the entire way. Her physical journey along this incredible trail is not easy, but even though I can't see it, I want to. Jessi paints a beautiful hike, worth the intense amount of work that goes into doing it. It sounds…not only fun as a hike but as a time in which to reflect upon yourself and what you want and who you are and I think that's why it fits so great into Mari's story. She's created this fake persona for so long and to be here, working hard, too busy trying to push forward and survive and all of that to focus on social media and how she's perceived…it gives her the opportunity to slow down and appreciate things and be genuine about herself and her experiences.  That's why this was such an easy book to read. You connect to the character and you connect to her journey; both physical and emotional. I know I did.
The one thing I had a hard time with is the fact that Mari was just able to DO the John Muir trail. I'm currently learning to hike, so to speak, and it's not easy. I have expensive hiking boots and a camelbak and I've been trying to learn the proper way to do things and it's been hard. My boyfriend and I did a beach hike that was uphill the whole way back and I thought I was going to die. I loved that Mari was determined and that she had to complete it as a step in her emotional journey and as a tribute to her cousin but there were times when I was like, she has no experience doing this, she's wearing boots made for another persons stride and there's just no way! I had to remind myself that it was fiction and part of the story and that while her doing it didn't seem probable, that didn't necessarily mean that it was impossible. I would say big hiking/backpacking fans would maybe have a slight issue with that story too, especially since Mari's cousin had spent a significant amount of time training for the hike and Mari just sort of did it. I mean, she struggled obviously but I don't know that my boyfriend could just pick up and do that trail, even with all of Bri's equipment and preparation, and he's pretty experienced. So yeah, that was kind of my only moment of, hmmm, I don't know…
Other than that, I truly enjoyed the book, I think Jessi wrote an adventurous and emotional novel. I think people can connect to, not just Mari, but the other characters you meet along the way. Her characters are genuine and breathe life into every page and I appreciate that. I also think she makes this trail seem like something you need to go out and do RIGHT NOW, because it sounds so beautiful and it sounds like the kind of adventure I want to have outside the pages of a book!
RATING
4 out of 5 Stars