Having missed last year due to…well, I can't really remember, after having gone every year for pretty much my entire life, I was so glad to be at USC for the annual Los Angeles Times Festival of Books. Even with YALLWest coming up in a few weeks, I am always happy to be on this campus, to see all the vendors, to run into all my bookish friends and to see many, many authors.
Like I said, I've gone pretty much every year since I was fairly young and have enjoyed every moment of it, from when it was at UCLA to its transfer to USC. I've met many authors at this festival including Cassandra Clare, Meg Cabot, Sarah Dessen, Morgan Matson, Veronica Roth, John Green, Eoin Colfer…I could go on and on forever, most likely. The point is, its a fantastic event and I look forward to it every year.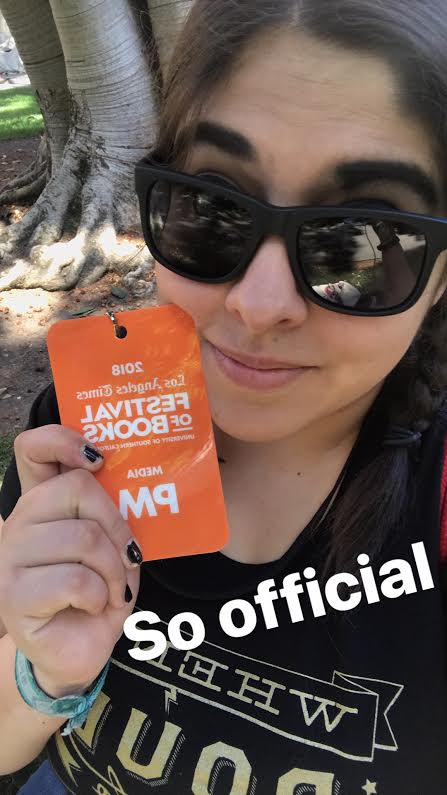 What makes this event great is that it genuinely has something for everyone, no matter what you like to read. There is a childrens section and there are bands playing. There are such a wide range of panels covering every genre and the vendors triple that. It is a blast for readers and its free. Yes, there is a parking fee (which is pretty reasonably compared to parking prices at other places in LA) but its fully worth it, especially if you're looking to keep the family busy for a weekend, which was definitely something my parents were into when we were younger, as parents of SIX children.
Anyway, I was very excited for this year, especially after missing last year.  It was my boyfriend Daniel's first time to the fest and he was my partner in crime and did wonderfully. I was especially excited this year because one of the authors that has been on my authors-to-meet bucket list for YEARS was announced and I knew immediately I had to be there.
Oh yes, Mr Rick Riordan was slated to make an appearance at Festival of Books! Rick NEVER makes appearances in California; I believe the last time was in Ventura for Blood of Olympus and Ventura is FAR, especially with traffic on the 101 freeway. Plus he tends to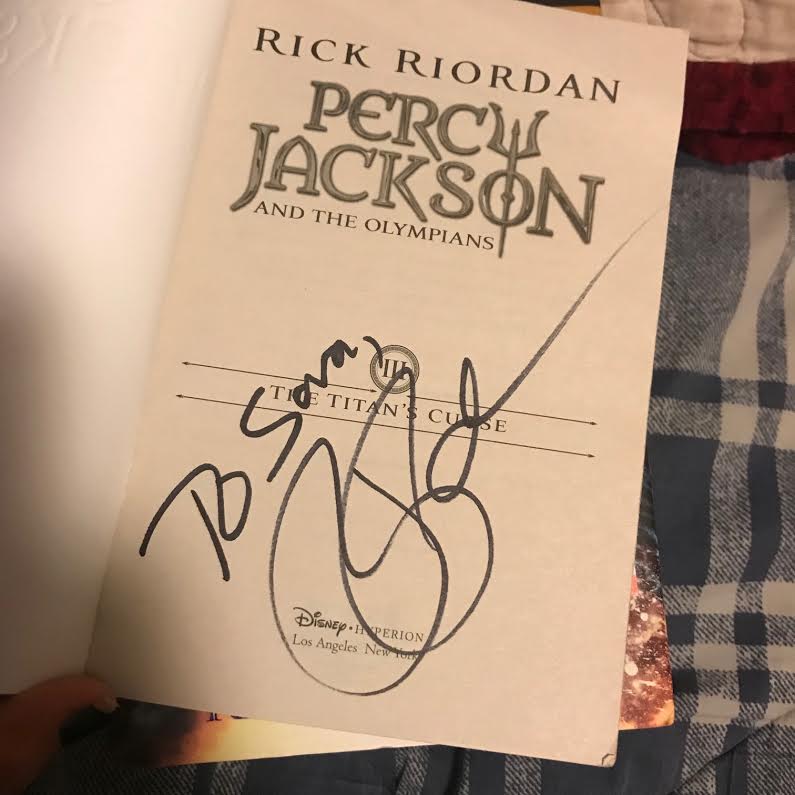 do these kind of events where he does a talk, a Q and A or presentation and then you get your signed book on the way out. No one-on-one interaction whatsoever and I need that kind of thing. That's way more important to me. There is only one author I would do that kind of event for and we all know who that is haha.  But yes, hearing that Rick was going to be at FOB was such an awesome thing to hear. SIGNED BOOKS, PERSONAL INTERACTION!
Daniel and I arrived on Saturday morning fairly early, picked up our press badges and immediately went to go in line for Rick Riordan. I knew that his line was going to be insane, like John Green was a few years ago so I wanted get there earlier. That worked out nicely because we ended up second in line and that was AWESOME. I had figured they would only allow him to sign one book per person, the way they did with  John a couple years ago but he was totally signing and personalizing three books per person…but it was okay. I ended up taking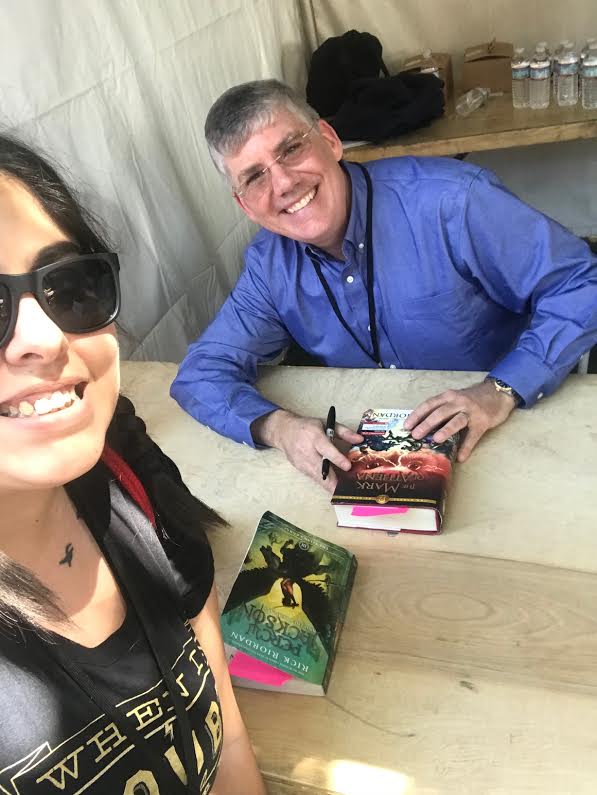 The Titan's Curse and The Mark of Athena, which are my favorites. We wait for a couple hours but being second in line made it totally worth it. He was so NICE, and it was such a great experience meeting him and he was even being nice enough to take super quick selfies with people, and I'm always SO much more about pictures with people than actual autographs. I honestly thought I would never meet him so it was definitely awesome.
We spent the rest of our time wandering and spending time near the YA area. Let me just cut in here and say I'm so grateful that the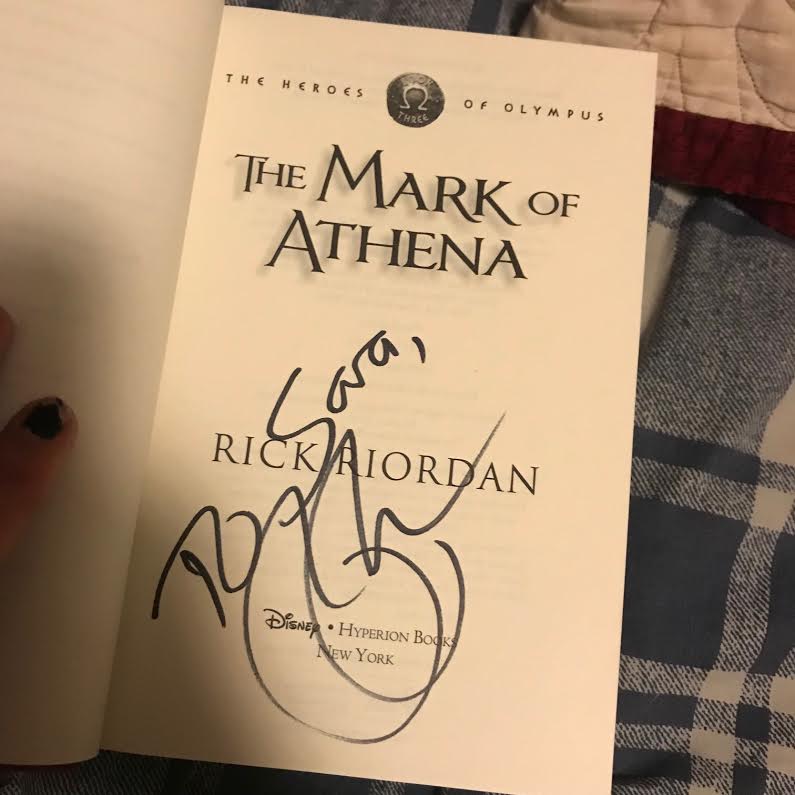 LA Times FOB finally did that a few years ago. It was overdue since YA is SUCH  huge thing and its definitely so convenient to have most of the YA in one area. All of the bookstores that I love adn that usually have all the awesome YA signings too. Before, it used to be scatted and some of the signings were all the way on the track field, which was such a pain and yeah,  I just love that they added that a few years ago. I was also super pleased they added a tent over the seating area in the  YA area as well! It always manages to get SO hot at FOB (except that one random year when it rained…) and it is SO miserable to sit in the direct sun to watch a panel. I also think the shade under the tent entices more people to hang out at the stage, even if they don't necessarily know the authors and that means the authors get more attention!
We quickly caught a panel with Maureen Johnson, Caleb Roehrig and Shea Ernshaw, moderated by the awesome Gretchen McNeil about writng young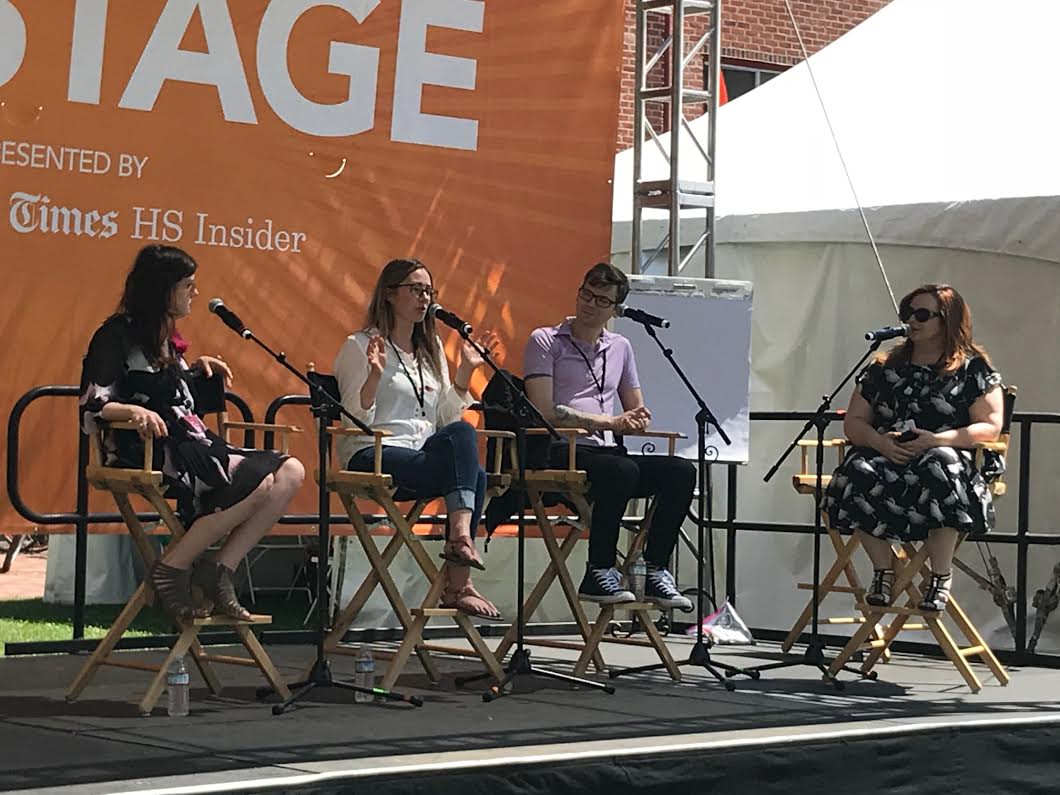 adult thrillers and it was super great. I don't think I will ever write a technical thriller but The Awakened definitely had some thriller tendencies and it was a super interesting panel and I definitely want to check out Caleb and Shea, who I have not read in the past.
I went and grabbed an autograph from Maureen Johnson's, who just release  Truly Devious recently and Daniel came to say hi because he loves her work on Welcome to Nightvale! We talked a little about my Mortal Instruments tattoo thats on my forearm and about meeting on the Clockwork Princess tour FIVE years ago (my god…) and it was funny to watch Daniel interact with Maureen, who was SUPER messing with him with her dry and sarcastic sense of humor. It took him a moment to get that she was messing with him!
I also got some books (ARCs!) for my big sixth blogversary giveaway next month that's going to be TRULY EPIC!
We ended up grabbing Sprinkles Cupcakes and delicious food at the Original Farmer's Market at the Grove in LA and it ended being a super terrific Saturday.
The next, Sunday, turned out just as fun as well, with a LOT less stress than the day before. We arrived early again for Marie Lu and Sabaa Tahir, two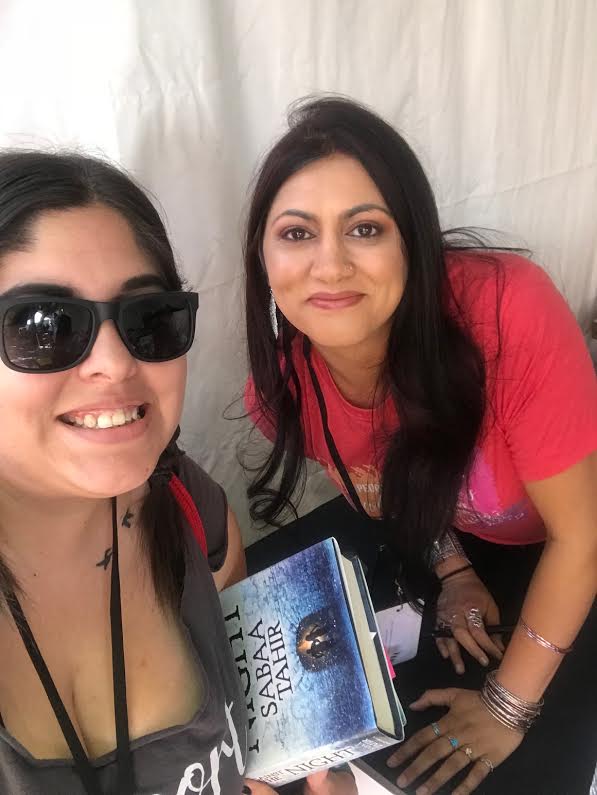 lovely ladies that I have met in the past, of course, but I met Sabaa before An Ember in Ashes came out so I didn't have those books signed and I haven't seen Marie since Batman and Warcross released so I needed those too! Both ladies were fabulously wonderful, as usual. I was also able to thank a couple more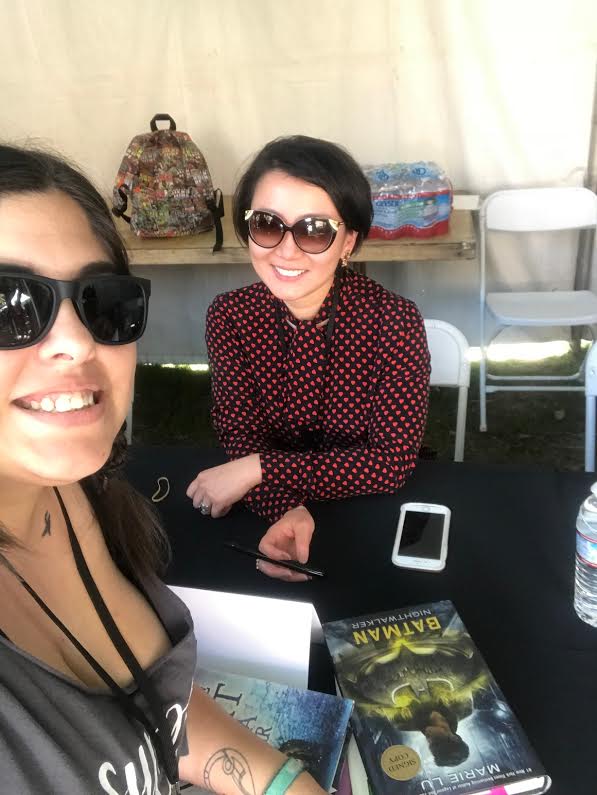 authors for their contribution to the super awesome blog giveway next month!
I also caught part of a panel with Zan Romanoff, Mary HK Choi, and Gloria Chao while I was waiting in line for Gayle Forman and I'm so glad that I caught what little I did. I haven't read books by any of them and they were all smart and funny; I thought it was interesting that Gloria quit being a dentist to become a writer (I loved this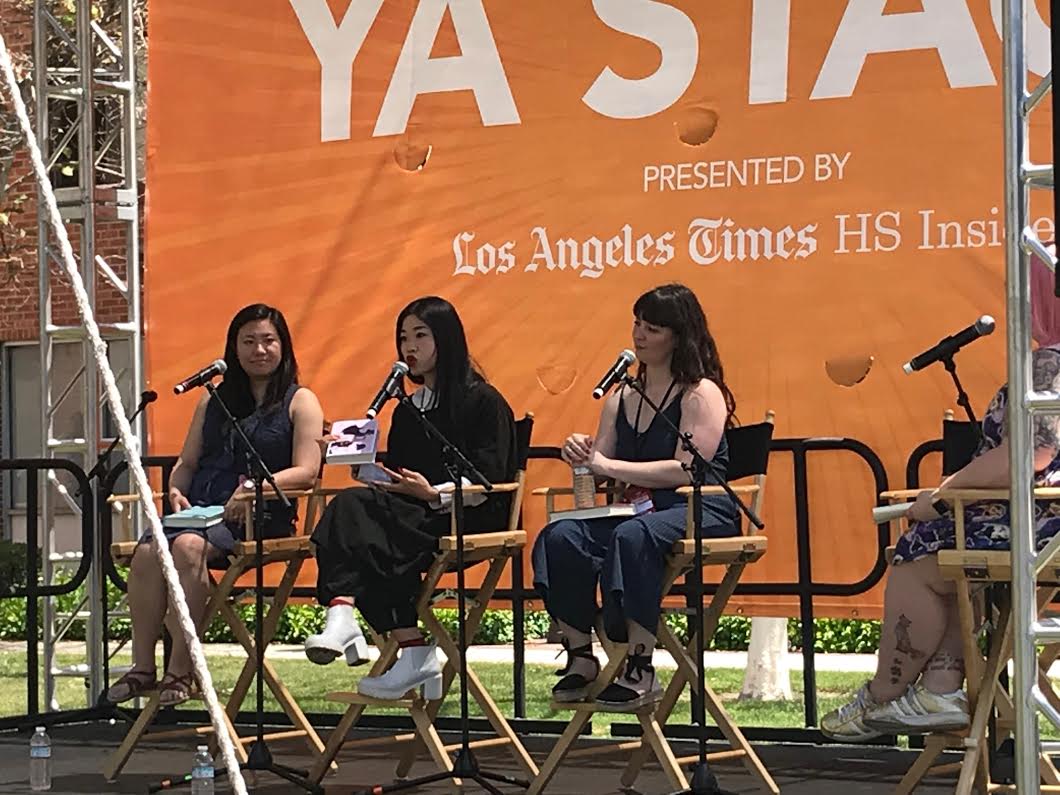 actually…follow your bliss!) and Mary HK Choi was cracking me up. I definitely want to read all of their books! I'm glad meeting Gayle again (and having her sign my copy of the If I Stay movie since I have all of her books signed) gave me the opportunity to go to that panel.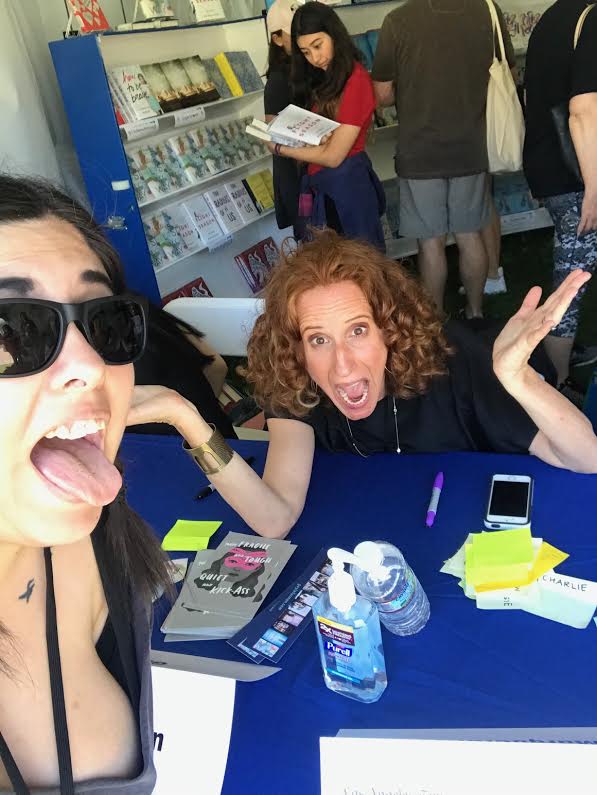 My last stop for Sunday and the weekend was saying a hello to Melissa de la Cruz and getting my copies of Alex and Eliza and Love and War signed. We talked about favorite Hamilton songs (mine is 'Burn', if you're curious!) and we talked about seeing each other at YALLWest in a couple weeks, which I'm very very excited for and which Melissa helps to run!
All in all, it was a very successful and fun weekend. It was actually probably the most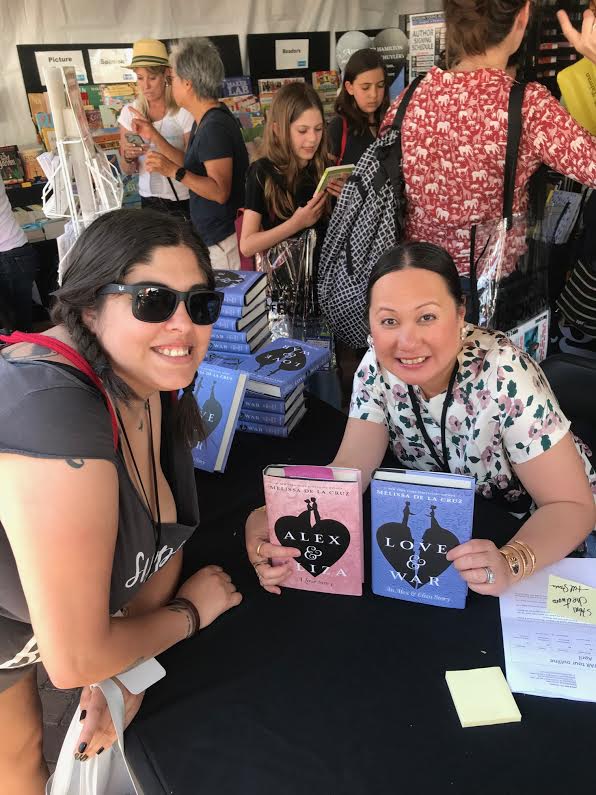 relaxed weekend I've had at a book festival in quite some time, besides making sure that I met Rick Riordan but even that wasn't that stressful. It was a lot of fun and definitely hot but I appreciated the addition of the tent to the YA stage area. I am very happy after my weekend and I'm so excited that I finally got to meet Rick Riordan. Here is to a great time next year!
**************************
Support us on Patreon for only $1 a month to gain access to monthly exclusive interviews, ARC and signed book giveaways, reviews for books I DIDN'T like and more by following the link here.