So some of you may already know this but I have yet to announce here on WhatANerdGirlSays, so here we are.
Back in February of this year, Scholastic announced that in celebration of Harry Potter hitting the United States in 1998, they would be releasing all seven books in all paperback with all new covers.
The covers would be designed by Kazu Kibuishi, the author and illustrator of the children's graphic novel series, Amulet.
When I first heard of this, I will admit that I was quite hesitant. I grew up with Harry Potter. I first read Harry Potter when I was ten years old, the year that the first book was released here in the US and it was the highlight of my childhood, waiting for the new book, reading the new book and seeing the covers for the first time. I ADORE Mary Grandpre's artwork and think its absolutely beautiful.
In the months since they announced this, they have released the cover art for the first four novels, Goblet of Fire just released a couple days ago. Take a look.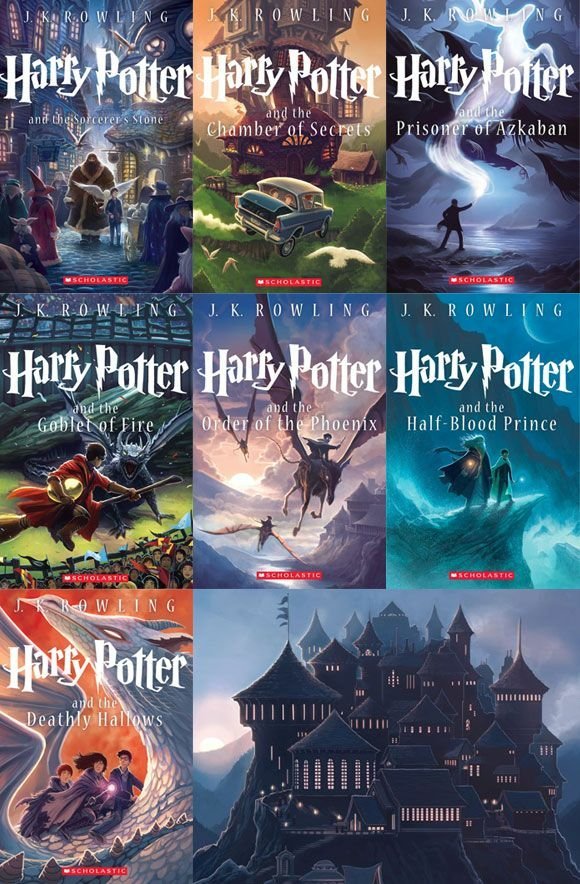 *   *   *
I must admit, I was proven so very completely wrong. I think Kibuishi's artwork is visually appealing and extremely talented and it is supremely beautiful. I absolutely ADORE the Prisoner of Azkaban cover, and I really can't wait to see the rest of the covers.
The books are releasing as standalone editions, or in a box set, on August 27th, according to the release date on Amazon. You can preorder the box set at this link, for only 58.50, which is not a bad deal in the slightest. You are also able to preorder each individual book, as well.
I love these covers, much more than I thought I would, and as a huge Harry Potter fanatic, I must add these to my collection.
Scholastic also has plans for releasing a smaller box set in November, including Quidditch Through the Ages, Fantastic Beasts and Where to Find Them and The Tales of Beedle the Bard. I am definitely looking forward to these as well.
What do you guys think of the book covers? Do you like them, or dislike them? Will you be adding them to your collection? As always, let me know in the comments!