It's that time again! Time for another I Read YA week interview. This interview is with one of my absolute favorites…favorite author, favorite friend, favorite people, favorite period. Jessica Brody is an awesome person and I'm so glad to host her, yet again, on What A Nerd Girl Says!
Also stay tuned to the end of the post to find out more about the giveaway!
ABOUT JESSICA BRODY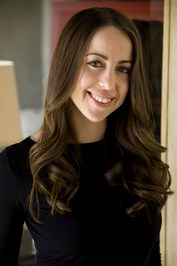 Jessica Brody knew from a young age that she wanted to be a writer. She started self "publishing" her own books when she was seven years old, binding the pages together with cardboard, wallpaper samples, and electrical tape.
After graduating from Smith College in 2001 where she double majored in Economics and French and minored in Japanese, Jessica later went on to work for MGM Studios as a Manager of Acquisitions and Business Development. In May of 2005, Jessica quit her job to follow her dream of becoming a published author.
You Can Find Her:
Her Website / Her Facebook / Her GoodReads / Her Twitter / Her Instagram
HER BOOK
Add Jessica Brody's latest release on GoodReads and pick up a copy at your local bookstore or on Amazon, Barnes and Noble or Book Depository. 
Best friends since they were kids, Grayson, Mike, and Ian were hoping for another epic summer on "The Locks", filled with clam bakes, bonfires, and late-night swims in the ocean.
But that was before Ian's dad never returned home from his last deployment. Before Mike had to take on more responsibility in order to help provide for his family. Before Grayson's accident left him with an injured throwing arm and an uncertain future.
It's clear this summer on the island is shaping up to be very different from those Grayson, Mike, and Ian have come to rely on. And when the sacred code of dating a friend's sister or ex is broken, it will push their friendship to the absolute limit, testing their loyalties in a way that could either break them—or save them.
THE INTERVIEW
Nerd Girl: Why do you write YA?
Jessica: Because I'm still emotionally stuck at age 15. And therefore it feels the most natural to me. However, I do have a middle grade (tween) book coming out in February in which the character is 12. It's called ADDIE BELL'S SHORTCUT TO GROWING UP, and I have to say that felt pretty natural to write too. So maybe I'm emotionally stuck at age 12 too. Bottom line, I'm not my age.
Nerd Girl: What are some of your own favorite YA reads?
Jessica: On which day? Haha. But seriously, I have so many! To name a few (in no particular order!): THE SKY IS EVERYWHERE by Jandy Nelson, ELEANOR AND PARK by Rainbow Rowell, WINTERGIRLS by Laurie Halse Anderson, THE FORBIDDEN WISH by Jessica Khoury, and FREE TO FALL by Lauren Miller.
Nerd Girl: What do you think is a big misconception about YA and why do you think its wrong?
Jessica: That it's only for teens. I know this is an old misconception, but I still hear it all the time! I'll tell people I write young adult fiction and they'll write it off as "not for me" because "I'm an adult." And I'm like, "Yeah, so am I, and I write it…and read it." Teen fiction is written about teen characters. That's it. You don't have to be a superhero to watch a Marvel movie. And you don't have to be a young adult to read young adult.
Nerd Girl: Why do you think its important to have a "I Read YA" week?
Jessica: I think it's important to have any week that celebrates reading and books. Football owns a entire day of the week (actually more than one now!) Anything we can do to pull our focus back to reading and books is a good thing.
Nerd Girl: Describe your latest work in five words or less. 
Jessica: Three boys. One Hot Summer.
BAM!
Nerd Girl: What do you think the hardest part is between writing science fiction and contemporary books?
Jessica: The pacing. A sci-fi thriller is paced very differently than a contemporary teen drama. But they both have to engage the reader, they both have to read quickly, and I try to put cliffhanger chapter endings in both. The cliffhangers just center around very different things.
Nerd Girl: What are you most excited about when it comes to the film adaptation of Unremembered?
Jessica: Okay, this is weird, but I'm just super excited about seeing Seraphina's purple eyes! I know, I know, it's not what you expected. But I spent so many days and nights imagining them, and picturing the very exact shade of purple, I just can't wait to see them brought to life. Also, I'm SUPER excited to see how the movie adaptation handles the "stolen memories" and the way they're returned to her in the first book. I tried to write that scene very cinematically and I'm curious to see if or how they use what I've done. Or if they make up their own cool stuff!
Nerd Girl: You sort of fell into YA accidentally when the idea of The Karma Club didn't work quite well for adult audiences. Now you have written quite a few YA novels. How do you think switching from adult to YA changed you as a writer and person?
Jessica: I think it's made me a more organic writer. It's not that I'll never write an adult novel again but I do feel more at home in the YA space. I think when I was writing adult characters, I felt like a bit of a fraud, because I really just don't see myself as an adult. It almost felt like I was playing dress-up with my mom's too-big clothes. YA fits me. I feel like I can be myself.
******
Thank you, as always, Jessica for being a welcome guest on What A Nerd Girl Says!
And don't forget everyone, stick close ALL week for interviews and guest posts with more YA authors!
Lastly, head to my instagram and find this photo below to enter my giveaway. SO.MUCH.SIGNED.SWAG.