Happy Thanksgiving week everyone!
I know that not everyone celebrates Thanksgiving, considering there is only one out of many countries in the world that celebrate the US holiday…the US. Crazy concept LOL.
But I'm bringing EVERYONE into Thanksgiving this week. This week I'm profiling the newest release from Rick Riordan and sharing an epic giveaway with you all!
First off, let's revisit our good friend, Rick, why don't we?
About Rick Riordan 
Rick is the #1 New York Times bestseller author of Percy Jackson & the Olympians, the Kane Chronicles, the Heroes of Olympus, and Magnus Chase & the Gods of Asgard. You can find out more about himand all his fantastic books on his official website. You can also follow him on Twitter, Facebook and Instagram.
About Magnus Chase and the Gods of Asgard: The Sword of Summer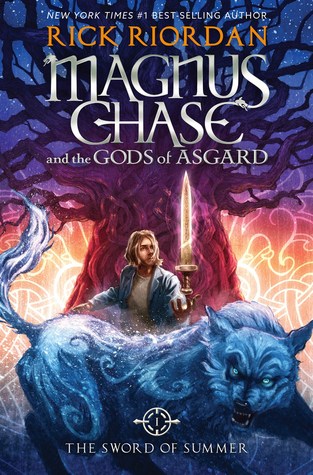 Magnus Chase has always been a troubled kid. Since his mother's mysterious death, he's lived alone on the streets of Boston, surviving by his wits, keeping one step ahead of the police and the truant officers.
One day, he's tracked down by a man he's never met—a man his mother claimed was dangerous. The man tells him an impossible secret: Magnus is the son of a Norse god.
The Viking myths are true. The gods of Asgard are preparing for war. Trolls, giants and worse monsters are stirring for doomsday. To prevent Ragnarok, Magnus must search the Nine Worlds for a weapon that has been lost for thousands of years.
When an attack by fire giants forces him to choose between his own safety and the lives of hundreds of innocents, Magnus makes a fatal decision.
Sometimes, the only way to start a new life is to die . . .
Find the Book at Your Local Bookstore or At the Following Links: 
GoodReads / Amazon / Barnes and Noble / Book Depository / iBooks
Mini Book Review
I am SO glad that I got this book in my hands from the lovely people at Disney-Hyperion. I seriously am so in love with it. I think Rick has an amazing way of blending contemporary with fantasy and myths and legends and all of that. And he makes it look so effortless. And so hilarious. This is what caught me from page one of the Percy Jackson series and I was so glad to see all of that in Magnus Chase. I loved that he was able to bring us into the Norse mythology so easily. I'm not familiar with Norse the way I am with Greek. I've always had a fondness for Greek myths and we learn those in school. I wasn't sure how I would feel about these myths but they just felt natural. Between Rick's storytelling and Magnus as an awesome main character, it was SO easy to fall into the story and get hooked. I also really love that the character of Magnus is a bit older than the way our Percy started out. It almost seems as if Rick has sort of realized his fans have grown up a little and aged up his character a little bit. Or it could just be that the age of Magnus worked better as a teenager. Either way, I definitely enjoyed it. It made reading this book as an adult that much more enjoyable. I honestly can't wait to get my hands on the next in the series :)
The Giveaway 
Simple enough!
Head to my Instagram and find THIS picture above!
Repost it, tagging me in it! Use the hashtag #ImThankfulForMagnusChase and share what YOU are thankful for!
Make sure you are following both @whatanerdgirlsays and @sesantanawrites
You can post ONCE per day between November 23rd and November 28th!
This giveaway is sponsored by Disney Hyperion and only open to US addresses! Sorry :(
******