Love Letters to the Dead by Ava Dellaira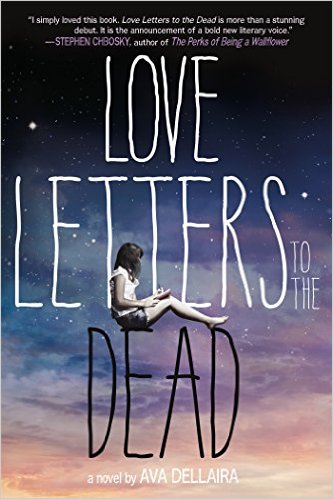 You Can Find the Book At:
GoodReads Summary:
It begins as an assignment for English class: Write a letter to a dead person. Laurel chooses Kurt Cobain because her sister, May, loved him. And he died young, just like May did. Soon, Laurel has a notebook full of letters to people like Janis Joplin, Amy Winehouse, Amelia Earhart, Heath Ledger, and more; though she never gives a single one of them to her teacher. She writes about starting high school, navigating new friendships, falling in love for the first time, learning to live with her splintering family. And, finally, about the abuse she suffered while May was supposed to be looking out for her. Only then, once Laurel has written down the truth about what happened to herself, can she truly begin to accept what happened to May. And only when Laurel has begun to see her sister as the person she was; lovely and amazing and deeply flawed; can she begin to discover her own path.
My Review:
I knew when I saw the cover of this book that I had to read it. I first saw it when doing a bit of research on the authors that would be attending the Ontario Teen Book Fest. Something about this cover just jumps out at you and you can't help but think…what is this book about? I put it on my TBR list and left it at that.
The next time I had encountered it was after Sylvia from Fangirl Feeels had acquired an e-ARC and reviewed it for her site (which you can read here). She really loved it, and she blew through it, and so I knew that I had to get my hands on it.
Then this past Tuesday, she had her launch event at the Barnes and Noble at the Grove, with Stephen Chbosky, and Sylvia and I ventured down the freeway to go and meet her. She read from her book, answered some questions and signed some books. You can find out all about that fun stuff in my vlog about it here.
The bottom line is, as soon as I came home from enjoying the book signing and cupcakes (because you can't go to the Grove and NOT get Sprinkles), I dove into this book and was immediately sucked into this absolutely beautiful novel. It is hard while reading this book to realize that this is a debut novel. She writes like she has been doing it for so long and I felt so connected to the book.
The first time I ever picked up The Perks of Being a Wallflower and read "Dear Friend", I knew that I was in for something special. When you open this book, you get "Dear Kurt Cobain". Flip through the pages and you see all sorts of names: River Phoenix, Judy Garland, Amy Winehouse, Heath Ledger, and more and that is enough to make me dive into the book. Each person chosen for a letter seems so perfect to what Laurel is going through in her life. They match perfectly and you find yourself comparing Kurt and Laurel or Amy and Laurel. Its beautiful. Its beautiful that the way Laurel found solace and found herself through writing to others.
Grief is a difficult thing to deal with. I've barely stepped my toe in it. When I was in 8th grade, two of my classmates died. One the week school started and another just a couple days after "graduation", both in car crashes. Not long after, I lost my grandfather, which was incredibly rough. But I've never lost a sister, not like Laurel, and I can't imagine what I would be like if I lost either of my sisters. That kind of grief is unimaginable and going on this journey of grief with Lauren is incredibly emotional and aching and just flat out beautiful. There are times when it feels so familiar and other times, it doesn't but you still feel the pain and emptiness that she feels.
Because Ava has a way of connecting with her reader. Laurel is not speaking to us, she is speaking to dead people, dead famous people to be exact. But she feels so real, and even though you're not the person you're writing to, you feel everything she feels and its incredible. To be able to reach out to the reader like that and pull them in is just an amazing thing to do and I admire Ava for accomplishing that.
Bottom line: its an incredible, one-of-a-kind read. Its hard to believe that this is a debut novel because its so GOOD. She captures you from the very first page and pulls you through the story. You finish each letter with the immediate urge to read the next. This book is nearly impossible to put down. Its emotional and has beautiful romance and fantastic characters (god all those secondary characters are just fantastic!) and its a wonderful coming-of-age story about a girl dealing with the loss of her sister. This is a book I will definitely read again.
Plus, Emma Watson totally recommends it and you can never go wrong with Emma ;)
Rating:
5 out of 5 Stars