Based on the beloved novel by Louisa May Alcott, Little Women tells the stories of the four March sisters in Civil War era as they navigate daily life. Jo longs to be a writer and break down the walls that hold her back as a woman expected to marry. Meg desires to be married to a wealthy man who can bring her the comforts in life. Amy fights off the shadows of her sisters at every turn and tries to stand out while Beth is the sweet younger sister who enjoys being in the company of her family. The movie follows the girls as they chase their dreams and hit many bumps along the way.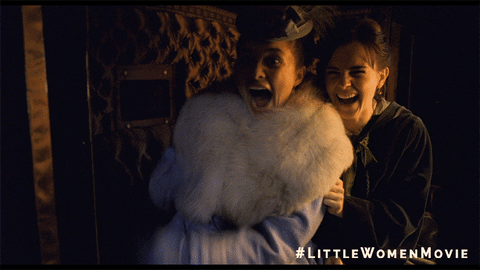 RATED: 
PG
DIRECTED BY:
Greta Gerwig
STARRING: 
Saoirse Ronan, Emma Watson, Florence Pugh, Laura Dern, Eliza Scanlen, Timothee Chalamet. See full list here.
IMDB SYNOPSIS:
Jo March reflects back and forth on her life, telling the beloved story of the March sisters – four young women each determined to live life on their own terms.
Check out the full trailer
REVIEW:
Let's be honest about one thing straight out – I am not a fan of the book. I've read it at different times in my life so I thought maybe I'd appreciate it more at a different age. Last I read was in my YA literature class in college in 2013 and it didn't change my opinion at all. To be fair, I didn't like that class so that didn't help. But the book just never captured me. It seemed to lack the magic that books like The Little Princess and The Secret Garden have. Plus I related to Jo so much growing up (nowadays I feel more of a mix of Jo and Amy) and I was SOOOOO mad she didn't end up with Laurie. I'm a little salty about it now as an adult too haha.
The movie definitely changed my opinion of the story. BIG. TIME.
I want to make it clear that because I've never liked the book, I've also never ever watched the Winona Ryder version either. I decided to watch this one because I heard such great reviews and I adore Emma Watson and I ADORE Saoirse Ronan so much and I thought I'd give it a shot.
The magic and heart and emotion that I've always felt like was missing in the book or just felt…flat really came out in the movie. I spent the entire movie just absolutely FULL of emotion. This book is old, I've read it several times and Beth's death in the book just always felt…sad but just not nearly as devastating as it did in the movie. I KNEW it was coming and it still totally broke my heart. Everything was just so emotional and it was the brilliance of the directing, the script and the acting. What always felt so flat in the book just burst into life on the screen. I finally felt connected to all of the characters and how they felt. I also think certain characters – like Meg and Amy – came across way more sympathetic than in the books, where they annoyed the heck out of me.
What finally came across to me, what I had hoped would make a connection for me for years and years, was the bond that these four sisters had. I'm the oldest of six kids, I have two younger sisters that I'm incredibly close with and this story is about the bond between the sisters more than anything else. In the book, I just couldn't connect with it at all. In the movie, I just felt it so deep and it had me SO emotional. It had me laughing and crying and going YES. When Amy burns Jo's novel, I felt that. When Jo saves Amy from drowning, I felt that. When they spent time putting together shows and doing voices and playing pretend, I felt that.
This movie is beautiful. The acting is just BEYOND and I wish everyone could have been nominated for an Oscar, though Florence Pugh and Saoirse Ronan fully deserve their nominations for SURE. The story just JUMPS off the screen and into your heart, truly, as cheesy as that sounds. I also think there was a sort of brilliance in bouncing back and forth in the timelines, knowing partly what is going to happen to the characters. It just worked so well. Truly, I feel like that they took a book that I've struggled to like my entire life and turned it into a movie that I truly adored. I wasn't surprised to hear of all the nominations it received for the Oscars this year but I was truly disappointed that Greta Gerwig didn't get a nom. Truly, such a SNUB because she deserved it and this movie was truly brilliant.
RATING: 
5 out of 5 Stars
**********