Hello friends! I know. It, once again, I've disappeared for quite some time! Life has been busy with work and getting my health back together and re-writing Struck Out during NaNoWriMo this month but I've missed it here, as I always do. I always try to return!
I got to experience something SERIOUSLY magical yesterday and I thought it was a great way to remind everyone that I'm still here.
For those of you who might not know – I absolutely love the Disneyland Resort. I grew up there, have been a passholder pretty consistently since 2005 when I was 17 years old and am on my second round of being a cast member there. I love the attractions, I love the food, I love interacting with cast members and characters and other guests. I love the magic. I buy into all of it 100%. Every time there's something new, I want to experience it. I want to do everything.
Club 33 has been my ultimate Disney bucket list item for so long and was something that I honestly wasn't sure if I would ever accomplish. Club 33 is an exclusive, upscale restaurant and lounge in Disneyland's New Orleans Square. To be a member is not an easy thing – you need to be nominated/suggested/recommended by a current member and the entry fee plus yearly fees are insanely expensive. They have a dress code, you can take lots of photos but no video and no photos of the bathroom. It is fine dining mixed with Disney magic.
The only way to go inside is to be invited by a member. It's supposed to be a great experience, totally fancy and something that every Disney fans wants to do. It was also, for a long time, the only place in the park to have an alcoholic beverage, before Oga's Cantina opened and they added drinks to the Blue Bayou menu.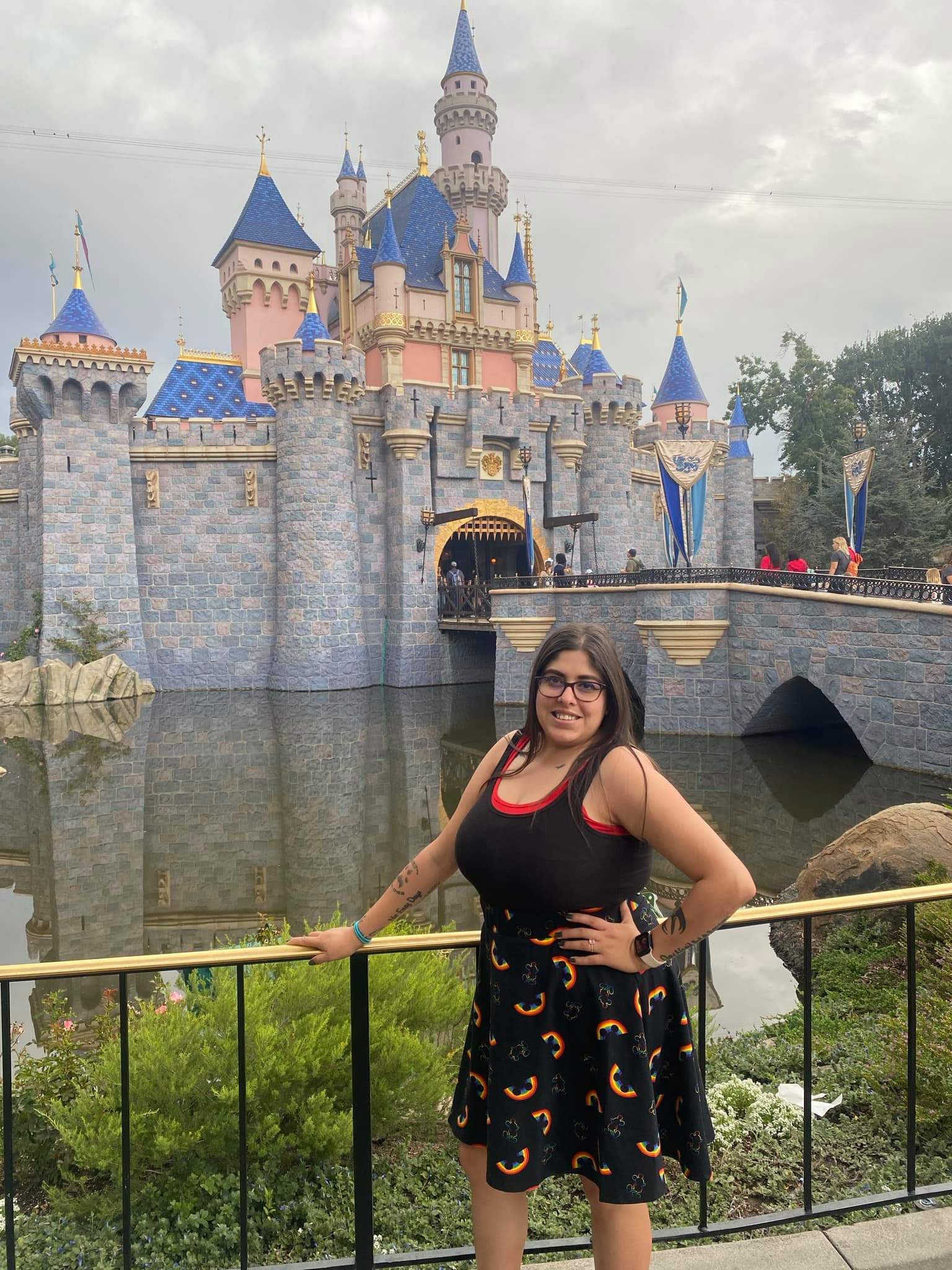 I never knew how or if this was ever going to happen. Again, you need to have a member invite you to either the lunch/dinner in the salon or you have to be accompanied by the member to enjoy their lounge. I never knew a member until a few years back, and even then…it felt SO wrong to ask them! I never want to overstep and I never want anyone to ever assume that I'm using them for what they can get me so I never asked. I will never ask. I can't do that! So I just never knew how it would happen but it did.
A friend, who wants to remain anonymous for obvious reasons, made my dream come true this weekend! She had actually invited me to go for a meal about two years ago and I was all set and ready to go but I woke up that morning with terrible food poisoning and had to back out. It broke my heart! So to get extended the invitation again meant the world. I was finally making it happen – lunch at Club 33!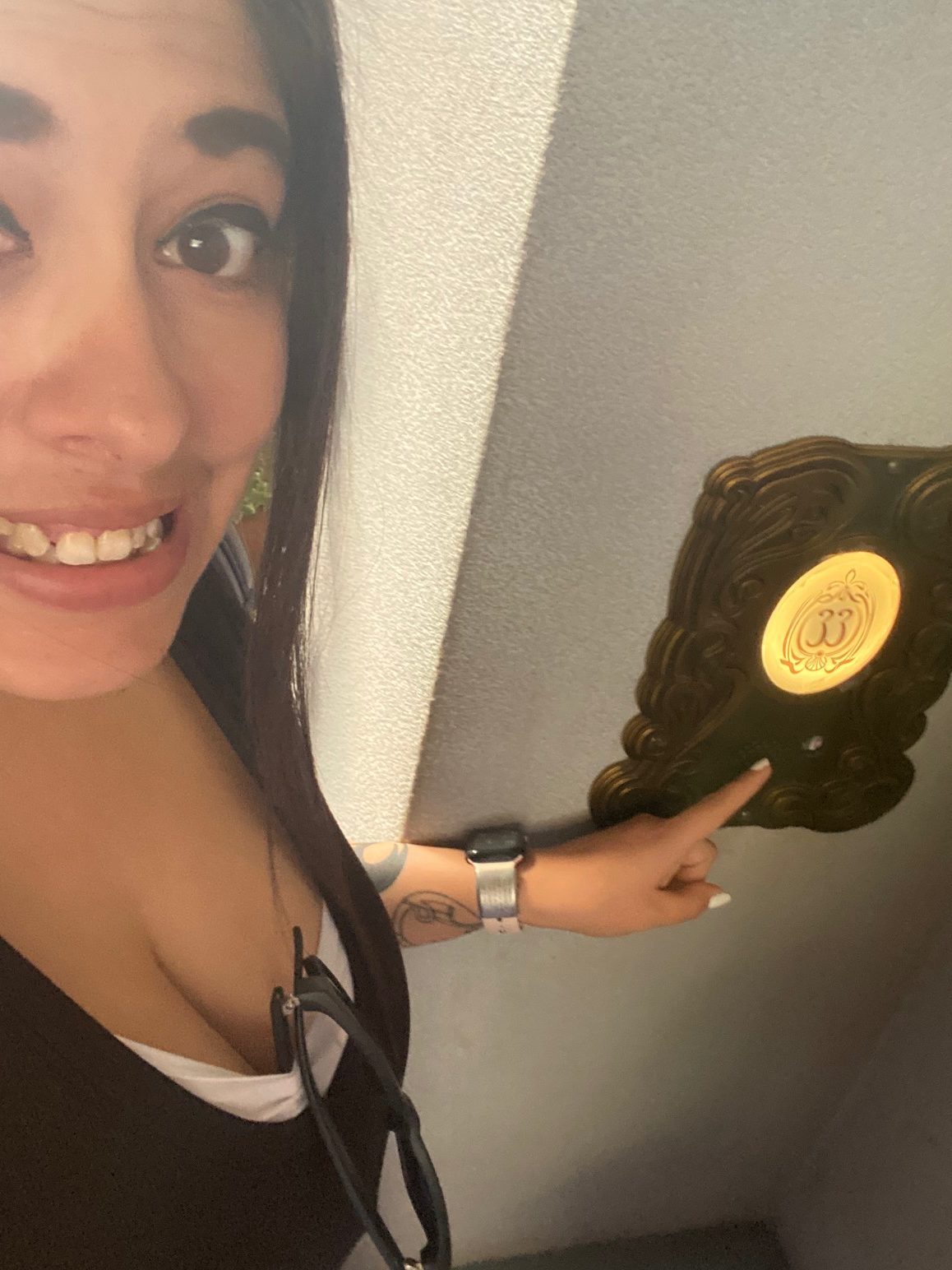 I've walked by the door to Club 33 a million and one times but this was the first time I got to ring the doorbell and go inside. You go through a large door and immediately enter a gorgeous courtyard with a grand staircase. It was beautifully decorated for Christmas and while we waited for our table to be ready, we took about a million photos. I was like a little kid being taken to see Santa Clause and we'd only entered the courtyard! To add to that – this courtyard used to be freely open to regular guests in the past so it's not as if I hadn't been in that area before! But it just FELT different and I just couldn't believe that it was actually happening!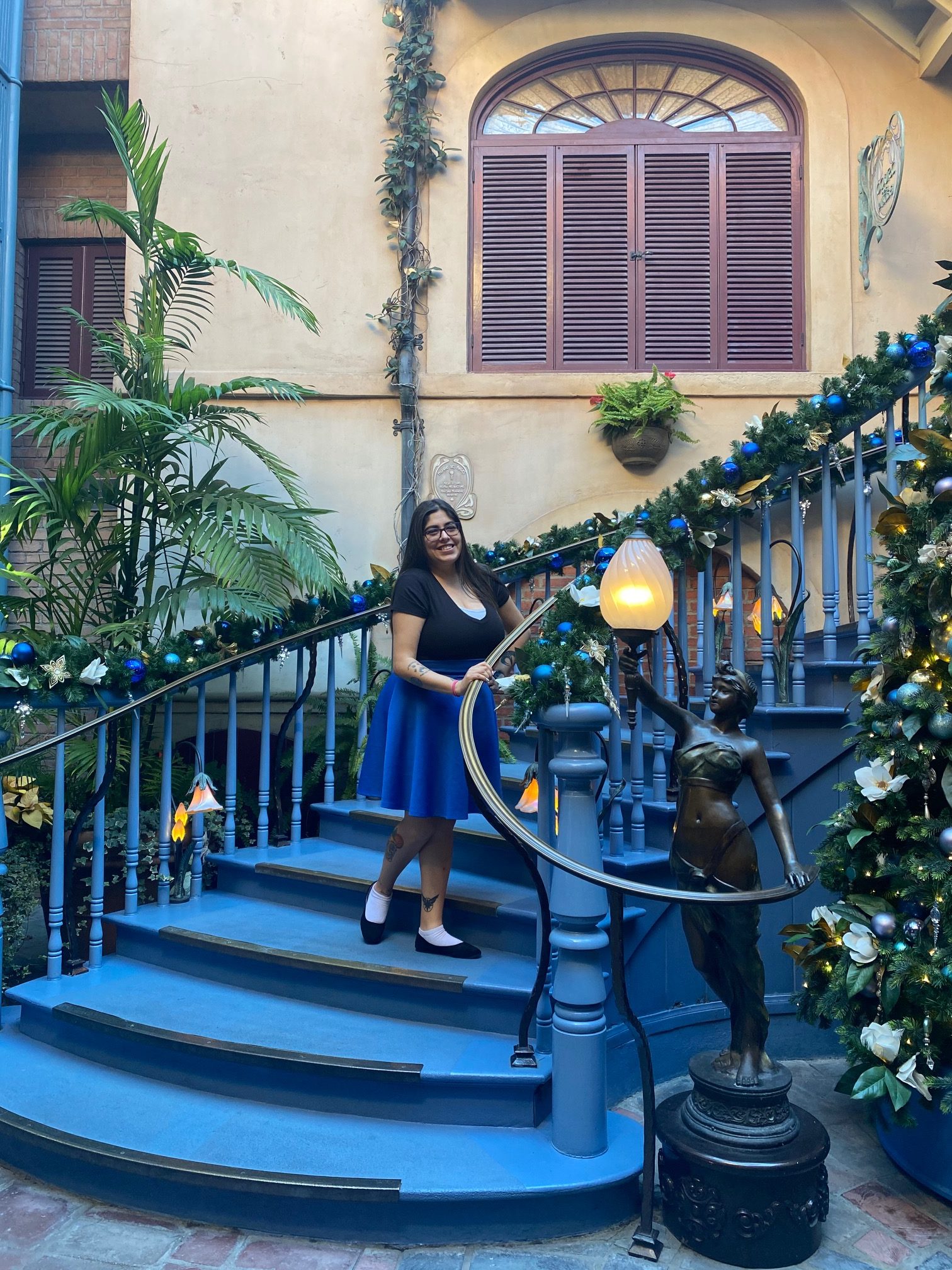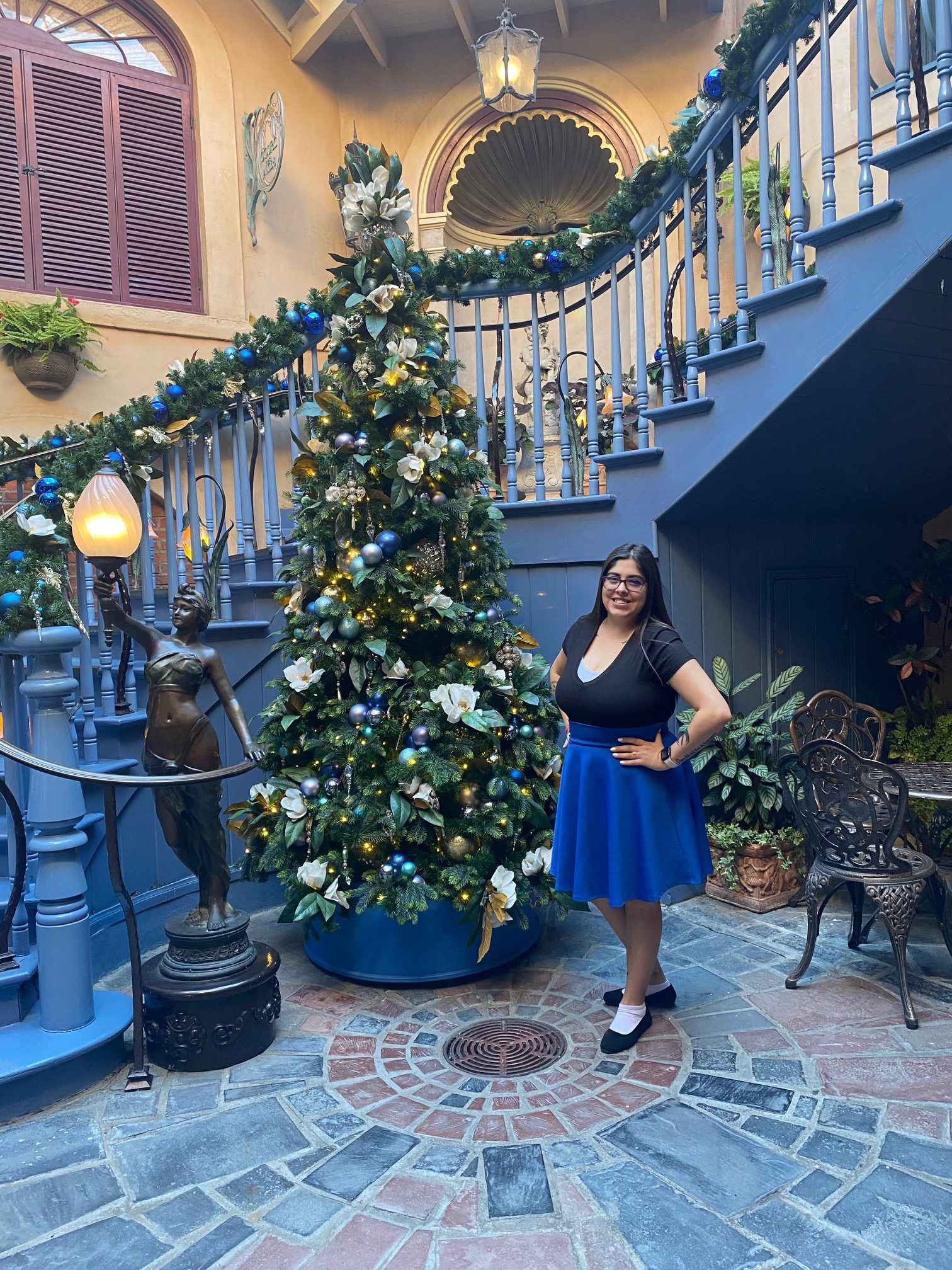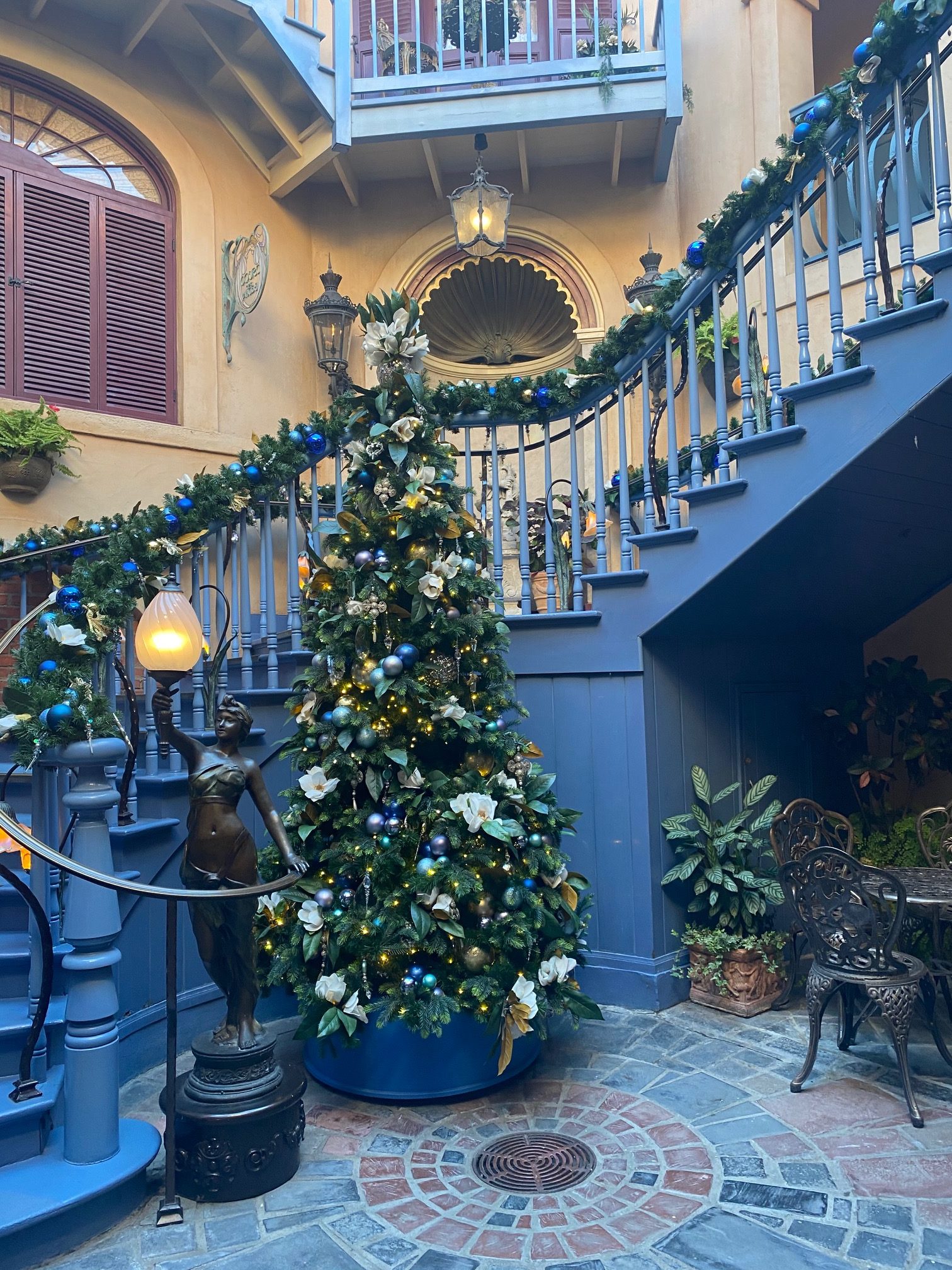 Not too long later, we were told by the so nicely dressed cast member that our table was ready and that we could proceed upstairs. We went up the grand staircase, through these beautiful double doors and into a gorgeous lobby.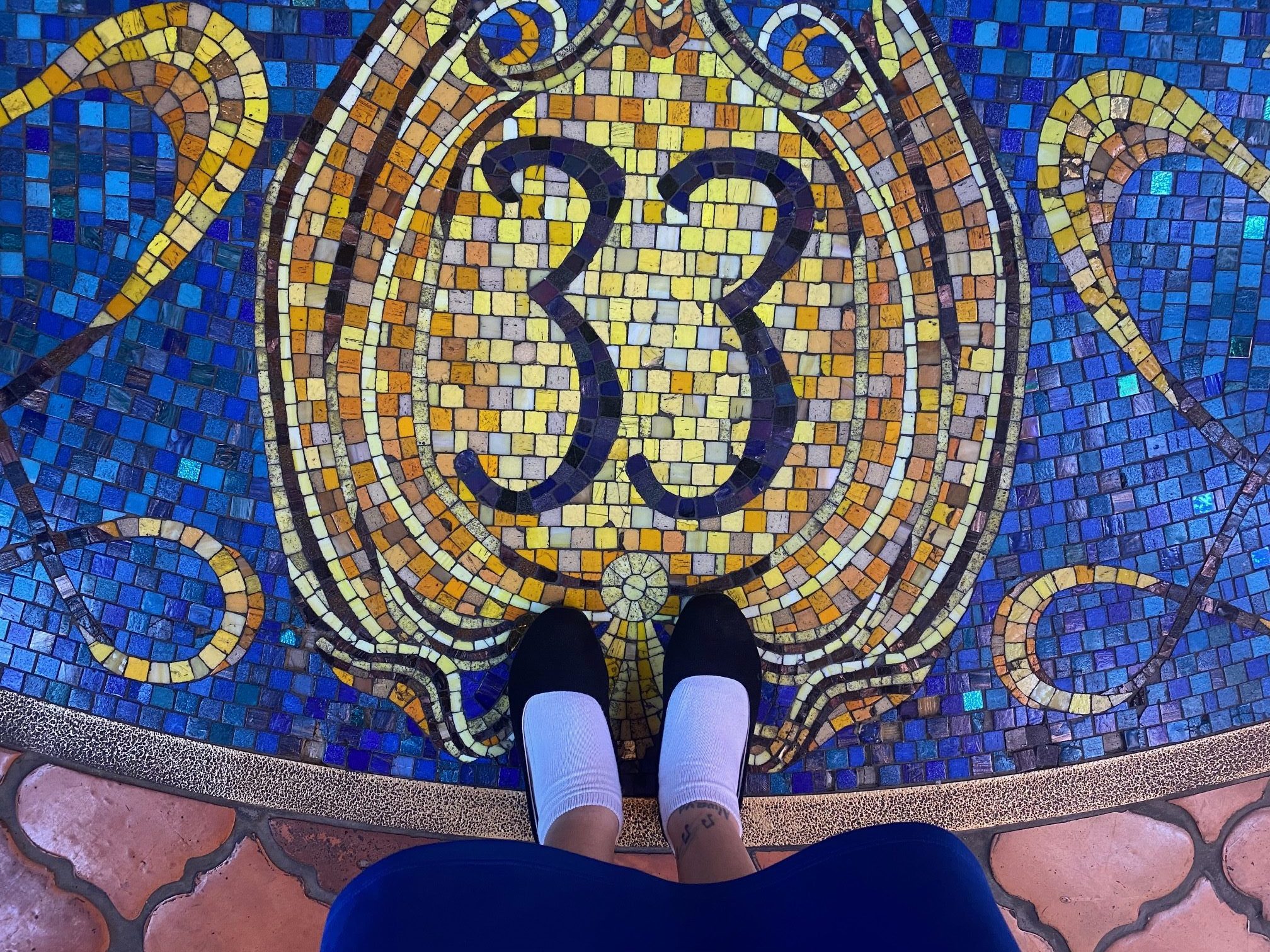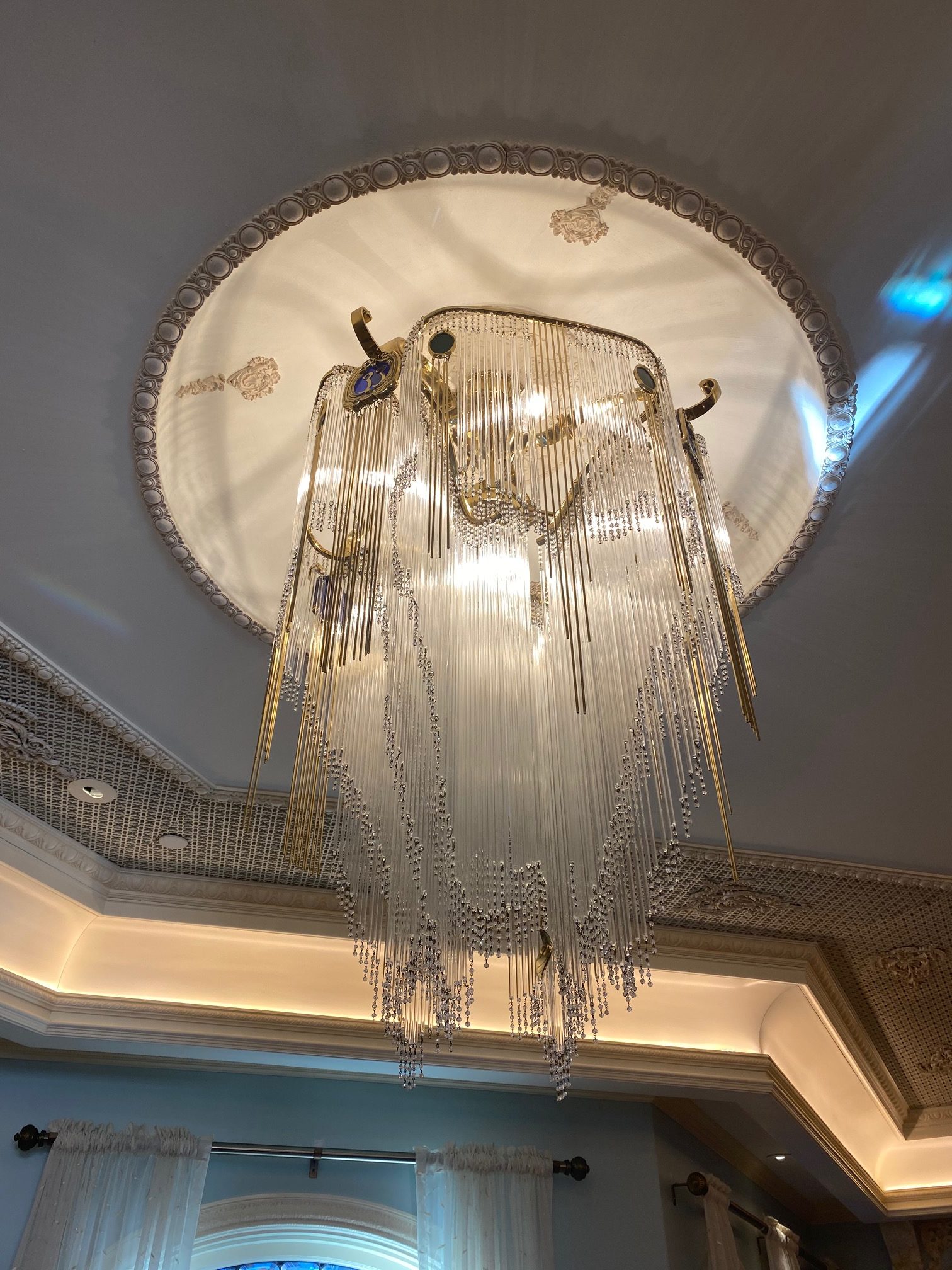 There was a check in desk with an extremely helpful cast member who welcomed us and answered all of our questions about the merchandise that was available, displayed in glass cases for us to look at. There was a gorgeous wine cellar that led into the lounge and oh my god, guys, I was so curious and wanted to go over there SO badly but of course, we could not, as we were not with a member. My excitement only grew more when I saw that beautiful lobby, all of the awesome merchandise and just realized, OMG I'M HERE!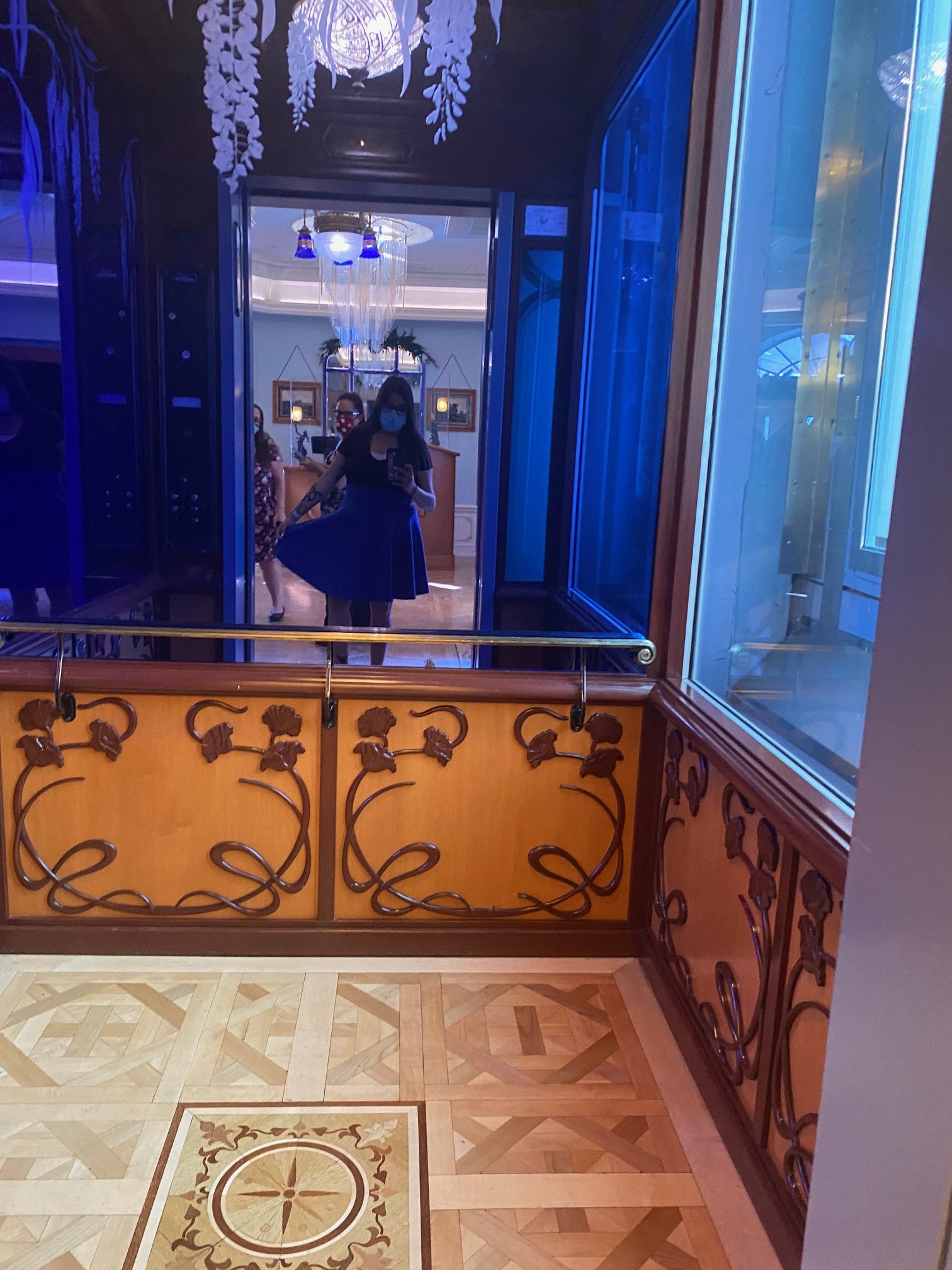 We took the grand staircase up but when the elevator door slid open as I was perusing the merchandise cases, I had to stop and admire it and take a quick elevator mirror selfie. You can tell the beauty of Club 33 just by the elevator alone.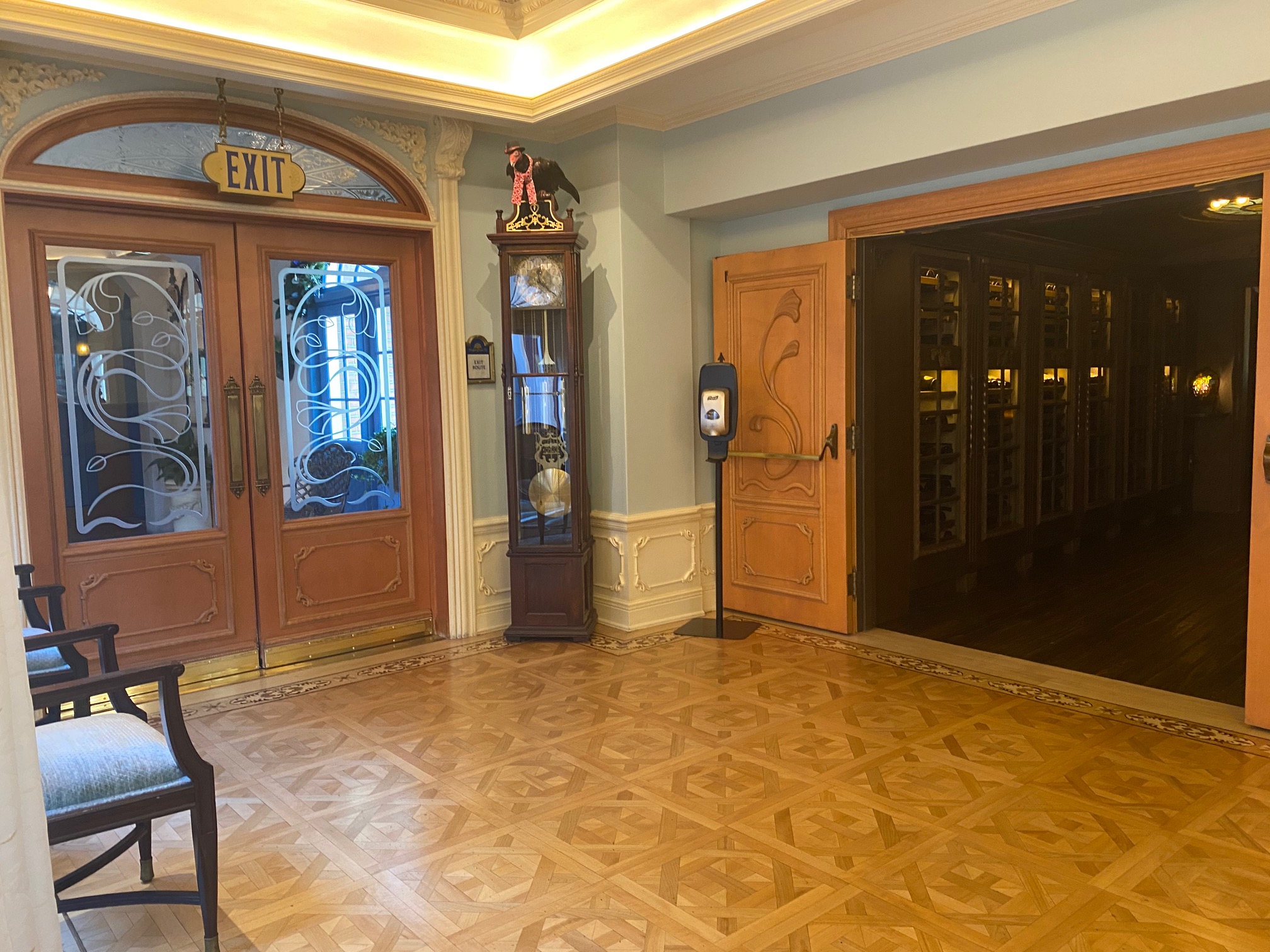 The lobby of Club 33. Those doors made me think of Titanic so that made me weirdly happy and excited. To the right is the long wine cellar and hallway leading to the lounge. It was so tempting but of course, as a guest of a member, you are a reflection of them and you need to be on your very best behavior. Things that you do are the member's responsibilities, which is why it can be very, very hard to go to Club 33 – members just aren't willing to risk their memberships for people they don't know, people that could jeopardize their part in this club. I fully get that!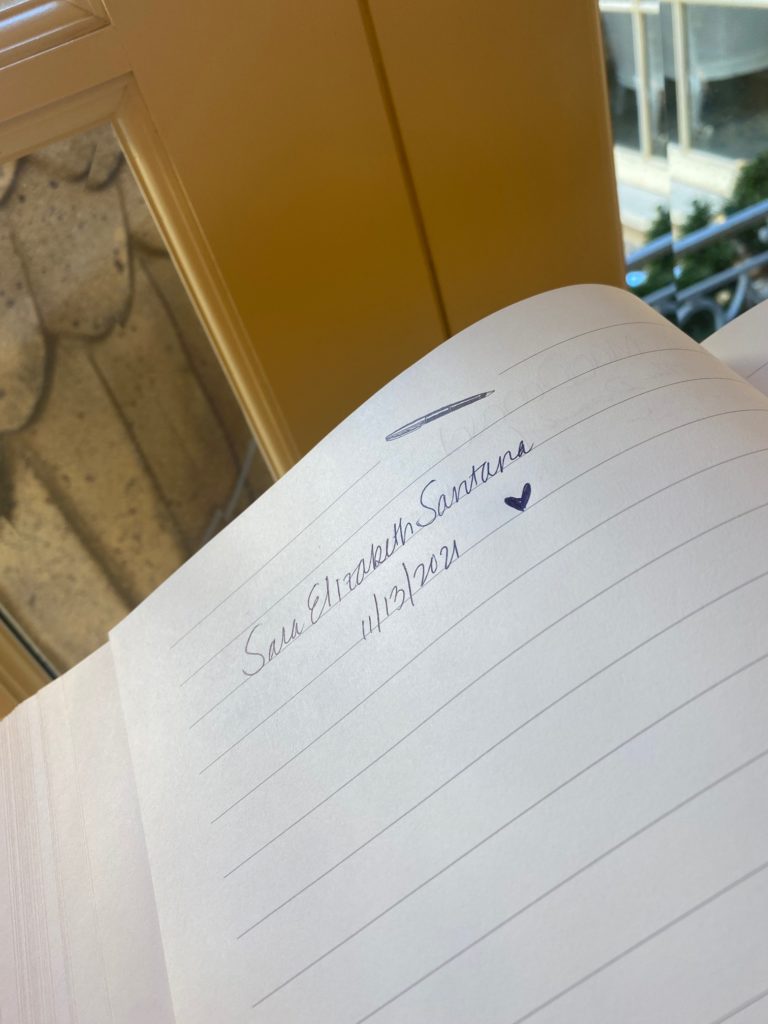 Of course, I had to stop and signing the Club 33 guest book so that it would be marked forever that I was there!
We were taken to our table in the dining room and sat down. The dining room was so much smaller than I expected but it was still so beautiful. The tables were already set with Club 33's winter dishes and there were Christmas trees and decorations all around. The dining room is upstairs, above what regular guests know as Cafe Orleans and there are windows that show off the views of New Orleans Square, the Rivers of America and a little bit of Frontierland. They even brought a little tiny foot chair sort of thing for me to put my bag on so that it wouldn't sit on the floor! They literally took the cloth napkins and placed them on our laps. I felt like a child playing grown up instead of a fully adult woman of 33 haha.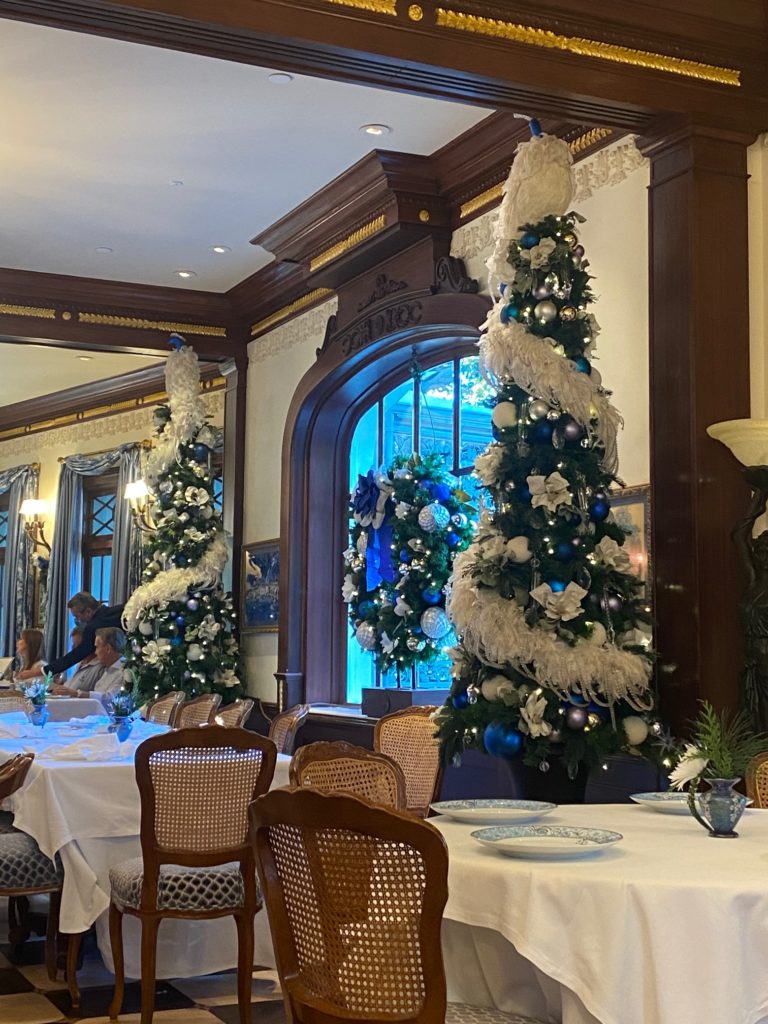 The beautiful dining room. I managed to take a great picture without other guests in there.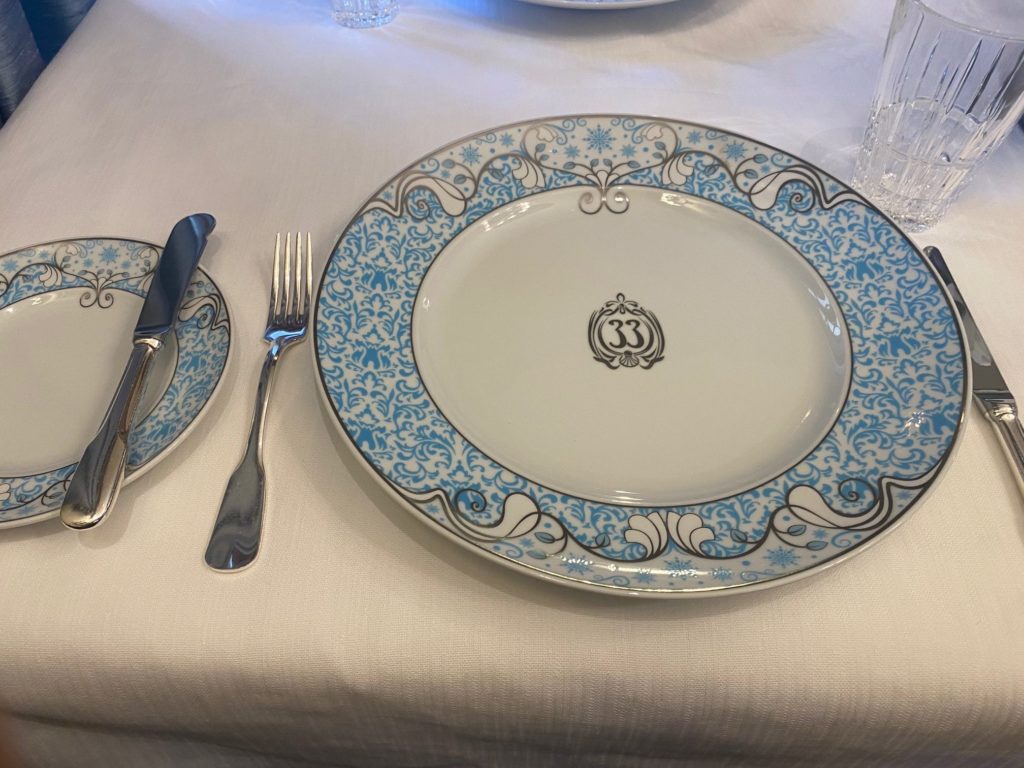 The winter themed plating. The cast member who took us to our table told us we had come at a great time because the holidays had just begin there and so we were able to see the winter plating that they use. I LOVED it.
They immediately handed us the drink menu and even before it was recommended to us, I knew that I needed a Hurricane. One, it's my absolute favorite drink and two, its sort of a signature New Orleans drink and it just felt like I needed to have one in Club 33, in New Orleans Square, to complete the experience all around. The cast member who recommended it warned us that it was strong, which I was kind of excited for, but honestly, it was relatively as strong as any Hurricane you would get buuuuuuut I drink them often and drink strong tiki drinks often so maybe they warn you because most people would probably find it strong. Besides that, though, it was a truly delicious and well made Hurricane.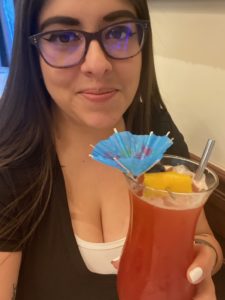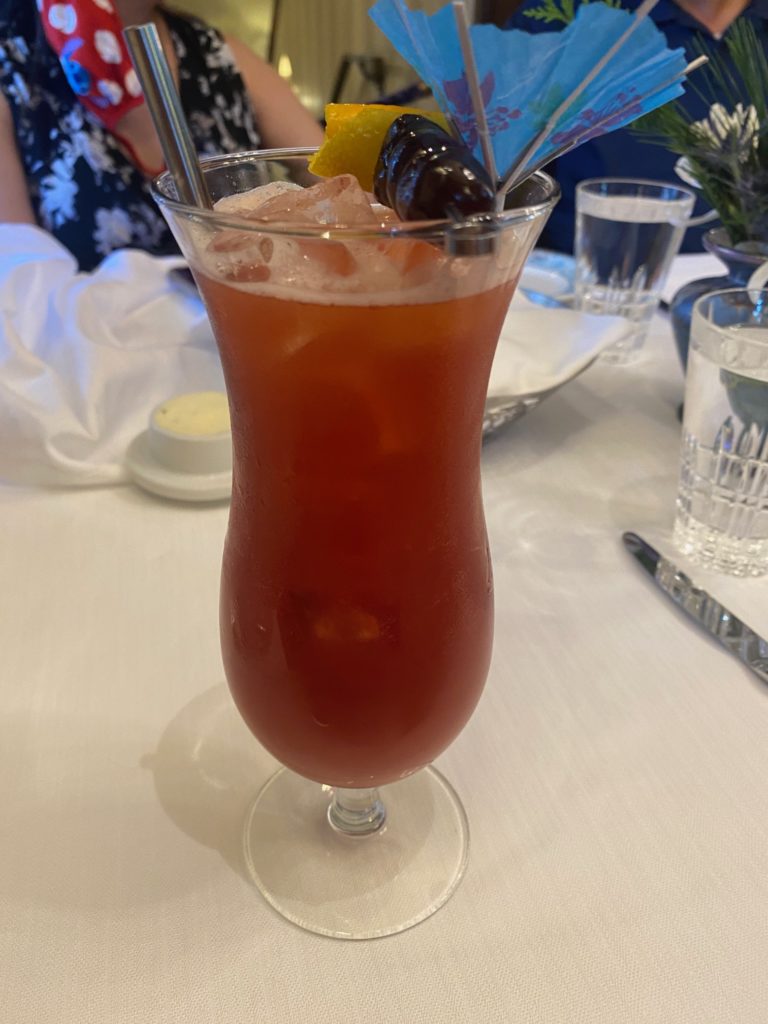 The one thing I was really nervous about in going to Club 33 was the fact that it is fine dining – fancy meals with fancy names, smaller portions, four courses, the whole thing. I am kind of the pickiest eater that you'll ever find. I tend to eat the same foods again and again and again and I like things plain and I like the eat kid's meals and I get wary and anxious when I don't know what's IN something. I was so worried that my unsophisticated palate would just get in the way of my experience with the food.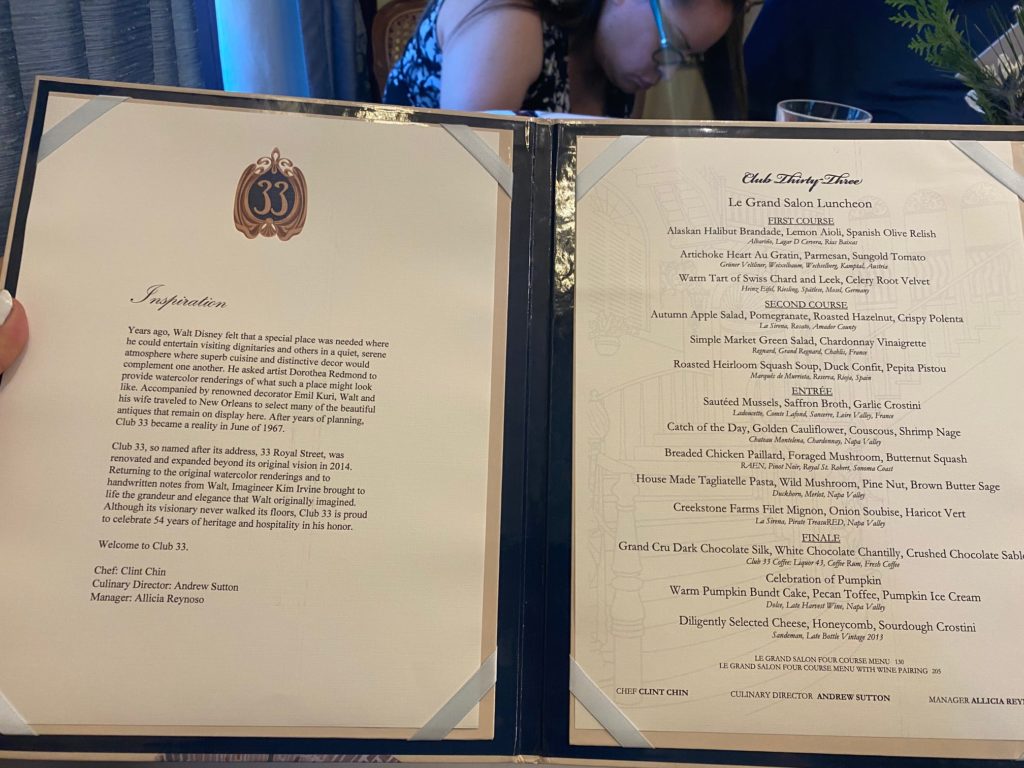 It did not and I'm so happy about that!
First Course – Halibut Brandade. I had NO idea what that meant but I do like all seafoods and I had googled it and it seemed like it was a sort of potato thing and I do like potatoes so I thought, okay, this might be safe to try. It was SUPER delicious. It was very soft, potato-y and the halibut was delicious but not overwhelming and the sauce just added a good flavor to it. I also spent this time absolutely gorging myself on the bread they brought us because it was SO good, that there had to have been crack in that bread because MY GOD, those carbs were amazing.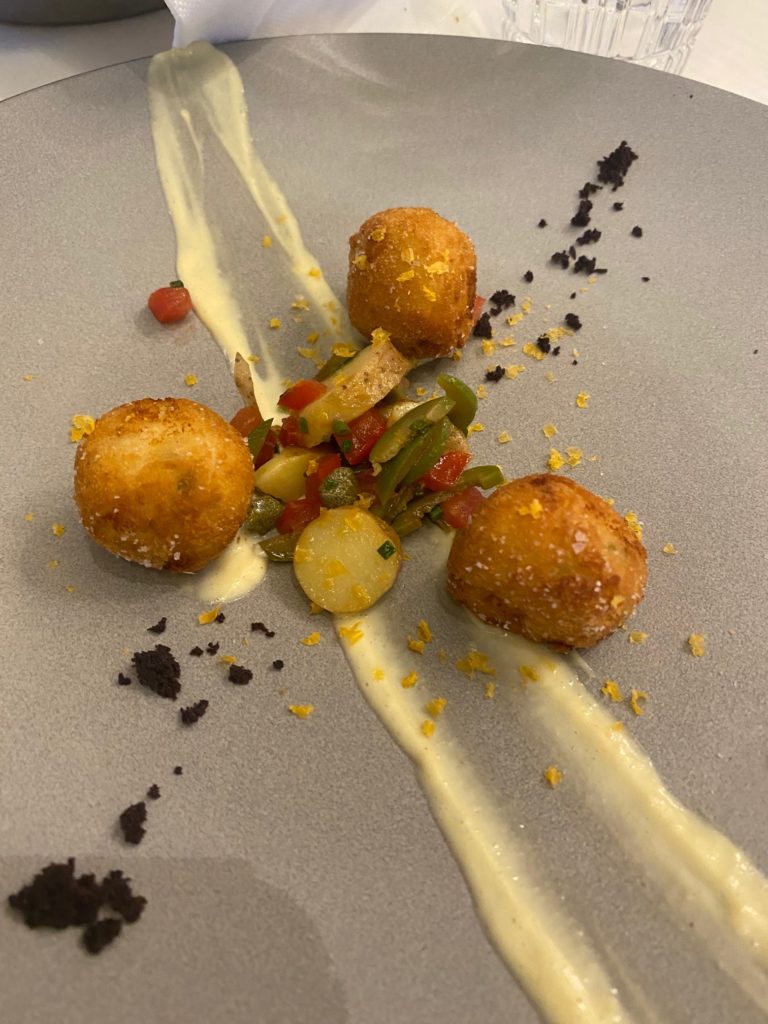 Second Course – I choose the duck and squash soup. I love soups, I eat so much soup haha, in all seasons, and even though I am not sure if I like squash and I've never even eaten duck, it just felt like a safe risk for me because I love soup and it was so good! I was glad that I was a little adventurous with that course.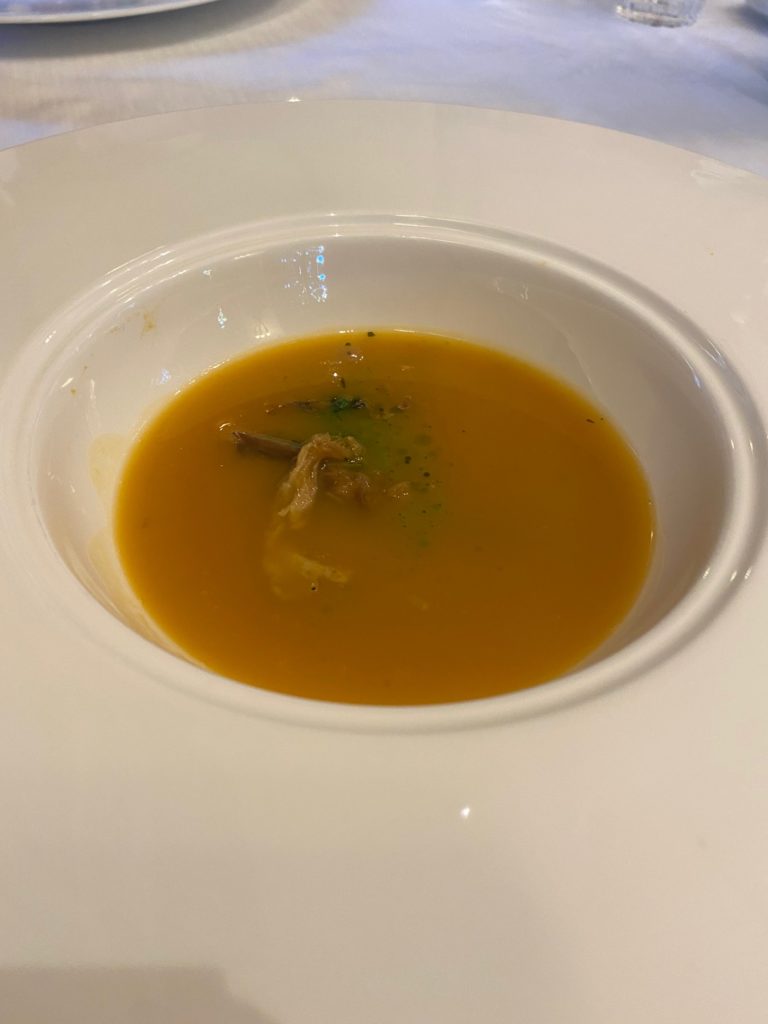 Third Course – For the entree course, it made the most sense to me to get the filet mignon. It was something I knew I already liked and anytime I eat filet mignon, I just feel so much fancier so it just felt like the right choice. Honestly, it was perfection. My knife just slid through it and it just melted in my mouth and I feel like I might dream about that steak for weeks to come. No steak will ever come close to that one. There's no way.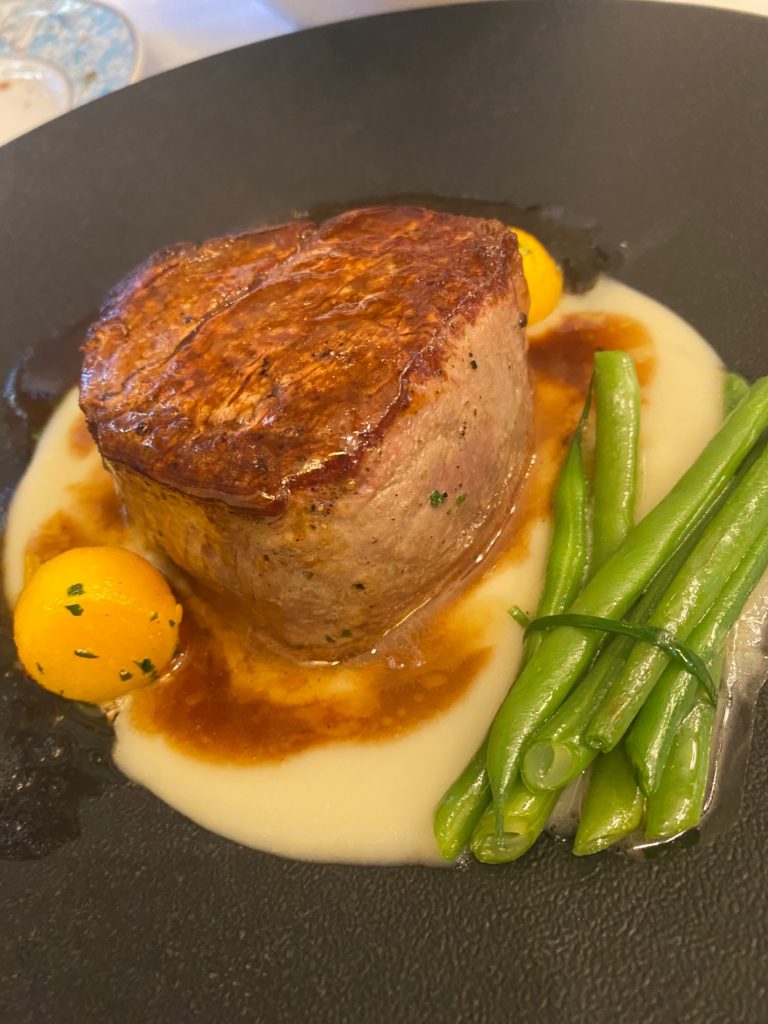 Last Course – Dessert! This actually was hard to choose because I couldn't decide! I kept going to the chocolate dessert but they had a special pumpkin bundt cake with pumpkin ice cream, for the season, and it just felt like that was the right choice. I have no idea how I even had room for dessert at that point but I did. It was so good and the perfect end to the meal. The friends I was with also got the Tom and Jerry cocktail set that came with the holiday cocktail and shared it all around. It was delicious but strong and I was only able to finish half of it.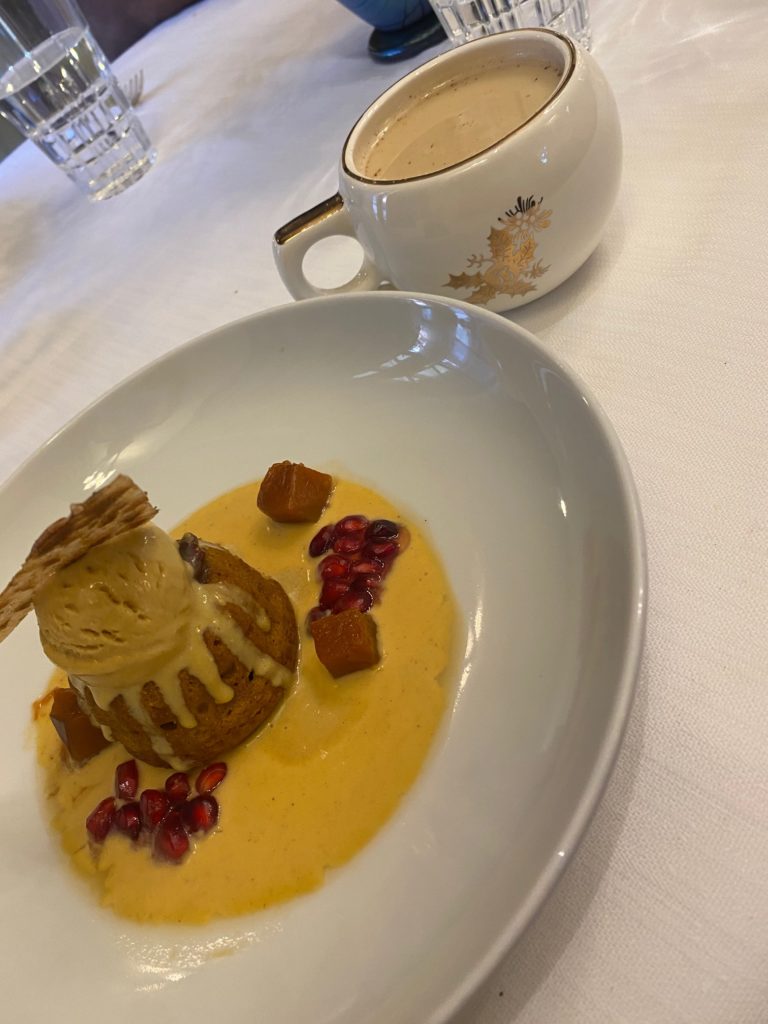 We spent so much time there – its definitely an entire experience. This is not your usual lunch out that takes 30 minutes to an hour, you know? We were there for hours and it was so fun. You forget that you're even in Disneyland because its a world in its own. I honestly only remembered when we made our way out to the balcony and took some photos and then it was like, oh yeah, I'm like , mere feet away from the Pirates of the Caribbean right now.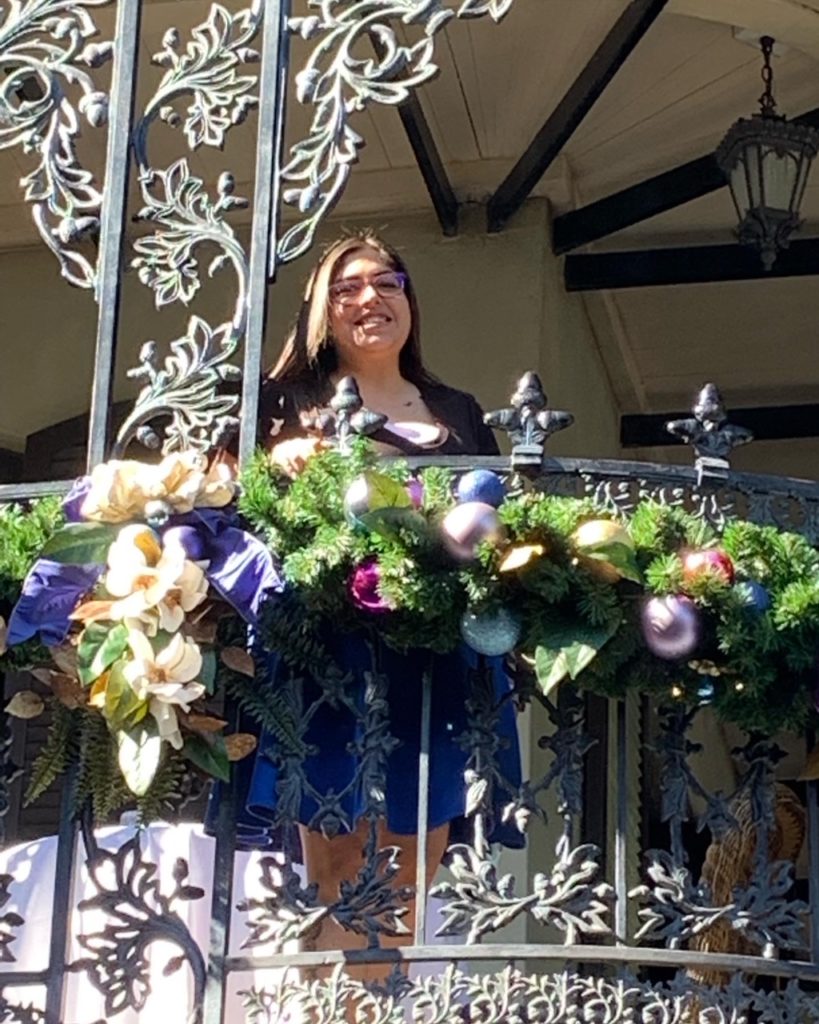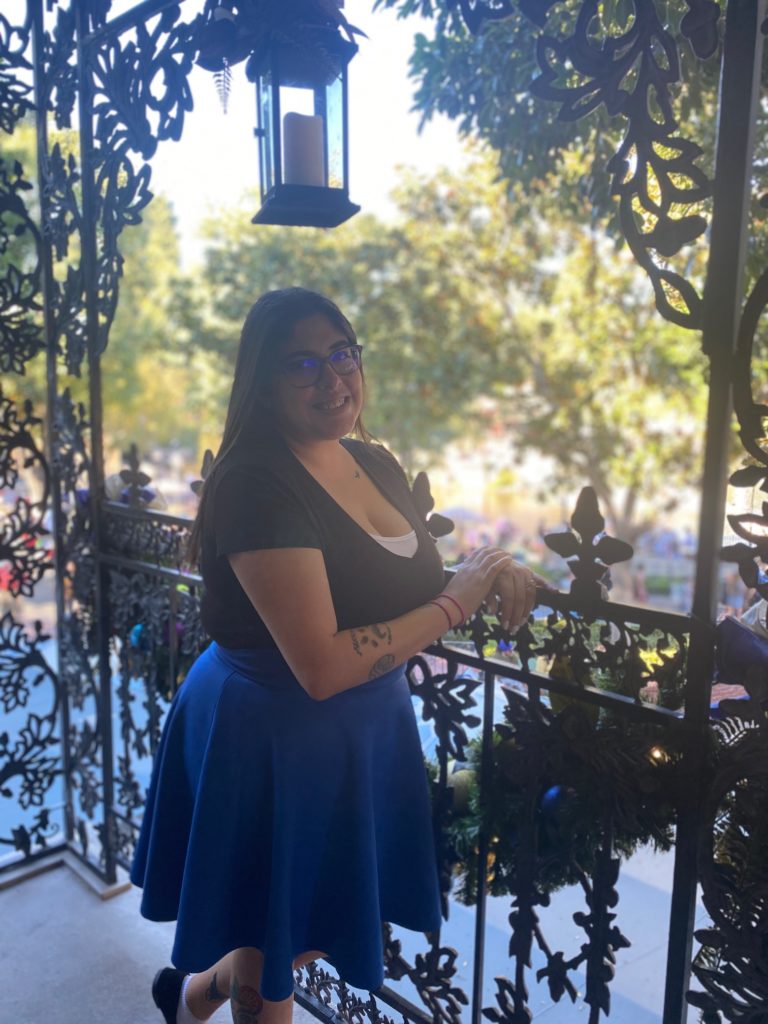 Of course, after all of that, I had to make sure to grab some merchandise so I could remember my time there. I do own a few things from Club 33 already, things I've wanted that I've managed to get my hands on due to friends going or whatnot – a Club 33 zombie glass, the Haunted Mansion mugs, the Small World mug, and so on. I had seen the cute little Tom and Jerry cocktail mug on Facebook and SUPER wanted it so that was a must. I honestly hadn't super planned on getting anything else but they had a Club 33 Loungefly backpack and well…I am an avid Loungefly collector, within my budget haha, and I knew if I didn't get it, I would be SO upset because I wouldn't get a chance again AND it would probably cost me a lot more later, trying to get it on Ebay or something. So those were my two takeaways from my trip there.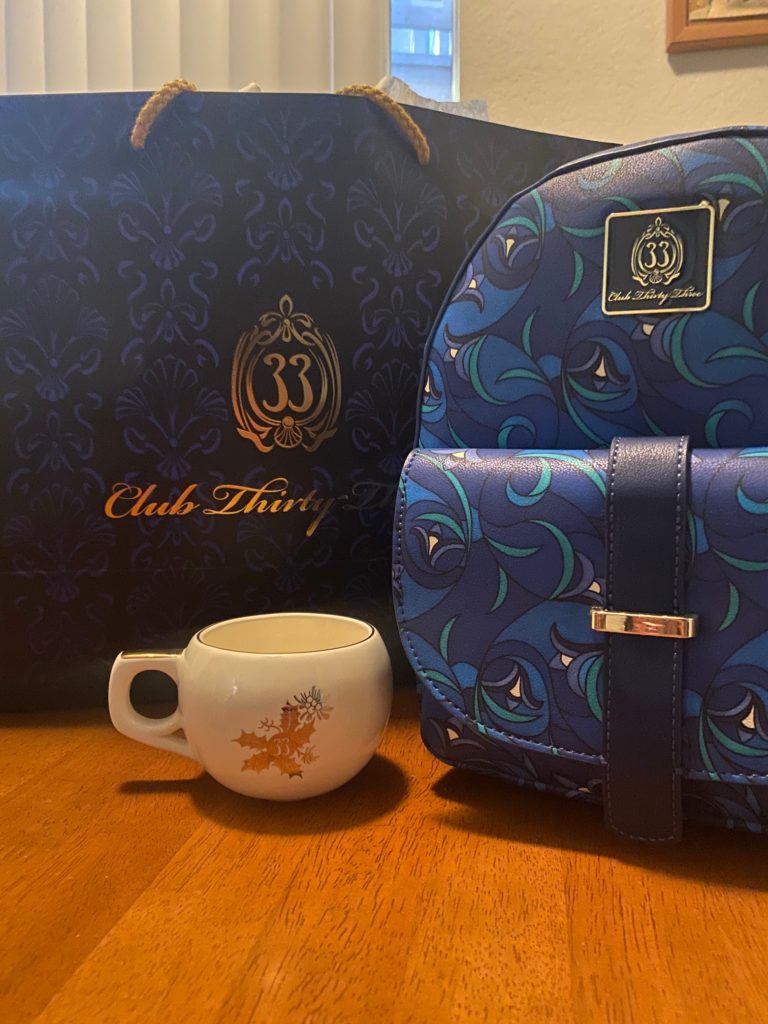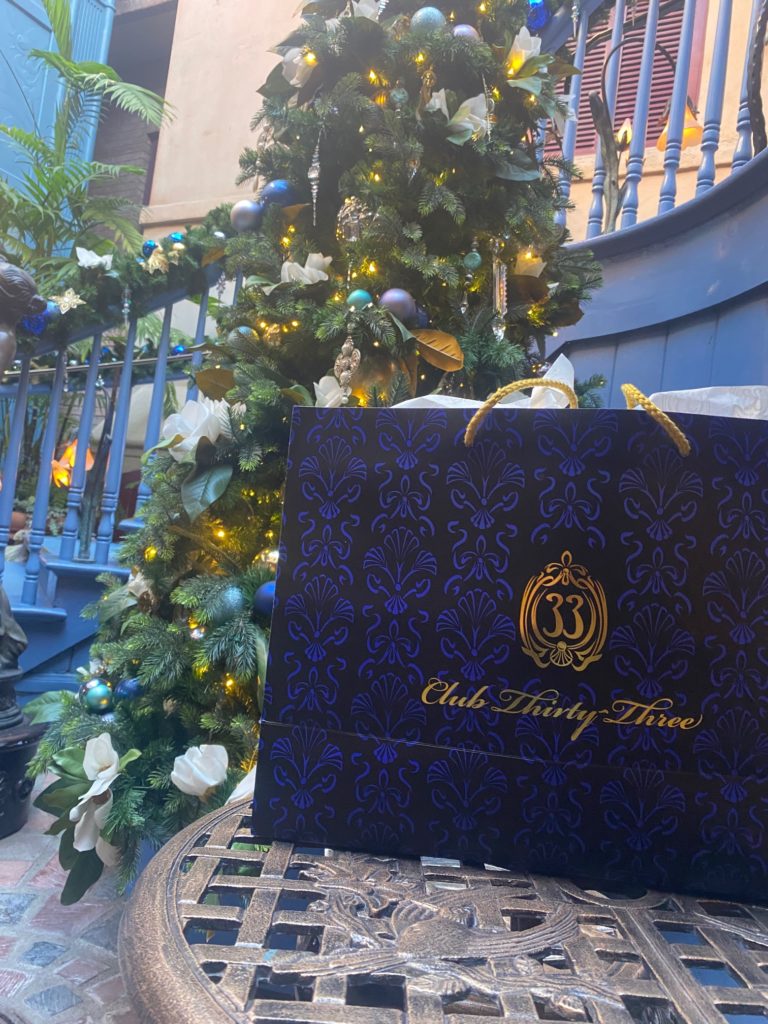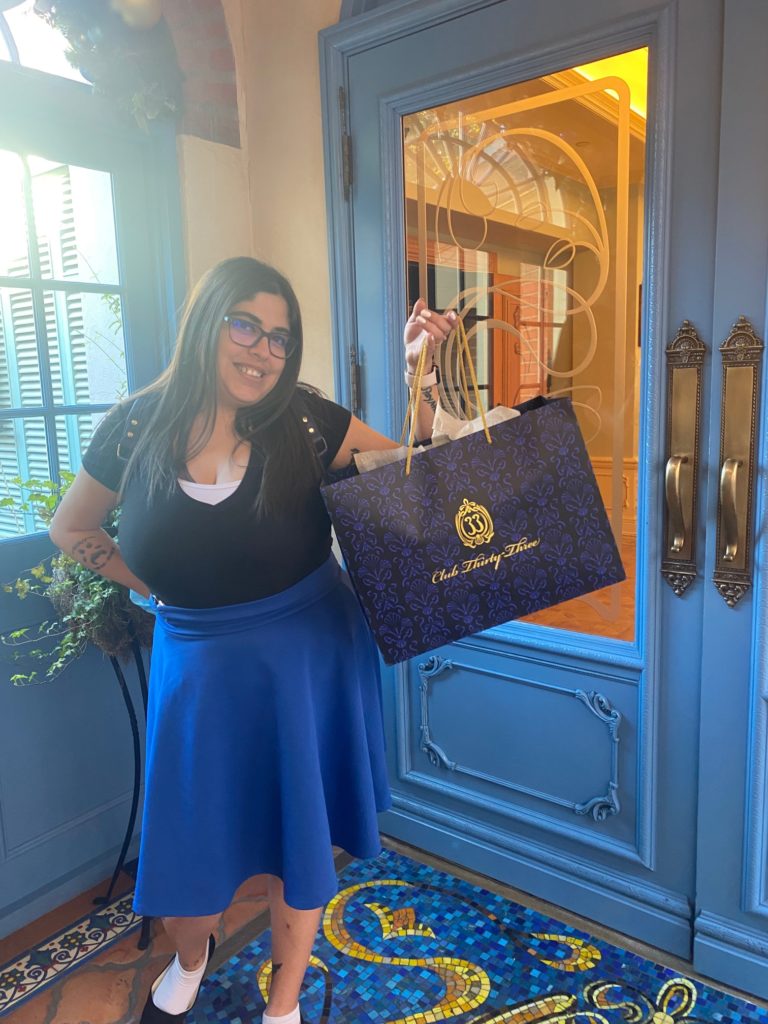 At the end of it all, I was just so happy. I was floating on a cloud as we left. It was such an amazing experience from beginning to end. It had the perfect mix of a fine dining experience with that quintessential Disney magic. The cast members were so kind and so helpful and made everything feel natural and easy. I was so nervous because I get uncomfortable and anxious when I do new things but they are so good at their jobs, so good at making you feel welcome and comfortable and all of that and it was so fun. The three companions I had for lunch were so fun, so great and incredibly generous. The food was SO delicious and I'll probably be dreaming about it for weeks.
I am so glad that I was finally able to cross this off my bucket list and that I can finally say that I experienced Club 33. It was so wonderful and I am so grateful for the generosity of several people who helped me make that happen. I would be perfectly content if I was never able to go again. I definitely hope to go again – I'd love to do the dinner menu and, man, I want to go into that lounge! – but I wouldn't be sad at all if it didn't happen again. It was everything I had ever dreamed of and so much more and I'm so glad I got to do it!