I am SO excited to be a part of this blog hop to celebrate the beginning of a new year, a brand new reading goal and more and more books. I love all of the bloggers I'm sharing this hop with and I love a good giveaway!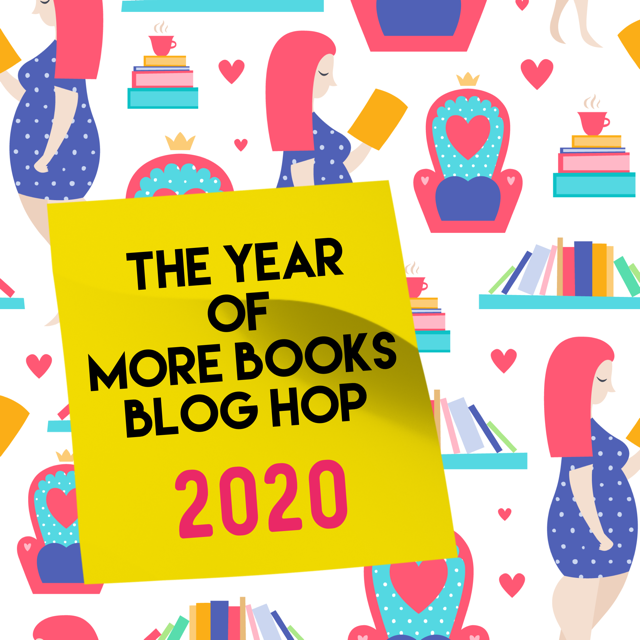 Let's face it, even if you're into that "New Year, New You" mode – you know the one: clear out the clutter, save more money, be better in general – if you're a book lover, every year is The Year of More Books. More new titles hitting the bookstore shelves. More books that are new (even if they're just new to you) entering your library. More used books getting donated or loaned to friends, making room for – you guessed it – More Books. So we're celebrating 2020, The Year of More Books, with a giveaway from a few friendly book bloggers.
The Prize: A book of the winner's choice, with a list price of up to $25.00 USD (to be shipped from an indie bookstore to a winner residing within the US, or bookdepository.com if the winner resides outside the US).
How to Participate: Enter to win using the Rafflecopter widget below. Everyone gets at least 2 entries for agreeing to the rules. Earn extra entries by sharing, following, and commenting. We encourage you to visit each of the blogs on this hop and show them some love. On Feb 1, 2020, we'll use the Rafflecopter widget to randomly pick 1 lucky winner.
The Blog Hop Hosts:
What a Nerd Girl Says (me!)
Rules:
This giveaway is open worldwide, except where prohibited by law, until 1/31/2020.
The winner may not provide a PO Box as a mailing address.
1 winner will be chosen on 02/1/2020, who will specify a book for their prize, with a list price that is no more than $25.00 USD.
We (the blog hop hosts) are not responsible for lost, stolen, or damaged items.
One set of entries per household, please.
If you are under 13, please get a parent or guardian's permission to enter, as you will be sharing personal info such as an email address.
Winner will be chosen randomly via Rafflecopter widget on the day after the contest ends (02/1/2020).
Winner will have 48 hours to respond to the email with their book of choice and shipping address, otherwise we will pick a new winner.
If you have any questions, feel free to email us at readnowsleeplater@gmail.com.
PLEASE DO NOT LEAVE ANY PERSONAL INFO IN THE COMMENTS. Sorry for the CAPS, but we always get people leaving their email in the comments.
Good luck!