If there is one thing that I've learned during covid quarantine, its that I will definitely NOT use all my newfound free time to read. To be fair, I've been in a reading slump long before I was forced to stay home, but I just can't seem to read more than a couple books here and there. But what I HAVE been really great at doing during all this free time – besides working on Benched, which is getting better and better by the minute – is binging a LOT of television.
And I do mean, a lot. A lot of it has been stuff that I've already seen before because I have found that when I'm feeling particularly anxious, like during a global pandemic, I tend to prefer watching things I've already watched before. So I totally rewatched the entirety of Greek and Avatar the Last Airbender.
But I did decide to finally give some new shows a try and some of these are shows that I've had recommended to me in the past, even if the past is just the past couple months lol, and I'm SO glad I gave them a try!
~*~*~*~*~*~*~*~*~*~*~*~
On My Block – Netflix original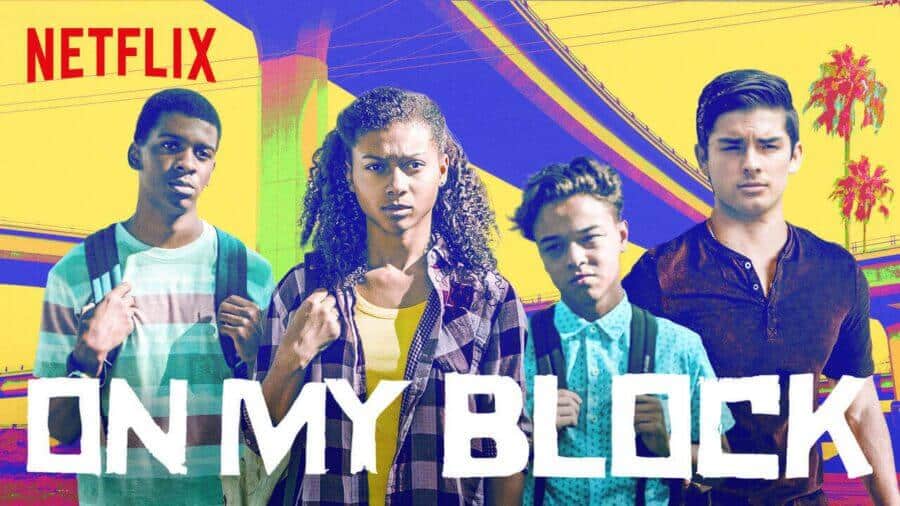 I can't remember who told me about this show – I think it might have been my dad actually – but I finally decided to sit down and watch it. This actually came from the fact that I was outlining Benched 2 and 3 and was doing some research on the male lead in Benched 3 and found Diego Tinoco, who is gorgeous. I didn't know where he was from at first and then realized he was from On My Block and decided, okay, its time. And I really liked it. I loved that there's a teen show with majority of the main cast being either Latinx or black. There's a LOT of Spanish spoken and I'm so here for it, even though I, sadly, do not speak it myself.
The idea of it is there are four friends who live in a rough neighborhood and constantly deal with the pressures of living in that neighborhood, like poverty and gang violence and such, while also dealing with normal teen drama like relationships and sex and family. Its definitely dramatic but the relationships and friendships are so genuine that this is what keeps me watching – I care what happens to the characters. I binged all 3 seasons in a matter of days and was SO upset at the cliffhanger at the end and am hoping they announce a season 4 soon. I will say, my suspension of disbelief does struggle with the fact that these kids are supposed to be like 14/15 – they definitely do NOT act like that at all haha. But its still so enjoyable and, again, I enjoy the mostly POC cast for sure.
You can watch the first three seasons on Netflix. I'm hoping they announce a fourth season soon but with Covid, we'll see.
~*~*~*~*~*~*~*~*~*~*~*~
Never Have I Ever – Netflix original
This show kept popping up on my radar because it seemed very much like a YA novel, like something that Aminah Mae Safi or Sandhya Menon would write and eventually I sat down to watch and omg, I'm so glad I did because it was absolute perfection. It had the right amount of humor and emotion and teen angst and familial drama and identity struggle and so much more. I truly felt like I was reading a YA novel and I think that's why I loved it so much – it was exactly the kind of book that I love to read. It was great and Devi was such a compelling character, even when she was annoying you and being the total worst to her mom or her friends. She was just so real and genuine.
What was the BEST about this show was that it managed to be really emotional – Devi dealing with the loss of her father and the struggle with her relationship with her mother – with being so funny. Truly, I laughed so many times during this show, out loud, just dying. It was so great and I really enjoyed it. It didn't leave me with a cliffhanger as much as the other two shows on this list but it was just so fun and so relatable that when it ended, all I could think was, I definitely want more. I didn't know it had been renewed until writing this article, so I'm SO stoked that it was.
You can watch the first season on Netflix. It was renewed for a second season on July 1st, 2020.
~*~*~*~*~*~*~*~*~*~*~*~
All American – The CW
I came to this show actually very differently than the other two – I actually visited the set of this show. One of my best friends works at the Warner Bros Studio as a tour guide, you know, when its open haha. She was able to treat me and the boyfriend to a tour around the studio and it was so awesome and she took us on the set for this show to really give us an experience of what some of these sets look like. We saw the Baker home and some hallways used for Beverly High School. I thought it was super cool and always thought I'd maybe give the show a try and I just never did. After I finished On My Block, I wasn't really sure what to watch next so I decided to give it a try.
I'm so glad I did. For one thing, its tone can be really similar to On My Block so it kind of helped satisfy me after the cliffhanger on that show. The main character, Spencer, lives in Crenshaw, a gang ridden, poverty stricken but strong community-based suburb of Los Angeles, who is recruited to play football at Beverly High in Beverly Hills to help increase his chances of getting recruited for college and eventually the NFL. Its very loosely based on a true story but its really done so well. The cast is honestly so fantastic and, yes, its a typical CW show but its still done so well. The problems that a lot of the characters face are so current and relevant and done in such tasteful and powerful ways. I was immediately hooked onto the show and seriously BLEW through the first two seasons without even a pause. The second season ended on a cliffhanger and I just need to know what happened next. I haven't been able to start anything new since finishing this last week.
You can watch the first two seasons on Netflix. The third season was ordered on January 2020.
~*~*~*~*~*~*~*~*~*~*~*~
Check out the Reviews for Other Shows I've Binged During Quarantine!
Love, Victor – Hulu
The Baby-Sitters Club – Netflix
Get Even – BBC iPlayer/Netflix
~*~*~*~*~*~*~*~*~*~*~*~
What are some shows you're binging lately? Share your recommendations in the comments!