The Top Ten Tuesday is a weekly challenge post previously hosted by The Broke and Bookish and now hosted by The Artsy Reader Girl. You can follow along for each weekly post here. This week's post is all about my top ten favorite books in my favorite genre, which just so happens to be fantasy. Its funny that for so many years, I avoided fantasy like the plague, other than Harry Potter and Star Wars – it just felt too complicated for me. Now, I have a hard time narrowing this down to just TEN books!
Harry Potter and the Goblet of Fire by JK Rowling
This is my favorite book in the entire world so of course its on my top ten fantasy list. This is where the series takes a turn, even more so than the turn in Prisoner of Azkaban – we get to see more of the wizarding world at both the Quidditch World Cup and the Triwizard Tournament, we learn more about Voldemort, and the characters are growing up. Its a shift not only in the story, with Voldemort coming back and such, but its a shift from childrens literature to young adult literature.
Trickster's Choice by Tamora Pierce
I credit this novel with giving me the love for fantasy and the desire to seek out fantasy. I was obsessed with pirates and only picked up this book because the dust jacket mentioned pirates – which ended up only being a small tiny snippet of a page in the story – but it gave me one of my favorite books that I've ever read and it gave me the courage to seek out more fantasy. It also helped to solidify my love for everything female-centered and is probably partially responsible for my obsession with characters like Wonder Woman and Captain Marvel.
Six of Crows by Leigh Bardugo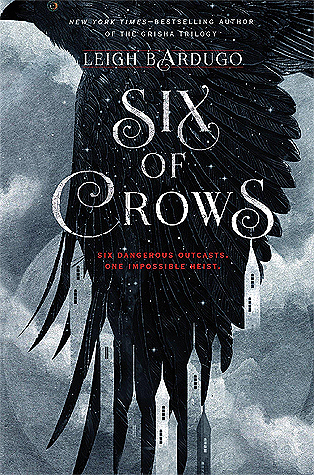 I will always and forever love love love what Leigh did with the Grisha trilogy. But there is something she did with Six of Crows that is just incredible. I love the six main characters, I love the heist, I love how she took the world of the Grisha and opened it up even wider. I love everything about it. I named my cat, Kaz, for heavens sake. Leigh writes some of the BEST fantasy I've ever read and her world building skills are enviable.
City of Glass by Cassandra Clare
I will argue until the end of time that this should have been the proper ending to the Mortal Instruments series. Not only is it one of my favorite fantasy novels but its also just one of my favorite books ever. Cassie created this beautiful, dark and romantic, funny, amazing world that I continue to want to live in and she ends the story so well with this book. She takes things we know like vampires and fairies and werewolves and creates such a wonderful world.
Empire of Storms by Sarah J Maas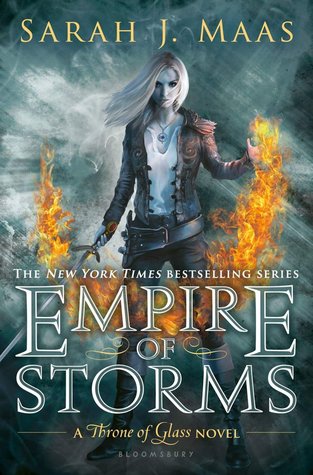 Admittedly, I am not done with the series yet but I can't even begin to explain how freaking amazing this book is and how it just left me gasping for air. I loved that all these characters came crashing together and the story grows even bigger and the romance and the action and the magic all blends together in this beautiful novel. I need to finish this series but I can't imagine that I'll love the last two books even more than this one.
A Great and Terrible Beauty by Libba Bray
I read this book for the first time at least a decade ago – and I know this because I distinctly remember buying it at Borders, not Amazon, not Barnes and Noble – and I can't begin to explain what an impact this had on me as a writer, a reader or just a person in general. I loved that Libba wrote this great feminist fantasy in the late Victorian England. She did it so well and Gemma, Ann, Pippa and Felicity remain four of my favorite characters ever.
Shadow Kiss by Richelle Mead
Up until a few months ago, I could tell you that I loved the Vampire Academy series as a whole but that I wasn't sure what my favorite book is. After rereading the first three books a few months ago, I think I can say that Shadow Kiss is my favorite. It has the romance and it has Rose growing up and it really opens up the vampire world outside of St. Vladimir's. Richelle managed to make me fall in love with vampires long after I was SUPER over them and its because her story is so fun and so different.
The Titan's Curse by Rick Riordan
I love all the books in the Percy series and the Heroes of Olympus but I love this story the most. The story is perfect and I love that Artemis and her Hunters are involved – they are my favorite, hands down, no questions asked. I think this book really changes the series and it leads into the brilliant ending. Rick takes Greek mythology and makes it even easier to learn. He makes it fun. And he takes things about kids that may be embarrassing – dyslexia, etc – and makes it a super power. Its phenomenal.
Sentinel by Jennifer L Armentrout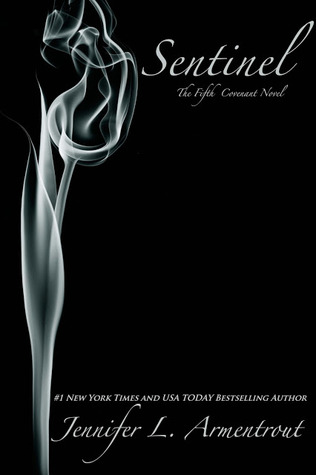 JLA is another person who takes Greek mythology, twists it and makes it wonderful. This series originally turned me off because it started so similarly to Vampire Academy but it takes such a different turn and it gets dark and it doesn't always have a happy ending and that's what made me love it so much. It doesn't give you what you want and it breaks your heart and its SOOOO good. I miss Alex and Aidan. I'm due for a reread for sure.
Stardust by Neil Gaiman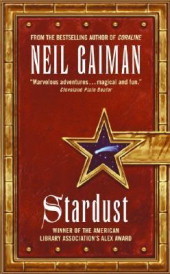 This book remains my favorite Gaiman and one of my favorite books and one of my favorite movies. Its so quintessentially Neil and its fun and random and all over the place and magical. Its the perfect fairy tale and the magic of it is just so fun. I think I'm due for a reread of this one as well. It does help that now I will forever picture Charlie Cox and Ben Barnes as Tristan and his younger father.
The Crimson Crown by Cinda Williams Chima
Cinda is an author I discovered sort of randomly and by accident and I'm so glad that I did. I want to say I picked up the first book in the series, The Demon King, because Tammy Pierce had blurbed it and its a good thing. She's a wonderful fantasy author and she switches being two different point of views so well. She writes both her female and male characters with equality and you love the story she creates. I love that her stories still lean female strong. I eagerly consume her novels and the end of the Seven Realms is a perfect ending and one of my favorite books.
~~~~~~~~~~~~~~~~~~~