The Top Ten Tuesday is a weekly challenge post previously hosted by The Broke and Bookish and now hosted by The Artsy Reader Girl. You can follow along for each weekly post here. This week's post is all about my favorite couples in books because its almost Valentine's Day!!
Note – all fanart shown before is linked to the original artist – or as close as I could get – and you can see it by clicking on the picture itself!
Percy and Annabeth in the Percy Jackson and the Olympians/Heroes of Olympus series by Rick Riordan
"Percy: We're staying together. You're not getting away from me. Never again.
Annabeth: As long as we're together." 
Percabeth! The best part of this couple is that you get to see them literally grow up together, from little twelve year olds into teenagers in the Heroes of Olympus series and it just makes me so happy. They've been through so much together and they stick together and ugh, the feels. 
Lorcan and Elide in the Throne of Glass series by Sarah J Maas
"I made a promise to protect you. I will not break it, Elide. I will always find you."
Its funny, because I read majority of the Throne of Glass series (minus Tower of Dawn and Kingdom of Ash…yet) and I never had a huge ship the whole time. I couldn't figure out who I wanted Aelin together haha. The relationships in this series are ever changing. Lorcan and Elide are only in book five, so far, but I immediately was in. Hook, line, sinker. I adore this couple so much.
Ron and Hermione in the Harry Potter series by JK Rowling
"Running at Ron, she flung them around his neck and kissed him full on the mouth. Ron threw away the fangs and broomstick he was holding and responded with such enthusiasm that he lifted Hermione off her feet." 
There is so much debate on whether Hermione should be with Harry or Ron and if you think Harry…well I guess you're entitled to your wrong opinion. I loved the idea of these two from the beginning and was quite satisfied when they ended up together. I will fight anyone who wants to disagree with me.
Rose and Dimitri/Sydney and Adrian in the Vampire Academy/Bloodlines series by Richelle Mead
"Ah, those two. In a fight, they're lethal. Around each other, they melt." 
I feel like it was sort of cheating to pick both, but that's because I have a massive crush on Rose and a massive crush on Adrian but I fully believe in Rose and Dimitri and Adrian and Sydney. First off – what Rose and Dimitri have to go through in order to be together. They spend the first three books just fighting their feelings, then they finally give in, ready to love each other and face the consequences and then Dimitri becomes a Strigoi and they have to go through all of that. Their love story is both heartbreaking and amazing.
"Because I can't help doing it," he said with a shrug. "And hey, if I keep loving you, maybe you'll eventually crack and love me too. Hell, I'm pretty sure you're already half in love with me."
I love Adrian and Sydney because I think they both have been through so much – Sydney with her horrible horrible family and Adrian's struggle with spirit magic and his heartbreak over Rose – and I love that they heal each other, help each other and love each other. Everything about them is just perfect but it takes so much hard work to get there.
Kaz and Inej in the Six of Crows duology by Leigh Bardugo
"I would come for you. I would come for you. And if I couldn't walk, I'd crawl to you, and no matter how broken we were, we'd fight our way out together — knives drawn, pistols blazing. Because that's what we do. We never stop fighting."
I'm a sucker for a character falling in love and fighting it at every turn because they genuinely believe that showing love or care for another person makes them weak. Kaz is exactly that person and watching him fight his feelings for Inej and then eventually just throw it all out there, in the most Kaz-like way, was utterly satisfying and swoon-worthy.
Cress and Thorne in the Lunar Chronicles by Marissa Meyer
It was different now. It was real. "I'm in love with you."
He chuckled. "I should hope so, after all that." He leaned forward and pressed a kiss against her temple. "And I love you too." 
I feel like there isn't much an explanation other than…they're Rapunzel and Flynn Rider in space basically and I love everything about them. I love that Cress is smart as hell but awkward and weird and Thorne is a mess of a person but charming and hilarious and I love that these two just work. I love that they make each other better. The scene where they make out on a desk on Luna…hold on while I splash my face with cold water…
Aly and Nawat in the Tricksters duology by Tamora Pierce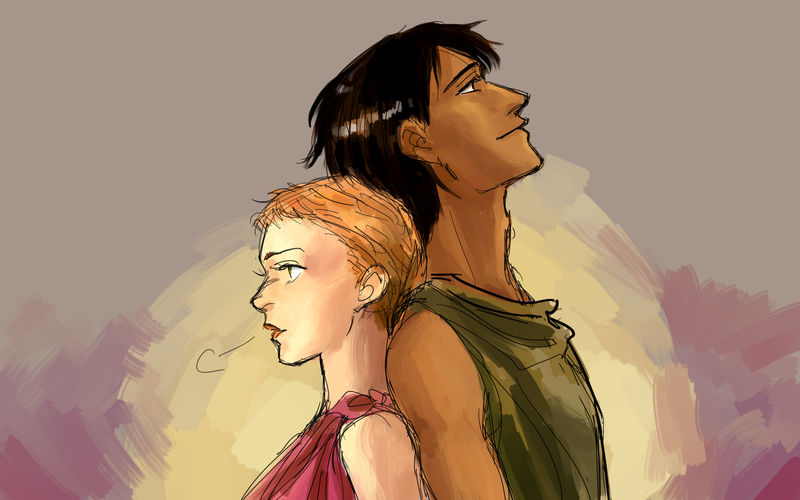 "We could mate. In a year our nestlings would be large enough to mob anyone we like…Should I begin to court you? Do you like grubs or ants better?"
The best thing about Aly and Nawat is that they complement each other. They are both strong, they are both fighters, they're both smart, they're both leaders and they both have their own battles to fight in before they can give themselves to the other. I think the build up from the sweet friendship to the intense, irresistible romance was built perfectly and I have loved their relationship since I was 15 years old. Every girl just needs to find a crow man to love.
Cath and Levi in Fangirl by Rainbow Rowell
"I like your glasses. I like your Simon Snow t-shirts. I like that you don't smile at everyone, because then, when you smile at me…Cather. Look at me. I choose you over everyone."
I. Am. Cath. I've said it before and I'll say it a million times. I have never related to a character more than Cath and so the relationship between Cath and Levi is so beautiful and it gave me encouragement for years that there would be someone like Levi to love me for all that weird and crazy that was me.
Mia and Michael in The Princess Diaries series by Meg Cabot
"No. The answer was no, I was not all right. I nearly got knocked out. Knocked out by desire! Desire for forbidden dissimilar molecules!"
I WILL GO DOWN WITH THIS SHIP. I read the first book when I was 12 and finally got to see Mia and Michael get married in book 11 when I was 28 years old. I refuse to acknowledge that travesty of a second movie where they dared to match Mia with anyone other than Michael. Mia and Michael are perfect and they're so realistic. The fact that they take time apart – two years! – and the two of them figure themselves out, they grow up, they learn and end up back with each other was just absolutely beautiful.
Clary and Jace in The Mortal Instruments series by Cassandra Clare
"There is no pretending," Jace said with absolute clarity. "I love you, and I will love you until I die and if there's a life after that, I'll love you then."
These two beautiful babies will be my forever book OTP. Their relationship is just…its beautiful and dark and romantic and they've been through so much, thinking they were related, and dealing with Valentine and Sebastian Morgenstern and…just everything. Everything in the world has tried to drive them apart but they still end up back together and it makes me so happy. Just thinking about them gets me so emotional haha. I just adore these two so so much.
~~~~~~~~~~~~~~~
What are some of your favorite book couples? Share them in the comments!
~~~~~~~~~~~~~~~