The Top Ten Tuesday is a weekly challenge post previously hosted by The Broke and Bookish and now hosted by The Artsy Reader Girl. You can follow along for each weekly post here. This week's post has love in the air – Valentine's Day is only a few days away – and is a love freebie. I wasn't quite sure what to do so eventually I decided to share my favorite couples that are NOT in canon but that I still adore. Here we go!
Also this list really is proving my whole motto; if its gay, I ship it…
Also I have a lot of feelings about Harry Potter characters..
~*~*~*~*~*~*~*~*~*~*~*~
Draco and Hermione
I ship Hermione and Ron in canon – always – but god, there is just some seriously good Dramione fan fiction out there and Emma and Tom would look so cute together. I think there's just something cheesy and awesome and swoonworthy about a bad boy turned good because of a whip smart, independent badass girl. Sigh.
Harry and Draco
I will ship Drarry until the ends of the earth, in both canon and fan fiction. This is the relationship that should happen and I will fight anyone who ever fights me on this UGH. Enemies to lovers is my favorite trope on the planet and I will go down with this ship because its the pinnacle of enemies to lovers. I also started my own writing career by mostly writing Drarry fan fiction.
Seamus and Dean
I'm not entirely sure this isn't canon because come on, its on the damn page. JKR missed a serious opportunity by putting some queerness into her novels – and I am NOT talking about an afterthought about Dumbledore being gay – with Dean and Seamus. When Dean briefly dated Ginny, I was like, nope. NOPE. Make this happen, people. And if you have some good fan fiction of Seamus and Dean, someone send it to me now.
Castiel and Dean
This is another insanely missed opportunity. THIS IS ON THE SCREEN AND THE WRITERS OF SUPERNATURAL HAVE BEEN SO BLIND AND COWARDLY TO NOT MAKE THIS HAPPEN ON SCREEN. Okay, I'm done. But seriously, I've shipped this for so long and its so apparent on the screen and its so beautiful in fan fiction and god why can't this ship be REAL?!
Steve and Bucky
They will literally tear down the world, sacrifice friendships, blow up everything in their path to keep each other safe. The love between these two people is simply unparalleled so come on, you can't blame me for seriously wanting them to make out every time the two of them are on screen together. I've never read any fan fiction of them so again, if you have any good ones, please make sure that you send it to me because I need it. I need IT.
Finn and Poe
I feel like I'm one of the only people that liked Rise of Skywalker as a whole buuuuuuuuut I was disappointed with one thing and I'm still going to be disappointed because even the actors were disappointed – Finn and Poe. THIS SHOULD HAVE HAPPENED. There is no excuse on the planet for this not happening when it was RIGHT there. I will ship this until the end of time and it makes me sad that Lucasfilm was too scared to make it happen. I guess it'll only exist in my dreams now…
Margaery and Sansa 
Margaery is the only person in the entirety of Westeros that would have treated Sansa like the absolute queen that she is, and they already had something there, built on the friendship that was create between the two of them.  They're also my two favorite characters and I have a huge crush on both actresses so I also might be a little biased…
Ginny and Luna
Okay, let's be fair…I've probably read waaaaaaay too much fan fiction of Ginny and Luna but I'll support this ship forever. I think Ginny might be one of the only people who GET Luna and they're just totally meant to be. I have a lot of feelings about HP characters and this should have just been real. But again, alas, it shall only exist in fan fiction and fan art…
Mei and Junkrat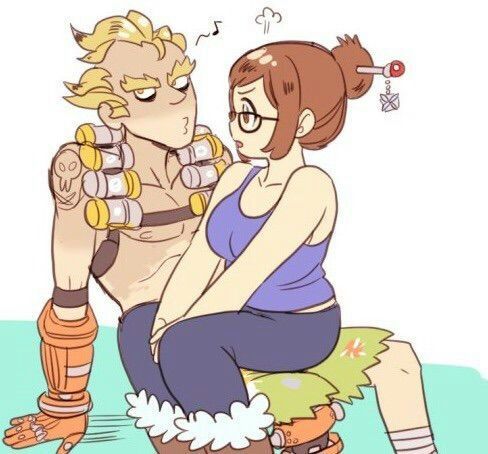 THIS WORKS, DON'T YOU EVEN ARGUE WITH ME – THERE ARE OBVIOUSLY A TON OF PEOPLE WHO THINK SO TOO. She's so cute and soft and he's wacky and tough and I just love the idea of the two of them together because they'd just make the silliest and cutest couple EVER. Fight me on it, I dare you.
~*~*~*~*~*~*~*~*~*~*~*~