Well, medicine that was quite a mouthful of a title. I did try to slim it down a bit but I'm afraid it just wasn't going to happen. So I am afraid we are stuck with this extremely long title. Sigh. Oh well. Sometimes, you know, things just happen.
So I'm actually writing this on Monday night, so its ready to post for tomorrow, because tomorrow is a BIG, BIG day, in the words of one Effie Trinket. Tomorrow, me and my iFandoms Collide girls are heading down to the Star Trek Into Darkness premiere tomorrow and I'm going to be a busy girl all day.
So I had to be responsible and do all my homework first. And now I'm being doubly responsible and finishing this so I don't get behind!
Because there's so many awesome posts coming! I'll probably do a post on my first movie premiere experience tomorrow, and I have my interview with Eoin Colfer to post and there's an interview with Jessica Brody coming VERY soon, and the Book of the Week and I have a super cool blog that was a story writing project with me and a few other bloggers and…yeah, a lot of SUPER awesome stuff coming to WhatANerdGirlSays.
In the meantime though, enjoy this week's Tuesday Top Ten!
Favorite Science Fiction/Paranormal/Fantasy/Dystopian Series
11. Lord of the Rings by J.R.R. Tolkien
The Fellowship of the Ring, The Two Towers, The Return of the King
Some people will not understand why this is so low on the list. They also are probably wondering why this is number eleven. Well to answer the second question, well its my blog and I can do whatever I want and I love this genre and so I couldn't narrow it down. And for the second, I'll explain. I love LoTR, I adore those books. They are fantastic books and I enjoy reading them. J.R.R. Tolkien created an incredible world, using old mythologies and biblical references and all kinds of really cool stuff. He created some memorable characters, and an epic story. I do think that he should have created stronger female characters but that wasn't exactly the time and Eowyn is still a super badass character. But these aren't books that I gravitate to and read over and over again. Mostly because they are really hard to get through; there's a lot that goes on, where you're sitting there going, what does this have to do with anything?! I also think there's an abnormal amount of singing and dancing and eating and partying going on in all of those books and I'm sitting here, going, "Uh impending doom? Why are we feasting?" But maybe thats just me. But that being said, JRR Tolkien is a fantasy god, and created a series that opened the doors for so many other series. I don't think the fantasy genre would become what it is without this epic trilogy.
10. Hunger Games trilogy by Suzanne Collins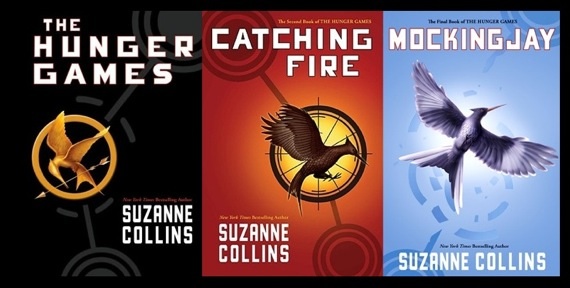 The Hunger Games, Catching Fire, Mockingjay
It took me FOREVER to read these books. I don't know why, but I just had no desire to read them. I don't know if it was the covers or what, but I just didn't want to read them. I had no idea what they were about but I just didn't turn to them for new reading material. However, my sister kept pushing me to and eventually I gave in…and sped through the first two books in a matter of maybe 36 hours. Luckily enough for me, Mockingjay was to be released about a week later so I didn't even have to wait a long time to find out what happened next. And even though Mockingjay is my least favorite of all the books, I seriously enjoy this series and I am so glad I finally sat down to read these. I know that a lot of people give Suzanne Collins crap because of Battle Royale but I've said this once, twice, three times and I'll continue to say it: we tell the same stories over and over again, but when we tell them in different voices, we create completely different stories. And I believe Suzanne did that. I love Katniss, and I love her strength and her humanity. We are put in a world where children are forced to kill each other, and where immense violence occurs. Then we are shown this world from our beloved Katniss's point of view, and even though she is surviving and killing just like every one else in the games, she has a real humanity about her and you can't help but love her and root her on.
9. Divergent series by Veronica Roth
Divergent, Insurgent and Allegiant 
Oh Divergent. Thank you to my dear friend Caitlin who introduced me to this book. Another book that I got into after it had been released for a bit. I read Divergent the DAY that Insurgent released. In fact, I finished Insurgent at about 2 or 3 am and immediately purchased Insurgent on my Kindle because I just had to find out what happened next. I had to. And I love the world Veronica Roth created because it is both extremely familiar but very different at the same time. I also feel a very strong attachment to Tris Prior. Tris is not like other heroines. So many of the heroines that we read are yes, strong, and powerful and all that but they're always pretty! And come on, not all of us are pretty! We're not all supermodels! And it works great in this book because it shows Four's gradual attraction to her, he falls for her because of her strength, her selflessness, her intelligence, all of that. And it gives her a better opportunities to prove her strength. Because we are less focused on her physical appearance, except maybe for the fact that she is very small (which, as a short person, I love!), we are able to focus on her physical and mental journey to become the real person that she can be. I love the psychology of the books too. A friend of mine is a psychology professor (I think, she's got a degree in psychology, she's really smart when it comes to psychology…) and we were able to have some deep discussions on the serums and fear landscapes and all that stuff and its so super interesting!
8. Legend trilogy by Marie Lu
Legend, Prodigy and Champion 
This is another series that was recommended to me by someone and was one that I actually jumped on pretty quickly. My friend Erin gives me really good recommendations and I tend to take her advice haha. I read Legend two days before Prodigy came out (how does this keep happening to me…) and I was addicted. I was hesitant to read this book because it was another dystopian. And don't get me wrong, I LOVE dystopian. It kind of takes all the worst qualities about the societies we live in today and amplifies them. I almost feel like these books are made to scare us a bit, like, could the world really become this way? But I was getting tired of it and it was getting comparisons to Hunger Games and I was like, meh. But I am so glad I decided to dive in. Marie Lu is a fantastically talented writer and she creates such a real world. This could be the world we eventually live in. Its Los Angeles in the Republic of America where you have to take an aptitude test to determine whether you'll be trained as a soldier, which is elite, or you have to do grunt work. Day is a criminal, after getting the lowest score possible, trying to save his family and June is a prodigy, with the highest score, a perfect score, going after Day after he is accused of her brother's murder. Alternating viewpoints gives us a look into both of their heads and both of their stories and Marie spins a twisting story where you just don't know who to look at it or who to root for. Fantastic books. I canNOT wait until Champion, the final book, is released this fall.
7. Infernal Devices Trilogy by Cassandra Clare
Clockwork Angel, Clockwork Prince, Clockwork Princess
I think this one is almost self-explanatory because I talk about Cassandra Clare so often but I have to talk about it so much. The Mortal Instruments is near and dear to my heart because they are the first ones I read of Cassie and they have Jace Lightwood, who I'm pretty much in love with and all that. And yeah, TMI gets a lot of "crap" because of stolen ideas and all that stuff. But what I like about the Infernal Devices is that Cassie became an even better writer when she tackled these books. She knew New York, and she was comfortable there but diving into these Victorian London novels took time, effort and a ton of research, while also creating a believable, exciting and relatable story and she accomplished all of the above. Tessa, Will, Jem and the rest of the characters are so easy to love and so easy to follow and the story keeps us absolutely breathless to the very end. These books are funny and exciting and absolutely heartbreaking. I challenge you to read Clockwork Princess without bursting into tears. I dare you. You can't do it. You can see the differences in the times between Clary's Shadowhunter story of TMI and Tessa's in this series but you can also see the similarities between them too. And even though you aren't wearing a corset and wondering what is proper and what is not, you can feel such a kinship and immediate connection to Tessa Gray. And you anxiously wait the entire series to find out who she is and what strengths she has and you learn that out of all the characters in the series, she's the strongest. Such a beautiful series. And look at those covers, gorgeous!
6. Seven Realms series by Cinda Williams Chima

The Demon King, The Exiled Queen, The Gray Wolf Throne, The Crimson Crown
I will talk about this series until I am blue in the face because I feel like no one I know has read this series and it is an absolute travesty. I was talking to my friend about it today and Leigh Bardugo (author of the Grisha trilogy) saw it and chimed in, saying she agreed with me on this series. Its good to know that I am not the only one who not only appreciates what an amazing series this is, but also loves it as well. Cinda reminds me a lot of Tamora Pierce who was the first author that really brought me into YA fantasy. If Meg Cabot and Sarah Dessen were my gateways into YA contemporary, Tamora was the gateway to my fantasy love. And I have read some amazing series since then, I really have, all the series that are on this list basically. But none of them have brought me back full circle like this one. Its such brilliant, pure fantasy, that is creating this wonderful, different world but is written so it is familiar to us all and makes it a relatable read. I love Cinda's Heir series but this one, Seven Realms…its just brilliant. I can't even articulate how fantastic this book is. You get two alternating points of view, in third person, between Princess Raisa and the former crime lord, Han Alister (who you may have seen on my fave fictional crushes). Both are trying to find their niche in the world until mysterious things start happening to them, and to the world around them and then suddenly their worlds are intertwined. Spread out over four books, you stay glued to each page, anxiously waiting to see what happens next. I read all four in about five days. I inhaled them. More people need to be talking about and reading these books.
5. Heroes of Olympus series by Rick Riordan
The Lost Hero, The Son of Neptune, The Mark of Athena (and two more coming in 2013 and 2014!)
I love Percy Jackson and the Olympians. They are absolutely great books. I saw my sister and brother reading them, saw that they were kids books and kind of left it at that. But then I saw the movie, and the movie…wasn't that good and it made me curious about the books and I read that series pretty quickly. Then I latched onto this one, of course. And Heroes of Olympus takes the world that you love in Percy Jackson and amplifies it by a million. Even though these books are sold in the children's section and are aimed at children, they have a very YA feel and remind of Harry Potter, how they can reach out to any age. The writing becomes more sophisticated, the stories more complex and the relationships are becoming more fun. And the stories and conflicts that the characters go through are getting harder than they were in Percy Jackson. We get to see the characters we love evolve into older teens, we're seeing them growing older and falling in love and trying to save the world from things even worse than before. Then we also get to meet new characters, who, even though we haven't known them as long, we fall in love with just as hard. The idea of intermixing the Roman and Greek mythologies and two camps and all of that is just brilliant and I really think this series is Rick Riordan's masterpiece. He took this brilliant, awesome world he created off of all these myths that we're all pretty familiar with and just made it that much better. I'll admit it too: I love this series because of all the Percabeth. I love me some Percy Jackson and Annabeth Chase. They are too cute.
4. Gemma Doyle Trilogy by Libba Bray
A Great and Terrible Beauty, Rebel Angels, A Sweet Far Thing 
So I messed up this series a little bit. I saw the cover of Rebel Angels when I was at Borders one day and thought it was absolutely gorgeous and it really intrigued me. I think it had just recently been released because it was on display. I read the description, thought it sounded great, bought it and read it. And then realized it was the sequel to A Great and Terrible Beauty. Oops. My bad. So I went back and read the first one, knowing who died at the end already. But honestly, even though I did that…it didn't kill that for me. Instead I just enjoyed watching Gemma come into her own. I love books that take place in Victorian England (though, of course, I read this way before the Infernal Devices) especially when the main characters are female. It was such a difficult time for girls. They had no rights, their entire lives were focused on finding a husband and they couldn't even enjoy sex. "Just lie back and think of England." (Which I found funny when Jace said it in City of Ashes haha). And then you throw in the fact that Gemma, the main character, has these magical powers, very strong ones, in a world where she has no power. The temptation, the hardships of learning how to deal with these powers and to use them responsibly…that has to be hard. Watching Gemma discover who she is, both as a member of the Order and as a person living her life, is one of the best stories I've ever read. These stories hold such a strong place in my heart because I appreciate the strength that Libba Bray gives to all her characters: Gemma, Felicity, Ann and Pippa in a time where women weren't supposed to have strength. I also give her major major props for including a lesbian character in the book, because there are still so many people who think being gay is "bad", but think of what it would have meant to be a lesbian in Victorian England, but she does it so beautiful and I am so in love with that character.
3. Tricksters series by Tamora Pierce
Trickster's Choice and Trickster's Queen 
Oh Tamora Pierce. What would I have ever done without you in my life? She was my gateway to fantasy and science fiction and dystopian and paranormal. I had read Harry Potter, I adored Harry Potter (read below) but I always thought that fantasy wasn't for me, that I couldn't understand it and I couldn't relate to the characters. It wasn't until I picked up Trickster's Choice that I realized how insanely wrong I was. I was 15 when I picked this book up and I honestly picked it up because it mentioned pirates very briefly in the inside flap and I had a really unhealthy obsession with pirates at the time (Thanks Johnny Depp). Turns out the pirates were mentioned for maybe 2 and 1/2 pages and it didn't matter because it was an absolutely brilliant book. Its pure, amazing fantasy and Tamora creates these beautiful fantasy worlds that are both completely new and yet completely real to us and familiar. In this particular series, it is a class war between the dark skinned raka and the light skinned luarin nobility and the parallels between racism and class wars and slavery in our own histories is fantastic. Tammy is one smart cookie and she is able to weave these fun and beautiful adventures with amazingly strong female characters with these issues that are still so very relevant today is absolutely brilliant. I have read these books so many times that I can almost quote them by part. My copy of Trickster's Choice is falling apart with how much I love it. And I met one of my absolute best friends, Chloe, my pen pal from Australia that I've been writing to for 9 years because of her books. She has changed my life. I'm still trying to figure out a symbol that I can get of these books on my body in a tattoo because it so deserves a spot on my body.
2. Mortal Instruments Series by Cassandra Clare 
City of Bones, City of Ashes, City of Glass, City of Fallen Angels, City of Lost Souls and City of Heavenly Fire (releasing Spring 2014)
I'm pretty sure any person who has even glanced at my blog knows that I have much love and much obsession for this series. What this series has done for me, in so many different ways, is never ending and what it continues to do for me. It saved me when I thought I was just going to curl up in bed and forget the world, after two really sad things happened to me. It helped me to realize that it was okay to believe, or in my case, not believe in things and that was okay. It taught me that it was okay to be who I am. Alec and Aline and Magnus are all characters I look up to so much as gay, lesbian and bisexual characters. As someone who is bisexual, it was amazing to have these characters in such a fantastic, dark, sexy, fun world and to see them overcome their fears of being who they are, giving me the courage to overcome my own fears. They gave me Jace Lightwood, my fictional boyfriend. They gave me confidence in myself to become a writer. They taught me so much. And they make me laugh, cry, anxiously turn the pages and want to become a Shadowhunter. I have met Cassandra Clare four times, I have every book that is currently published signed by her, I've had the amazing opportunity to interview her and I have a Fearless rune tattoo on my shoulder. These books hold a very very special place in my heart and I continue to read them over and over again to laugh and have a good time and be excited and watch as Clary and Jace and Alec and Magnus and Isabelle and Simon fight demons and Valentine and have adventures. I am eagerly awaiting the final book, City of Heavenly Fire, in 2014 and I'm INSANELY excited about the City of Bones movie this summer.
1. Harry Potter Series by J.K. Rowling 
Harry Potter and the Sorcerer's Stone, the Chamber of Secrets, the Prisoner of Azkaban, the Goblet of Fire, the Order of the Phoenix, the Half-Blood Prince, and the Deathly Hallows. 
What would I be without these books in my life? I get teary-eyed just thinking about these books and what they have done for me, as a person, as a reader, as a writer. I first read Sorcerer's Stone when I was ten years old, the year it was released here in the United States. I am 25 and I can't imagine ever not loving these books. I read each and every one with a fervor that I have never had for any other book series. I fell in love with characters more than any other, laughed when they laughed, celebrated with they celebrated, worked hard with them and cried when they died. These books took me from an avid reader to a passionate reader, to a reader whose very escape from everything in life that ever goes bad is a book, and especially these books. From the time I was 10 until a few years ago, nothing was going right. Of course it wasn't, I was a teenager. But between my parents' separation, switching schools, being responsible for things that no normal pre-teen is, falling in love, getting pregnant, and so many things…these books were there through it all. I was always a big reader but these books turned me into the passionate reader, the book addict that I am today. They taught me more than I have ever learned in any bible or textbook. I have gotten so many morals and beliefs and lessons from these books. They have taught me about love and friendship and family and death and sacrifice and forgiveness and tolerance and acceptance and on and on and on. There will never be a book series that means as much to me as this one does. There will never be a series like this. These books are so beautifully written and they have given me every emotion I could possibly feel. There is a reason that I have permanently marked myself with four Harry Potter tattoos.
*      *       *      *      *
I hope you all enjoyed this week's Tuesday Top Ten! Remember, click the author's name to check out their website and click the book titles to purchase them on Amazon! I really hope that you guys are able to check out some new series today, every single one of these are very near and dear to my heart.
Stay tuned for some PRETTY awesome stuff coming to the blog this week!
And for past Tuesday Top Ten lists, click here!