So lately I've been running out of ideas for the Tuesday Top Ten, and I've been wanting to make them more than just book related. I'm trying to bring people in to make sure I'm not always writing about books. And the biggest fan of this particular segment is my dad, easily. So I asked him for help and he gave me a really good one: cartoon crushes. Of course, he had a stipulation and it had to be characters NOT in Disney movies.
I tried. I really did. And I failed miserably. So sorry, Dad, this is my Tuesday Top Ten of cartoon crushes, that includes Disney characters :)
I've always discovered…I have weird taste…
Seriously though, if you have Tuesday Top Ten ideas, please please PLEASE help me out :) Until then, enjoy my top ten!
10. Ash Ketchum from Pokemon

I feel like this a little bit awkward because Ash Ketchum is supposed to be like ten years old but I've been obsessed with Pokemon since I was a kid so let's just go with that. I always thought it would just be the coolest thing in the entire world to be able to have a Pokemon and go on adventures and all of that. I still watch the first season (I have them on DVD!) and love them. Its cheesy and ridiculous but I love it. I think my "crush" on Ash comes from wanting to be his traveling buddy. And maybe I could keep him from always getting rid of his Pokemon…and maybe even steal that cute little Pikachu!
9. Li Shang from Mulan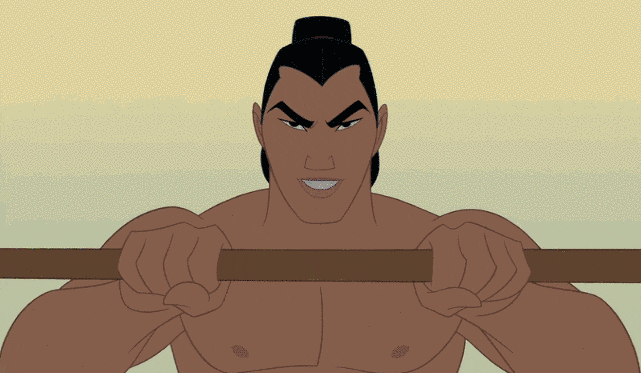 Come on, is it any wonder that Mulan falls in love while pretending to be a guy and trying to save China? Shang is the tough, often shirtless captain of a team of hopeless soldiers and yet manages to whip them into shape. And yeah, he gets super pissed off when he finds out that Mulan is a woman, but he doesn't kill her, like the law demands, and eventually he realizes, awww, he loves her too. That's pretty badass, and let's just say, Disney? Way to go with those shirtless scenes. Seriously. Way. To. Go.
8. Dimitri from Anastasia

I know that I was not the only girl to totally fall head over heels for Dimitri in the movie Anastasia. Okay, first off, the name Dimitri just SCREAMS hot guy. Then he's totally the boy who saved her life and then brought her home, and he does it for reward money but then realizes its actually her and can't do it, and its too sweet for life. Then, as I got older, I realized John Cusack, the ridiculously adorable John Cusack did the voice for him and I fell even more in love with this animated hottie. Dimitri. I would runaway from a princess title too to be with that guy ;)
I love that every time I bring up my crush on Prince Phillip, my boyfriend points out that he doesn't talk for majority of the film. And hey, maybe that's the appeal there. It would be nice to have a boyfriend who just swept you off your feet, danced with you in the woods, saved you from a crazy dragon lady and never said a word to argue with you. Works perfect for me. He has it all, the good looks, he's a great dancer, fabulous fashion sense and he must be a good enough kisser to wake Aurora up from her sleep. I probably wouldn't say no to a stranger that hot who came up to me and wanted to dance with me in the woods.
6. Twister Rodriguez from Rocket Power
Okay, this one is weird and I completely acknowledge that. I blame this on my obsession with this show when I was a teenager. I think it was a hint at what my taste would be like in the future. I don't like the popular boy, the one that always gets all the attention. I like the best friend, the goofy one. I like the one that maybe not everyone notices right off the bat, but then as time goes on, you realize that he's the bets one of them all. Twister was kind of the joke character of the show but I loved him! He was goofy and hilarious and I loved that he hated to be called by his real name and I loved him WAY more than Otto Rocket. Way more. So yes, I know this is a weird one but don't judge me haha.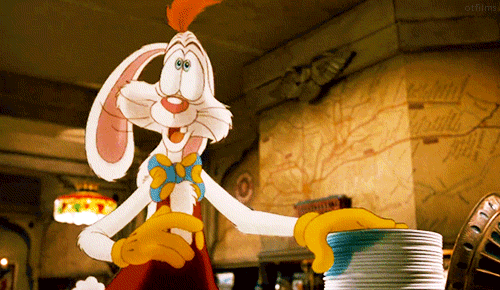 Okay, I know, I'm so weird! I LOVE Roger Rabbit. I love how ridiculous goofy and hilarious he is. So yeah, I totally have a crush on Roger Rabbit. So sue me. Me and Jessica Rabbit obviously have something in common, and she's on every top animated girl crush list I saw out there so…ha! Okay, that was a ridiculous argument, but I adore Roger. He makes me laugh and he makes all these ridiculous mistakes but in the end, he ends up a hero and when I was a kid, I loved that. I also really loved the ride at Disneyland so voila, Roger Rabbit. Don't judge me.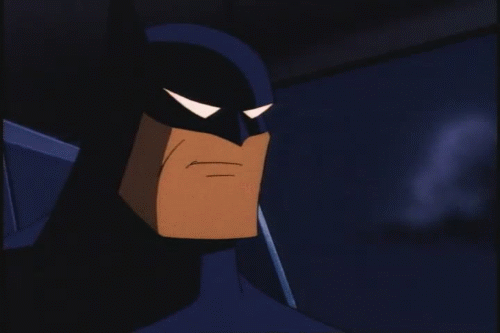 Okay, nothing against Christian Bale, because seriously I think he is a SUPER hot Batman, but the hottest Batman there is is the Bruce Wayne of Batman: The Animated Series. I watched the hell out of this show as a kid (and have been wanting to watch it again lately) and I always had SUCH a crush on Batman. Maybe it was just the voice of Kevin Conroy, who also voiced him in the two Batman Arkham games, because I was just always super into Batman on this show. Plus he also always saves the day, and without any actual super powers and his Batmobile is the BEST.
3. Flynn Rider from Tangled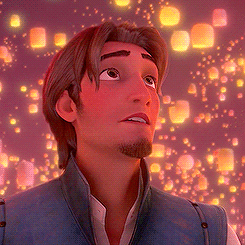 I'm sorry Rapunzel but I just can't call him Eugene Fitzherbert.  There is absolutely nothing sexy about the name Eugene. But come on, Flynn Ryder is SO hot. He is the bad boy gone good for LOVE. Its cheesy as hell but its amazing. He has an awesome sense of humor, is cocky as hell but is brave and adventurous and falls in love with Rapunzel and gives her the best 18th birthday a girl could ever want. Oh yeah, and he totally saves her life and she saves his life and its all super cheesy but its a Disney movie so we excuse it. But I love Flynn Ryder, and all the super attractive boys cosplay as him, and so that's a win-win situation in my book.
Oh, Howl. Oh, Howl, Howl, Howl. You heartbreaker. He goes around, breaking hearts, stealing them but in the end, its a plain girl named Sophie who ends up stealing his. He's magical with a fantastic taste in clothing and a bravery that comes out at the best moment. He's selfish and vain and stubborn and spoiled but he's real. He's such a real character, and he's kind of an emo boy and I've always kind of had a thing for emo boys, and when his hair turns black instead of blonde, I kind of found myself cheering a little bit. Then there's the whole magical powers thing. You'll win me over anytime with magical powers.
Honestly, there's one huge reason why Beast (not Adam) gets the number one spot and that is because Belle is my favorite Disney princess, because I always felt the closest to her as a girl, and he gives her the best present a boy could ever give a girl. I'm serious, what a better present than giving her an ENTIRE LIBRARY!!!!! I would have fallen in love with this huge, monstrous bear, lion man if he gave me an entire room, stacked to the ceiling with BOOKS. Okay, and the Beast is also really cool too. He overcomes his anger and selfishness and all that, and becomes a better person and breaks his curse, but ends up being way more attractive as the Beast than he ends up being as Prince Adam. I'm just saying. Look at him in the spiffy blue and gold outfit he's got on. Totally looks better as a Beast. And he gives her a LIBRARY! Enough said.
*       *      *      *      *
I hope you all enjoyed this absolutely ridiculous edition of the Tuesday Top Ten :) I hope that you are able to check out some of the previous Top Tens here.
What are some of your animated crushes? share them in the comments!