This week's Waiting on Wednesday brings us a debut novel from author Justin A Reynolds, a recommendation that I got from Becky Albertalli and now I'm DYING for it.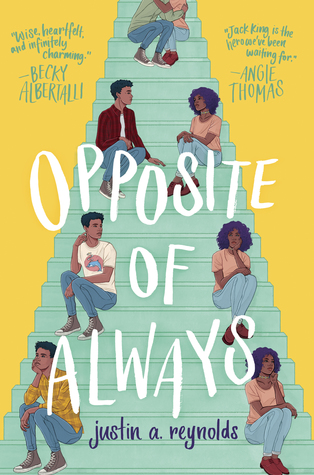 Title: Opposite of Always
Author: Justin A Reynolds – Website
Published By: Katherine Tegen Books
Publishing Date: March 19th, 2019
Pages: 464 pages
Genre: Young Adult, Contemporary
Summary:
Jack Ellison King. King of Almost.
He almost made valedictorian.
He almost made varsity.
He almost got the girl . . . 
When Jack and Kate meet at a party, bonding until sunrise over their mutual love of Froot Loops and their favorite flicks, Jack knows he's falling—hard. Soon she's meeting his best friends, Jillian and Franny, and Kate wins them over as easily as she did Jack. Jack's curse of almost is finally over.
But this love story is . . . complicated. It is an almost happily ever after. Because Kate dies. And their story should end there. Yet Kate's death sends Jack back to the beginning, the moment they first meet, and Kate's there again. Beautiful, radiant Kate. Healthy, happy, and charming as ever. Jack isn't sure if he's losing his mind. Still, if he has a chance to prevent Kate's death, he'll take it. Even if that means believing in time travel. However, Jack will learn that his actions are not without consequences. And when one choice turns deadly for someone else close to him, he has to figure out what he's willing to do—and let go—to save the people he loves.
PreOrder Links:
Amazon / Barnes and Noble / Book Depository / iTunes / Kobo / GooglePlay
Why I'm Waiting:
When I interviewed Becky Albertalli at YallWest this past May, I asked her who her fictional crush was. She mentioned a manuscript she had literally just finished reading and pitched it to me as Before I Fall (Lauren Oliver) meets Nicola Yoon's novels and I was so sold. She talked it up so much that I immediately added it to GoodReads, and this was prior to it having an actual summary on GoodReads. Now there's a summary and I'm sold even more. In fact, now I'm wondering how I can get my hands on an early copy because it sounds AMAZING. Its exactly the kind of debut novel that any novelist could wish to have and he's been blurbed already by Becky AND Angie Thomas…so you know this book is just going to blow our minds. It doesn't come out until March, so a good 8 months away but I'm already so ready for it!
Edit: When I first wrote this post last week and scheduled it to be reviewed, it was a book that I was waiting for immensely. A few days ago, I managed to get an e-ARC on my kindle from edelweiss and I am LOVING it so far. I'm definitely still waiting for this book to come out in March because I have a feeling its going to make an incredibly brilliant debut.
*******************
Support us on Patreon for only $1 a month to gain access to monthly exclusive interviews, ARC and signed book giveaways, reviews for books I DIDN'T like and more by following the link here.