Today's Waiting on Wednesday is all about the sequel to one of my favorite books from last year…oh yes, Marie Lu's Wildcard. I'm seriously very excited and, besides, have you SEEN the cover?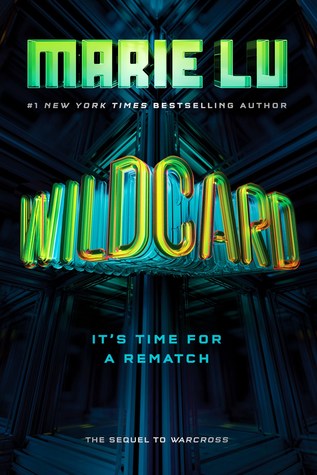 Title: Wild Card – 2nd Book in the Warcross Series
Author: Marie Lu – Website
Published By: G.P. Putnam's Sons Books for Young Readers
Publishing Date: September 18th, 2018
Pages: 352 pages
Genre: Young Adult, Dystopia? Science Fiction?
Summary:
Emika Chen barely made it out of the Warcross Championships alive. Now that she knows the truth behind Hideo's new NeuroLink algorithm, she can no longer trust the one person she's always looked up to, who she once thought was on her side.
Determined to put a stop to Hideo's grim plans, Emika and the Phoenix Riders band together, only to find a new threat lurking on the neon-lit streets of Tokyo. Someone's put a bounty on Emika's head, and her sole chance for survival lies with Zero and the Blackcoats, his ruthless crew. But Emika soon learns that Zero isn't all that he seems–and his protection comes at a price.
Caught in a web of betrayal, with the future of free will at risk, just how far will Emika go to take down the man she loves?
PreOrder Links:
Amazon / Barnes and Noble / Book Depository / iTunes / Kobo / GooglePlay
Why I'm Waiting:
I mean, why wouldn't I be waiting for this book? I absolutely loved every single moment of the first book – the concept, the characters, everything. It was such a great release for Marie and I say that genuinely and honestly, even though Marie is definitely an insta-buy for me. I think that the virtual reality world is a fun thing to explore and I really like what Marie did with it. I think she built up this compelling story with incredibly likable characters and then left us with a healthy cliffhanger that is just BEGGING for us to want more. Plus, have you seen that cover? MY. GOD. It screams that its going to be a phenomenal book!
*******************
Support us on Patreon for only $1 a month to gain access to monthly exclusive interviews, ARC and signed book giveaways, reviews for books I DIDN'T like and more by following the link here.