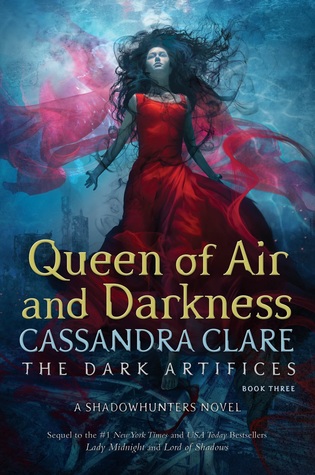 Title: Queen of Air and Darkness
Author: Cassandra Clare – Website
Published By: Margaret K. McElderry Books
Publishing Date: December 4th, 2018
Pages: 912 pages (OHMYGOD)
Genre: Young Adult, Fantasy
Summary:
What if damnation is the price of true love?
Innocent blood has been spilled on the steps of the Council Hall, the sacred stronghold of the Shadowhunters. In the wake of the tragic death of Livia Blackthorn, the Clave teeters on the brink of civil war. One fragment of the Blackthorn family flees to Los Angeles, seeking to discover the source of the blight that is destroying the race of warlocks.
Meanwhile, Julian and Emma take desperate measures to put their forbidden love aside and undertake a perilous mission to Faerie to retrieve the Black Volume of the Dead. What they find in the Courts is a secret that may tear the Shadow World asunder and open a dark path into a future they could never have imagined. Caught in a race against time, Emma and Julian must save the world of Shadowhunters before the deadly power of the parabatai curse destroys them and everyone they love.
PreOrder Links:
Amazon / Barnes and Noble / Book Depository / iTunes / Kobo / GooglePlay
Why I'm Waiting:
I can't even focus on writing why I'm waiting for this book right now because I just found out how many pages this novel has by doing this post and my.god. This book is SO CRAZY LONG. That's a lot of pages for a lot of very, very bad things to happen. Lord of Shadows left us with a lot of cliffhangers and a lot more heartbreak and even though I'm seriously excited to read this book, I'm also nervous as hell to see what Cassie does to us. Ever since she broke my heart with Max Lightwood's death the first time I read City of Glass in 2010, I haven't trusted her. (Just kidding, Cassie, you know I adore you!) I have a feeling that this book is going to tug at all of my emotions, the good and the bad. I AM excited that its coming much earlier than expected – it was originally scheduled for 2019 and the first Last Hours novel was releasing this year but I'm super stoked about the switch for sure. I may have to take a day off work just for this book alone…
*******************
Support us on Patreon for only $1 a month to gain access to monthly exclusive interviews, ARC and signed book giveaways, reviews for books I DIDN'T like and more by following the link here.