Today's Waiting on Wednesday is the newest novel from Andrew Smith, coming this September!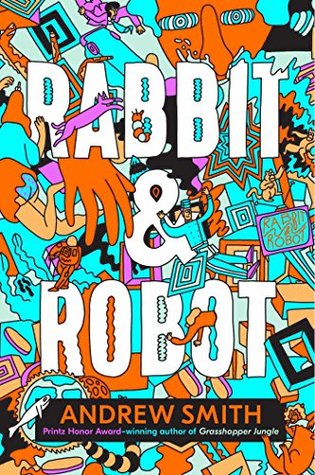 Title: Rabbit & Robot
Author: Andrew Smith – Website
Published By: Simon and Schuster
Publishing Date: September 25th, 2018
Pages: 448 pages
Genre: Young Adult
Summary:
Cager has been transported to the Tennessee, a giant lunar-cruise ship orbiting the moon that his dad owns, by Billy and Rowan to help him shake his Woz addiction. Meanwhile, Earth, in the midst of thirty simultaneous wars, burns to ash beneath them. And as the robots on board become increasingly insane and cannibalistic, and the Earth becomes a toxic wasteland, the boys have to wonder if they'll be stranded alone in space forever.
PreOrder Links:
Amazon / Barnes and Noble / Book Depository / iTunes / Kobo / GooglePlay
Why I'm Waiting:
Ever since I read Winger back in 2013, I've been an Andrew Smith addict. Everything he writes makes me laugh and cry and think and I never close one of his books without feeling anything but happy. There was a sneak peek of this book in Entertainment Weekly not that long ago and I do NOT read sneak peeks and I totally read this one and it made me laugh so so so much and I can't wait to read it. I'm working SO hard to get my hands on an ARC prior to the release in a few months but I'm definitely counting down the days, the hours, the minutes, that gets me to release day!
*******************
Support us on Patreon for only $1 a month to gain access to monthly exclusive interviews, ARC and signed book giveaways, reviews for books I DIDN'T like and more by following the link here.