Its 9 days into 2020 and I have a 100 book read goal, as per usual, and I've only read one book, which means that I'm already one book behind. And I think a big reason for that is that I'm struggling to find new things to read. I know, I have about a thousand books between my bookshelves and Kindle that I need to read but just none of them are capturing my imagination or interest right now, which is unfortunate. Then I was scrolling through Instagram stories one day and I came across this cute little template and thought, okay, I'm in –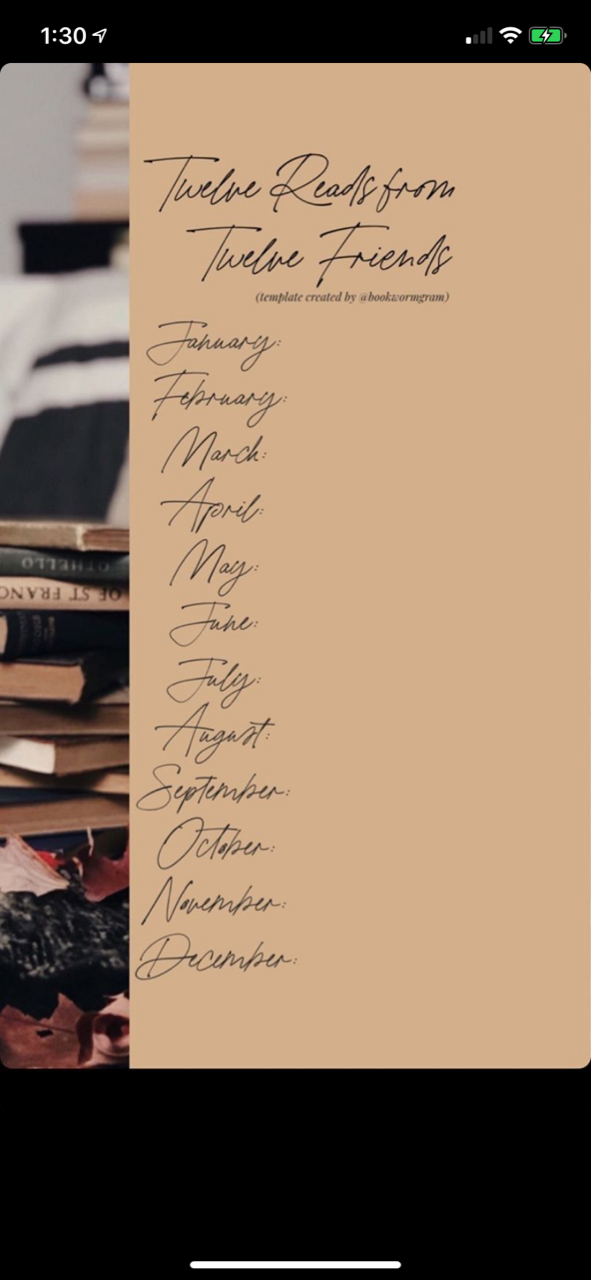 I decided to ask some of my favorite bookish friends for their recommendations of one book to read a month. I plan on reading these books; most of them are easily borrowed from my local online library and the others are sitting in my cart for Barnes and Noble since I got a gift card for Christmas! I'll link each instagram account so you can follow these awesome people and I'll write a review for each of these each month so we can see what I think. You can also click on the book covers to check out the book on GoodReads! Most of these books I've never even heard of so I'm SOOOO excited to jump in!
~*~*~*~*~*~*~*~*~*~*~*~
When Wicked Comes Calling…
When a mysterious stranger finds his way into her bedchamber and offers his help in landing a duke, Lady Felicity Faircloth agrees—on one condition. She's seen enough of the world to believe in passion, and won't accept a marriage without it.
The Wallflower Makes a Dangerous Bargain…
Bastard son of a duke and king of London's dark streets, Devil has spent a lifetime wielding power and seizing opportunity, and the spinster wallflower is everything he needs to exact a revenge years in the making. All he must do is turn the plain little mouse into an irresistible temptress, set his trap, and destroy his enemy.
For the Promise of Passion…
But there's nothing plain about Felicity Faircloth, who quickly decides she'd rather have Devil than another. Soon, Devil's carefully laid plans are in chaos, and he must choose between everything he's ever wanted…and the only thing he's ever desired.
Adam Moynihan's life used to be awesome. Straight As, close friends and a home life so perfect that it could have been a TV show straight out of the 50s. Then his oldest brother died. Now his fun-loving mom cries constantly, he and his remaining brother can't talk without fighting, and the father he always admired proved himself a coward by moving out when they needed him most.
Jolene Timber's life is nothing like the movies she loves—not the happy ones anyway. As an aspiring director, she should know, because she's been reimagining her life as a film ever since she was a kid. With her divorced parents at each other's throats and using her as a pawn, no amount of mental reediting will give her the love she's starving for.
Forced to spend every other weekend in the same apartment building, the boy who thinks forgiveness makes him weak and the girl who thinks love is for fools begin an unlikely friendship. The weekends he dreaded and she endured soon become the best part of their lives. But when one's life begins to mend while the other's spirals out of control, they realize that falling in love while surrounded by its demise means nothing is ever guaranteed.
A powerful coming-of-age story about grief, guilt, and the risks a Filipino-American teenager takes to uncover the truth about his cousin's murder.
Jay Reguero plans to spend the last semester of his senior year playing video games before heading to the University of Michigan in the fall. But when he discovers that his Filipino cousin Jun was murdered as part of President Duterte's war on drugs, and no one in the family wants to talk about what happened, Jay travels to the Philippines to find out the real story.
Hoping to uncover more about Jun and the events that led to his death, Jay is forced to reckon with the many sides of his cousin before he can face the whole horrible truth — and the part he played in it.
As gripping as it is lyrical, Patron Saints of Nothing is a page-turning portrayal of the struggle to reconcile faith, family, and immigrant identity.
Nashville Legends second baseman Gavin Scott's marriage is in major league trouble. He's recently discovered a humiliating secret: his wife Thea has always faked the Big O. When he loses his cool at the revelation, it's the final straw on their already strained relationship. Thea asks for a divorce, and Gavin realizes he's let his pride and fear get the better of him. 
Welcome to the Bromance Book Club.
Distraught and desperate, Gavin finds help from an unlikely source: a secret romance book club made up of Nashville's top alpha men. With the help of their current read, a steamy Regency titled Courting the Countess, the guys coach Gavin on saving his marriage. But it'll take a lot more than flowery words and grand gestures for this hapless Romeo to find his inner hero and win back the trust of his wife.
Chloe Brown is a chronically ill computer geek with a goal, a plan, and a list. After almost—but not quite—dying, she's come up with seven directives to help her "Get a Life", and she's already completed the first: finally moving out of her glamourous family's mansion. The next items?
Enjoy a drunken night out.
Ride a motorcycle.
Go camping.
Have meaningless but thoroughly enjoyable sex.
Travel the world with nothing but hand luggage.
And… do something bad.
But it's not easy being bad, even when you've written step-by-step guidelines on how to do it correctly. What Chloe needs is a teacher, and she knows just the man for the job.
Redford 'Red' Morgan is a handyman with tattoos, a motorcycle, and more sex appeal than ten-thousand Hollywood heartthrobs. He's also an artist who paints at night and hides his work in the light of day, which Chloe knows because she spies on him occasionally. Just the teeniest, tiniest bit.
But when she enlists Red in her mission to rebel, she learns things about him that no spy session could teach her. Like why he clearly resents Chloe's wealthy background. And why he never shows his art to anyone. And what really lies beneath his rough exterior…
One cruel night, Meggie's father reads aloud from a book called INKHEART– and an evil ruler escapes the boundaries of fiction and lands in their living room. Suddenly, Meggie is smack in the middle of the kind of adventure she has only read about in books. Meggie must learn to harness the magic that has conjured this nightmare. For only she can change the course of the story that has changed her life forever.
Spensa's world has been under attack for decades. Now pilots are the heroes of what's left of the human race, and becoming one has always been Spensa's dream. Since she was a little girl, she has imagined soaring skyward and proving her bravery. But her fate is intertwined with that of her father's—a pilot himself who was killed years ago when he abruptly deserted his team, leaving Spensa the daughter of a coward, her chances of attending Flight School slim to none.
No one will let Spensa forget what her father did, yet fate works in mysterious ways. Flight school might be a long shot, but she is determined to fly. And an accidental discovery in a long-forgotten cavern might just provide her with a way to claim the stars.
A world with no hunger, no disease, no war, no misery. Humanity has conquered all those things, and has even conquered death. Now scythes are the only ones who can end life—and they are commanded to do so, in order to keep the size of the population under control.
Citra and Rowan are chosen to apprentice to a scythe—a role that neither wants. These teens must master the "art" of taking life, knowing that the consequence of failure could mean losing their own.
The dreamers walk among us . . . and so do the dreamed. Those who dream cannot stop dreaming – they can only try to control it. Those who are dreamed cannot have their own lives – they will sleep forever if their dreamers die.
And then there are those who are drawn to the dreamers. To use them. To trap them. To kill them before their dreams destroy us all.
Ronan Lynch is a dreamer. He can pull both curiosities and catastrophes out of his dreams and into his compromised reality.
Jordan Hennessy is a thief. The closer she comes to the dream object she is after, the more inextricably she becomes tied to it.
Carmen Farooq-Lane is a hunter. Her brother was a dreamer . . . and a killer. She has seen what dreaming can do to a person. And she has seen the damage that dreamers can do. But that is nothing compared to the destruction that is about to be unleashed. . . .
She's a stunner.
Edinburgh, 1844. Eighteen-year-old Lady Aileana Kameron, the only daughter of the Marquess of Douglas, has everything a girl could dream of: brains, charm, wealth, a title—and drop-dead beauty.
She's a liar.
But Aileana only looks the part of an aristocratic young lady. she's leading a double life: She has a rare ability to sense the sìthíchean—the faery race obsessed with slaughtering humans—and, with the aid of a mysterious mentor, has spent the year since her mother died learning how to kill them.
She's a murderer.
Now Aileana is dedicated to slaying the fae before they take innocent lives. With her knack for inventing ingenious tools and weapons—from flying machines to detonators to lightning pistols—ruthless Aileana has one goal: Destroy the faery who destroyed her mother.
She's a Falconer.
The last in a line of female warriors born with a gift for hunting and killing the fae, Aileana is the sole hope of preventing a powerful faery population from massacring all of humanity. Suddenly, her quest is a lot more complicated. She still longs to avenge her mother's murder—but she'll have to save the world first.
In the medieval kingdom of Goredd, women are expected to be ladies, men are their protectors, and dragons get to be whomever they want. Tess, stubbornly, is a troublemaker. You can't make a scene at your sister's wedding and break a relative's nose with one punch (no matter how pompous he is) and not suffer the consequences. As her family plans to send her to a nunnery, Tess yanks on her boots and sets out on a journey across the Southlands, alone and pretending to be a boy.
Where Tess is headed is a mystery, even to her. So when she runs into an old friend, it's a stroke of luck. This friend is a quigutl—a subspecies of dragon—who gives her both a purpose and protection on the road. But Tess is guarding a troubling secret. Her tumultuous past is a heavy burden to carry, and the memories she's tried to forget threaten to expose her to the world in more ways than one.
Returning to the fascinating world she created in the award-winning and New York Times bestselling Seraphina, Rachel Hartman introduces readers to a new character and a new quest, pushing the boundaries of genre once again in this wholly original fantasy.
The clock chimes midnight, a curse breaks, and a girl meets a prince…but what follows is not all sweetness and sugarplums.
New York City, 1899. Clara Stole, the mayor's ever-proper daughter, leads a double life. Since her mother's murder, she has secretly trained in self-defense with the mysterious Drosselmeyer.
Then, on Christmas Eve, disaster strikes.
Her home is destroyed, her father abducted—by beings distinctly not human. To find him, Clara journeys to the war-ravaged land of Cane. Her only companion is the dethroned prince Nicholas, bound by a wicked curse. If they're to survive, Clara has no choice but to trust him, but his haunted eyes burn with secrets—and a need she can't define. With the dangerous, seductive faery queen Anise hunting them, Clara soon realizes she won't leave Cane unscathed—if she leaves at all.
~*~*~*~*~*~*~*~*~*~*~*~
I'm actually really super excited about this – its not often that I get to read direct recommendations from people because its not often that I take direct recommendations. I'm excited to read all of these books.
Have you read any of these books? Tell me all about it! No spoilers, of course :)