If you've been living under a rock or simply don't live in California so your entire world doesn't revolve around the Disneyland Resort, then you may not know that the newest addition to the park – Star Wars: Galaxy's Edge – has officially opened as of this past Friday.
I've been excited about this for FOUR years now, since the announcement that there would be a Star Wars themed land. The closer it got though, the more that it just seemed like it wouldn't be in the cards for me though. I unfortunately haven't been able to afford an annual pass in quite some time, and a day ticket is a lot for me. I was counting down the days until opening but I had a feeling that I would not be there.
That literally changed about three weeks ago. Let me start with a little backstory. I've been to Disneyland a handful of times in the past two years and I took the same picture every single time, starting with one taken in August of 2017. They had started the construction on Galaxy's Edge and there was a really cool walkway and wall leading to where the land was going to be. I took a picture sitting in front of it, staring wistfully at the picture, and posted it on Instagram, joking about how I was first in line.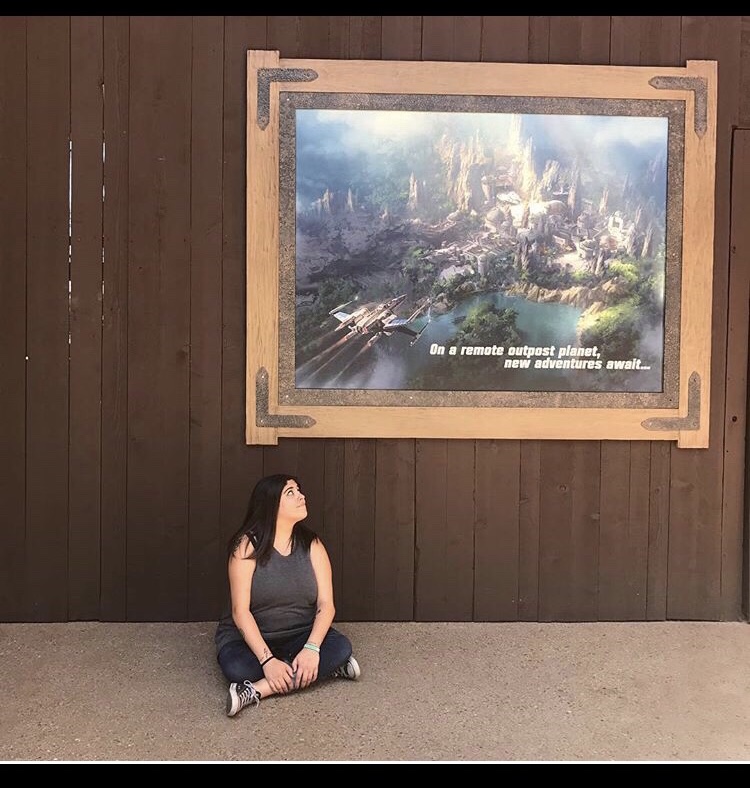 I was contacted by someone named Frank, who is now a friend of mine after two years of instagram following, who let me know that my picture caught the eye of Disney and they wanted to know if they could have permission to use the image in promotion stuff. I thought it was kind of crazy, but gave my information and thought nothing of it. Frank and I stayed IG friends though and that was great!
A few weeks ago, Frank reaches out to me, asks for my email, saying that Disney Parks wants to get in contact with me. Hmm, okay. So I passed along my email – which is basically public anyway – and waited. I received an email from someone named Mark, who works for Disney Parks, asking if he could have ten to fifteen minutes to chat on the phone with me. After Googling him frantically and finding that he seemed pretty legit, I okayed the phone call. It basically boiled down to they can't tell me why, but they want to come film me being surprised with…something. I set it up for a few days later.
Long story short – which you guys know I'm NEVER good at – Mark, one of the Disneyland Ambassadors, Justin, and a full camera crew came to my apartment and surprised me with a trip to Galaxy's Edge before it opened to the public.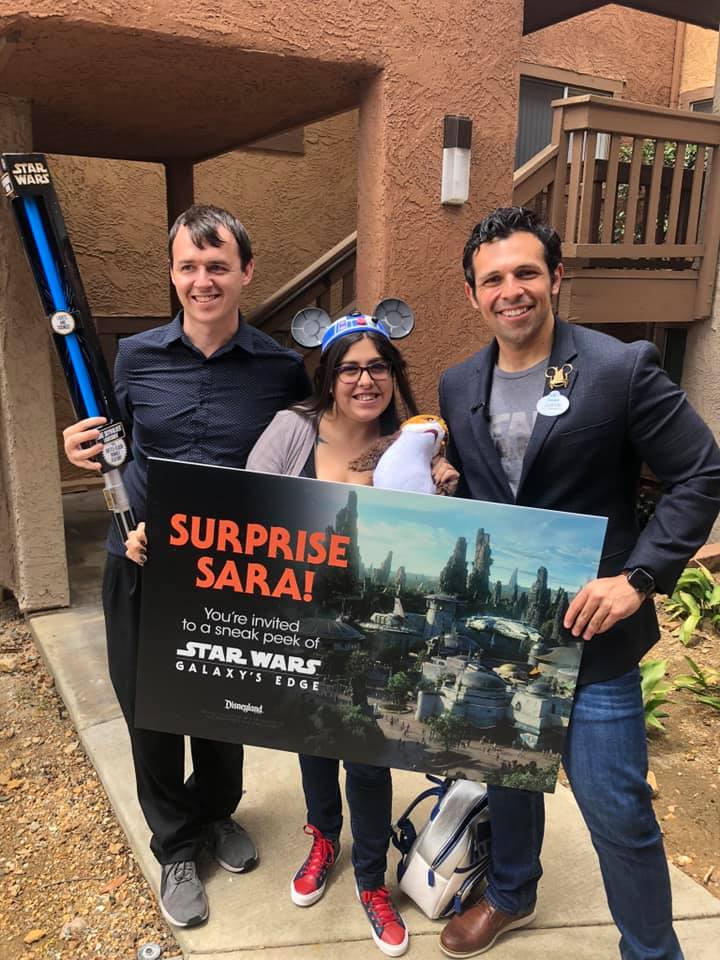 And while I had a *slight* idea that it had to do with SWGE, I had no idea it would be this and I was in awe of this opportunity for the weeks prior to it actually happening. You can watch the video below…its super fun and way way awkward haha!
Fast forward a few weeks to this past Wednesday, the 29th. This was the day I got to go and I found out a few days prior that this was going to be the media day and the day of the official dedication/opening ceremony. I was seriously SO excited. I had a ton of cast member friends that went to their previews, but they weren't allowed to take pictures and I was just ACHING to have my trip to the land. I was so ready for it.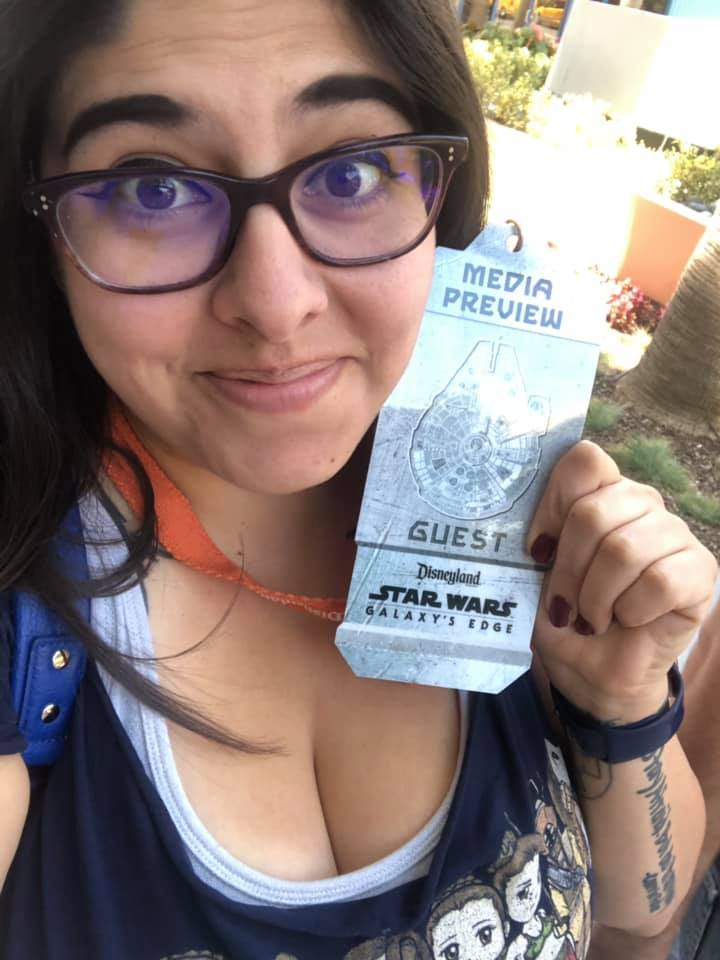 Daniel and I showed up at the Disneyland Hotel a little after 1 pm, which was the check in. We were given Park Hoppers to get into the parks before the event started 630 pm but we decided to go hang out at Trader Sam's Enchanted Tiki Bar for a little bit. Its my favorite place and all of my favorite Skippers work during the day so I never see them anymore and I haven't been in SO long. It felt like the perfect way to start what was sure to be an awesome night.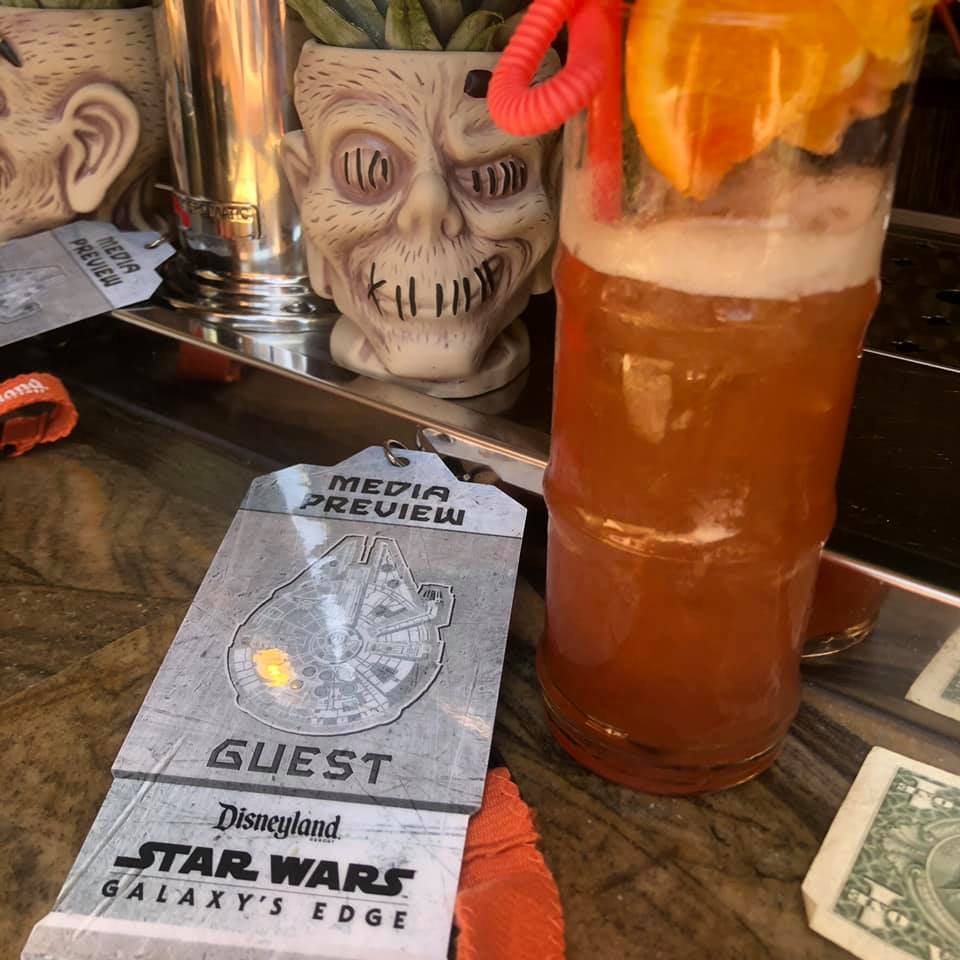 When it was finally getting close to event time, we headed to the park, rode Winnie the Pooh once because YES, and then headed over to SWGE. I was so excited and ready for it. We were told we were allowed to take as many pictures and videos as we wanted and we could start posting and sharing as soon as the media embargo ended at 6 pm. I had also learned that not only were we going to be in a great spot for the dedication ceremony but that all the food and drinks for the event were complementary. I was already sorting through my head what I could and could not try with my budget and this was SO exciting to me because I wanted to try everything!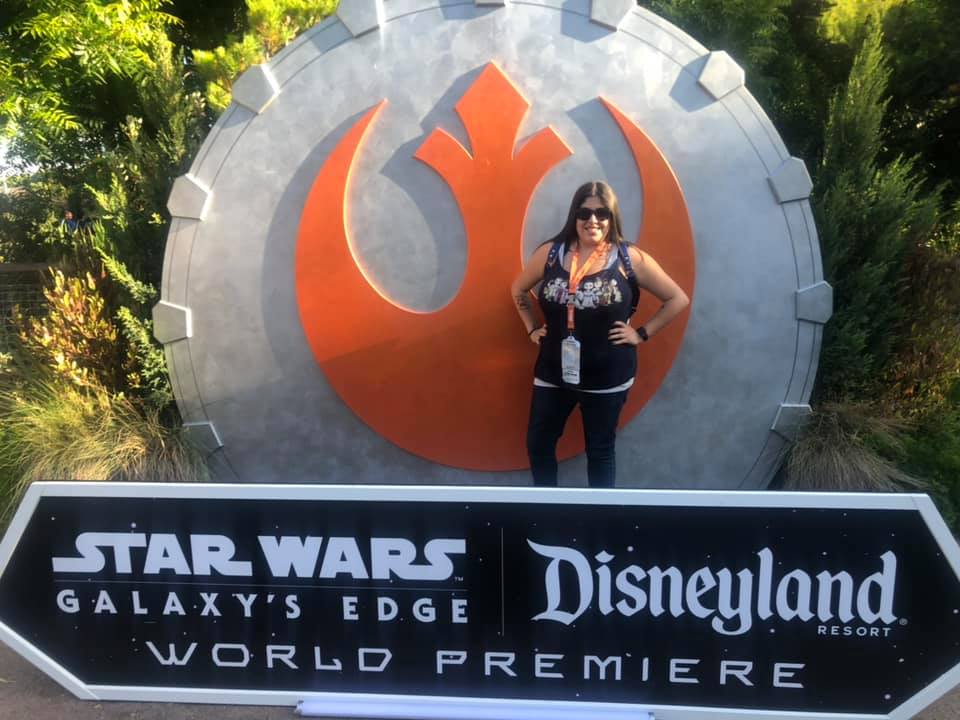 Then it was time. At exactly 630 pm, they let the mass of media and media guests come into the land and that is when I saw Star Wars: Galaxy's Edge for the first time.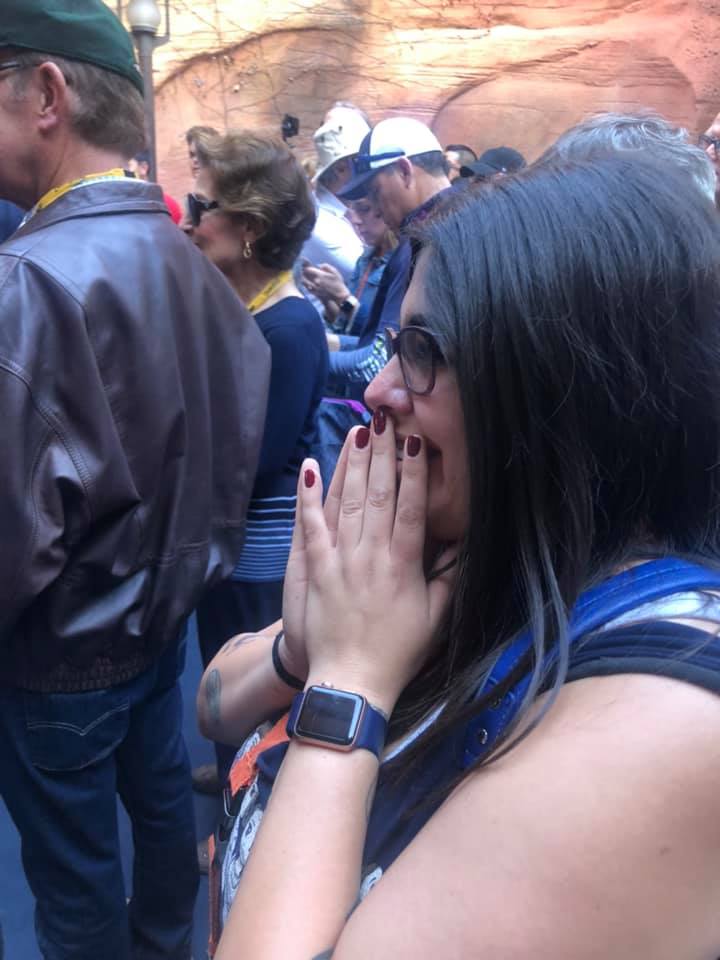 I cannot even begin to explain how I felt. It felt like experiencing something I never thought I would experience in my life. Its one thing to immerse yourself into a fictional world but its another for it to come to life in front of you and that is exactly how it felt. I spent four and a half hours in SWGE and I felt completely immersed in the Star Wars universe the entire time. I always knew that Disney was capable of transporting you – I worked there for long enough to know that – but this was beyond my expectations. I forgot completely that I was in Disneyland.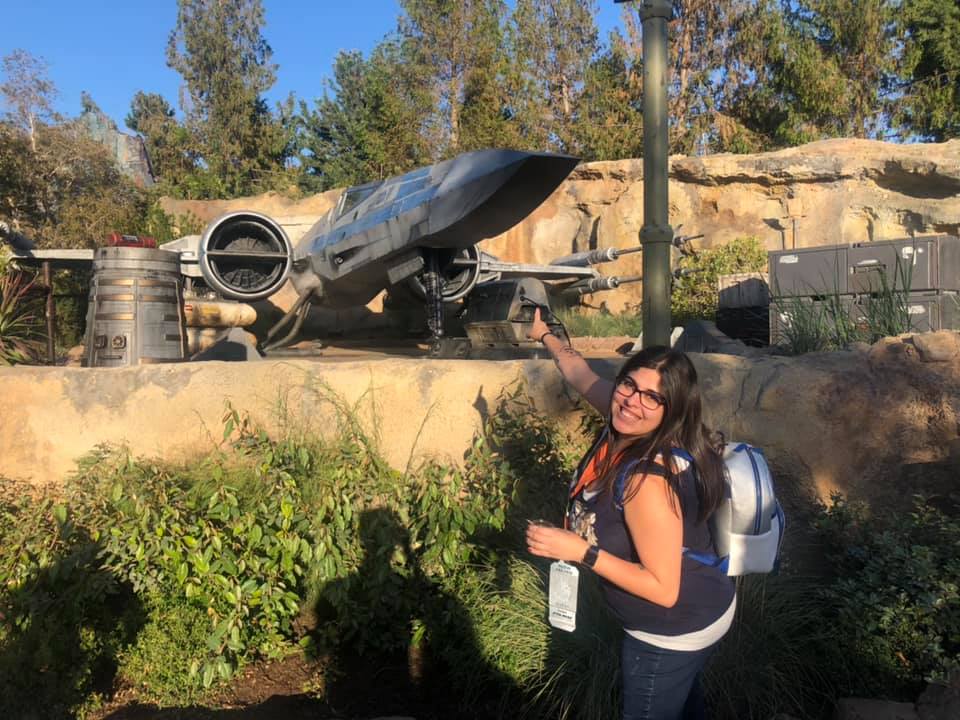 It was more than just visiting another land in the park – you were genuinely in Batuu. The cast members are Batuu residents and they are fully committed to their characters and the story of the land. I loved that the First Order Troopers walked around looking for Resistance fighters and that the Resistance fighters would hide. It felt REAL. I loved it. I loved the architecture and the shops and the food places. The Millennium Falcon? ABSOLUTELY INCREDIBLE. My favorite fictional transportation come to life in front of me, life size? I was in love. I was truly blown away at how much I felt transported to another planet. Truly, it was amazing. I have about a thousand pictures but I tried to share some of my favorite pictures!
This slideshow requires JavaScript.
The food and drinks were SO great and they were a big thing that I couldn't wait to try! Food isn't really a big thing in the Star Wars universe so I was really excited to see what they came up with! The big thing that I wanted to try, of course, was blue milk. I honestly had NO idea what it was going to be like and I was pleasantly surprised by both the blue milk and the green milk and how good they were! They were sort of these sweet, fruity smoothie like drinks and I seriously enjoyed them. I found out later that they have coconut milk in them and I'm allergic to coconut and that's why I felt sick at the end of the night but at least I tried them LOL! I didn't try as much food as I wanted but what I did try was seriously delicious – I loved the cold noodles and alllll of the desserts were DELICIOUS!
This slideshow requires JavaScript.
The dedication ceremony was short but incredible. I haven't done a big event like this in so long and it reminded me how much I truly miss it. It was done in front of the Millennium Falcon, which was the first time I saw it close up and it looked just so amazing! Bob Iger, CEO of Disney, said some words and then he brought out freaking LEGENDS – George Lucas, Billy Dee Williams, Mark Hamill and…Harrison Ford, Han Solo himself, one of the biggest childhood (and adult) crushes of my life. I can't even explain how much awe I was in to be in the presence of these amazing people that I grew up watching.
This slideshow requires JavaScript.
The Millennium Falcon Smuggler's Run was opened immediately after and we raced – walked, of course – to the entrance. Because it was a small event and there weren't a ton of people, we were able to go on the ride three times. It has a Star Tours sort of ride, bumpy and fun, and super interactive. There are three options for roles – pilot, who literally uses a toggle to steer, gunner, who basically button mashes and makes sure to take those TIE fighters out and the engineer, who has to push and flip a selection of buttons and switches in your mission. We did all three roles and each one was seriously fun. I think I liked pilot and engineer the most – I was terrible at pilot though but pushing the buttons and flipping the switches while being an engineer felt SO cool. The entire queue walk through was super cool and seeing Hondo – a favorite from Clone Wars and Rebels – before getting on was even better.
This slideshow requires JavaScript.
We checked out some of the merchandise but I was a good girl and kept myself from buying anything. A lot of the merch was SERIOUSLY cool and I wish I had taken pictures of it but there were definitely things to covet – Ahsoka dolls, lightsaber and droid building experiences. Maybe someday haha! But there were certain things I wanted that I was happy to get my hands on and those were the thermal detonator soda bottles! They're so so cool! I am so glad to have the entire collection. I also am proud of my media pass, my ticket for the day and my grand opening pin. These are things I truly will treasure forever – along with my giant SURPRISE SARA poster. This was an amazing experience.
My nerd girl self was also seriously stoked at seeing the celebrities that kept popping up as I explored Batuu – Kareem Abdul-Jabbar, Chris Paul, Ty Simpkins, and freaking Brie Larson. You guys know my OBSESSION with Captain Marvel so when I realized she was there, I lost it and I definitely embarrassed myself. I told her she's amazing and that I absolutely loved Captain Marvel. I asked her for a picture but she was enjoying as a guest so she politely declined but said thank you for saying hi and she was so sweet and nice and I am so stoked at even the small interaction with a lady I look up to so so much. I also met Sam Witwer for the first time, who does the voice for Darth Maul in Clone Wars, Rebels and Solo, and is FANTASTIC.
I even saw Ashley Eckstein, founder of Her Universe and the voice of the EPIC Ahsoka Tano – we are basically friends at this point haha. I was stoked to see her husband, David, as well – he's my favorite baseball player of all time and I totally was a fool in front of him just like I was a few years ago when I met him the first time. I swear, being 31 does not kill your fangirl tendencies. But its also nice to know that I'm not jaded from meeting so many of my fave celebs – I can still act like a total dweeb!
This slideshow requires JavaScript.
I am so insanely grateful to Disney and to Frank and Mark for this experience. It honestly was beyond anything I could have imagined. Not only did I get to experience of my favorite stories come to life in front of me in a brilliant and beautiful way, but I had a one of a kind time doing it. Seeing all these people I look up to like George Lucas and Brie Larson, Harrison Ford and Mark Hamill, Ashley Eckstein…it was incredible and being able to say that I was there for the opening ceremony is just an honor and a privilege.
Star Wars Galaxy's Edge is only accessible via reservations (which are full) until June 24th and then the land is fully open to the public! Right now, I'm genuinely so impressed with the reservation system and how its gone so smoothly, how the lines have been short and manageable and the crowds have been great.  I have a feeling once it opens to the public, it'll be more crowded but that won't stop me from recommending that everyone head to Batuu as soon as they can. If you're a HUGE Star Wars fan, if you're a casual fan, or even if you just love seeing what Disney and their Imagineers are capable of – you just have to go. You have to. I have loved Disneyland my entire life, ever since I was a young child, and I've been lucky enough to go consistently through out my life and they still managed to just blow my mind with this addition. Its just absolutely perfect. I can't wait to go back.
IGNITE THE SPARK. LIGHT THE FIRE!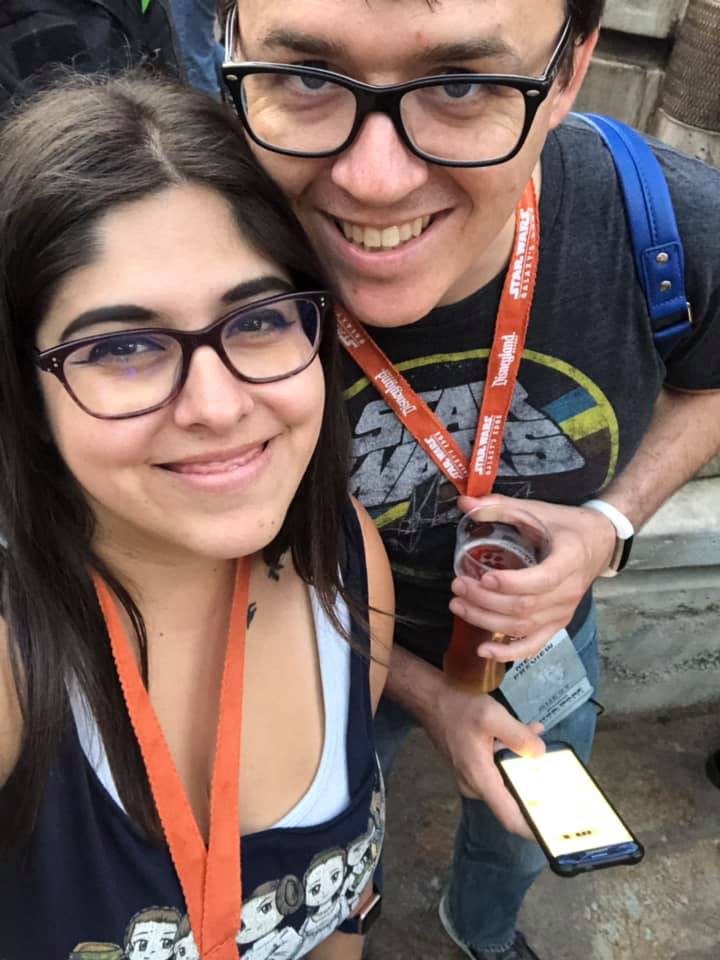 May the Force be With You!
~~~~~~~~~~~~~~~~~~~~~~~~~~~~~~~~~~~~~~~~~~~~~