Robin Benway's beautiful interweaving story of three very different teenagers connected by blood explores the meaning of family in all its forms—how to find it, how to keep it, and how to love it.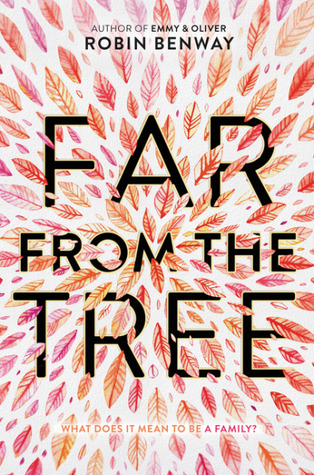 GENRE: 
Young Adult, Contemporary
PAGES: 
384 pages
PART OF A SERIES?:
Standalone
RELEASE DATE: 
October 3rd, 2017
YOU CAN FIND THE BOOK AT:
GOODREADS SUMMARY: 
**Nominated for the 2017 National Book Award for Young People's Literature**
Being the middle child has its ups and downs.
But for Grace, an only child who was adopted at birth, discovering that she is a middle child is a different ride altogether. After putting her own baby up for adoption, she goes looking for her biological family, including—
Maya, her loudmouthed younger bio sister, who has a lot to say about their newfound family ties. Having grown up the snarky brunette in a house full of chipper redheads, she's quick to search for traces of herself among these not-quite-strangers. And when her adopted family's long-buried problems begin to explode to the surface, Maya can't help but wonder where exactly it is that she belongs.
And Joaquin, their stoic older bio brother, who has no interest in bonding over their shared biological mother. After seventeen years in the foster care system, he's learned that there are no heroes, and secrets and fears are best kept close to the vest, where they can't hurt anyone but him.
MY REVIEW:
There are so many words to describe Robin's brand new novel, which comes out tomorrow, but the first one that comes to mind is beautiful. This book is just beautiful.
First off, let's talk about family. This book is first and foremost about family, how it can come from many different places. Two girls are adopted and one is in a foster family that loves him. The three of them find each other find each other and become a family. But there's also the family they go searching for and the friends they surrounded themselves with. Robin writes family so beautiful, especially that bond between siblings, whether its the relationship between the biological siblings of Grace, Maya and Joaquin or the relationship between Maya and her sister, Lauren. I have five younger siblings and we are all incredibly closed and I felt such a connection with the story of family in this novel.
Second, I loved the discovery of self identity, especially for Maya and Joaquin. Maya is lesbian, has a girlfriend, and is sure of herself in that and I love that so much. It's not a big deal at all and that's amazing. I love that there's that diversity in there and its written as if its not a big deal, because, hello, its totally not. But I also love Joaquin wanting to know more about himself, more about where he came from, what his culture is like. He wants to be Mark and Linda's son but he doesn't want to lose who he is at heart. I admire that so much.
Third, Grace. Oh, Grace. I bonded with her story more than anything. I know what its like to be pregnant in high school, to feel rejected, to feel unsure of your decision, to feel like you've let people down, to feel like you've been abandoned. I didn't have my baby; I unfortunately had a miscarriage. There's a part early in the book where she is overwhelmed by the loss of her baby; she feels it in her body. It feels empty, like there's something missing and she physically feels it and I cannot even begin to describe how close I felt to that. That was over a decade ago for me but all those feelings came rushing back at me.
Overall, Robin has written an incredible novel here. I've always adored her and I remember reading Emmy and Oliver and thinking it was her best yet but this book blows it out of the water. She gets better and better with each book and this one definitely shows that. The story is great, and the emotions are real, and the fact that it centers on family and does such a great job at it is what makes this book a must read. It comes out tomorrow and I 100% urge everyone to get this book. I'm positive it's my favorite of the year so far.
Rating:
5 out of 5 Stars