Leah Burke—girl-band drummer, master of deadpan, and Simon Spier's best friend from the award-winning Simon vs. the Homo Sapiens Agenda—takes center stage in this novel of first love and senior-year angst.
Plus an exclusive interview with the author herself from YALLWest this past weekend!
Keep an eye out because in just TWO weeks, I'll be having an HUGE EPIC GIVEAWAY for this blog's 6th anniversary and there just *might* be a signed copy of Leah on the Offbeat up for grabs!

GENRE: 
Young Adult, Contemporary, Romance
PAGES: 
368 pages
PART OF A SERIES?:
2nd in the Creekwood series, after Simon vs the Homo Sapiens Agenda
RELEASE DATE: 
April 24th, 2018
YOU CAN FIND THE BOOK AT:
GOODREADS SUMMARY: 
Leah Burke—girl-band drummer, master of deadpan, and Simon Spier's best friend from the award-winning Simon vs. the Homo Sapiens Agenda—takes center stage in this novel of first love and senior-year angst.
When it comes to drumming, Leah Burke is usually on beat—but real life isn't always so rhythmic. An anomaly in her friend group, she's the only child of a young, single mom, and her life is decidedly less privileged. She loves to draw but is too self-conscious to show it. And even though her mom knows she's bisexual, she hasn't mustered the courage to tell her friends—not even her openly gay BFF, Simon.
So Leah really doesn't know what to do when her rock-solid friend group starts to fracture in unexpected ways. With prom and college on the horizon, tensions are running high. It's hard for Leah to strike the right note while the people she loves are fighting—especially when she realizes she might love one of them more than she ever intended.
MY REVIEW
Please be advised that while I try to keep my reviews as spoiler free as possible, it is almost nearly impossible to do so. This is your warning to perhaps avoid the review until you've read the book! Please scroll down for the lovely interview with the author! 
I LOVED THIS BOOK. I LOVE LEAH AND I LOVE EVERYONE IN THIS BOOK AND I LOVE BECKY FOR WRITING THIS BOOK.
Okay, now that I've gotten that out of the way…I did genuinely love this book. I blew through it. From the very beginning to the very end,  I was sold on Leah and I was sold on her story. I know what its like to being poor, especially poorer than your friends. I know what its like to feel a little on the outside of the group. I know what its like to be bisexual. I know what its like to be fat. I know what its like to hide my talent on the internet and not think its worth paying money for. For Leah, its her art, for me, it was definitely my writing. I think we got a very small part of Leah in Simon vs the Homo Sapiens Agenda and I love getting to know her more in this novel and  I especially love that the story took a different direction than I had expected and explained things in the first book that I had expected either.
The friendship, the feelings, the relationship that builds with Abby is something that I did not see coming at all. We had all assumed in Simon, had seemed so clear that the reason Abby made Leah so uncomfortable was because of Nick but it wasn't like that at all and it threw me for a seriously pleasant loop. I liked seeing their friendship and how it built to more, how Leah had the confidence in her sexuality and how Abby had to work it out. Being bisexual is SO confusing and its hard to come to terms with, especially when everyone else is so black and white: you're straight or you're gay. And bisexuality isn't black and white either, with a 50/50 line drawn down the middle of boys versus girls. Its a ranging scale and I really felt like Becky did such a wonderful job of showing that.
I also super loved that she threw some gay ships in there from books I loved, like Inej and Nina from one of my favorite books ever, Six of Crows.
I also loved that the book tackled a lot of the issues that come up with being a senior in high school; prom and identity and direction and long distance relationships and all of that. All of the characters we've gotten to know in the first book didn't just sail off into the sunset on unicorns. They're real people with real relationships and real problems and I loved to see that. I liked seeing Leah struggle with her own identity. I liked seeing Simon and Bram try to figure out how to survive past high school and into college. I liked that it showed that even when you love someone, it doesn't mean it'll always last forever. There was just something so incredibly real about everyone in this novel and I think Becky is just so fantastic at writing real, genuine, emotional human stories.
RATING:
5 out of 5 Stars
EXCLUSIVE INTERVIEW!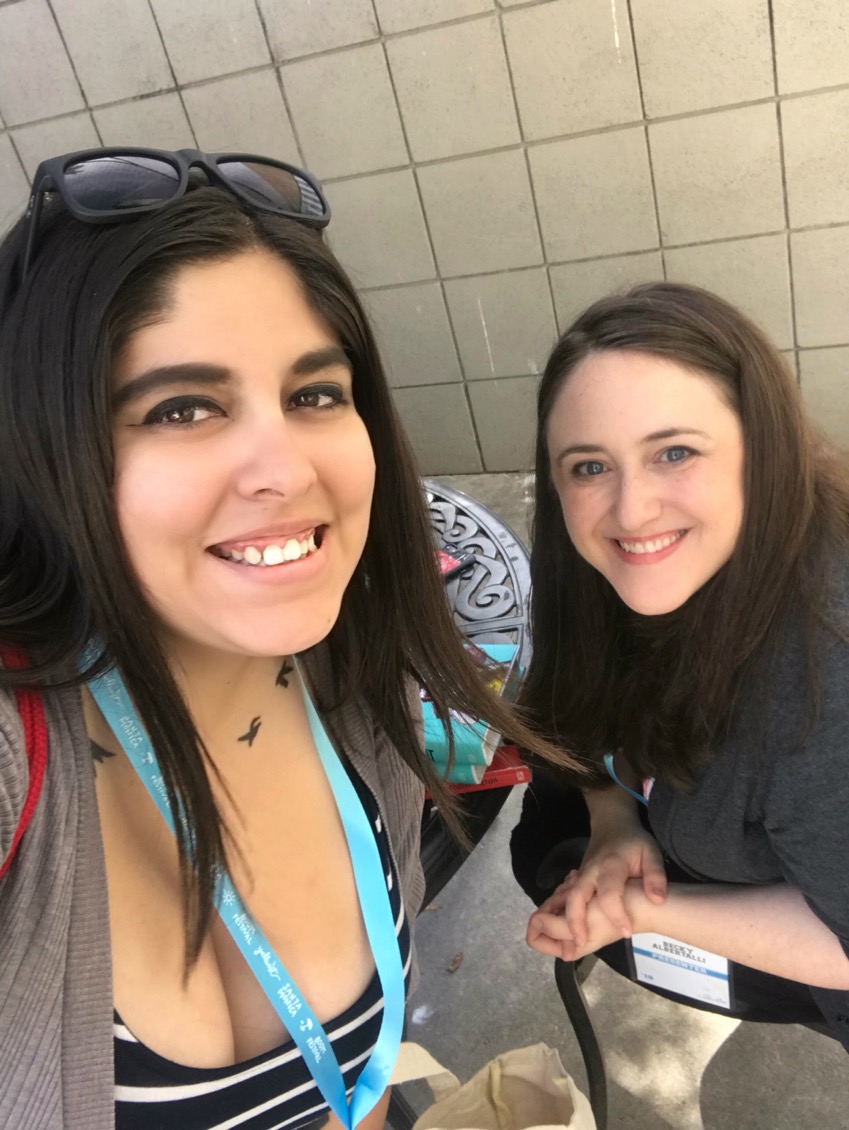 Nerd Girl: I just finished  Leah and I absolutely loved it, I kept reading it and feeling like, whoa Leah is me! It was just so good!
Becky: Thank you!
Nerd Girl: So I'm just going to jump in: Simon is gay, Leah is bisexual. Do you ever feel like there's a pressure or responsibility when you are writing characters like that? Do you maybe think that people who may be going through what they're through might read this story or do you just write the story?
Becky: There's a ton of pressure, yeah. There's a ton of pressure and a ton of research that goes into it. It's something I take really seriously because, you know, I think its helpful to remember that I'm trying to write the gay experience or the bi experience because that doesn't exist. It's just Simon Spier's experience and Leah Burke's experience. But there are also things I need to mindful of and stereotypes that I need to be writing against. I do feel like a responsibility to the people that I am writing about and represent them as accurately and authentically and positively as I can. And its never going to land exactly right with everyone.
Nerd Girl: So you get the phone call that Simon is going to be a movie. How do you celebrate? How do you react?
Becky: Well, you know its so funny, the way the process works, I got the phone call that it was going to be optioned
Nerd Girl:  Oh yeah, because its usually so much time after that for anything to happen.
Becky: Yeah! So I was excited but there was zero part of me that thought the movie was actually going to be made. I would even tell people, its really cool, its a nice thing to daydream about it, but they're obviously never going to make this movie. And then, I kept thinking that, even as more and more things happened, like, there's a script! I was like, wow, how cool, I've read a script of my book! They bring a director and they start bringing a cast on and you have the cast lining up and I'm like, are they actually going to make this? It wasn't until I actually visited the production office, which was like a week before they started filming, I was like, whoa they're doing this. There are outfits in Nick Robinson's size.
Nerd Girl: For both books, you have a lot of music. Simon listens to a lot of music and shares a lot of music with Blue and Leah plays music. Does music play a lot of part in when you write or is music very important to you and bleeds into your books?
Becky: I mean, I think it depends on the book. My second book, The Upside of Unrequited, music isn't as big of a thing and it isn't as central to Molly; its still in there because its a part of her life; its not as much as with Simon, which is just one of those things I always knew about him. He would be very evangelical with music. And with Leah, that was a very different writing experience because she was an existing character so her interest in music had already been established which was fun to play with but also challenging at parts. I had established her as this drummer which was badass in Simon but okay now I have to write an entire book from the point of view of a drummer and I've never had a drum set!
Nerd Girl: Definitely! So I know a lot of times authors get asked for writing advice, but my question is, what is some of the best writing advice you've actually received?
Becky: That's a good question. I think what ended up being the most important piece for me is just the emphasis I had heard people put on finding critique partners. I have to think back to the time when I was writing Simon; I was so private about it, I didn't tell anyone. I wrote the whole thing in total isolation and I forced myself to do this critique partner thing because I had read that, no, trust me, you have to do this, you need more than one pair of eyes on this, no matter how many times you've looked at it yourself. And doing that was very very important for many reasons. Some of which were those specific things that my critique partners were able to point that I didn't see – and that's just not a beginning writer thing, that is every book for me and it will be forever. Somebody who is outside your own brain is going to catch something that you don't see. But also, its also an important way to get used to the process. When youre published, there are many, many stages of feedback. People sometimes write reviews and say "I'll send them to the author because I think they need my constructive feedback" and I'm like, do you know how many rounds of feedback I've already gone through?
Nerd Girl: And at that point, the book already exists and there's nothing that you can do to change it anyway! Its already been through seven different people!
Becky: Right! Like, please put them on goodreads but I can't do much with them from there.
Nerd Girl: Do you read reviews? I know we like to have them on GoodReads and Amazon but do you read them or do you tend to avoid them?
Becky: Well, what I've done so far with every book is…Simon, I was reading them and I got burned. And with Upside and Leah, I go through periods right at the beginning and I'm also doing that with What If It's Us, which is starting to get really early reviews.
(What If It's Us is a young adult contemporary novel written by Becky in collarboration with Adam Silvera that is coming out this fall! Look for a review soon!)
Nerd Girl: Ooh I just read it! It's fantastic! Its funny, you can hear your voice separate from Adam's voice. I hadn't read ahead of time who had written each character but I figured it out almost immediately. I wanted to finish that one and Leah right before I saw you and both are just so great. Is it hard writing with another person?
Becky: It was amazing. I LOVED it. It was the most fun writing experience of my life.
Nerd Girl: I have one more question and its something that I tend to ask all authors that I interview: who is your fictional crush?
Becky: Oh!
Nerd Girl: Yeah I usually get that response!
Becky: I tend to have a lot. I feel like recently I had a new one so I just have to remember it.
Nerd Girl: I LOVED the reference to Nina and Inej ship in Leah, I was so excited, like, yeah! Six of Crows reference!
Becky: Oh yeah! Jesper. Jesper is definitely one of mine! Oh I've got one. This is a book I literally just finished last night; its not out yet. I just read the manuscript of it, I'm blurbing it and its phenomenal. It's called Opposite of Always and its by Justin Reynolds and the main character of that book, I'm like…(sighs happily). I haven't even talked to the author yet, I literally just finished it, haven't even emailed him yet and he has no idea that I'm here talking about his book. There's going to be that awkward moment, I know there is, when I tell him, "I'm in love with your main character" and he's going to be like, "That character is me…"
Nerd Girl: Well I'll definitely have to keep an eye out for it. Is it YA?
Becky: Yes! Let me see if I can try to comp it for you: its like Before I Fall meets Nicola Yoon's book, that sort of genre. There's kind of a time travel component to it and its so voicy and sweet and charming and I love it!
The Opposite of Always by JA Reynolds is on GoodReads, and is slated to come out in 2019.
*******************
Support us on Patreon for only $1 a month to gain access to monthly exclusive interviews, ARC and signed book giveaways, reviews for books I DIDN'T like and more by following the link here.