Genre: 
New Adult, buy Contemporary, erectile Romance
Pages: 
400 pages
Part of a Series?:
First in the My Favorite Mistake series
Release Date: 
August 27th, view 2013
You Can Find the Book At:
GoodReads Summary: 
Two secrets. One bet. Who will break first?
Taylor Caldwell can't decide if she wants to kiss her new college roommate or punch him.
On the one hand, Hunter Zaccadelli is a handsome blue-eyed bundle of charm. On the other, he's a tattooed, guitar-playing bad boy. Maybe that's why Taylor's afraid of falling in love with him, or anyone else. She doesn't want to get burned, so she needs him gone before it's too late.
Hunter himself has been burned before, but Taylor's sexy laugh and refusal to let him get away with anything make her irresistible. Determined not to be kicked out of her life without a fight, Hunter proposes a bet: if she can convince him she either truly loves or hates him, he'll leave the apartment;and leave her alone.
But when the man behind Taylor's fear of giving up her heart resurfaces, she has to decide: trust Hunter with her greatest secret, or do everything in her power to win that bet and drive him away forever.
My Review:
I was browsing around some lists, looking for some new NA to read and Chelsea M Cameron's name kept popping up. My library had copies of My Favorite Mistake, so I figured, why not? I'm really really glad that I did.
Chelsea tells a great story from the beginning of the first page all the way to the end. When Taylor walks in and realizes that for some reason she'll be rooming with a guy – and a HOT one, that – she is so not pleased. I love her tenacity, I love her temper and I love that the first thing she thinks to do is punch him. That's a pretty legit reaction in my book. I love that. I love that we kind of know right away the kind of person that she is. Immediately I like her.
I also immediately like Hunter as well. I like that he has a balance with Taylor, and that even though she totally punched him in the face and is annoyed by his very presence, he just kind of lets her be her. There's something really amazing about that. He knows there is some underlying things going on there and he knows that he wants more, but he just accepts her for the person that she is and kind of lets her come to him.
And I like how they come together. Its sweet and sexy at the same time. Its a slow build up to when they end up working their way to each other. I like that. There's something to be said about a slow build up and I really truly love that about Taylor and Hunter. I really think they become friends before anything else and then friendship blossoms into something else. I think that's what really made me love their story and I love that when they do reveal things to each other, it just brings them closer together, as it should. Their story feels real. I think sometimes in romances, things get…er…romanticized and don't seem very realistic, but this one felt real and it felt familiar. I truly love their romance and how it ends.
Okay, the end is a little…not so realistic. Let's just say Hunter gets Taylor a gift thats a bit much but I don't know. To me, it just fit with all of their personalities and it fit the story. All in all, a very good opener for this series :)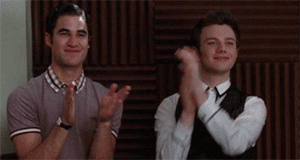 Rating: 
4 out of 5 Stars