Kira's Twelve Steps To A Normal Life
1. Accept Grams is gone.
2. Learn to forgive Dad.
3. Steal back ex-boyfriend from best friend…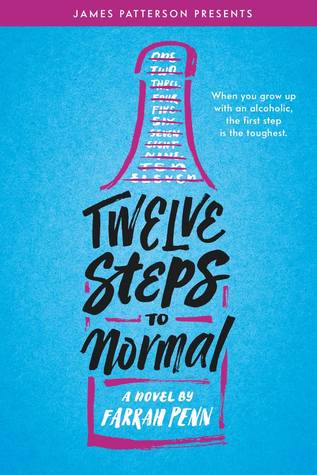 GENRE: 
Young Adult, Contemporary
PAGES:
384 pages
PART OF A SERIES?:
Standalone
RELEASE DATE: 
March 13th, 2018
PUBLISHER:
Little, Brown
SOURCE:
Borrowed From Library
YOU CAN FIND THE BOOK AT YOUR LOCAL BOOKSTORE/LIBRARY OR THE FOLLOWING LINKS:
GOODREADS SUMMARY: 
Kira's Twelve Steps To A Normal Life
1. Accept Grams is gone.
2. Learn to forgive Dad.
3. Steal back ex-boyfriend from best friend…
And somewhere between 1 and 12, realize that when your parent's an alcoholic, there's no such thing as "normal."
When Kira's father enters rehab, she's forced to leave everything behind–her home, her best friends, her boyfriend…everything she loves. Now her father's sober (again) and Kira is returning home, determined to get her life back to normal…exactly as it was before she was sent away.
But is that what Kira really wants?
MY REVIEW
This book had been on my radar for some time. With a big name like James Patterson backing your book, its hard not to get some good press, for sure. Plus Farrah is (was?) part of the Buzzfeed team so I knew her name from there. She is also friends with a lot of the same authors that I'm friends with and we recently appeared together at the Pasadena Loves YA event and she was so so sweet. I managed to read the book prior to the event so I was glad for the opportunity to talk to her about how much I liked this book.
The book follows Kira as she moves back to the town she grew up in. She wants things to be the way they were before but its not quite that simple. She has difficulty trusting that her father won't be the alcoholic she knew before, the man that consistently disappointed her before. To make matters worse, he has invited some of his fellow recovering addicts with him to live in their house, making it very hard for Kira and her dad to reunite. At school, her friends have changed – including her former boyfriend dating one of her best friends – and she doesn't quite fit in the way she did prior to her leaving. Kira has to navigate the changes that are taking place in her life and how to accept these changes and live with them in a place that she's known her whole life.
Kira's story is incredibly familiar to me and I think that's why I loved it from the beginning. I've had some difficult years with my parents, and I've had to work really hard to trust them again, after being let down. I know what Kira felt – the desire to have her dad back but also the fear that they'll let you down again. There's a wall between Kira and her dad. She wants to believe him but its so hard to do so. Its not an easy journey for a parent and a child to fix their relationship once that trust is broken and Farrah does such a phenomenal job of writing the dynamic between Kira and her father and the hard work they both put in.
I also think she did a great job in representing how friendships can change when you move away and then return. Kira has a rough time dealing with being gone for a year, missing out, and returning to a very different dynamic, especially when she spent a year shutting them out. Farrah really captures the complications of friendship, especially young friendship, and it makes Kira that much more human. She is so busy being angry with her father and the people living in her house but she's also flawed herself, she hasn't been the greatest friend and she's made mistakes. This book is a lot about the growth of Kira herself, her relationship with her dad, those living in her house, her friends, and her home.
Lastly, I really enjoyed the cast of characters that Farrah has written in this book. From Kira's dad, the ragtag group living in her home, her friends, the boys in her life, everyone is unique and fun and a treasure. The characters make this book so good.
RATING:
4 out of 5 Stars
*******************
Support us on Patreon for only $1 a month to gain access to monthly exclusive interviews, ARC and signed book giveaways, reviews for books I DIDN'T like and more by following the link here.