Today's Waiting on Wednesday is the newest in the Lux world, The Darkest Star, by Jennifer L Armentrout. Its been SO long since I read the original Lux series and since this book is a spinoff from that series featuring Luc…I've been rereading the series. And I'm remembering how much I love this series and its making me incredibly excited for this new book!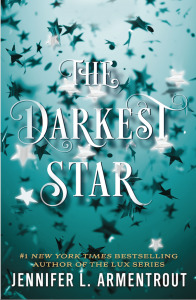 Title: The Darkest Star
Author: Jennifer L Armentrout – Website
Published By: Tor Teen
Publishing Date: October 30th, 2018
Pages: 368 pages
Genre: Young Adult, Science Fiction
Summary:
When seventeen-year-old Evie Dasher is caught up in a raid at a notorious club known as one of the few places where humans and the surviving Luxen can mingle freely, she meets Luc, an unnaturally beautiful guy she initially assumes is a Luxen…but he is in fact something much more powerful. Her growing attraction for Luc will lead her deeper and deeper into a world she'd only heard about, a world where everything she thought she knew will be turned on its head…
#1 New York Times, USA Today, and internationally bestselling author Jennifer L. Armentrout returns to the universe of the Lux in this brand new series, featuring beloved characters both new and old.
PreOrder Links:
Amazon / Barnes and Noble / Book Depository / iTunes / Kobo / GooglePlay
Why I'm Waiting:
When I read the Lux series a handful of years ago, I immediately loved it. It was the first JLA I'd ever read and she's easily become one of my favorite authors over the years. I have been trying to keep up with her books but to be frank, she puts out a ton of them. But when I heard she was putting out a new YA, I was keeping my eye out for it and it took me entirely way too long to figure out that this is a companion to the Lux series with Luc! Like, HOW?! So now I'm even more excited for it plus I'm rereading the Lux series and remembering how much I adore Katy and Daemon and I'm hoping so so much that we get to see them in this book because I miss them so much!
Also its so FUN to do a Waiting on Wednesday about a Lux book because I'm reading all the stuff about Katy being a fangirl and blogger. Its just so fun. UGH I can't wait!
*******************
Support us on Patreon for only $1 a month to gain access to monthly exclusive interviews, ARC and signed book giveaways, reviews for books I DIDN'T like and more by following the link here.