Yay for more author events! Months ago, my amazing friend, Meghan, bought us VIP tickets for this excellent event, Authors in the OC, taking place in Anaheim, so we could meet authors like Jennifer L Armentrout, Cora Carmack, Jay Crownover, and Cambria Hebert.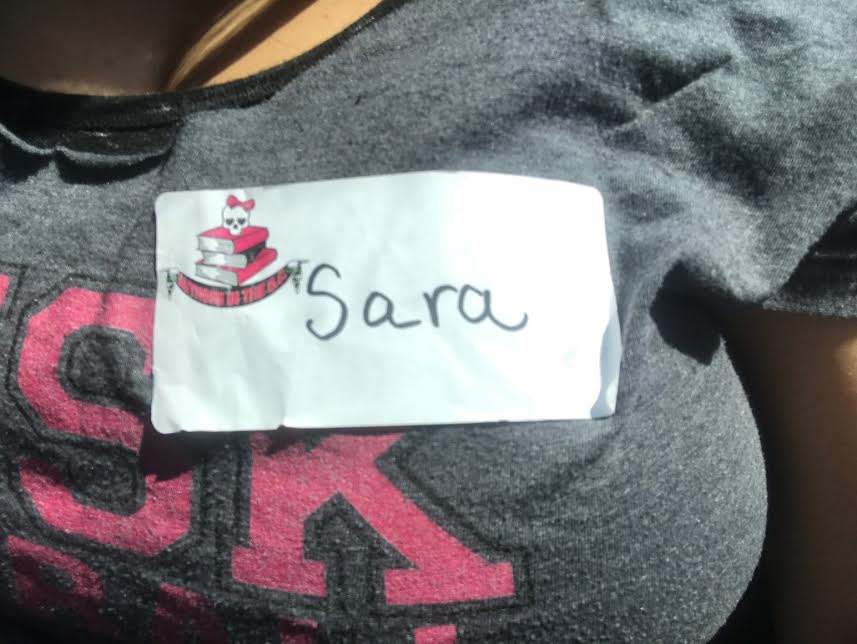 We got there about an hour before doors opened for VIP guests. One thing I'll say is that getting VIP for this event was 100% worth it. The event was an all day thing and I was worried that I would be stuck there all day.
But I wasn't! We went into the room, ready to tackle the authors in a certain order. Both of us were especially eager to meet Jennifer. Meghan has never had the chance to meet and I've met her twice, though both times were in different states! We were expecting it to just be out of control but boy, were we surprised. The VIP attendees maybe numbered at about 50 and with all the authors that were there, it was easy to talk and chat and meet the ones that you wanted. We were able to meet the four we came for in less than an hour, AND that included chatting and everything too!
First, we stopped and talked to Jennifer Armentrout, who had one of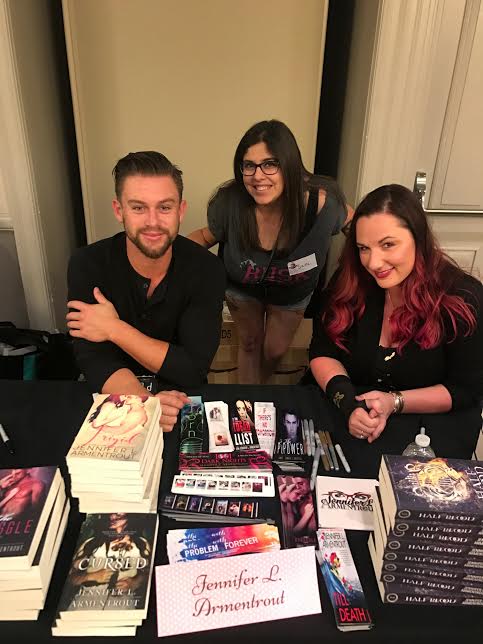 her cover models, Andrew Leighty, with her. She is one of the nicest authors that I've ever met. She really stops and takes the time to talk to her fans. Meghan had SO many books and she signed all of them without hesitation, which I think is so so awesome. We chatted about her events that she's hosting next year and how we're hoping to make it to them. I, of course, asked her to sign my copy of The Awakened, since she's such a huge influence on that series, and she stopped to check it out. She complimented the cover and said she would totally read it, it sounded awesome, which is a fantastic compliment to get. I asked Drew about his little one and he was all proud of his kid, going into kindergarten. It was adorable.
Then we went to go see Cora Carmack, my girl. I adore Cora. I'd like to consider her a friend for sure. She's so sweet, has always been so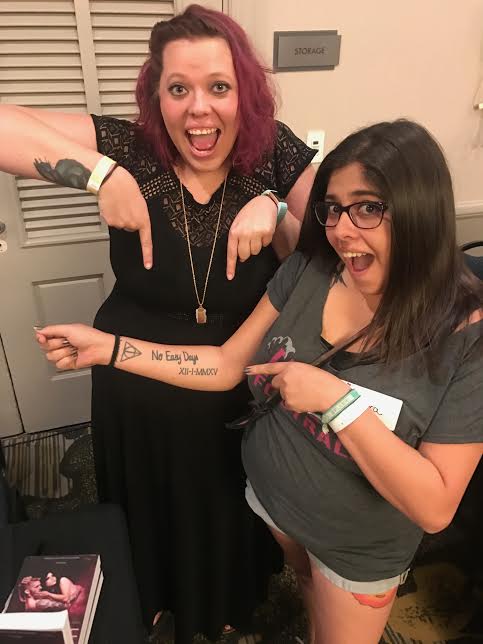 supportive of me and my blog and my writing. It was like catching up with a friend. We chatted for a bit and she asked me about my boyfriend, and said she loved seeing how happy I am with (and I so so so am). It was even better because this was the first time that she had seen my "No Easy Days" tattoo in person, which meant a lot to me because that quote and her books mean so so much to me. It's always sad that I only get short moments like this in real life but I always remember what a great friendship we have through the interwebs.
Next, we stopped to say hello to Jay Crownover, who writes some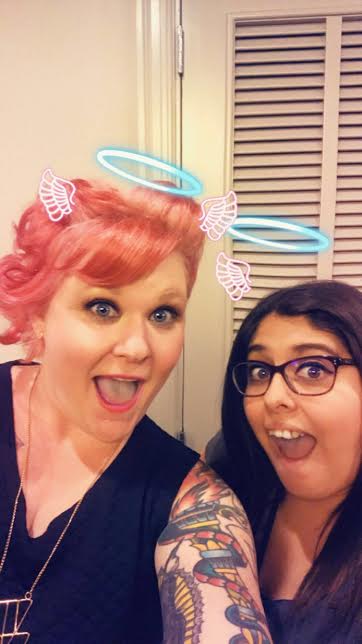 seriously sexy bad boys, and Cambria Hebert, who convinced me to buy one of her books merely by pointing out that it was a male/male romance story, which I'm a total sucker for. Both ladies were so nice, and I had great conversations with them both. Jay and I had fun with some snapchat filters and I loved talking about great male/male romance stories were with Cambria.
Lastly, we took a turn in the photobooth, which was awesome. I'm super glad that they printed out the photos for us because for some weird reason, I never received mine in my email, even though I know for sure I emailed them to myself. Not quite sure what happened there but it was still fun and I have the physical copy!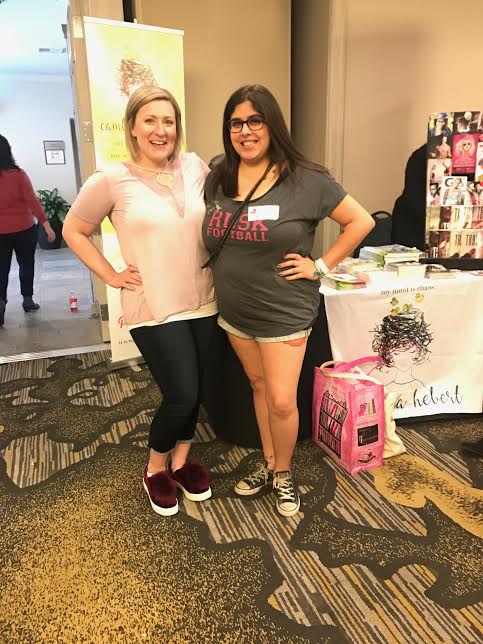 All in all, I had a great time. I did not stay to enjoy the entire day's festivities but I didn't feel like I needed to. The VIP hour gave me plenty of time to hang out and talk with the authors that I liked and I didn't feel like it was necessary to hang out for another handful of hours to hang out with them later in the hotel bar. I mean, that sounds super awesome haha but it didn't feel necessary. I will definitely say that the VIP badge was the way to go for sure. I'm getting to the point where I feel a little too old lady to do all day events haha and the VIP option ensured that I met the authors I wanted to and spent quality time with them and then had the rest of the day to enjoy other endeavors.