I am not a cosplayer. That makes me sad but honestly while I can come up with all kinds of cute and fun ideas in my head, actually executing them is way beyond my capabilities. Most of my imagination and creativity lies within my own brain and then translated into words, either on this blog or in a story. But I admire cosplay so much and I do genuinely want to get into it and I've decided the best way to do that is to start off easy.
There are a lot of characters out there that don't really need a whole lot of creativity and work and this is exactly how you can begin cosplay – or, at least, its how I'm planning on it. Last year, I didn't dress up for Halloween, which made me very sad. Halloween is my favorite holiday and I used to love love love dressing up so I wanted to do better this year and make a costume.
One of my favorite movies of all time is Kiki's Delivery Service, released in 1989 by the amazing Studio Ghibli. It tells the story of a young witch who must leave her home, find a new place to settle and finish her training as a witch and establish herself as a resident witch in that town. Kiki and her trusty and sarcastic familiar, Jiji, pick a beautiful town but things don't quite go the way she expected and her arrival is less than welcome. Eventually she starts to win over people in the town when she starts her delivery business.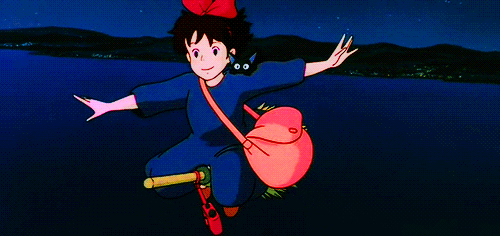 I always thought doing a Kiki cosplay would be super fun and an easy start and I was definitely right. I was able to complete adequate costume for Halloween, and a light cosplay for a convention, all by purchasing things on Amazon. The best part?
It was all under $40!
Now keep in mind, this doesn't include any accessories. I still would love to get a Jiji cat, a messenger bag and a broom to complete the cosplay but I'll walk you through the simple things I purchased to show you how you can definitely do a Kiki costume for cheap! I'll walk you through the choices I made for Kiki's dress, bow and shoes and I'll show you a completed picture at the end!
First, let's start with the dress. Kiki laments over having to wear a drab black dress. She's a young girl, who wants to look cute and fashionable, but she must stick to tradition and wear a witch's favorite color – black. While Kiki doesn't love it, this part can be super fun because I think you can have a lot of fun with this. I picked a dress that was super loose and flowing but I think any fun black dress can really fit.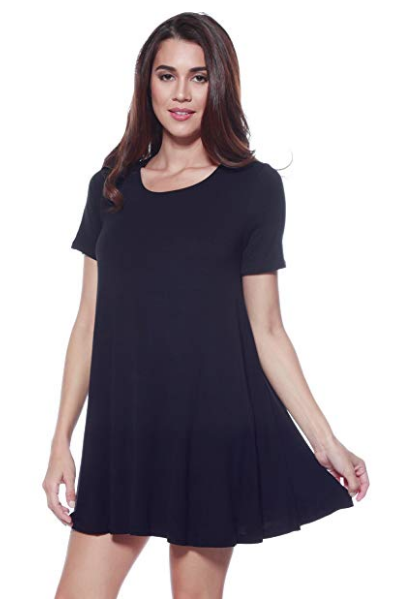 I LOVED wearing this dress. I was really unsure of it when I first got it because I pretty much never ever wear anything this loose. Its just not my style at all. Once I wore a good bra and a pair of shorts underneath though – I was so insanely comfortable and it worked PERFECTLY for the cosplay. It was a soft material, super super light and it looks super cute!
You can get it on Amazon for only $16.95!
Moving on to the shoes! Of course Kiki couldn't just sit in her plain black dress and head to a new town and make a name for herself! She had to add a little splash of color. This is SUCH an easy part of the cosplay – really, any comfy pair of red flats would work.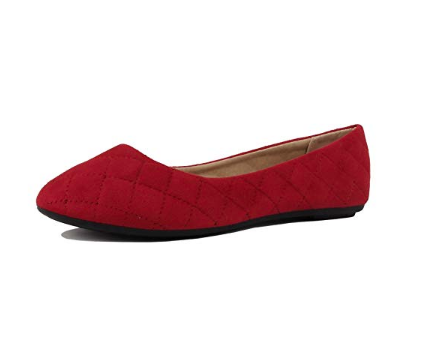 I am in LOVE with the ones I got – in fact, I've already put different colors in my cart so I can buy more. I tend to stick to converses because they're comfortable to wear so I was nervous that a night in these flats would just KILL my feet but they didn't at all. They held up well and I was so comfortable. I'm definitely thinking of investing in some Dr. Scholls for a long day at a convention but for a quick costume at a party or something…they genuinely were SO SO comfy and incredibly cute!
Find these pair (and others similar to it, including a red pair that isn't quilted like this) on Amazon for $14.99.
Lastly, let's talk about the bow! The bow was actually what I was most worried about. It's a very important aspect to her costume and I felt like it had to be perfect. It had to be big and red and it had to stand out. But it also needed to be comfortable and I was also not sure if I would find one that would work for an adult head. Headbands can often make a person's head feel really uncomfortable.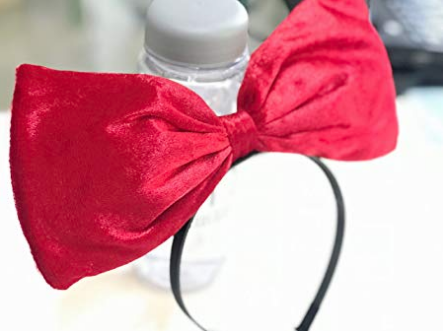 I'm super super happy with the headband I ended up getting. It was a great price and it worked out super well. I do think I need to super glue the bow down a little more securely but its a great color and the perfect size. The best part was that it was super comfy to wear. I wore it all night at a Halloween party and not once did I have the urge to rip it off my head and that, to me, is a HUGE win. It definitely is meant for a bigger head than a child's but I have a fairly small head so it may not fit everyone. There are SO many choices though so I'm sure you can find one!
A side note on the headband – when I wore it to my friend's Halloween party, it was great, really comfortable but I also did NOT wear my glasses to the party. I did wear my glasses when I dressed up for work because, of course, I need my glasses for work, and it did cause some annoyance behind my ears. I do think that was more that there was a lot going on there and less to do with the headband itself.
You can get this headband on Amazon for only $8.99!
Honestly, I'm super happy with how my costume turned out. The best part about doing cosplay is that you never have to be perfect to dress up as your favorite character. My hair is definitely too long and too light to really work for Kiki but at the end of the day, it worked and I was really happy with how it went over. I definitely can't to add more to it, to make it a great cosplay by the time WonderCon 2019 comes along.
Here's the finished product! Bow, dress and shoes – all under $40!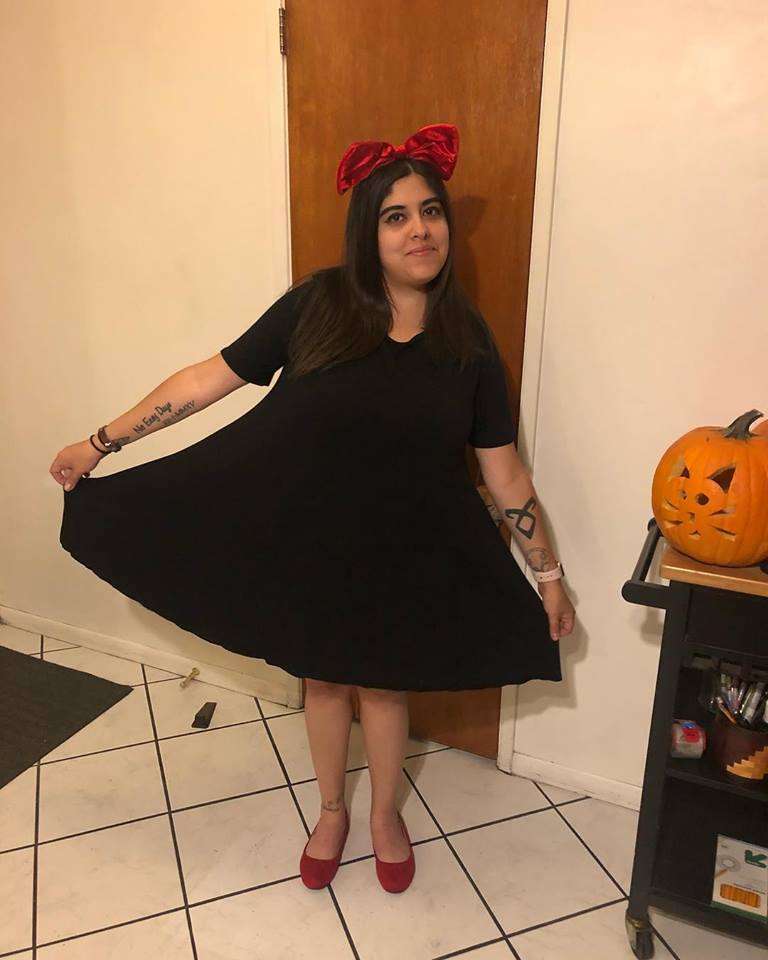 Hope you all enjoyed my journey to creating a simple Kiki cosplay! I'm hoping to do more in the very near future and I hope to share it with you all. Share in the comments if you have done an easy cosplay!
Extra Side Note – I wore this ALL day at work for Halloween and I sit at a desk all day long and I was supremely comfortable. I was cold because I usually wear a cardigan and jeans because its so cold in my office LOL but it honestly went over SO nicely. I had to keep a copy of the movie at the front desk so I could explain my costume!
******************
Support us on Patreon for only $1 a month to gain access to monthly exclusive interviews, ARC and signed book giveaways, reviews for books I DIDN'T like and more by following the link here.