This week's Waiting on Wednesday is the sophomore novel to her amazing debut, what is sure to be a fantastic release by the super sweet and awesome Aminah Mae Safi. Of course, I was always signed up for a new book by Aminah but once she said that it was basically a fan fiction of Rory and Paris from Gilmore Girls, I was 100% on board. I am so excited to see what this book brings!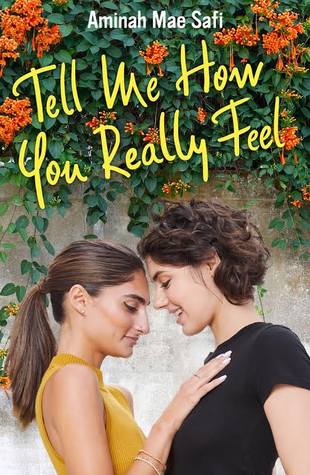 Title: Tell Me How You Really Feel
Author: Aminah Mae Safi  – Her Website
Published By: Feiwel and Friends
Publishing Date: July 11th, 2019
Pages: N/A
Genre: Young Adult, Contemporary
Summary:
Sana Khan is a cheerleader and a straight A student. She's the classic (somewhat obnoxious) overachiever determined to win.
Rachel Recht is a wannabe director who's obsesssed with movies and ready to make her own masterpiece. As she's casting her senior film project, she knows she's found the perfect lead – Sana.
There's only one problem. Rachel hates Sana. Rachel was the first girl Sana ever asked out, but Rachel thought it was a cruel prank and has detested Sana ever since.
Told in alternative viewpoints and inspired by classic romantic comedies, this engaging and edgy YA novel follows two strongwilled young women falling for each other despite themselves.
PreOrder Links:
Amazon / Barnes and Noble / Book Depository / iTunes / Kobo / GooglePlay
Why I'm Waiting:
There are so many things about this book that make me so excited to read it that I am almost afraid that my "Waiting for Wednesday" post will be longer than my actual review of the book when it comes out in July. Let's list the reasons that I'm way super excited for the book.
One: Aminah Mae Safi. Enough right there.
Two: Romance. I adore romance. Fantasy and science fiction are my favorite genres but let's be real, I am pretty incapable of reading a novel that doesn't have at least a little bit of romance.
Three: a girl/girl romance! There are still just not enough of those out in the world, especially in YA, and I'm seriously so excited. There are more and more LGBTQ romances out there in YA but I do think its still super heavy on the boy/boy so I'm just seriously so so excited for this. As someone who is bisexual, it just means a lot to look forward to a story like this.
Four: I ADORE the kind of romance where it goes from hate/dislike to love. This is a story I will never ever get tired of, because it just works so well and I love the tension between characters when they're mad at each other and how it totally changes as the story goes along. Sigh.
Five: Rory. And. Paris. Fan. Fiction.
Is it July yet?
*******************
Support us on Patreon for only $1 a month to gain access to monthly exclusive interviews, ARC and signed book giveaways, reviews for books I DIDN'T like and more by following the link here.