I am SOOOO insanely excited to be sharing this interview and giveaway today. As you may know, a lot of events have been canceled or postponed and the Ontario Teen Book Fest was definitely not exempt from that. I'm truly really sad about it but I still wanted to spread the word about these amazing authors. Events truly help authors to spread the word about their books and to make sales so a lot of these authors are definitely feeling the pain of these events being canceled. Indie authors and debut authors are also hit harder on this as well – so I'm excited to share a 2020 debut, Adalyn Grace!
We were already in the process of working on our interview for the Ontario Teen Book Fest blog tour when the event was called and canceled so we decided to keep moving forward, share some love for her debut novel, All the Stars and Teeth and do a little giveaway!
Let's jump in – learn a little about Adalyn, her brand new book that hit the NYT bestsellers list AND, the best part, how you can win a copy!
About Adalyn Grace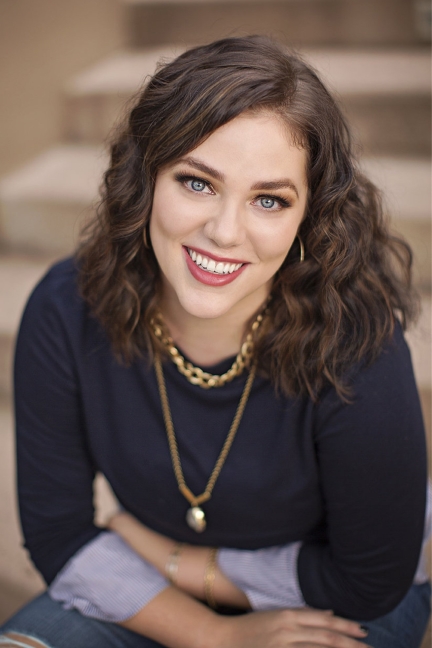 Adalyn Grace is a New York Times bestselling author of All the Stars and Teeth, which was called "2020's biggest YA fantasy" by Entertainment Weekly.
Prior to becoming an author, Adalyn spent four years working in live theatre, acted as the managing editor of a nonprofit newspaper, and studied storytelling as an intern on Nickelodeon Animation's popular series The Legend of Korra.
Local to San Diego, Adalyn spends her non-writing days by watching too much anime, and by playing video games with her bossy cat and two dorky dogs.
You Can Find  Her At:
Website | Twitter | Instagram | Goodreads
HER BOOK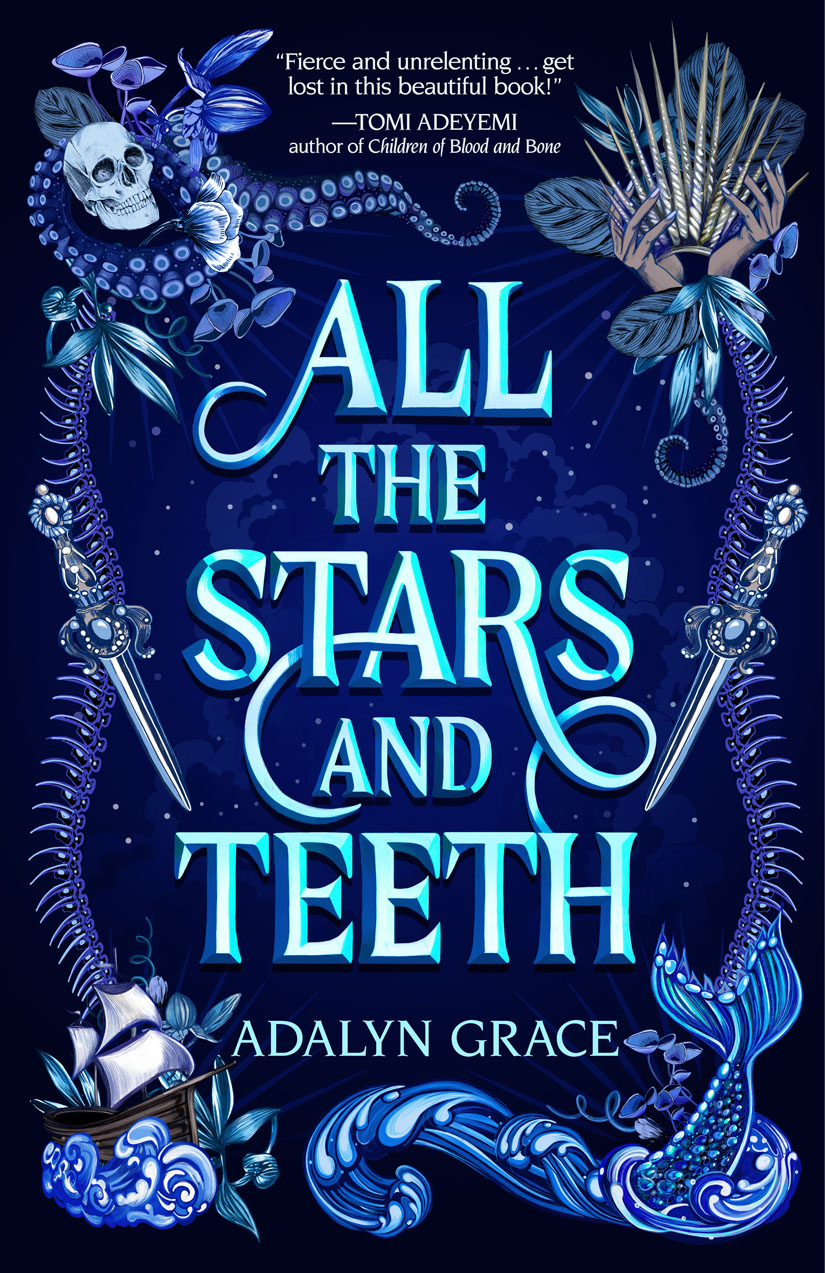 Set in a kingdom where danger lurks beneath the sea, mermaids seek vengeance with song, and magic is a choice.
She will reign.
As princess of the island kingdom Visidia, Amora Montara has spent her entire life training to be High Animancer—the master of souls. The rest of the realm can choose their magic, but for Amora, it's never been a choice. To secure her place as heir to the throne, she must prove her mastery of the monarchy's dangerous soul magic.
When her demonstration goes awry, Amora is forced to flee. She strikes a deal with Bastian, a mysterious pirate: he'll help her prove she's fit to rule, if she'll help him reclaim his stolen magic.
But sailing the kingdom holds more wonder—and more peril—than Amora anticipated. A destructive new magic is on the rise, and if Amora is to conquer it, she'll need to face legendary monsters, cross paths with vengeful mermaids, and deal with a stow-away she never expected… or risk the fate of Visidia and lose the crown forever.
I am the right choice. The only choice. And I will protect my kingdom.
You Can Find Her Book At:
Amazon / Barnes and Noble / iBooks / Book Depository / Goodreads
THE INTERVIEW:
Nerd Girl: How much of your own experience as a teenager has made its way into your novels?
Adalyn: I was probably one of the most boring teenagers ever! I never broke any rules. Never did anything too exciting. Honestly, I just sat at my computer all day and wrote stories because that's what I loved to do. I was so obsessed with creating, and with crafting characters who were living lives so much more exciting than my own. I've always chased magic, and was able to get as close to it as possible through stories. Stories are escapism for me, and more than anything, I think that's what has translated into my books. I consumed and wrote stories to escape into new worlds and to chase that feeling of magic, and now I write books for others to do the same.
Nerd Girl: You get the call that your first book is going to be published: how did you celebrate?
Adalyn: I was actually in the café of a Barnes and Noble when I got the call letting me know my book had been bought. It was such a journey getting to that point, so obviously I held it together super well during the call. And what I mean by that is I ran outside of the store and just starting sobbing into the phone with my agent. Then I drove home, ordered sushi, popped some champagne, and spent the night celebrating by watching My Hero Academia with my boyfriend. Since I live in Southern California, I also celebrate everything by going to Disneyland!
Nerd Girl: All the Stars and Teeth has been out for roughly a month – two months when this interview will be posted – and its had SO much success so far. You've been on the NYT bestseller list, have fan art for your book already and been supported at events by authors like Tomi Adeyemi and have had the rights for the book sold around the world. Tell me how it feels and what the best parts have been, maybe what some of the most unexpected parts have been.
Adalyn: Ah, thank you so much! It honestly feels super surreal, and for the longest time I was convinced none of it was actually happening, and that one day my book was just going to apparate off the shelves and I'd realize it was all one big lie. Fortunately, two months in, and that hasn't happened yet. So I guess that means it's real!
The coolest experience has, by far, been the readers and getting to meet them. I went on tour for the launch of this book, and because it had just come out, most people hadn't read it yet. But there were some who'd gotten early galleys to read and who were there because they loved it, and that was amazing. Also just feeling and hearing everyone's excitement was an incredibly cool experience. A lot of my events have had to be cancelled because of COVID-19, but I'm really excited to one day get to attend something else as more time has passed and more people have had time to read my books, so we all get to chat about it more! That's 100% been the best part, and in a way also the most unexpected because most people have just been so ridiculously nice to me.
Nerd Girl: Ontario Teen Book Fest is all about teens and books meeting together so I wonder, did you consciously go into young adult literature or did you fall into it?
Adalyn: It was a very conscious decision! I've always loved young adult literature ever since I discovered Twilight in the what I believe was the 5th grade. I became absolutely obsessed with the book, and since I lived in the same state as the author, I got to go to some of her very early signings. That's when I really figured out that being an author could be a job, and that it was something I absolutely wanted to do. From there, I absolutely devoured YA novels for years, and still do now! Although I do read a lot of adult books too, I probably read more YA than anything else, and all of the stories I've written so far have been YA :)
(Nerd Girl: I will forever love how much of an impact that Twilight has had on so many YA authors – YA truly wouldn't exist in the form it does without that book!)
Nerd Girl: I'm in the middle of reading AtSaT and just loving it – the world you've built is alive and jumps off the page. What are some of the fantasy worlds that you love, that might have inspired the one you created?
Adalyn: I'm so glad that you're loving the world, thank you! I cut my teeth on stories not by reading, but by watching anime and playing videogames. Some of the earliest ones that really inspired me and sparked my creativity were Sailor Moon, Final Fantasy, Pokemon, and Kingdom Hearts. A few years after those ones, I fell in love with Avatar: the Last Airbender. Which, if anyone hasn't seen, I highly recommend. It's world building, plot, and character development is absolutely astounding, and one of my key influences. I loved the show so much that I actually went to intern on its sequel show, The Legend of Korra, which was a huge learning experience for me. I absolutely adored that world and watching it grow! I also love mythology, and took a class studying them in college. I think my love for myths definitely had a big influence on the All the Stars and Teeth series!
Nerd Girl: What is more fun to write: action scenes or steamy scenes? Why?
Adalyn: Oooh, this is tough because love writing both. I always have a ton of fun writing action and fighting scenes, but I also enjoy getting to slow down and write the kissy kissy smoochy scenes. I just don't like it when my family reads those scenes, hahaha.
Nerd Girl: What is your favorite memory from when you were a teenager?
Adalyn: Not having to pay my own bills! But also just having more time to be with friends and family. I don't have a singular favorite memory, but I do feel really nostalgic for that period of my life sometimes. I was always rushing and trying to get to the next phase. And while I don't regret it—because it got me to where I am today, after all—I do miss being around friends and a community every day.
Nerd Girl: OTBF is often full of young teen writers, hoping to be published one day. What sort of advice do you have for young writers, especially those who might feel like there's a deadline to be successful?
Adalyn: First, I want to say that there's absolutely no deadline. I put that pressure on myself when I was younger, and it's garbage. I was obsessed with Amelia Atwater-Rhodes, who published her first book when she was 14. I used to want to be even younger than that because I just thought it sounded so impressive, and I hated when people told me to slow down. But now here I am telling everyone to slow down, because this is a marathon and not a race. I grinded myself into the ground by how hard I worked, and I don't want anyone else to follow that path because it's not healthy. Don't sacrifice your health or key moments in life to follow some arbitrary deadline.
Beyond that, just know that rejections are normal in publishing. They're part of the journey. But of course, no one wants them. We all want to be the shiny unicorn who never has a rejection, gets published with their first book, and becomes ridiculously successful. And if that happens for you, amazing! But it won't happen for 99.9% of people. It didn't happen for me. I had over 100 rejections before I sold All the Stars and Teeth. It was not the first book I tried to query and get an agent with. Rejections are hard, because you want so badly to have your work validated by the gatekeepers of this industry. You want to be told that you're good enough and can do this. I get it, trust me. But sometimes it takes more than one manuscript, and it's important to think of each book and each round of querying as a learning experience. Take the advice you're given and soak it in. Don't be rash or angry when someone passes on your project—first because it's just rude, and secondly because you're likely going to end up querying them again with a second project. Most published authors I know have wanted to give up at some point in the querying stage. But if they did, their books wouldn't be out. The only way you 100% don't get this is by giving up.
Nerd Girl: What can readers expect from you in the future? Can you talk any future projects or tell us anything about AtSaT 2?
Adalyn: I can't talk about much, just yet! There is a sequel to All the Stars and Teeth, which is titled All the Tides of Fate, and I'm super excited to get to share it with everyone! It takes place very shortly after the events of the first book, and deals with a lot of things that are still left unfinished from Book 1. Amora is once again the main character, and we see a lot of how she's coping with and dealing from everything that happened in the previous book. I'm happy to say that readers will get to visit some islands we both have and have not seen before, as well as meet some new crew members! :) Also the cover is stunning and we should be getting to share more very soon!
Nerd Girl: Who is your fictional crush?
Adalyn: Flynn Rider! Also (aesthetically, and not because of the choices he makes), Tommy Shelby from Peaky Blinders.
GIVEAWAY:
One winner will be chosen to win a BRAND NEW copy of All the Stars and Teeth. US and Canada Only! Giveaway Runs from 3/27 to 4/3!
To Enter:
Please go to my Instagram and find this picture below: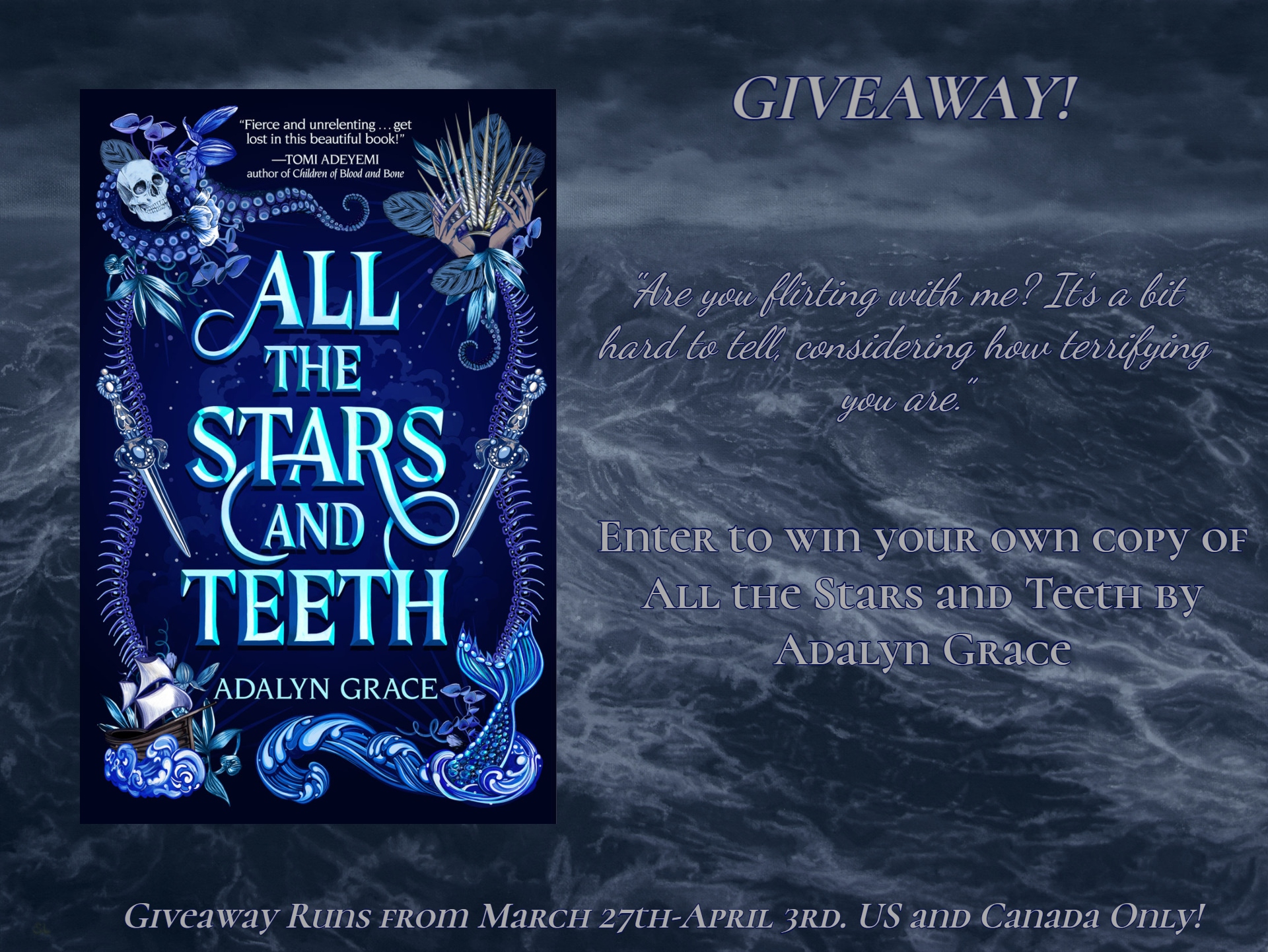 Follow the Instructions on the Post: Follow @whatanerdgirlsays and @authoradalyngrace, tag 2 friends. An extra bonus entry for anyone who shares it on their Instagram Stories or Timeline.
You can also earn BONUS entries if you FOLLOW THIS BLOG (enter your email on the side bar) and comment on this post!
GOOD LUCK!
~*~*~*~*~*~*~*~*~*~*~*~