Today's spotlight on the Ontario Teen Book Fest blog tour is none other than Robin Benway, recipient of the National Book Award for her recently published novel, Far From the Tree!
I am so beyond pleased to be spotlighting this wonderful author today. I've been OBSESSED with her books ever since I picked one up years ago and even pseudo stalked her at Disneyland the first time I met her because I loved her so much haha. She's been a dear friends for years and her most recent novel not only blew my mind but it blew the minds of others as well and she won the National Book Award! Let's jump in for Robin Benway!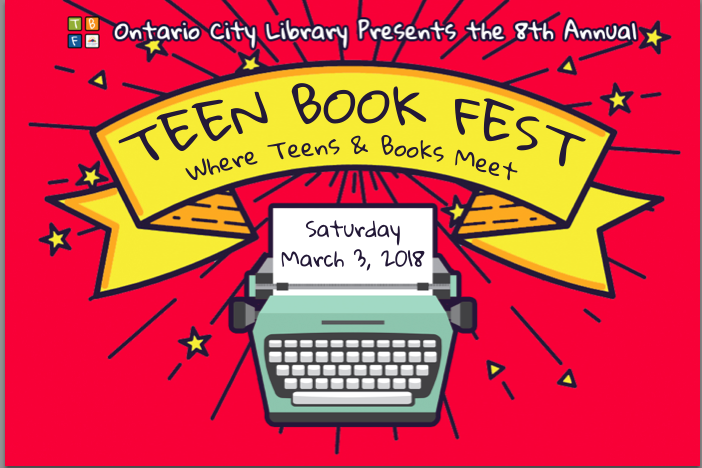 WHERE TEENS AND BOOKS MEET
WHEN:
Saturday, March 3rd, 2018
9:30 am to 5 pm
WHERE:
Colony High School Branch Library
3850 E. Riverside Drive
Ontario, CA 91761
This event is a completely free and un-ticketed event! Priority seating WILL be given to teens, but come one, come all! There will also be giveaways and raffles at the Fest, also free! Also, keep scrolling to find a giveaway held by us bloggers!
You can visit the website, to see the full schedule of the day by visiting the official Ontario Teen Book Fest website.
Books WILL be available for purchase at the event, available from Once Upon a Time Bookstore :) They are an amazing company so definitely bring your books from home, but try and support Once Upon a Time by purchasing a book!
There is also free lunch provided by Panera Bread!
ABOUT ROBIN BENWAY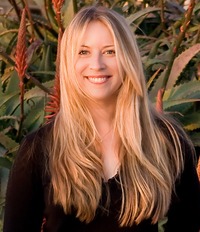 Robin Benway is a National Book Award-winning and New York Times-bestselling author of six novels for young adults, including Audrey, Wait!, the AKA series, and Emmy & Oliver. Her books have received numerous awards and recognition, including a 2008 Blue Ribbon Award from the Bulletin for the Center of Children's Books, 2009's ALA Best Books for Young Adults, and 2014's ALA Popular Paperbacks for Young Adults. In addition, her novels have received starred reviews from Kirkus, Booklist, and Publishers Weekly, and have been published in more than twenty countries. Her newest book, Far From the Tree, won the 2017 National Book Award for Young People's Literature and was published by Harper Teen on October 3, 2017.
Robin grew up in Orange County, California, attended NYU, where she was the 1997 recipient of the Seth Barkas Prize for Creative Writing, and is a graduate of UCLA. She currently lives in Los Angeles, where she spends her time hanging out with her dog, Hudson, making coffee, and procrastinating on writing.
Her Website / Her Facebook / Her GoodReads / Her Twitter / Her Instagram
ABOUT HER BOOK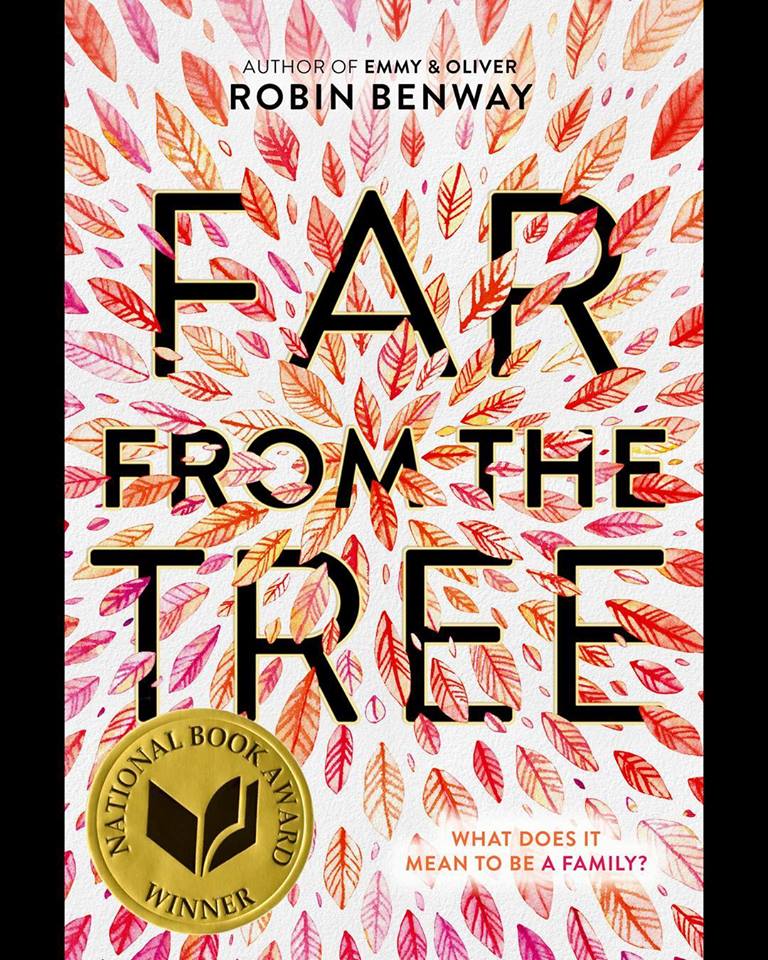 Being the middle child has its ups and downs.
But for Grace, an only child who was adopted at birth, discovering that she is a middle child is a different ride altogether. After putting her own baby up for adoption, she goes looking for her biological family, including—
Maya, her loudmouthed younger bio sister, who has a lot to say about their newfound family ties. Having grown up the snarky brunette in a house full of chipper redheads, she's quick to search for traces of herself among these not-quite-strangers. And when her adopted family's long-buried problems begin to explode to the surface, Maya can't help but wonder where exactly it is that she belongs.
And Joaquin, their stoic older bio brother, who has no interest in bonding over their shared biological mother. After seventeen years in the foster care system, he's learned that there are no heroes, and secrets and fears are best kept close to the vest, where they can't hurt anyone but him.
FIND HER BOOK AT YOUR LOCAL BOOKSTORE OR AT THE FOLLOWING LINKS:
Amazon / Barnes and Noble / iBooks / Book Depository / GoodReads
THE INTERVIEW
Nerd Girl: Where did the inspiration for Far From the Tree come from? 
Robin: It came from a Florence + the Machine song. I was sitting in a parking lot listening to the radio when "Cosmic Love" started playing. The first lyrics is "A falling star fell from your heart and landed in my eye," and for some reason, it made think about adoption and family bonds.
Nerd Girl: Originally you had planned for Far From the Tree to be from Grace's point of view, but it ended up being in three different ones. What were some of the difficulties of writing in three distinct voices? 
Robin: Once I made the decision to write in three separate voices, it actually became a lot easier. I kept trying to write it from Grace's perspective, but I would get to page 100 and the book would just stop. Once I circled back and added Maya and Joaquin's voices to the mix, the book really started to unfold. As for their separate voices, I felt like I heard them all so distinctly in my head that it was easy to translate them to the page.
Nerd Girl: Grace and Maya and Joaquin all go through some heavy things: adoption, pregnancy at a young age, being gay, being in foster homes. Was this done consciously or did their stories unfold as you wrote them? 
Robin: All of the different things that the three siblings experience unfolded from the minute that I first imagined them. I knew that Maya was gay, for example, and that was Joaquin was struggling after a series of foster homes. I wasn't quite sure how I was going to portray these situations effectively, but I knew that I would have to figure it out because there was no way I could erase who these characters were.
Nerd Girl: How does it feel to have won the National Book Award and how have you celebrated? 
Robin: It feels pretty terrific! I was in a state of shock for a few weeks, especially right after the award was announced, but now I just feel so honored and thrilled to see my book recognized in such a manner. As for celebrating, several friends threw a big party for me right before the holidays, and it was so wonderful to see all of my friends and family in one place. It's just been an absolute dream experience.
Nerd Girl: Which book is harder to write, the first or second? Why? 
Robin: The second, 100%. For the first, there are zero expectations on you and you have all the time in the world to write it. The sky's the limit. For the second book, though, the pressure can be intense. If you can get to the third book, though, you'll be fine. :)
Nerd Girl: What are things you just have, like music or a certain snack, when you are writing? 
Robin: I definitely need music. Each one of my books has a playlist and I'm a big fan of hitting repeat-one on certain songs while I'm writing emotionally intense scenes. Also, I'll often bribe myself to go to work, i.e. "If you go to a coffee shop and work, you can get a fancy cappuccino." Works every time.
Nerd Girl: When you started writing, did you consciously write young adult literature or did you fall into it? 
Robin: I was definitely writing from a younger perspective, but it wasn't until I started reading young adult literature that I realized what I was writing. Once I made that connection, it all clicked into place. It's my favorite way to write.
Nerd Girl: What can you tell about what's next from Robin Benway? Are we going to be getting anything new soon? 
Robin: What's next for Robin Benway is a vacation and some time to attack her TBR pile! I need to recharge my writing batteries and then see what's next.
Nerd Girl: Is Hudson a good writing partner? 
Robin: No, he's a terrible writing partner, but I love him anyway because he's the perfect dog and has the sweetest face in the world.
THE GIVEAWAY!
This year we are giving away one Ontario Teen Book Fest poster signed by all of the authors in attendance, including yours truly and Robin Benway!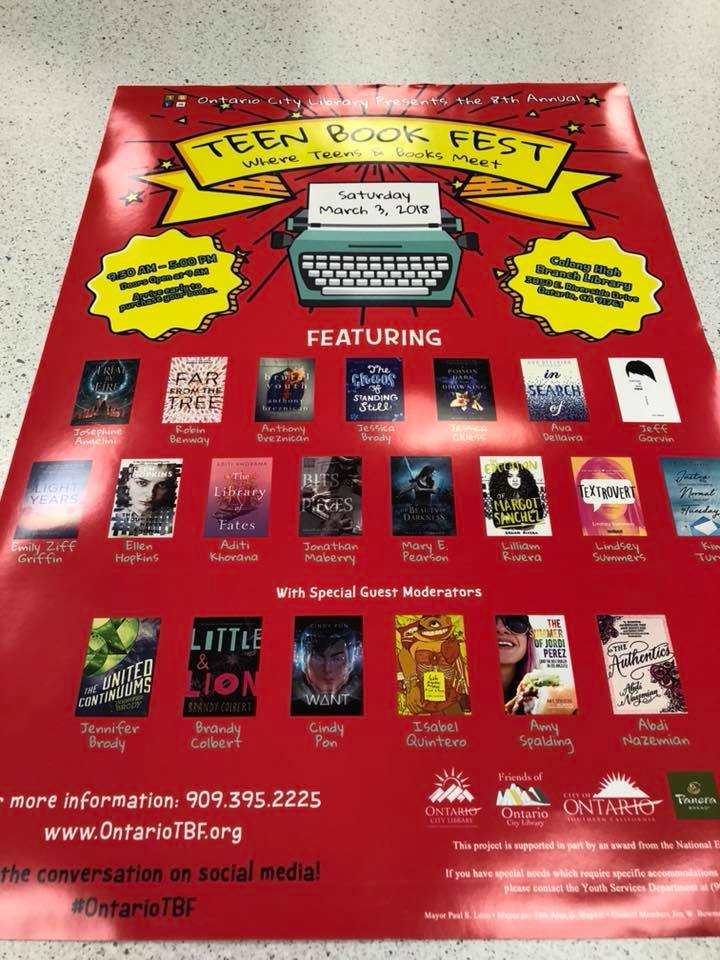 To enter, follow this link to the rafflecopter giveaway!
ONTARIO TEEN BOOK FEST BLOG TOUR SCHEDULE
FEB 19th
Spotlight on Jennifer Brody – What A Nerd Girl Says
Spotlight on Abdi Nazemian – Read Now Sleep Later
FEB 20th
Spotlight on Anthony Breznican – Starkiller Reads
Spotlight on Lilliam Rivera – Movies Shows and Books
FEB 21th
Spotlight on Jessica Cluess – The Readers Antidote
Spotlight on Cindy Pon – My Fangirl Chronicles
FEB 22th
Spotlight on Keynote Speaker Ellen Hopkins – Germ Magazine
FEB 23th
Spotlight on Aditi Khorana – Nite Lite Book Reviews
Spotlight on Mary Pearson – Adventures of a Book Junkie
FEB 24th
Spotlight on Emily Ziff Griffin – Nite Lite Book Reviews
Spotlight on Brandy Colbert – Read Now Sleep Later
FEB 25th
Spotlight on Keynote Speaker Josephine Angelini – The Readers Antidote
FEB 26th
Spotlight on Isabel Quintero –  What A Nerd Girl Says
Spotlight on Amy Spalding – My Fangirl Chronicles
FEB 27th
Spotlight on Jonathan Maberry – Seeking Bazinga
Spotlight on Keynote Speaker Jeff Garvin – Movies Shows n Books
FEB 28th:
Spotlight on Ava Dellaira – Book Lovers Book Reviews
Spotlight on Kim Turrisi – Starkiller Reads
MAR 1st:
Spotlight on Jessica Brody – Adventures of a Book Junkie
MAR 2nd:
Spotlight on Robin Benway – What A Nerd Girl Says
Spotlight on Lindsey Summers – Seeking Bazinga