Today we continue the Ontario Teen Book Fest with Isabel Quintero, recipient of the William C Morris YA Debut Award for her book, Gabi, A Girl in Pieces.
I am so excited to be continuing on with the blog tour for the Ontario Teen Book today, especially with this incredible and inspiring author. Let's jump in!

WHERE TEENS AND BOOKS MEET
WHEN:
Saturday, March 3rd, 2018
9:30 am to 5 pm
WHERE:
Colony High School Branch Library
3850 E. Riverside Drive
Ontario, CA 91761
This event is a completely free and un-ticketed event! Priority seating WILL be given to teens, but come one, come all! There will also be giveaways and raffles at the Fest, also free! Also, keep scrolling to find a giveaway held by us bloggers!
You can visit the website, to see the full schedule of the day by visiting the official Ontario Teen Book Fest website.
Books WILL be available for purchase at the event, available from Once Upon a Time Bookstore :) They are an amazing company so definitely bring your books from home, but try and support Once Upon a Time by purchasing a book!
There is also free lunch provided by Panera Bread!
ABOUT ISABEL QUINTERO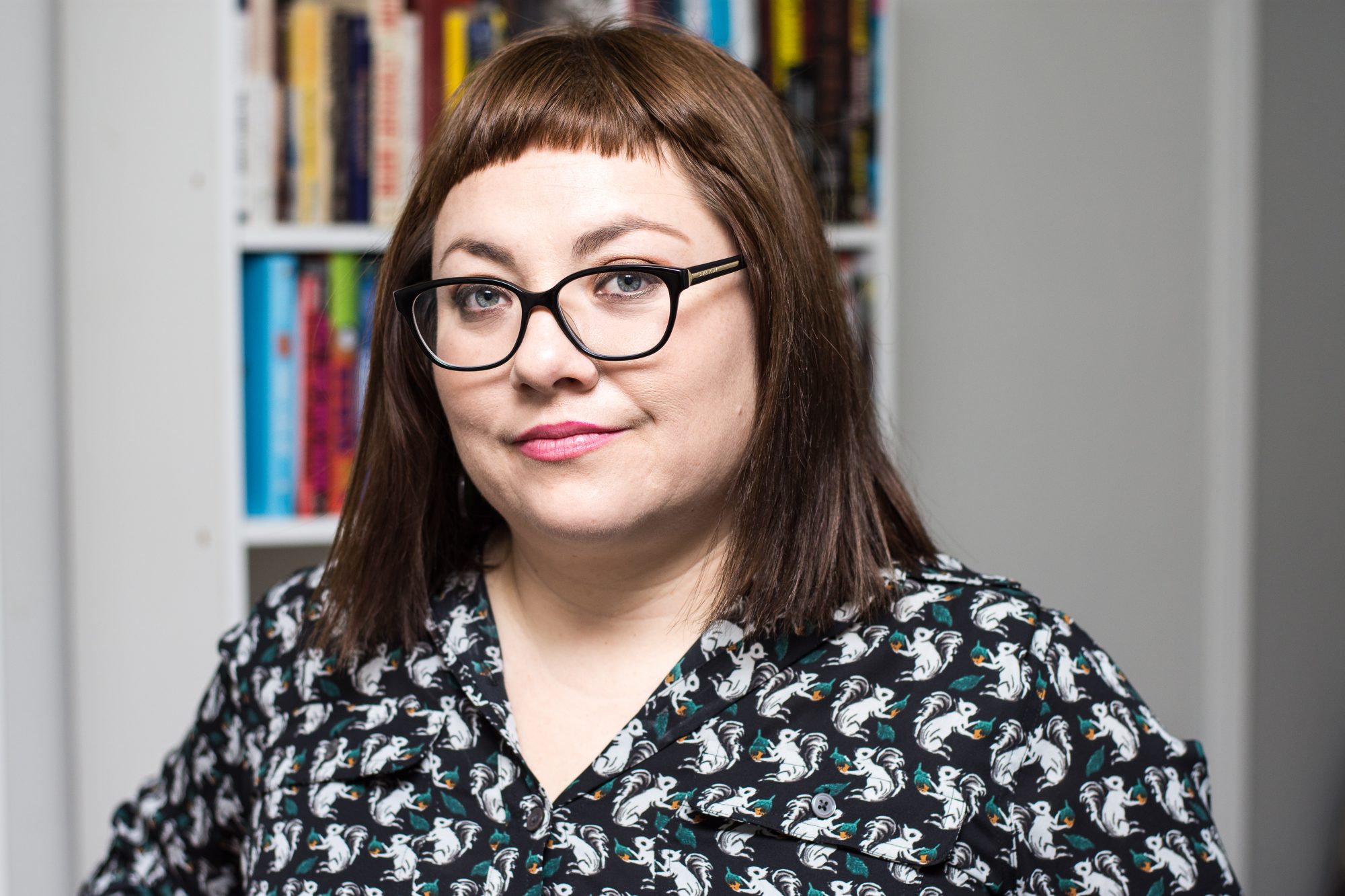 Isabel Quintero is a writer, poet, teacher, wife, friend, sister, daughter, granddaughter, aunt niece, and a bunch of other things. She lives in the Inland Empire, where she was born and raised by Mexican immigrant parents and Mexican immigrant grandparents; the hospital where she was born in was converted to a Lowe's hardware store. That's how long ago she was born.
Her Website / Her Facebook / Her GoodReads / Her Twitter
ABOUT HER BOOK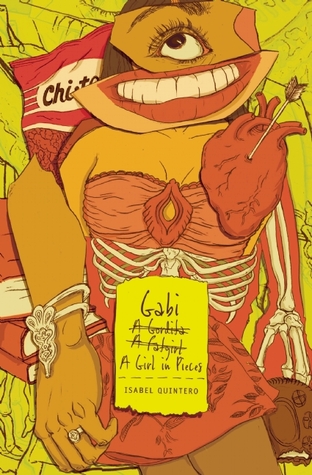 Gabi Hernandez chronicles her last year in high school in her diary: college applications, Cindy's pregnancy, Sebastian's coming out, the cute boys, her father's meth habit, and the food she craves. And best of all, the poetry that helps forge her identity.
July 24
My mother named me Gabriella, after my grandmother who, coincidentally, didn't want to meet me when I was born because my mother was unmarried, and therefore living in sin. My mom has told me the story many, many, MANY, times of how, when she confessed to my grandmother that she was pregnant with me, her mother beat her. BEAT HER! She was twenty-five. That story is the basis of my sexual education and has reiterated why it's important to wait until you're married to give it up. So now, every time I go out with a guy, my mom says, "Ojos abiertos, piernas cerradas." Eyes open, legs closed. That's as far as the birds and the bees talk has gone. And I don't mind it. I don't necessarily agree with that whole wait until you're married crap, though. I mean, this is America and the 21st century; not Mexico one hundred years ago. But, of course, I can't tell my mom that because she will think I'm bad. Or worse: trying to be White.
FIND HER BOOK AT YOUR LOCAL BOOKSTORE OR AT THE FOLLOWING LINKS:
Amazon / Barnes and Noble / iBooks / Book Depository / GoodReads
THE INTERVIEW
Nerd Girl: How much of your own experience as a teenager made its way into Gabi, A Girl in Pieces?
Isabel: Some. Some of Gabi is me, but she's a lot braver than I am. There are some characters who are amalgamations of folks I met while growing up and even as an adult. I think Gabi's experience, while a work of fiction, is a very American experience, as proved by the emails I get from readers and conversations I have with students at schools I visit, who tell me that they really connect with the story.
Nerd Girl: Do you think that being a child of immigrants or a child of parents very loyal to their culture and traditions makes being a teenager even harder than it already is?
Isabel: I wouldn't know the difference. I think that what makes it difficult for children of immigrants is white supremacy and the fear it breeds of people who are different, or who refuse to assimilate. Because that push to assimilate and give up your culture is quite a violence, and it's something that children of immigrants, and people of color in general I think, are encouraged to do in order to fit in and be accepted. It's important to hold onto our cultures because it's part of who we are, of what informs how we see the world. At least hold on to the positive things, because there are positive things and things that need to be changed in every culture. Like my mom says, "Keep the positive and toss what doesn't work."
Nerd Girl: You get the call that your first book is going to be published: how did you celebrate?
Isabel: I went to dinner with my now ex-husband. We went to a nice Mexican restaurant by where we used to live. I also sent a text message to all of my friends and family. I was so excited!
Nerd Girl: Ontario Teen Book Fest is all about teens and books meeting together so I wonder, did you consciously go into young adult literature or did you fall into it?
Isabel: Both. I never imagined I would write for young adults but when I started writing Gabi, I knew it was a young adult book. I had been taking a young adult literature class at Cal State San Bernardino, and I was totally blown away by what young adult lit could be.
Nerd Girl: Poetry is such a huge theme in Gabi, A Girl in Pieces. What kind of impact has poetry has on your own life?
Isabel: I came to writing through poetry, and it's still part of what I write. I don't consider myself just a young adult and children's book writer, I am simply, a writer. I write what I like and what I feel I need to write. But poetry, it has my heart. Poetry is one of the ways I try and make sense of things. I read poetry pretty much every day.
Nerd Girl: Which book is harder to write, the first or the second? Why?
Isabel: Hm. That's a tough question. I think there was a lot of freedom in not having a set deadline for a book. When I started writing Gabi, I just wrote without feeling like it had to be done by a certain day. For my other books, there have been deadlines and that's a little more stressful, but it also forces you to work.
Nerd Girl: What is your favorite memory from when you were a teenager?
Isabel: One of my favorite memories was when I was sophomore and my friends threw me a surprise birthday party. They made food and had cake, and then we watch Austin Powers. I laughed until my stomach hurt.
Nerd Girl: What advice do you have for authors who might be wanting to write fiction books inspired by their own life, experiences or culture?
Isabel: Write them. Surround yourself with creative folks and do the work, the writing. And always write truthfully; don't write what you think other people want you to write, just write your own story as honestly as you can, even if it's a work of fiction.
Nerd Girl: Who is your fictional crush?
Isabel: Hm. Not sure. I know that I have an author crush on John Steinbeck, though.
THE GIVEAWAY!
This year we are giving away one Ontario Teen Book Fest poster signed by all of the authors in attendance, including yours truly and Isabel Quintero!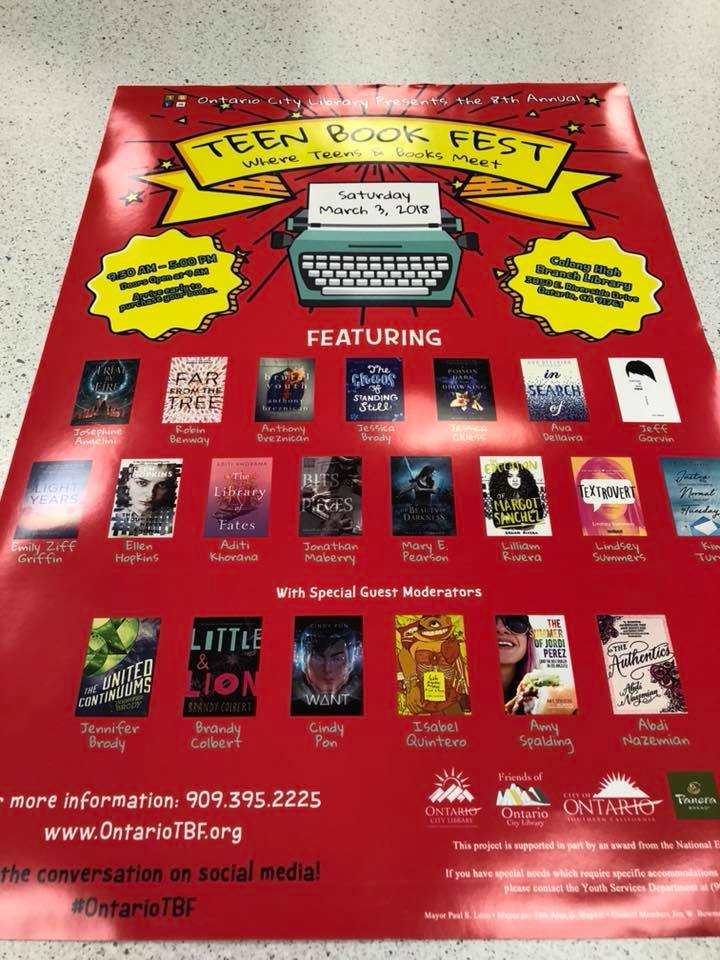 To enter, follow this link to the rafflecopter giveaway!
ONTARIO TEEN BOOK FEST BLOG TOUR SCHEDULE
FEB 19th
Spotlight on Jennifer Brody – What A Nerd Girl Says
Spotlight on Abdi Nazemian – Read Now Sleep Later
FEB 20th
Spotlight on Anthony Breznican – Starkiller Reads
Spotlight on Lilliam Rivera – Movies Shows and Books
FEB 21th
Spotlight on Jessica Cluess – The Readers Antidote
Spotlight on Cindy Pon – My Fangirl Chronicles
FEB 22th
Spotlight on Keynote Speaker Ellen Hopkins – Germ Magazine
FEB 23th
Spotlight on Aditi Khorana – Nite Lite Book Reviews
Spotlight on Mary Pearson – Adventures of a Book Junkie
FEB 24th
Spotlight on Emily Ziff Griffin – Nite Lite Book Reviews
Spotlight on Brandy Colbert – Read Now Sleep Later
FEB 25th
Spotlight on Keynote Speaker Josephine Angelini – The Readers Antidote
FEB 26th
Spotlight on Isabel Quintero –  What A Nerd Girl Says
Spotlight on Amy Spalding – My Fangirl Chronicles
FEB 27th
Spotlight on Jonathan Maberry – Seeking Bazinga
Spotlight on Keynote Speaker Jeff Garvin – Movies Shows n Books
FEB 28th:
Spotlight on Ava Dellaira – Book Lovers Book Reviews
Spotlight on Kim Turrisi – Starkiller Reads
MAR 1st:
Spotlight on Jessica Brody – Adventures of a Book Junkie
MAR 2nd:
Spotlight on Robin Benway – What A Nerd Girl Says
Spotlight on Lindsey Summers – Seeking Bazinga