The year is halfway over. Its July and its full on summer mode here in Southern California. The 4th of July is that turning point of the year; its half way over.
And I'm sitting here, enjoying my summer vacation before I start my last two years of college, thinking about all the awesome things that have already come out and happened this year. Clockwork Princess. WonderCon. Meeting SO many authors. Star Trek premiere. So many cool things.
But then I was thinking about it, and I was like, there is still SO MUCH MORE to look forward to with the rest of the year. So much more.
The Mortal Instruments: City of Bones
Premiere Date: August 12, 2013
Release Date: August 21, 2013
I am SOOOO insanely excited for this. The Mortal Instruments series is one of my absolute favorite book series and I cannot wait to see it on the big screen. When they first started making it, I admit I was extremely wary. I was afraid of them making another Twilight, and while this series keeps getting compared to Twilight, its nothing like it and it looks amazing! I was also super wary of some of the casting, especially the casting of Jamie Campbell Bower as Jace Wayland but I ended up being proven so wrong, at least of what I've seen so far. So far, the directors, producers and movie studio have gone out of there to stay connected to the fans, to see what we'd like to see and what we like about we've seen so far and they've responded in kind. And the trailer shows me a seriously badass movie. I am looking forward to this movie adaptation because its looking like the best that I've seen in awhile.
Doctor Who 50th Anniversary and 12th Doctor Announcement
Release Date: November 23, 2013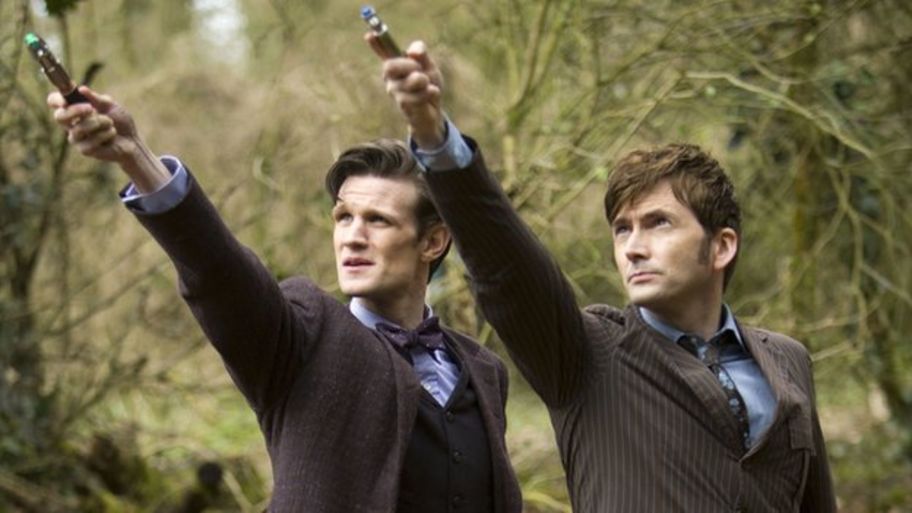 I LOVE DOCTOR WHO, and my love for Doctor Who only increased when I went to Gallifrey One, the Doctor Who convention in February. I enjoyed Series 7, though it wasn't my favorite, and I have been eagerly anticipating the GREAT 50th anniversary special that is sure to come this year. That is when they announced that David Tennant (the 10th Doctor) and Billie Piper (Rose Tyler) would be joining Matt Smith (the 11th Doctor) and Jenna-Louise Coleman (Clara Oswin Oswald) for the 50th. I literally squealed with fangirl excitement. David Tennant is amazing, and his rendition of the Doctor is just…its the best and I ADORE Rose and I can't wait to see the shenanigans that these four get up to. Then Matt Smith announced that he would be retiring as the 11th Doctor and all eyes and ears in the DW fandom are anxiously awaiting the announcement of the 12th Doctor. So much amazing DW coming our way :)
Tammara Webber's Here With You
Ebook Release: August 6, 2013
Paperback Release: August 27, 2013
I wasn't even aware that there would be a fourth book in this series but I am so excited that there will be, especially since Reid Alexander is a main player in this book again. If Reid Alexander were a real celebrity, I'd: A, want him to play Jace Wayland in City of Bones and B, I'd be WAY obsessed with him that way girls are obsessed with Justin Bieber. I have a feeling a lot is going to be going on with this book, and I think the past that Reid has with his ex, Brooke, is going to come up big time with this book. I think we're finally going to see more of that then we've ever seen before.
Sarah J. Maas' Crown of Midnight
Release August 27, 2013
The first of these books, Throne of Glass, is an absolute masterpiece and its no wonder, as it took Sarah nearly 10 years to write. Its an epic fantasy, with a badass character in Celaena, who is literally a legendary, almost mythical assassin. She can fight, and kill and she has a wicked sense of humor and she likes to curl up with a book. And she has two very different men falling in love with her, and she's too busy trying to get her freedom. And…even though I absolutely loathe love triangles, I can't decide which man I like better: Dorian or Chaol. But what a wonderful world that Sarah has created and I can't wait to see this story continue and to see what other wicked adventures Celaena gets herself into.
Jennifer L Armentrout's Origin 
Release Date: August 27, 2013
I can't WAIT for this book (did I mention that this book and the previous two mentioned ALL COME OUT THE SAME DAY!). If you've read the end of Opal, the third book in the Lux series, you'll understand. MAJOR cliffhanger, and you just know that Daemon is PISSED and he's ready to take on the world to get Katy back and its going to be amazing. Just the differences in covers alone shows that this is going to be a VERY different novel from the previous. I hope it'll be more action packed and it'll take the story in completely new directions. I am SO excited for this book; I'm counting down the days.
Veronica Roth's Allegiant
Release Date: October 22, 2013
I read Divergent TWO days before the release of Insurgent and stayed up til 3 a.m. reading Insurgent on its release day. It was released on May 1st, 2012 and I've already been waiting for over a year for this book. I know plenty of other Divergent fans who haven't waited nearly as long as I have, so trust me haha, I'm dying for this book to come out, especially with the damn cliffhanger this book leaves you with! I remember reading this SO late at night and thinking, "No…no way. No, Veronica Roth, you don't do this to me." This is one of the most anticipated releases of the year in the YA genre, and with the movie wrapping up filming this month, its sure to be a best-seller within minutes. I canNOT wait to see the conclusion of this epic dystopian series.
Rick Riordan's The House of Hades
Release Date: October 8, 2013
Again with the cliffhangers. The Mark of Athena, the book right before this one, leaves off with an EPIC cliffhanger. Sorry I'm about to spoil it so if you haven't read the previous books, I would move on to the next time on the list. I'm warning you. Okay, we leave off with Percy and Annabeth (one of my OTP!) literally FALLING INTO TARTARUS, the deep depths of the Underworld and the Romans of Camp Jupiter charging toward Camp Half Blood, with attack the only objective on their minds. What a way to leave off. Only a year in between books but it is SO hard to wait. And this cover, with an extremely beat up Percy and Annabeth, running from…something, just gets me wriggling with anticipation. Rick Riordan has never failed to disappoint me so this is definitely a book to count down on.
Catching Fire Release
Release Date: November 22, 2013
I can't wait for this movie for three reasons. One, I loved the first one but I wasn't incredibly impressed with it. I'm hoping CF is better :) Two, Finnick Odair. Do I need to say anything else? And three, my friends all went to the Hunger Games premiere last year and had an awesome time and now we are going to the CF premiere and its sure to be a FANTASTIC time. This is a great book series, and the movie is chock full of great actors like Jennifer Lawrence, Woody Haralson, Donald Sutherland, Jenna Malone and so much more. I am excited to see how they accomplish the build up that Catching Fire is. I also am really curious to see how well they pull of the Quarter Quell and the ridiculous arena that is the 75th Hunger Games. I remember reading it and thinking it was crazy, and its going to be epic on the big screen.
The Hobbit: The Desolation of Smaug Release
Release Date: December 13, 2013
Okay, I don't care what any of those so-called fancy Hollywood movie "critics" say. They aren't fans of the Tolkien universe and they just don't know. This movie wasn't made for the critics; it was made for the fans and all the fans that I know…LOVED the first movie. I know I did. I was incredibly impressed and I wanted it to go on forever and I loved the extra stories they added from The Silmarillion and the appendices. This movie is bound to be epic because we get to see more elves (including Thandruil and Legolas) and Benedict Cumberbatch's sexy dragon voice and so much more. I just know that the movie will continue to be as epic as the first one was. My super cool friend, Kathleen, from New Zealand got me some epic Hobbit shirts and I can't wait to wear them when seeing this movie for the first time.
Cinda Williams Chima's The Enchanter Heir 
Release Date: October 1, 2013
I am so incredibly…okay I've said it like a hundred times now…excited for this book because Cinda Williams Chima is a fantasy GENIUS. Seriously. I will push her on you until the day I die because she is an absolutely brilliant and talented writer and I don't think its fair that she doesn't get the credit that she deserves when there are extremely popular YA authors out there, with huge fandoms, that aren't even good. Okay, moving on, this is the 4th book in the Heir Chronicles, though it can be read without reading the first three. Its an urban fantasy, a brilliantly crafted fantasy world wrapped up in modern day worlds. I read all seven of Cinda's previously released books in a matter of about a month and so now I am dying to have my socks knocked off again by this amazing writer.
Anniversary Edition Harry Potter Books
Release Date: August 27, 2013
I hate change. I really do. I would rather things just be left alone and kept the way they originally were meant to be. Like the original Star Wars trilogy. Why George Lucas, why, did you add all that unnecessary CRAP  to that movie? Ugh. So when they announced that each book in the Harry Potter series would be getting updated covers for the 15th anniversary of the Sorcerer's Stone's publication in the US, I wasn't really thrilled. Until the covers started to be revealed and I was thoroughly impressed. As much as I believe that Mary Grandpre's covers are the best and will always remain my favorite, these covers (so far, five have been released) are just so beautiful done and are so incredibly impressive and full of artistic talent. I went from shaking my head, to looking at these with eyes wide and immediately rushing to Amazon to place my pre-order. And of course, this box set comes out the EXACT SAME DAY as Origin and Crown of Midnight and Here Without You…
Marie Lu's Champion 
Release Date: November 5, 2013 
This is going to be the most epic finale to the BEST dystopian series that I have ever read. Yes, better than The Hunger Games, and yes, better than Divergent. Marie Lu creates a one of a kind dystopian universe (she actually talks about countries besides the US!) and she creates two conflicting, yet in love characters, and her back and forth point of views just leave us with a breath taking, addicting story. I adore both June and Day and the cliffhanger she leaves us with (SPOILER: Day is dying…and he didn't tell June) is just too much for me to handle. Luckily, after reading Prodigy on its release day in January, I didn't have to wait long for Champion's release, which is in November! Not even a year. That, my friends, is possibly the best news a reader can get.
Percy Jackson: The Sea of Monsters
Release Date: August 7, 2013
I was incredibly disappointed in the first movie. I don't think its as TERRIBLE as everyone makes it out to be but it definitely isn't a good movie. Its kind of one of those guilty pleasure movies; plus, Logan Lerman is so adorable, I just want to eat him up. But it wasn't great, and it failed in the box office, so it surprised me immensely when they announced that the second book, Sea of Monsters, was being filmed. Pleasantly surprised but also wary. Now, I've seen stills and trailers and I'm not completely sold yet but I do like this book a lot and I am hoping that they are able to revamp this movie series and we can get to Titan's Curse, which is my FAVE of the Olympians series. I hope, I hope!
Meg Cabot's The Bride Wore Size 12
Release Date: September 24, 2013
Heather Wells is one of my idol characters to look up to because she makes me feel better about myself, both inside and out. Heather is a bigger girl, and she used to be a smaller, famous pop star who basically lost everything but as the books go on, she gains more and more confidence, and becomes so happy in the skin that she's in and I love that. I love that the more I gain confidence in the size that I wear (which is, a size 12), the more I feel like this badass heroine. Now, after all these books, I am so happy that she is finally getting married and to the person that she's always wanted to be married to, and I can't wait to see what adventures she is bound to get into because its Heather and someone is bound to die and Heather is bound to catch them.
*     *     *     *     *
I am also looking forward to the return of Once Upon a Time in the fall for season 3, the new series, Once Upon a Time in Wonderland, as well. I am excited for Vampire Diaries and the new series, The Originals. I am also anticipating the return of Sherlock, season 3, though I believe that may be in 2014. So much is coming!
*     *     *     *     *
So that was a really long, epic post but I hope you all enjoyed it! There are just SO many cool things left to look forward to in 2013!
What are you most looking forward to in the next six months of 2013? Book releases, movie releases, TV shows returning? As always, share in the comments!