The Top Ten Tuesday is a weekly challenge post previously hosted by The Broke and Bookish and now hosted by The Artsy Reader Girl. You can follow along for each weekly post here. This week's post is all about cover redesigns that I really liked. Now, some of these are ones where I actually liked the re-design better and some of them are just, yay, pretty new covers, and now I own way too many editions of this novel. I know there are a lot of people who don't particularly love redesigns but I do – it gives me an excuse to buy the books again and support the author more! I will say, I hate redesigns RIGHT in the middle of a series – that drives me INSANE.
The Mortal Instruments/The Infernal Devices Series by Cassandra Clare
I will always, of course, love the old covers but these new covers are just so gorgeous, especially since it made it so that all the series matched up together. I only own a couple of them but I will eventually get the whole series. OH! And I love how the spines match up to make a picture!
The Vampire Academy Series by Richelle Mead
This is a cover redesign that I absolutely love. I actually don't own any of the original covers because I don't like them and I feel they kept me from reading one of my favorite series of all time because of it. This was a GREAT redesign, while still paying some respect to the old ones.
The Grisha Trilogy by Leigh Bardugo
I think I like the originals more when it comes to this series BUT that didn't stop me from buying all three books in the new covers within HOURS of me finding out there were new covers. Literally. My Leigh collection is out of control and I love it.
The Fire and Thorns Trilogy by Rae Carson
I love these new covers SOOOOOO much and I just know I'm going to end up buying them because of how seriously gorgeous they are. This is such a redesign WIN!
Throne of Glass by Sarah J Maas
This is a cover change that I am so insanely glad they made. I don't LOVE the Throne of Glass covers as a whole BUT I think they're infinitely better than the original cover on the left. It doesn't capture what this series is at all and I'm SO glad they changed it before they got too far in!
Anna and the French Kiss Series by Stephanie Perkins
I know there were people who were SUPER pissed off about the change at the end with Isla BUT they eventually went back and changed the whole series to match AND it didn't really match before soooo it was probably a good thing they redesigned. Plus the old covers were a big cheesy and outdated.
An Ember in the Ashes by Sabaa Tahir
Okay, I'll admit that I totally own the first two books in the original covers and changing the covers in the middle was just so rude. But I really really like the new covers so…eventually I'll just have to get them all to match!
The Shattered Realms by Cinda Williams Chima
I kind of like the original covers better – it fits more in the Seven Realms series look and the new look just feels sort of Throne of Glass-ish. But that being said, the covers are gorgeous either way and I'm happy to own them.
Carry On by Rainbow Rowell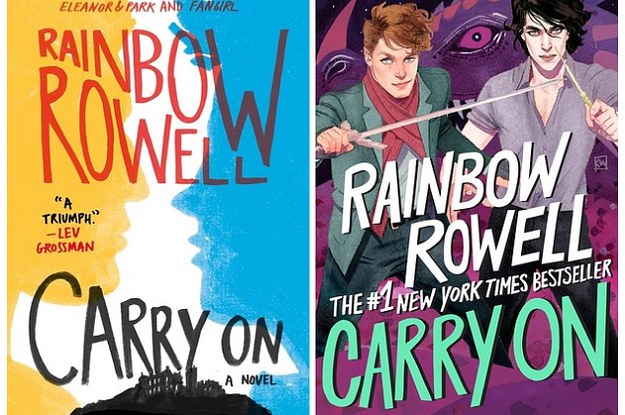 While I absolutely own both covers of this novel because I'm a total addict for anything to do with Fangirl and Simon Snow, I think the new, paperback cover was so much better – it just honestly fit the fan fiction theme and it was just absolutely perfect.
The Tricksters Duology/The Protector of the Small Series/Beka Cooper Series by Tamora Pierce
I saved this for last because Tammy has been published since the early 1980s and, therefore, has gone through MANY cover redesigns over the years as they redesign and relaunch the books for new audiences. I own so many different versions of them but I had to these out because seriously, the covers they've been releasing lately are ON POINT. They are truly just gorgeous. I haven't had the chance to buy any of them but I seriously need them all.
~~~~~~~~~~~~~~~~~~~~~~~~~~~~~~