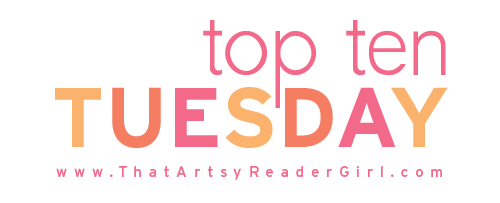 The Top Ten Tuesday is a weekly challenge post previously hosted by The Broke and Bookish and now hosted by The Artsy Reader Girl. You can follow along for each weekly post here. This week's post is the top ten things that make me pick up a book! This was actually kind of a hard post to do and I was unable to even think of ten reasons I pick up a book!
The Book is Written By An Author I Already Know and Love
I tend to have a lot of authors that are on my immediate buy list and that will almost always get me to read a book. I saw a meme recently where the girl was excited that her favorite author had put out a new book, she didn't even care what it was about. This is 100% true. If its an author I love, I'll pick up that book.
The Book Has an Eye-Catching Cover/Title
I know that the phrase "don't judge a book by its cover" is all about not judging things based on the original appearance BUT as far as judging a book – we all do it! There are books that I love that I definitely had to get over in order to read a book and I'm super glad I did for a lot of those. But when I perusing the shelves at a bookstore, its definitely the cover that usually grabs my attention. Same with a clever title.
The Book Was Recommended by An Author I Love
There are so many authors that I've read because an author that I love recommended them. This can be an author directly saying, read this book or it can be a blurb from one of my favorite authors on the front or back cover. I read City of Bones by Cassie Clare because Stephenie Meyer was blurbed on the front cover (which is hilarious to think about now). I read Cinda Chima because Tammy Pierce blurbed it. Authors are readers too – I mean, look at me – so I love to hear the books they enjoyed reading.
The Book is in My Favorite Genre OR The Genre I'm Feeling That Moment
You guys know that I mostly read YA literature and my favorite genre is fantasy, hands down. So I will pick up a book simply because its a YA fantasy, because nine out of ten times, I truly enjoy it. I also will pick up a book if its something that I'm feeling at the moment. I may be craving a science fiction or a romance or a sports romance or whatever it may be and so I go searching for that craving until I find something that fits it!
The Book Has a Movie/TV Show Releasing Soon
If there is a movie or TV show that is coming out soon that I'm super interested in but is based off of a book that I haven't read yet, I nearly will always go and search for that book prior to watching. I tend to think books are better than the movie – not always, but mostly – but its hard to be a good judge, personally, if I've watched prior to reading. I may love love love a movie or TV show and then be upset that the book is different. I tend to be more understanding of a movie/TV show being different than a book that I loved because its just so normal.
The Book Was Recommended by a Friend 
I feel like this is an obvious answer but it isn't for me. I don't tend to take friend's advice for books to read often, not because I am mean or anything, I just know what I like and I tend to find that people recommend me things that are so outside my realm of taste. I get people constantly recommending adult books or true crime, mystery or things like that so I don't. BUT when my YA friends recommend things to me, I listen. I especially listen to my friends who recommended great things to me in the past. My friend Erin pushed me to read Cinder so I nearly always read the things she recommends. My friend Jade PUSHED me to read Vampire Academy and now I have a tattoo for the series lol!
I Recently Met the Author that Wrote the Book
I go to a LOT of events and most often I go to events that are hosting authors that I've either never read before or I've never heard of before. What's great about events like that is that they give an author a chance to sell themselves and their books and it truly works SO much on me. I know what its like to be in that position, to be maybe relatively unknown, wanting your book to get into the hands of readers, and so when I met an author, have a great conversation with them and have a chance to hear about their book, I immediately feel a desire to read it.
~~~~~~~~~~~~~~~~~~~~~~~~~~~~~~~~~~~~~~~