The Top Ten Tuesday is a weekly challenge post previously hosted by The Broke and Bookish and now hosted by The Artsy Reader Girl. You can follow along for each weekly post here. This week's post was originally the ten books that you owned that you would not let anyone TOUCH. I modified it a little to do the ten books I refuse to let anyone borrow.
My Original Copy of Harry Potter and the Sorcerers Stone by JK Rowling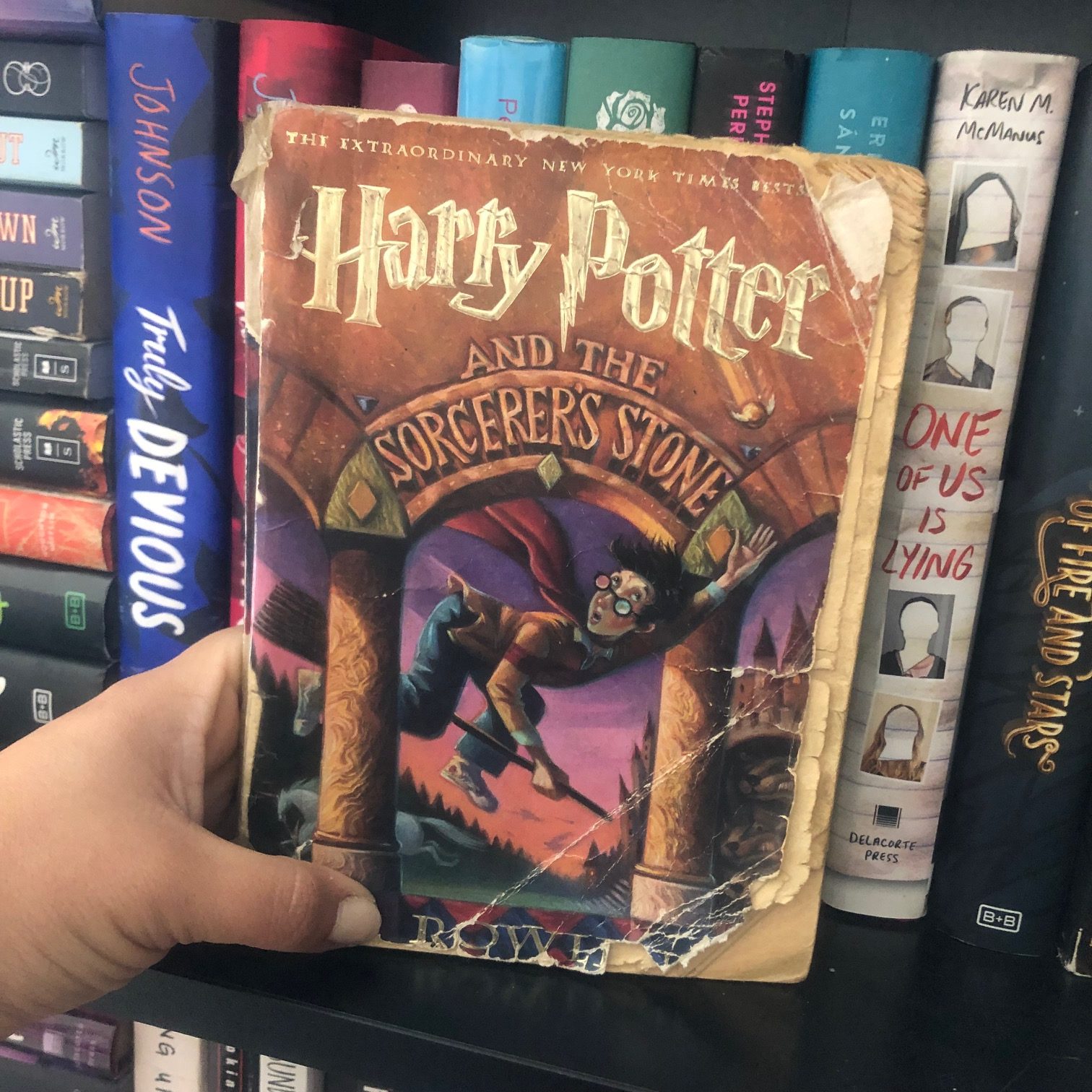 This is my first copy of Sorcerer's Stone; my dad bought it for me when I was 11 years old, twenty years ago. Its not signed or anything and its been reread so many times that it is barely taped together haha but it was the book that truly changed my life so I will own this copy forever. No one can ever borrow this.
My Movie Cast Signed Copy of The Hobbit by JRR Tolkien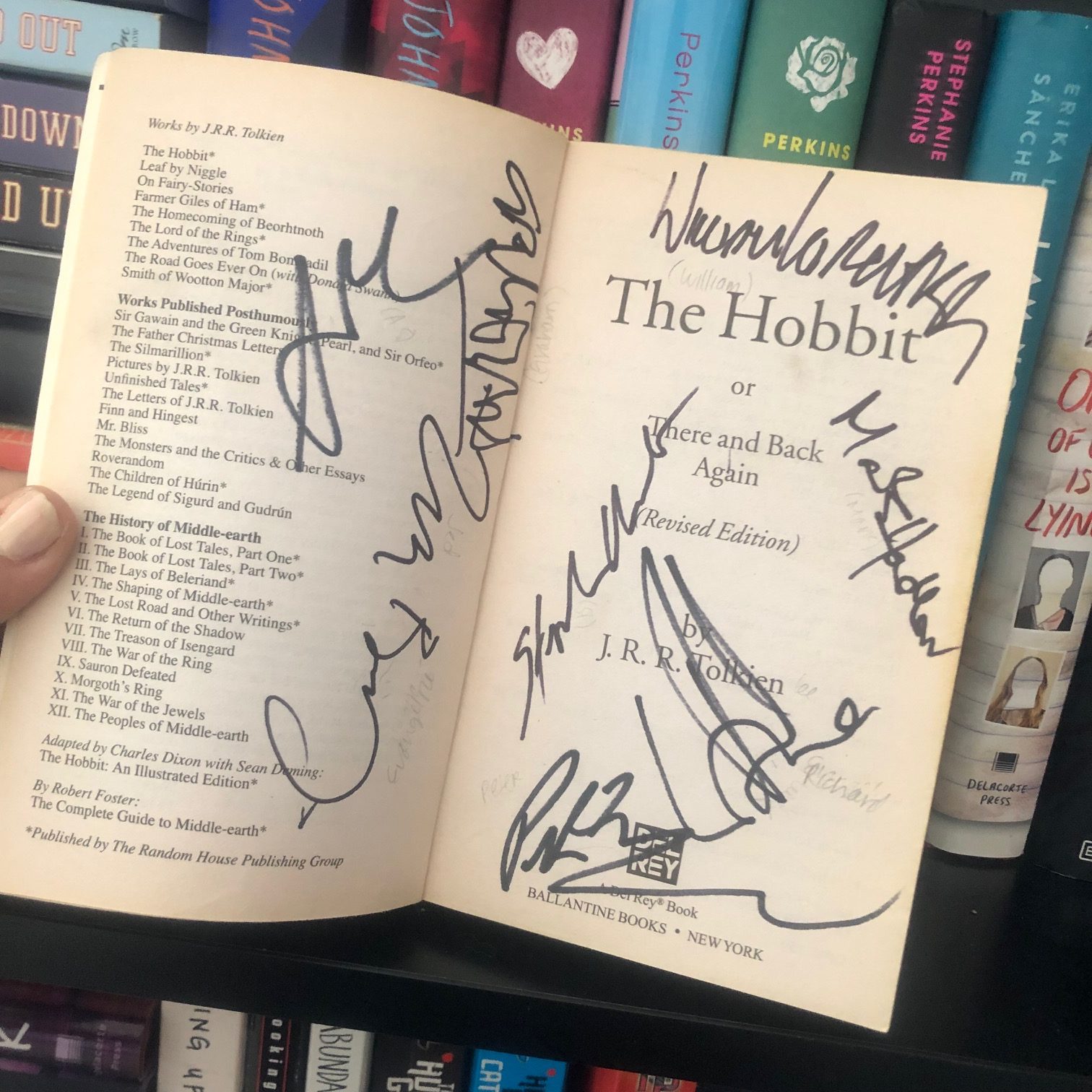 This book is signed by: Andy Serkis (Gollum), Lee Pace (Thranduil), Richard Armitage (Thorin), Mark Hadlow (Dori), Stephen Hunter (Bombur), William Kircher (Bifur), Jed Brophy (Nori), Graham McTavish (Dwalin), Evangeline Lilly (Tauriel) and the direct Peter Jackson.
This copy and a good chunk of this list will be pretty basic – I waited a long time in line and sometimes had to push people out of the way to get certain autographs. I love LOTR and The Hobbit and it was such a surreal time to meet people like Andy Serkis and Evangeline Lilly and freaking Peter Jackson. Yeah, no one can borrow this ever.
My Movie Cast and Author Signed Copy of City of Bones by Cassandra Clare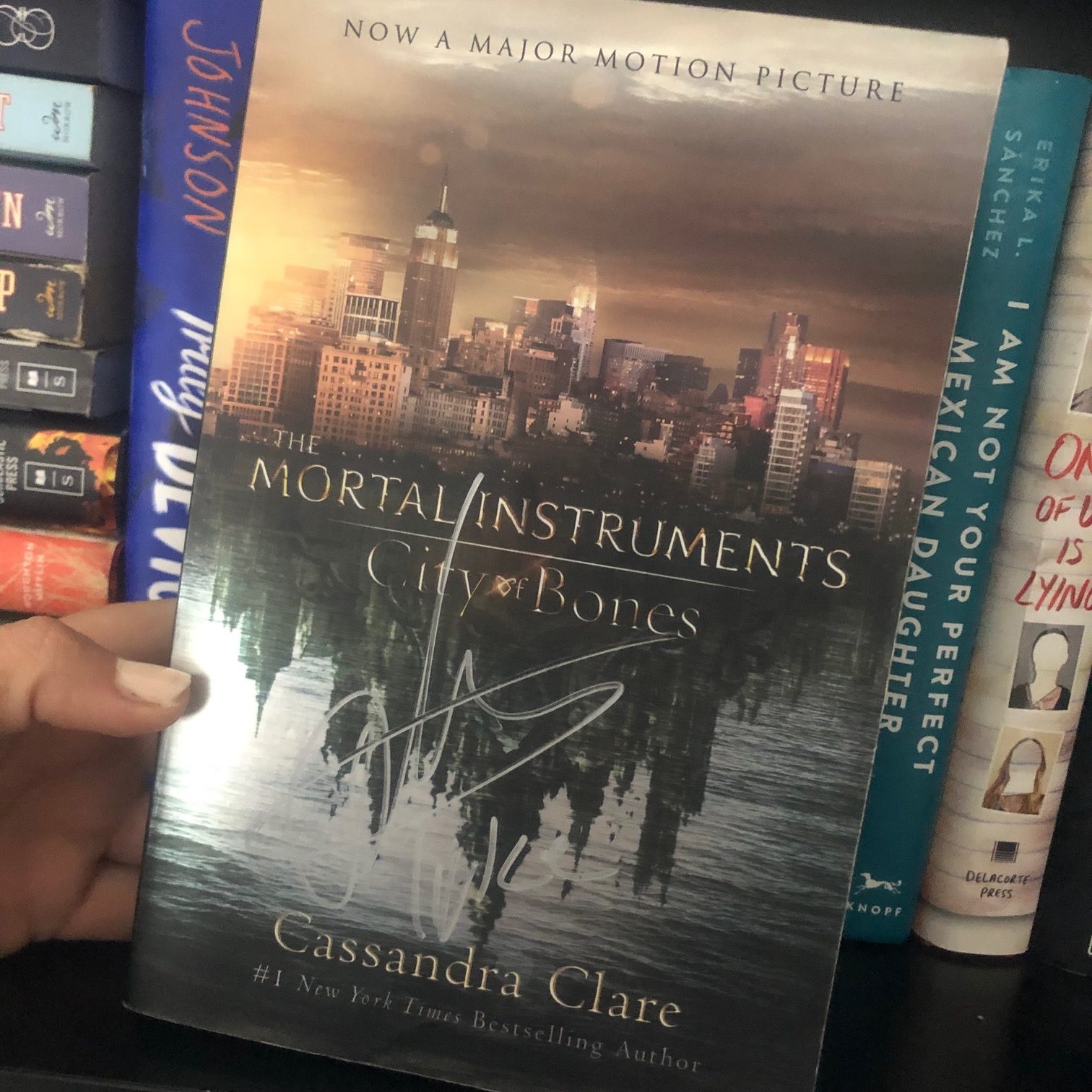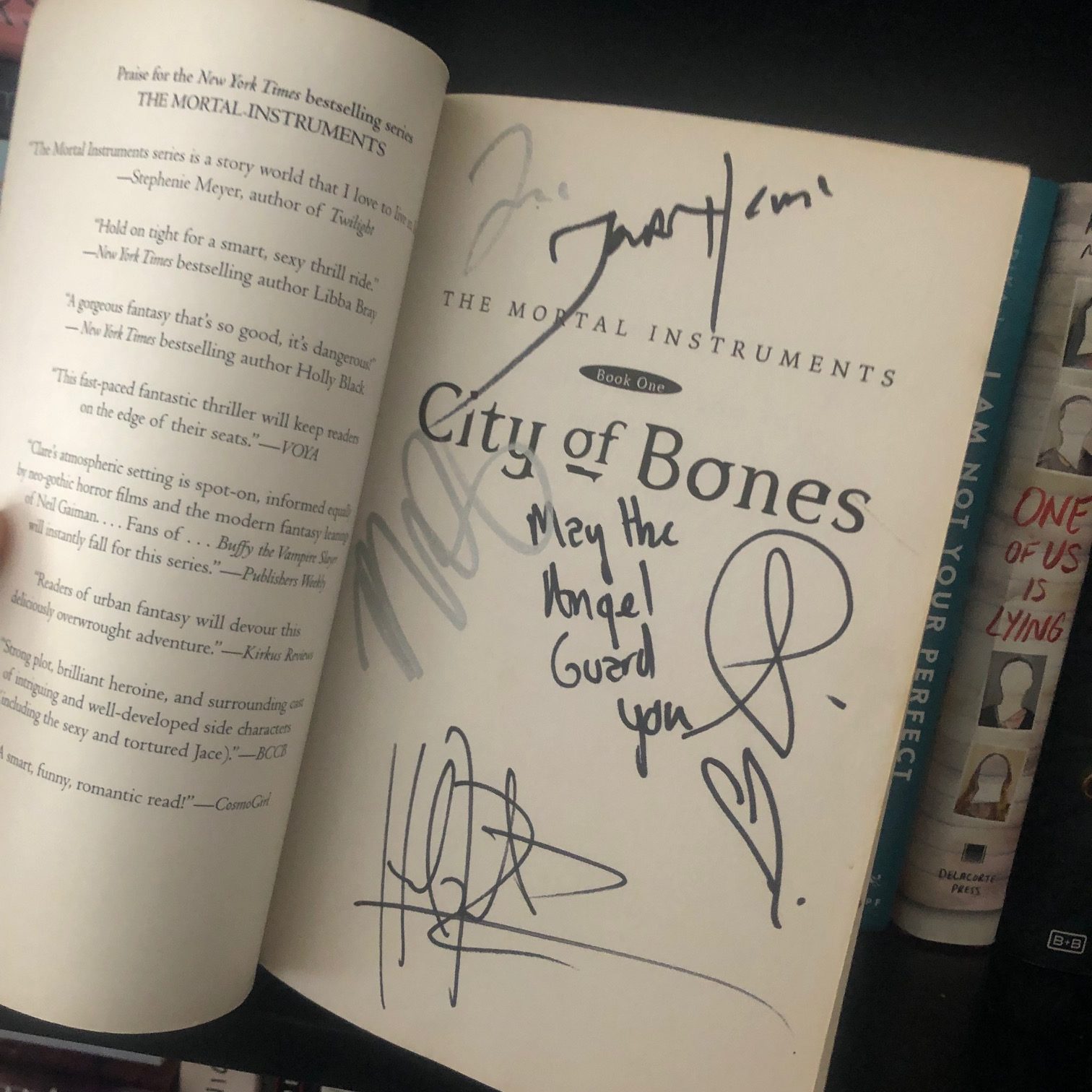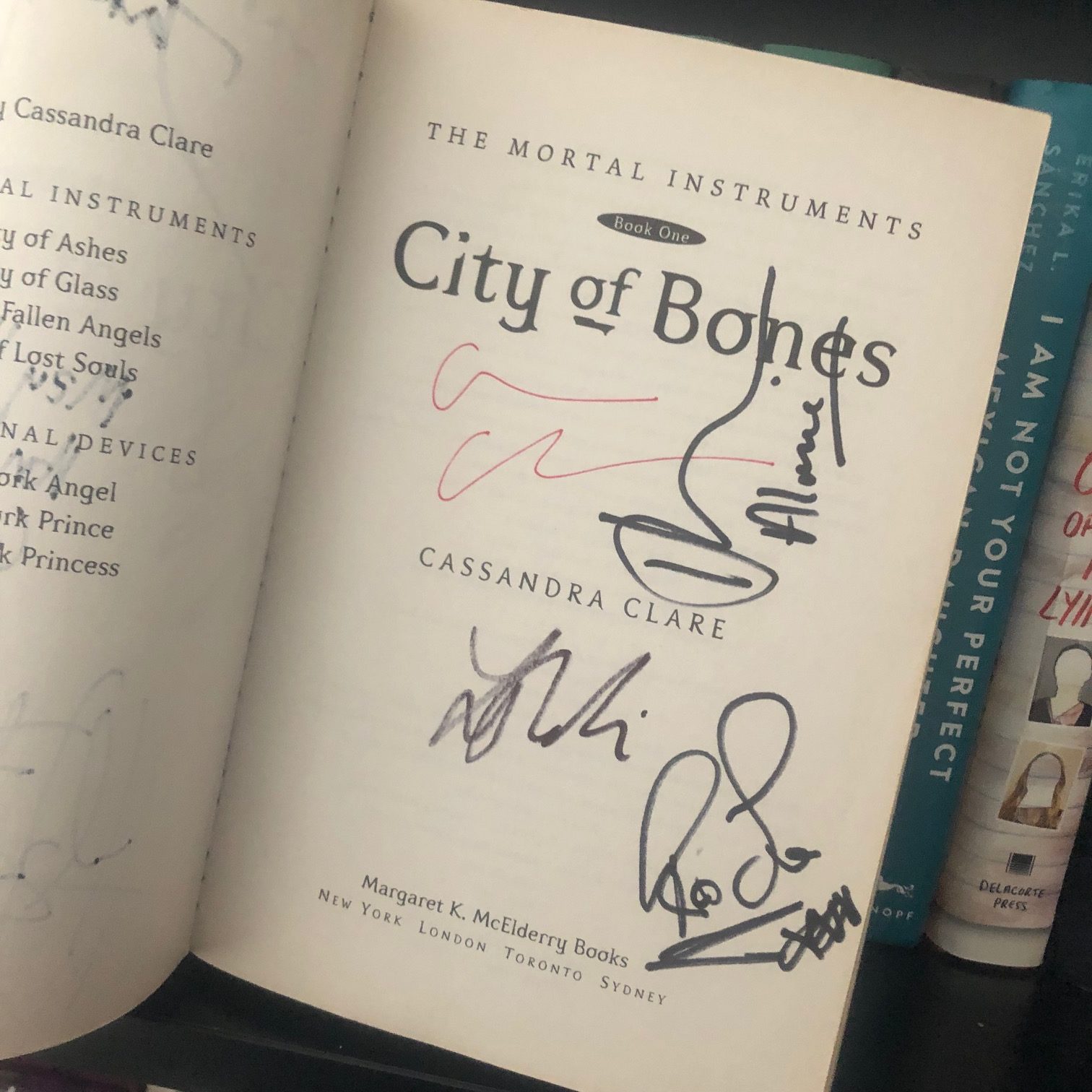 Signed by: Aiden Turner (Luke), Jamie Campbell Bower (Jace), Jessica Postigo (screenwriter), Kevin Zegers (Alec), Harald Zwart (director), Jared Harris (Hodge), Cassandra Clare (author), Harry Von Gorkum (Alaric), Lily Collins (Clary) and Robbie Sheehan (Simon).
2013 was a seriously fun year and it was the year that Clockwork Princess came out and it was the build up of the City of Bones movie and everyone who was a TMI fan was just so excited. I met so many of my friends that year and this was my first real camp out for a red carpet event and it was so amazing and so fun. I have like four or five copies of this particular book but I will never get rid of this one.
My Movie Cast and Author Signed Copy of Divergent by Veronica Roth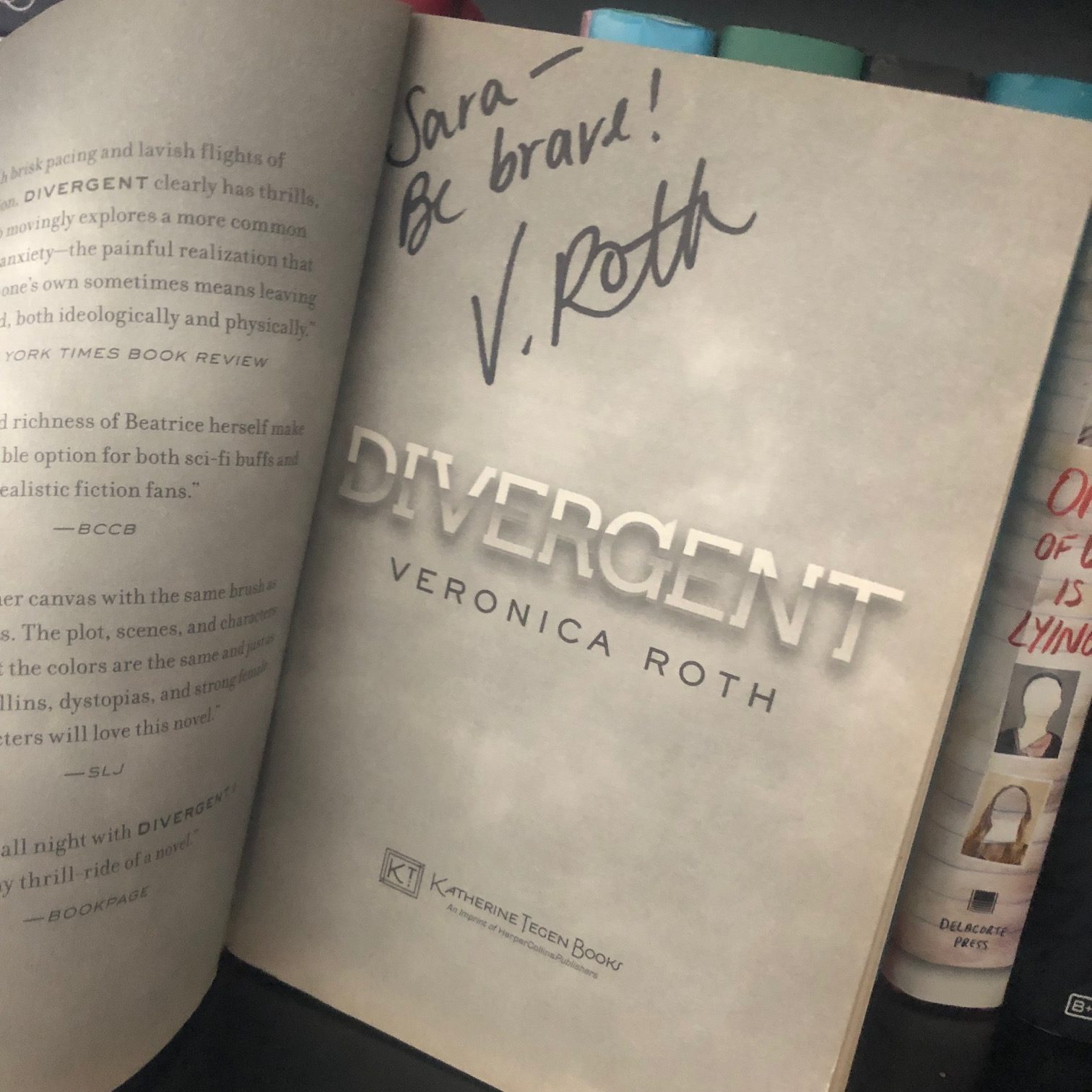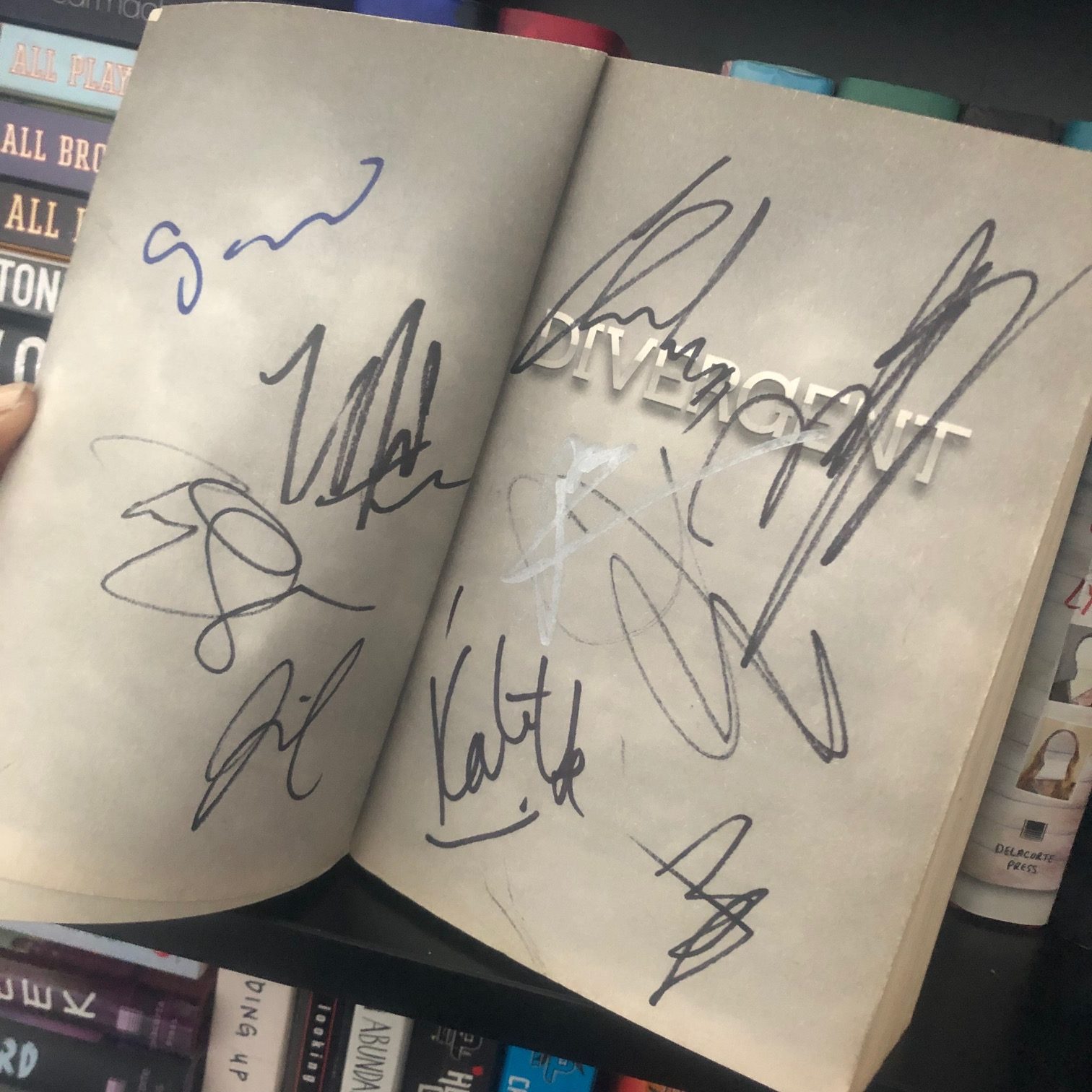 Signed By: Theo James (Four), Miles Teller (Peter), Kate Winslet (Jeanine), Zoe Kravitz (Christina), Jai Courtney (Eric), Amy Newbold (Molly), Christian Madsen (Al), Ansel Elgort (Caleb), Tony Goldwyn (Andrew), Maggie Q (Tori), and Veronica Roth (author).
This is still one of my favorite books of all time, still one of the best adaptations I've seen (we won't talk about the other movies lol) and one of the best experiences I had camping out and waiting in line to meet the cast. I had just gotten my Divergent tattoo a few months prior and I was so into it. Plus I met Kate freaking Winslet, who is a goddess. This copy isn't going anywhere and no one is ever allowed to borrow it.
My Movie Cast and Author Signed Copy of Before I Fall by Lauren Oliver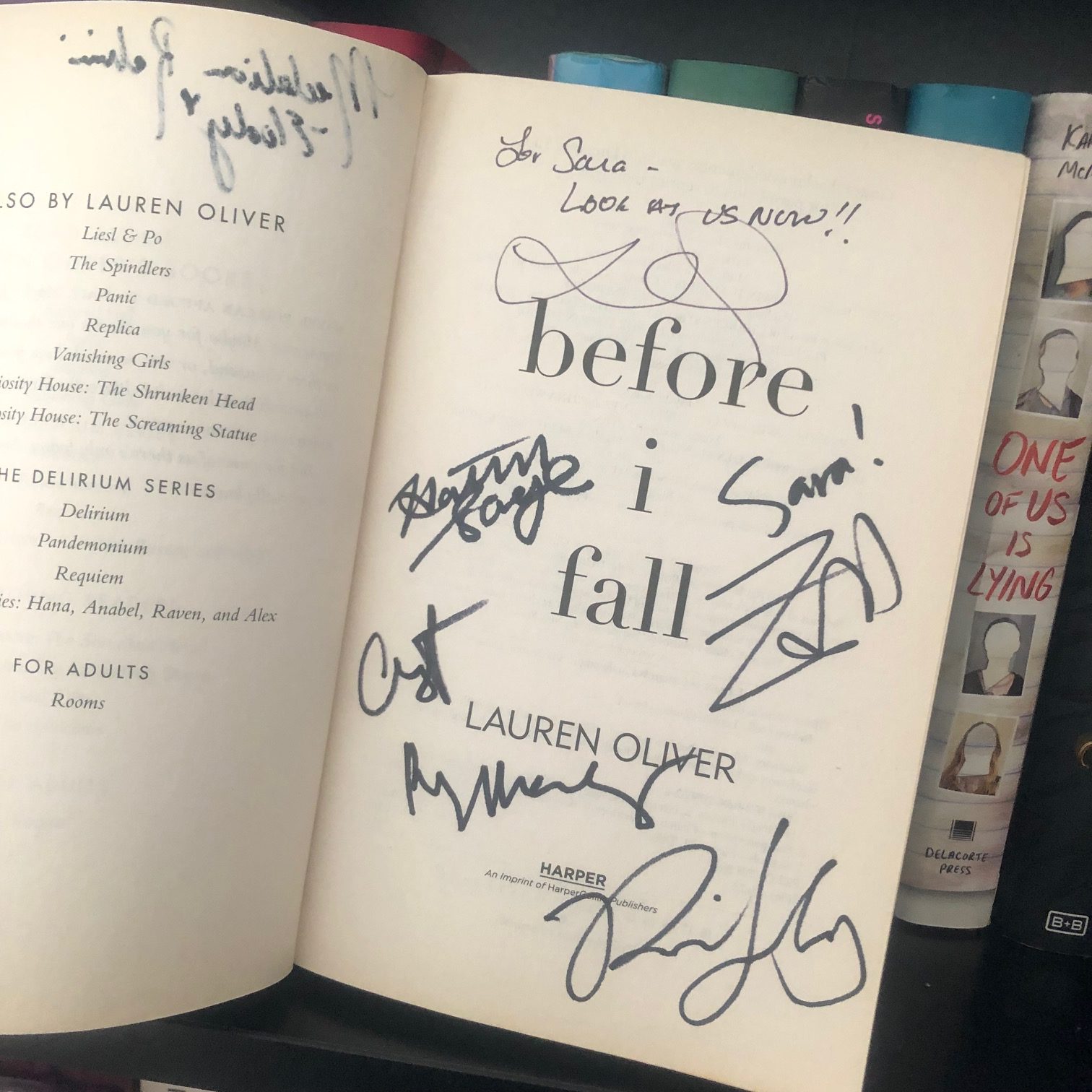 Signed By: Lauren Oliver (author), Zoey Deutch (Samantha), Halston Sage (Lindsay), Kian Lawley (Rob), Cynthy Wu (Ally) and Medalion Rahimi (Elody).
I got this signed in 2017 when the movie came out but the first time I met Lauren Oliver in 2013, we talked about this being movie. It felt like it took years for this to happen and I was so so stoked when it finally did because I love this book. The fact that its signed by MY girl, Zoey, is the reason that its not going anywhere other than my shelf.
My Movie Cast and Author Signed Copy of Mockingjay by Suzanne Collins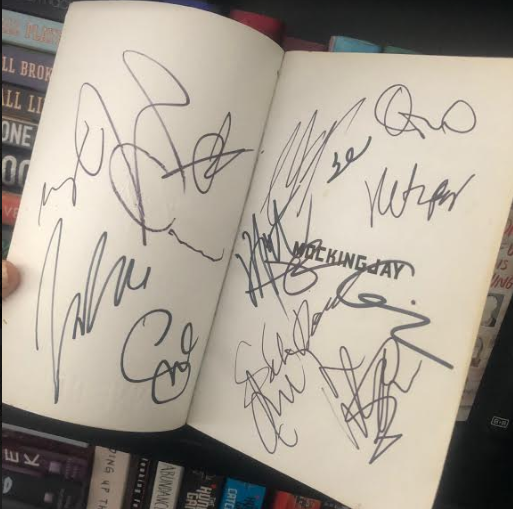 Signed By: Jennifer Lawrence (Katniss), Josh Hutcherson (Peeta), Liam Hemsworth (Gale), Suzanne Collins (author), Donald Sutherland (President Snow), Jena Malone (Johanna), Julianne Moore (President Coin), Sam Claflin (Finnick), Stef Dawson (Annie), Nina Jacobson (producer), Elizabeth Banks (Effie), Jeffrey Wright (Beetee), Wes Chatham (Castor) and Meta Golding (Enobaria).
I mean, first, look at that list of people who signed it! UGH I'm so proud of owning this book. But also…we did the three day camp out for Catching Fire the year before and I had a terrible person in front of me at the barricade and it was not fun. For Mockingjay, my best friend and I were at the barricade and I met everyone and it was so so wonderful. Such a great experience.
My Movie Cast and Author Signed Copy of If I Stay by Gayle Forman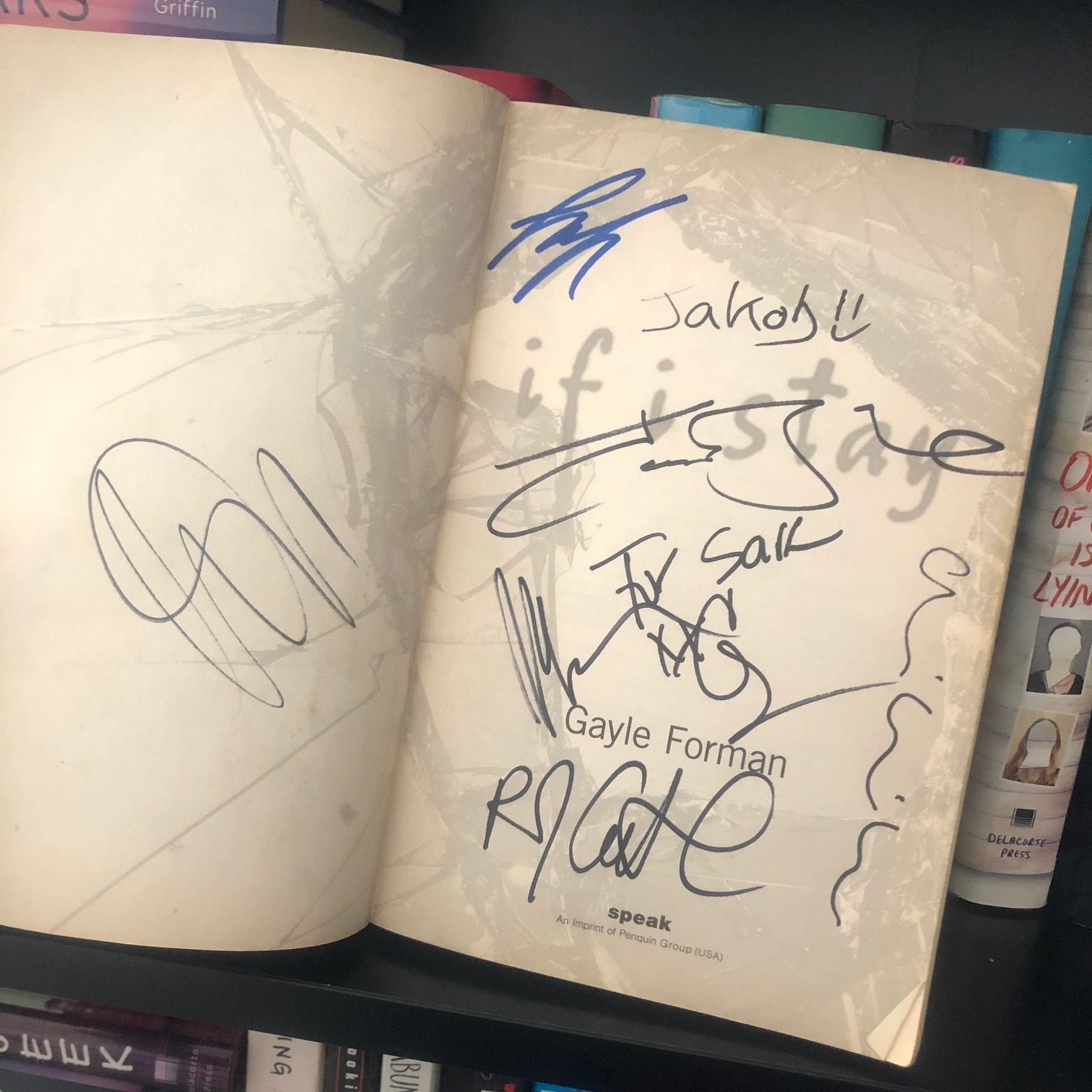 Signed By: Gayle Forman (author), RJ Cutter (director), Chloe Grace Moretz (Mia), Jamie Blackley (Adam), Liana Liberato (Kim), Jakob Davies (Teddy), Joshua Leonard (Denny) and Ali Milner (Liz).
This is special to me partly because it was such a great movie and a genuinely great adaptation. But this is also special to me because it was really the last premiere I've done in years so it was a great experience for sure.
My Author Signed Copies of The Titan's Curse and The Mark of Athena by Rick Riordan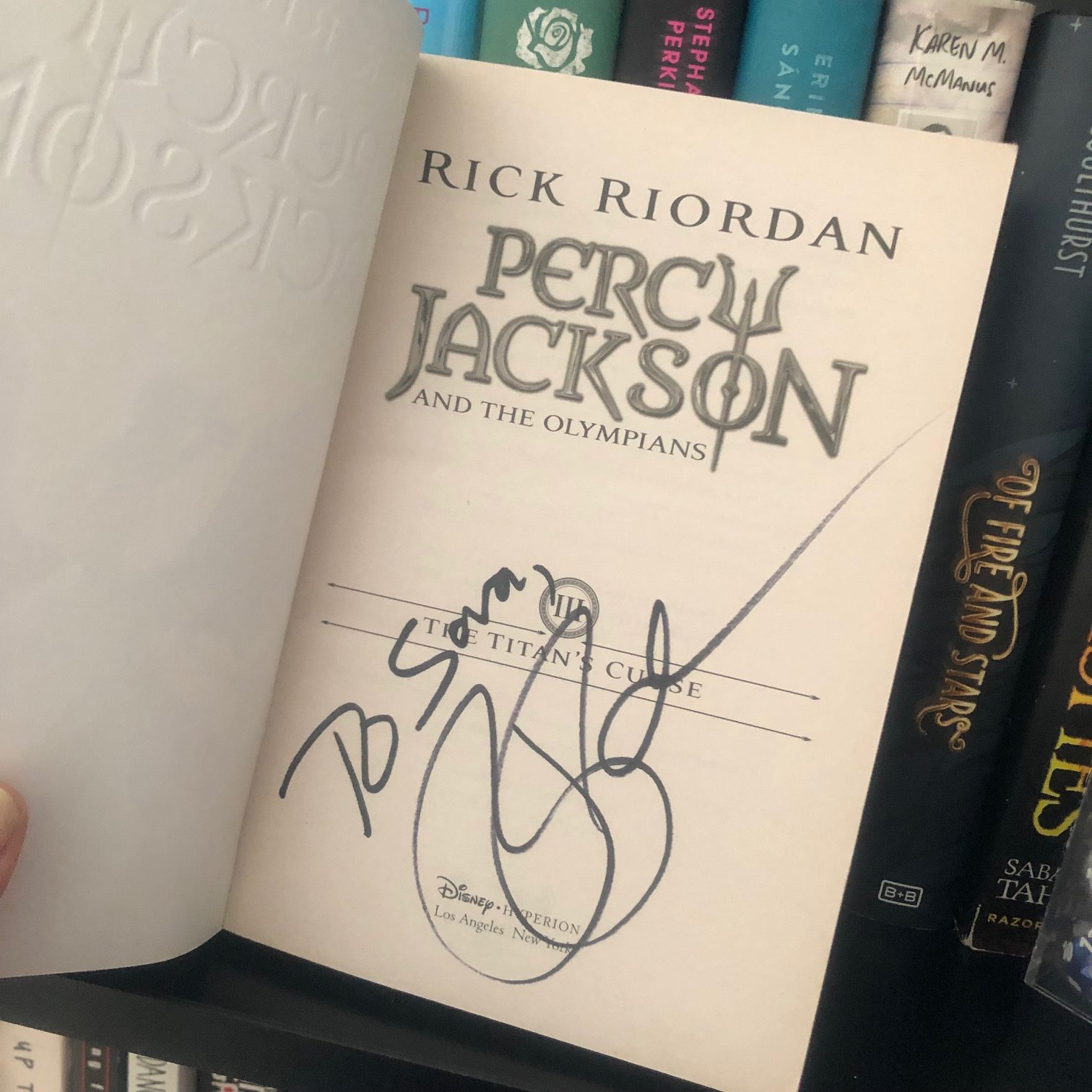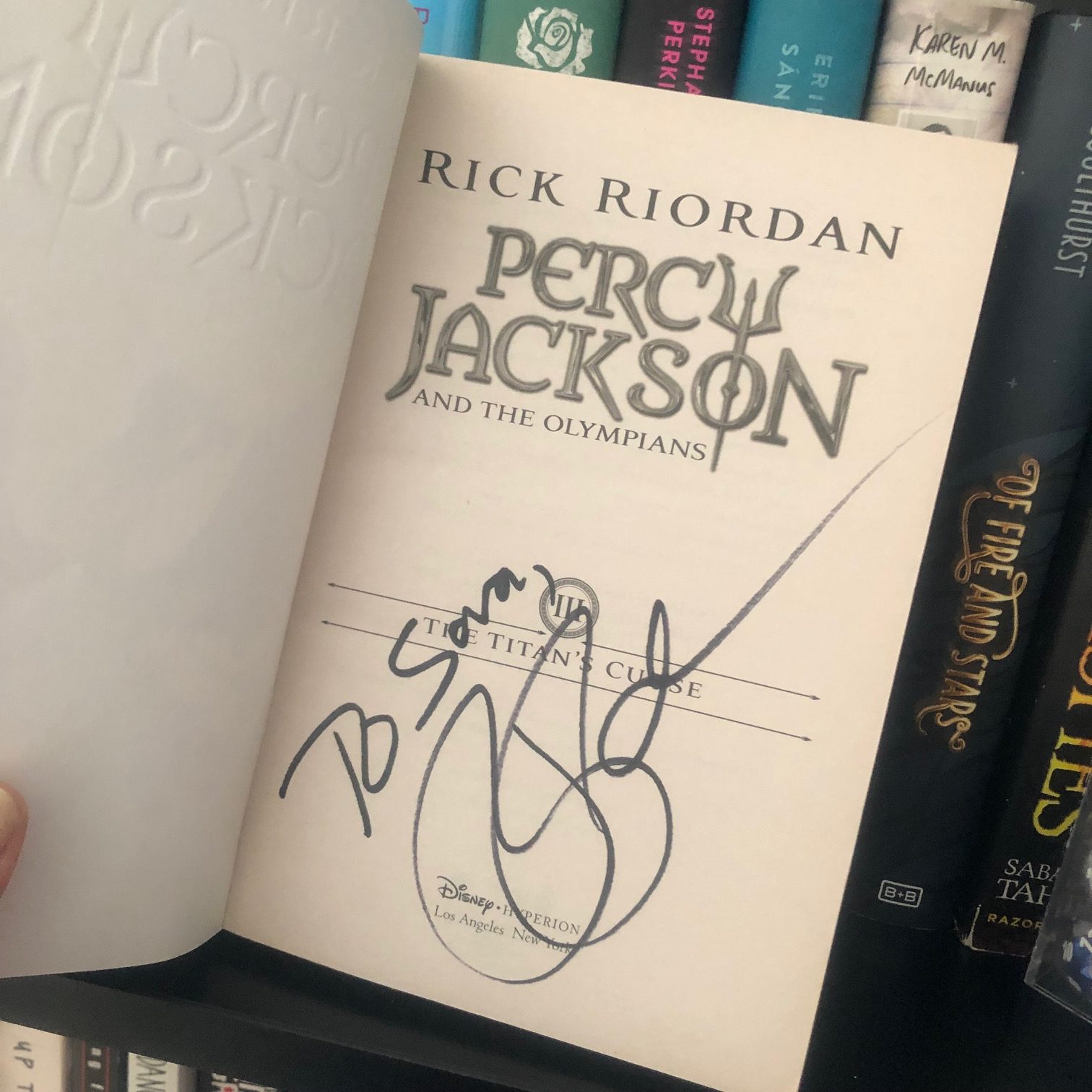 I honestly had never thought I'd meet Rick Riordan. Honestly. He just doesn't come around much and when he does, he either does school visits, which makes sense, OR he does events where he does a presentation and then you receive a signed copy, without any interaction. Then he came to Festival of Books and I knew you would get face to face time so I made sure I was SECOND in line. It felt like a once in a lifetime opportunity and I got my two favorite books signed.
My Author Signed Copy of Trickster's Choice by Tamora Pierce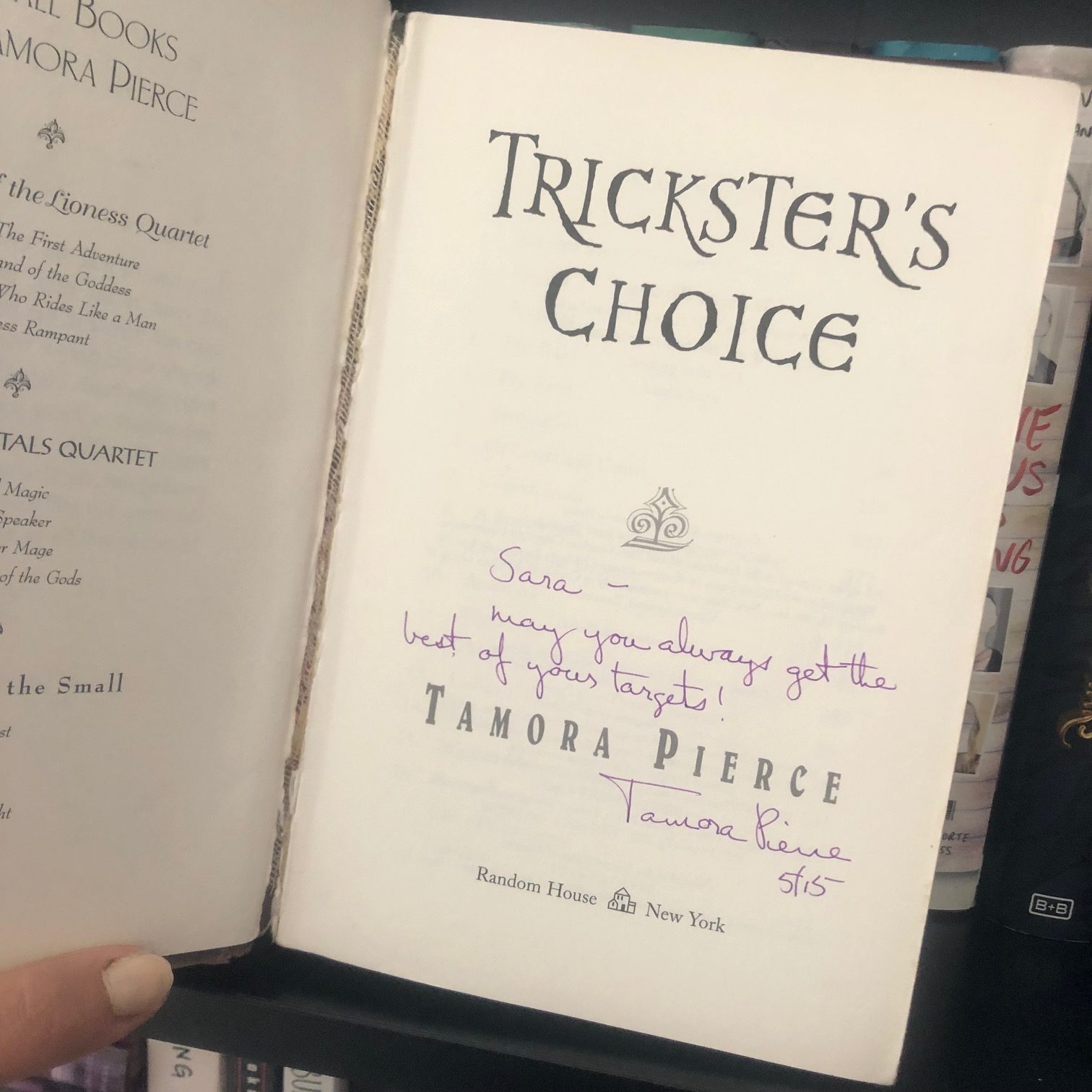 Tamora Pierce is another author that I never thought I'd meet which is funny because I've now met her twice. But it took about 10 years after reading this book for the first time for me to meet her. This is one of my favorite books literally of all time, I bought this when I was 15 years old and its so well worn and loved and signed. Don't touch it, okay?
My Author Signed Copy of Twilight by Stephenie Meyer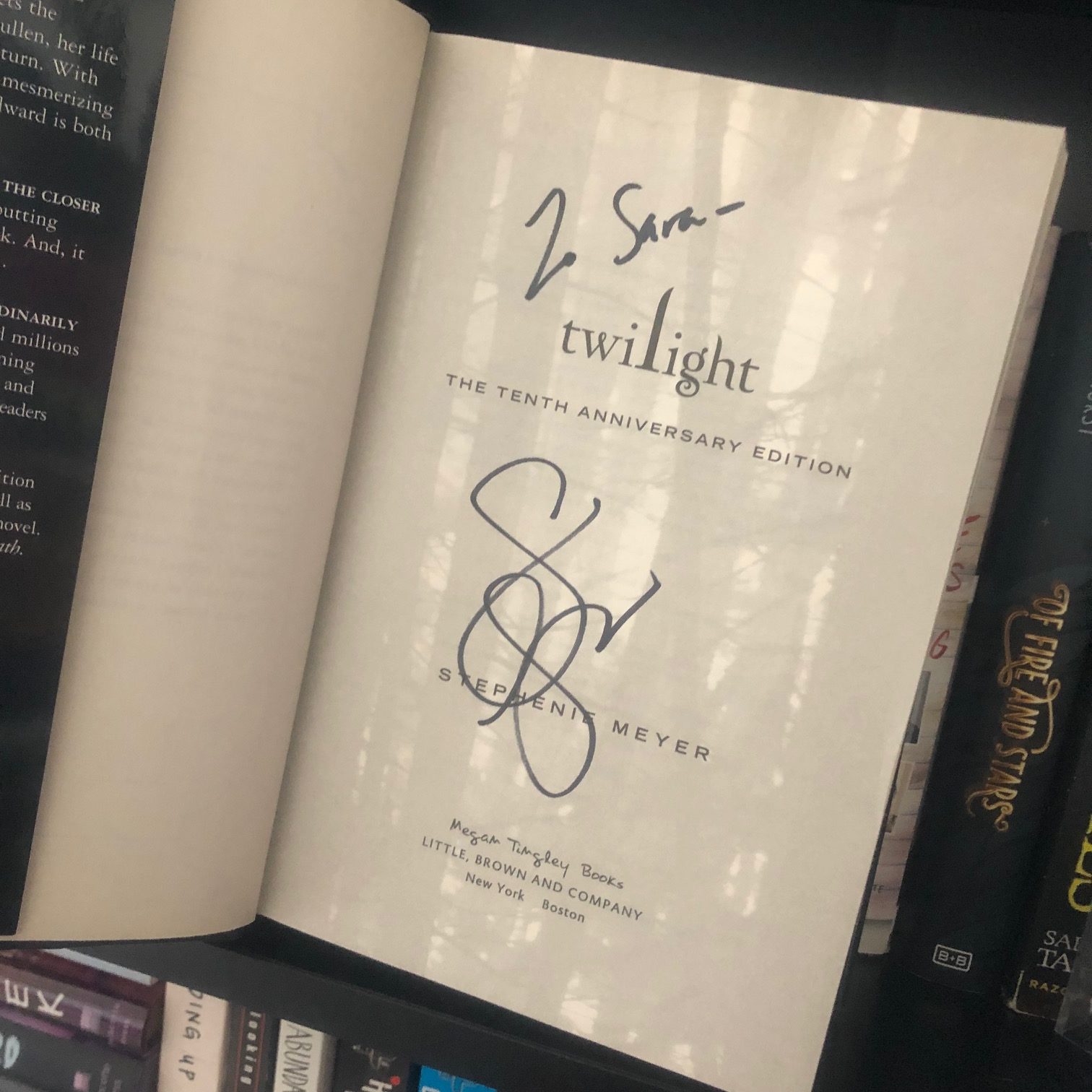 Stephenie Meyer is an author that I had never put the effort into meeting because she got so popular and it was insane to do anything related to Twilight. But I got hooked up with some wristbands for the 10th anniversary of Twilight and I LOVE that I own this. One, Stephenie Meyer is legit the nicest author I've met, truly, such a freaking sweetheart. Two, YA is literally my life and it wouldn't exist the way it does without Twilight so I love my signed copy!
~~~~~~~~~~~~~~~~~~~~