One thing that I have always noticed about reading books is that the main character always seems to be a super awesome best friend…like a best friend that goes along with their crazy schemes and risks their life for them, is a shoulder to cry on but makes them laugh when situations seem absolutely unlaughable. Best friends are amazing.
In Sarah Dessen's book "Someone Like You", there's a quote that says,"Life is an awful, ugly place to not have a best friend."
And I definitely agree with that statement. I have had the bad luck of having…well, not the best friends in the entire world. Its taken some time to really realize who are my friends and who are not. I have the best boyfriend in the world, who is also my best friend. I have my best friend, Allison. I have met my awesome friends from the LADA. I have my SUPER cool fangirl friends, from iFandoms Collide. I am lucky.
But yeah, the point was, a lot of main characters have some seriously kickass best friends or sidekicks. So that became the inspiration for this week's Tuesday Top Ten.
Enjoy!
Top Ten Favorite Sidekicks
10. Huck Finn from The Adventures of Tom Sawyer
This one is a little bittersweet for me. I had a best friend from the time I was 7 years old until I was about 22 years old. That's a really long time. We were absolutely inseparable, and sadly, our friendship fell apart and pretty quickly. But when we were friends, I called her Huck Finn and she called me Tom Sawyer :D And it worked. Because Tom Sawyer…he's a crazy kid. I mean, kids are crazy but Tom takes the cake. He has an imagination two miles high and a mischievous streak just as long. He's always coming up with harebrained schemes and adventures and he always makes sure that they are absolutely completely out-of-this-world ridiculous. And Huck Finn, he just goes along with it, like all right, Tom whatever you say. Now, if you want to get technical, I was more Huck and my friend was more Tom, but that's a different story. I just loved Huck Finn so much because he was really the brains of the operation, even if he didn't really realize it until he got his own book. But I love that whatever Tom said, Huck did. I know that sounds crazy, but that's a mark of a great friend. A great friend is willing to go on any and all adventures with you, no matter how insane they are.
9. Grover Underwood from the Percy Jackson series
I adore Grover. I really do. He is the best friend that Percy can honestly ask for, and vice versa. They work together so well, and I love that they protect each other, and work together to save the world. I love that they both have their insecurities but they both have their strengths as well, and it helps them both. The thing about Grover is, he isn't the most powerful or most confident or the strongest or any of that, but he's definitely the most loyal. Even though he's often times nervous or scared or unsure of the messes they get themselves into, he doesn't stop, not once. He brings Percy into the world of demigods, he's the person who is his first step in the door and so of course, he's the first friend he has, the best friend that he has. And he helps him learn the world, and be comfortable, and he's always by his side, whether he's battling Medusa or taking on Cyclops or taking on a god. Grover is the most loyal sidekick, and it means so much because Grover isn't the bravest. And even though he may not always want to do the crazy, insane, dangerous missions but he goes anyway, because he's determined and he's loyal.
8. Samwise Gamgee for Lord of the Rings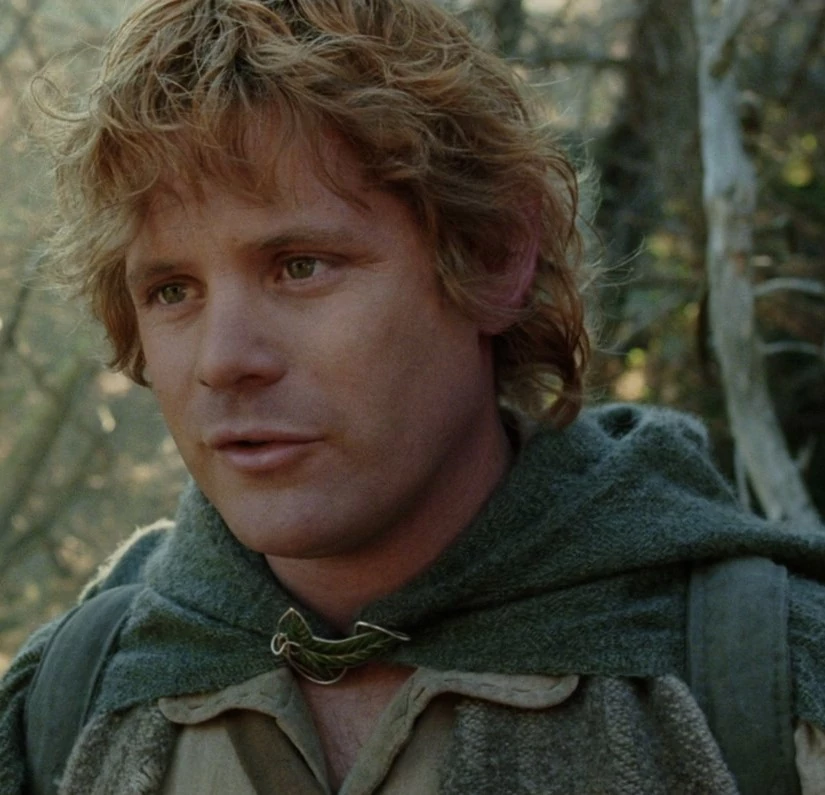 Honestly, I feel like Samwise doesn't even need an explanation. I mean, if you have watched Lord of the Rings, read the books, you should know. You should know exactly what it is about Samwise Gamgee that just makes him one of the best sidekicks and best friends. The guy leaves his comfy home behind, the only world he's ever known to go on a pretty much hopefully quest to destroy a ring that's going to tear his friend apart to a place thats nearly impossible to get to. I mean, think about it, would any of your best friends do that? I'm not sure how many would! The fact that Sam follows Frodo into hell basically, worse than hell, is amazing. And not only does he follow him, but he's his partner in all of it. He makes sure that they rest and eat and that Frodo doesn't go completely insane. He protects him. I think that Frodo is not the only hero in destroying the ring, but Sam is as well. Sam is by his side, keeping him alive and safe, as safe as they could be, and he helps him up the mountain and makes it so they can save Middle Earth. Sam is amazing.
7. Dr. John Watson from Sherlock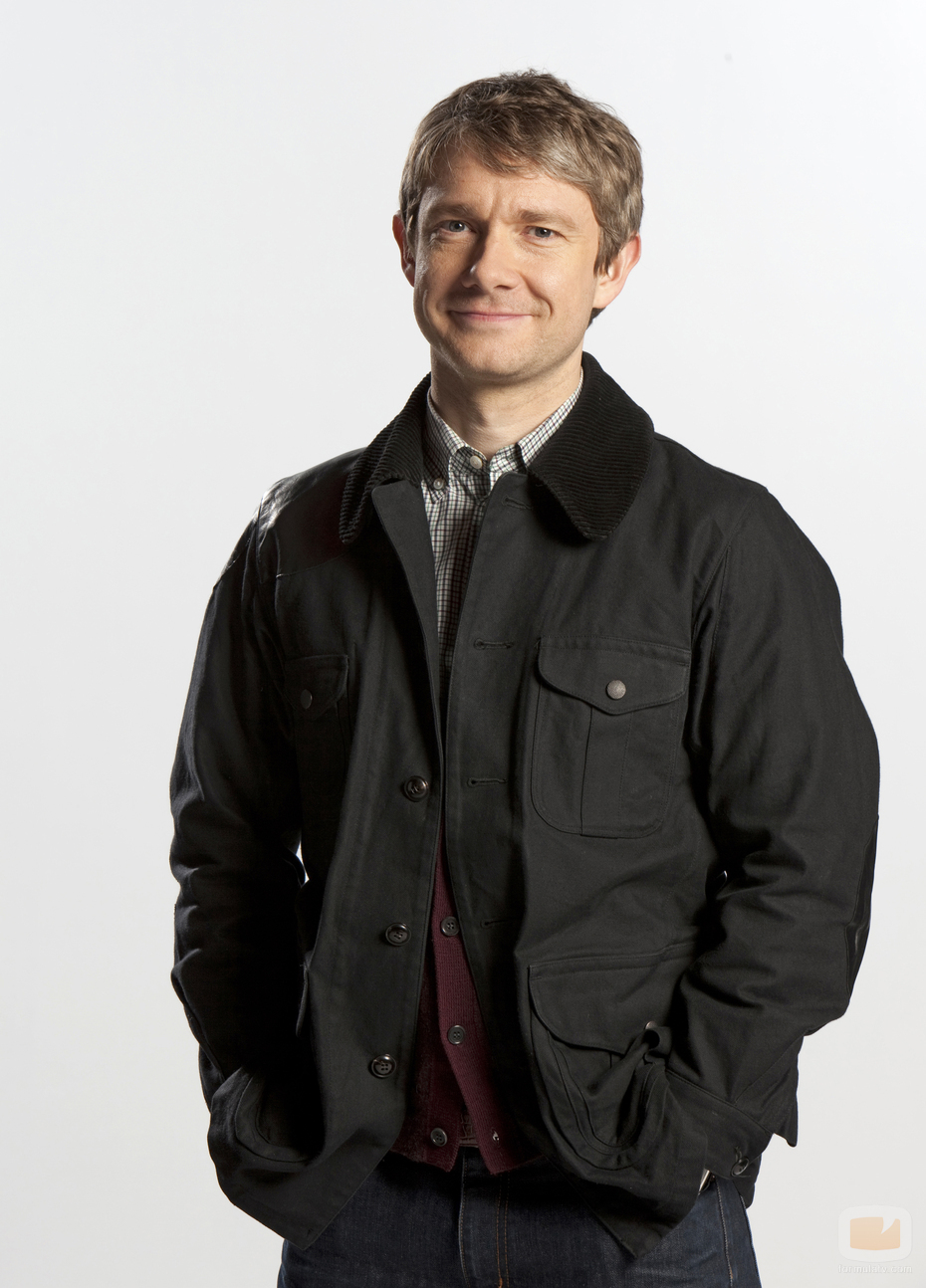 Okay, lets really think about this: there's something wrong with Sherlock. Sherlock Holmes is not a normal person; he's incredibly smarter than most people and it takes away a lot of his humanity. He is so concerned in what he is saying, what he's discovering, and trying to solve that he forgets to have tact or he tends not to realize that what he says can be hurtful or inappropriate. I think once he brings John into his life, that he becomes better. Not different, he can never change completely but I do believe that he becomes a better person. John also is like Huck Finn; he is down for the adventure. He lives for it. He goes along with Sherlock because he's his best friend and he took him out of his boring existence. And he makes Sherlock more of a person. Sherlock laughs and finally has human companionship which makes him an even smarter detective than he was before. I like John because he goes along with Sherlock and his crazy adventures, he remains loyal even when Sherlock doesn't deserve it, and he loves him, and is willing to do anything for him.
6. Felicity Worthington from the Gemma Doyle Trilogy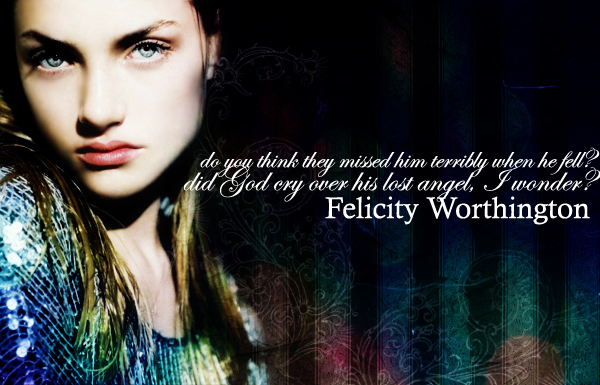 I love Felicity! She is the most amazing female character in some of the books that I've read ever. She is so strong, especially for the book series that is part of: The Gemma Doyle Series. It takes place in Victorian London before women are worth anything. They can't vote, and their goals in life are to make a perfect debut and secure a good husband. But Felicity wants more than that. She wants adventure and she wants power. She is such a flawed character but aren't we all? She's more than the prim and proper lady that she is supposed to be. She is the most gutsy of all of them in the realms. She asks for sheer might, she learns how to wield a bow and arrow, she becomes a warrior. She is also a lesbian character (sorry, spoiler) in a very conservative world. Women and men who prefer the company of the same sex were abominations in that time; it was absolutely unacceptable in every way, and I love that Libba Bray puts that character in. But I love who she is to Gemma. She is a near world for Gemma. Gemma has been closed off, unwilling to let anyone in, afraid of herself, afraid of everything. But Felicity takes them all under her wing: Pippa, Gemma and Ann, and she brings out the best in all of them, she gives them all the strength to be who they are.
5. Simon Lewis from the Mortal Instruments
Okay, Simon Lewis from The Mortal Instruments is Clary's best friend. Clary and Simon have been best friends forever and when Clary is yanked into this crazy world of demons and Downworlders and demon-hunting people called Shadowhunters, Simon follows right behind. And he puts up with a lot. He's loved Clary his whole life and she's suddenly head over heels for some Shadowhunter named Jace . When they find out Jace is her brother, nope, she still loves him. He gets turned into a rat, and taken to a crazy vampire lair. He eventually gets turned into a vampire. She puts the Mark of Cain on him which curses him. He literally gets pulled into this world and everything that could possibly go wrong, does go wrong. But no matter what happens, no matter how much trouble that Clary gets herself into, Simon is always always always there for her. He loves her, no matter what happens, and he is sticking with her. That's a loyal friend. I don't know how many friends would stick around after you chose your brother over him, and were indirectly the reason that he is now a vampire. But Simon does and that's pretty crazy. Plus Robbie Sheehan is adorable and delicious.
4. Hermione Granger from Harry Potter series
Okay, who wouldn't want Hermione for a best friend? And I'm not talking about the fact that Emma Watson grew up to be absolutely beautiful, too beautiful to be Hermione Granger haha. I'm talking about the fact that Hermione Granger is one of those one of a kind best friends that never really actually exist. She is the perfect person to have by your side. She is smart as hell, and saves Harry's butt so many times, I couldn't even begin to count. She's loyal; she sticks by her friends throughout anything, including trying to take down the most dangerous and powerful Dark wizard that has ever existed. She's super nice; there really isn't anyone that she doesn't get along with, except maybe the Slytherins who make her life absolutely miserable. She's so aware of everyone, and she is so empathetic to everyone around her. She's also a good listener and a good advice giver. A lot of times people focus on her brains and her book smarts but she does have a lot of people smarts too, a lot of loyalty and a lot of heart, which is why I think she's in Gryffindor instead of Ravenclaw. I think she has the bravery and loyalty of Gryffindor, the loyalty and kindness of a Hufflepuff, the brains and wit of a Ravenclaw and the ambitious and cunning of a Slytherin and I'd like her to be my friend.
3. The Companions from Doctor Who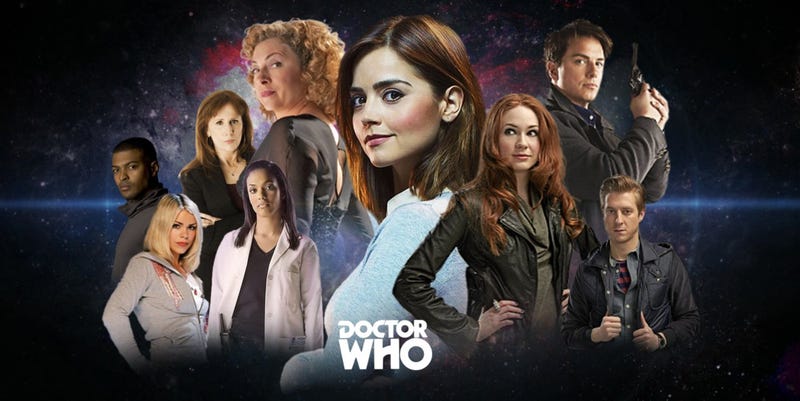 I want every single one of these people to be my best friend. Every. Single. One. The Doctor gets himself into the craziest adventures. Its not just his life at stake. Its not just the world at stake. Sometimes its the universe at stake, the very bit of existence of everything thing is at stake. He goes on the most ridiculous of adventures and dangerous missions and all of these people follow him into it. They all come together to help him and to be there for him when he needs it. He always says he doesn't need people or that he's alone but he never is, not with all these companions that just love him so much. And all the companions are immensely loyal to the Doctor, no matter what flaws they find out about him. To have a best friend who loves you, even though you're kind of crazy and even though you go on dangerous missions and even though you are so incredibly flawed. The kind of people that the Doctor brings into his life creates a family, and we kind of see that at the end of the 4th season, with Ten and Donna Noble. I would love to have a family of friends like Rose, Martha, Donna, Sally, Amy, Rory, River, Captain Jack, and Clara in my life.
2. Chewbacca from Star Wars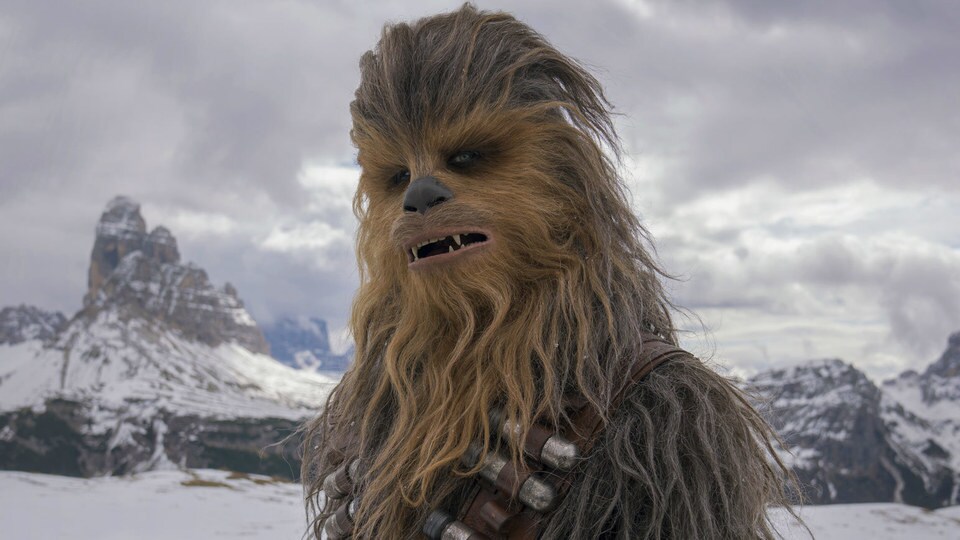 For those of you who don't know the back story, which most people don't, Chewbacca was sentenced to die, at the hands of a then Imperial soldier, Han Solo. Han refused to do this, and was dismissed as a soldier and became the smuggler that we come to know in Star Wars. Chewie owes Han a life debt, meaning that he will protect him because he saved his life, and he does that. He does exactly that. Chewbacca is Han's partner in crime, and is always by his side. I'm also pretty sure that Han is the only person who can understand what the hell Chewbacca is saying. But what a great co-captain to have. They are really the only people they know until they meet Luke and Leia and they take care of each other, and look out for each other. I think what starts out as a simple life debt that Chewbacca has for Han turns into a genuine friendship and kinship. Chewbacca starts off protecting Han because he saved his life but you can see in the original Star Wars trilogy that he truly cares for Han Solo, and that he is heartbroken when he is frozen in carbonite. That's a loyal friend.
1. Ron Weasley from Harry Potter series
I know that some people totally understand why I would choose Ron before Hermione Granger and that honestly comes from the fact that I prefer Ron over Hermione, I always have. Hermione is a wonderful character and I love her to death but she's so…so perfect. In my eyes, she was always so perfect and I'm so far from perfect. I love Ron because he's so brave and funny and loyal but he's so flawed as well. People give Ron so much crap for leaving Harry and Hermione but what would you have done? They were 17 years old and trying to save the world. I didn't even have my drivers license when I was 17 years old or a job. Its a lot for a person to handle. I think what makes Ron a strong best friend is the regret that he felt in leaving them and the hard work that he put in to find them again. He is flawed but loyal. He gets jealous and hurt and sometimes doesn't always do the right thing but he is the most realistic best friend out of all of these. He's the kind of best friend that you can actually have. Ron makes Harry laugh, he ushers him into the wizarding world and gives him a family to love and who loves him. He is there for him, even if sometimes his HUMAN emotions gets in the way at first. He's brave and caring and loving and a great best friend.
*      *      *      *      *
You can now find all the past Tuesday Top Tens with ease! Check them out here. :)
*      *      *      *      *      *
Who are some of YOUR favorite sidekicks?