Today's Waiting on Wednesday is all about the newest addition to Brandon Sanderson's young adult resume, Skyward. I adore Brandon Sanderson as a person and know that he is very loved for his adult fantasy but I will always have a soft spot in my heart for his young adult fiction, and so I'm excited for this release that comes out in just a month and a half!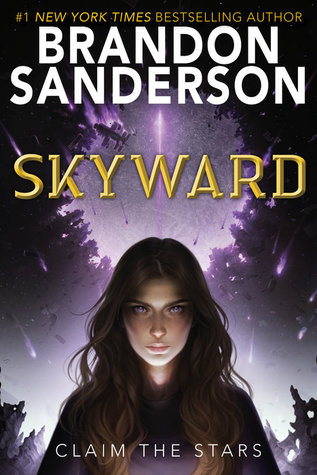 Title: Skyward
Author: Brandon Sanderson – Website
Published By: Delacorte Press
Publishing Date: November 6th, 2018
Pages: 528 pages
Genre: Young Adult, Science Fiction
Summary:
Spensa's world has been under attack for hundreds of years. An alien race called the Krell leads onslaught after onslaught from the sky in a never-ending campaign to destroy humankind. Humanity's only defense is to take to their ships and combat the Krell. Pilots are the heroes of what's left of the human race.
Becoming a pilot has always been Spensa's dream. Since she was a little girl, she has imagined soaring above the earth and proving her bravery. But her fate is intertwined with that of her father–a pilot himself who was killed years ago when he abruptly deserted his team, leaving Spensa's chances of attending Flight School at slim to none.
No one will let Spensa forget what her father did, but she is determined to fly. And the Krell just made that a possibility. They've doubled their fleet, which will make Spensa's world twice as deadly . . . but just might take her skyward.
Brandon is going on tour for Skyward. Find out dates here!
PreOrder Links:
Amazon / Barnes and Noble (Signed!) / Book Depository / iTunes / Kobo / GooglePlay
Why I'm Waiting:
I've been technically waiting for this book since the first time I heard about it at the San Diego launch for Oathbringer last November. He did a reading as part of his presentation and the boyfriend and I managed to catch the end of it. He had just started writing it and, of course, because its Brandon Sanderson, its already ready to be published in November. Seriously I envy that guy's ability to write, and ability to write multiple things at one time at the speed that he does. I love science fiction and I love Brandon so I'm really excited to read this book, especially since its young adult and has a female main character. I know that most people will go on and on about Brandon's adult fantasy but I will always have a soft spot in my heart for his young adult books and I'm excited that he has not abandoned us quite yet. I think this book is going to be so great and I think I'll have the chance to meet him again too! I wrote about the wonderful time I had meeting him last year so I'm sure this time will be just as great.
*******************
Support us on Patreon for only $1 a month to gain access to monthly exclusive interviews, ARC and signed book giveaways, reviews for books I DIDN'T like and more by following the link here.