Today's Waiting on Wednesday post is all about Marissa Meyer and her sequel to the epic Renegades, Archenemies. I was hoping so much to get an ARC of this book but alas, it was not in my favor. So because of that, it is definitely one of my most anticipated book this fall!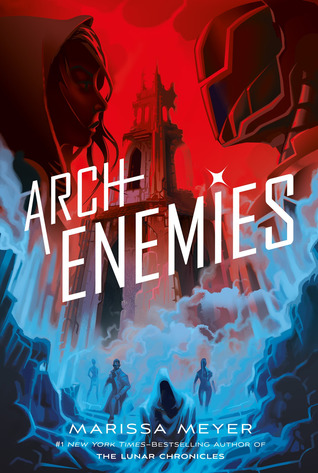 Title: Archenemies
Author: Marissa Meyer – Website
Published By: Feiwel & Friends
Publishing Date: November 6th, 2018
Pages: 560 pages
Genre: Young Adult, Science Fiction, Superhero
Summary:
The Renegades Trilogy continues, in this fiercely awaited second installment after the New York Times-bestselling Renegades by Marissa Meyer, author of the Lunar Chronicles.
Time is running out.
Together, they can save the world.
But they each other's worst nightmare.
In Renegades, Nova and Adrian (aka Insomnia and Sketch) fought the battle of their lives against the Anarchist known as the Detonator. It was a short-lived victory.
The Anarchists still have a secret weapon, one that Nova believes will protect her. The Renegades also have a strategy for overpowering the Anarchists, but both Nova and Adrian understand that it could mean the end of Gatlon City – and the world – as they know it.
PreOrder Links:
Amazon / Barnes and Noble / Book Depository / iTunes / Kobo / GooglePlay
Why I'm Waiting:
I love every single thing that Marissa puts out and that is the genuine truth. I knew I would love Renegades and I've been dying to get my hands on Archenemies. I think Marissa does a phenomenal job of writing ensemble casts, like she did in the Lunar Chronicles, and she does so again in this series. She has a way of writing multiple characters who are all unique and genuine and standalone and I think that's a rare quality in a writer and I love it. I love superheroes and antiheroes and I love that you can't quite figure out who is good and who is bad and what is right or wrong in this book – its hard to figure out who to root for! Marissa is going to be in LA for the release of this book and I'm super hoping to see her and say hello again – she's such a brilliant author and I always enjoy seeing her!
*******************
Support us on Patreon for only $1 a month to gain access to monthly exclusive interviews, ARC and signed book giveaways, reviews for books I DIDN'T like and more by following the link here.