This week's Waiting on Wednesday is a novel that I'm still working my butt off to get an ARC of because I am SO insanely excited about – Sky Without Stars by Jessica Brody and Joanne Rendell. Just picture it now  – Les Miserables in SPACE. I know, I'm sold too. Honestly, the novel sounds incredible and Jessica is a great writer and I can't wait to get my hands on that book. AND THAT COVER!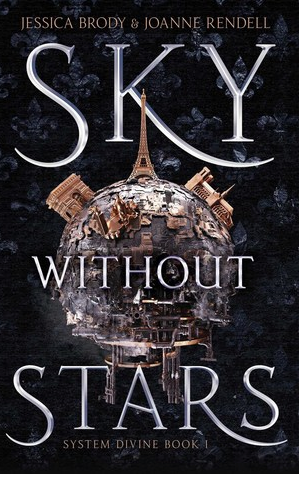 Title: Sky Without Stars
Author: Jessica Brody and Joanne Rendell – Jessica's Website / Joanne's Website
Published By: Simon Pulse
Publishing Date: March 26th, 2019
Pages: 624 pages
Genre: Young Adult, Science Fiction
Summary:
A thief. An officer. A guardian.
Three strangers, one shared destiny . . .
When the Last Days came, the planet of Laterre promised hope. A new life for a wealthy French family and their descendants. But five hundred years later, it's now a place where an extravagant elite class reigns supreme; where the clouds hide the stars and the poor starve in the streets; where a rebel group, long thought dead, is resurfacing.
Whispers of revolution have begun—a revolution that hinges on three unlikely heroes…
Chatine is a street-savvy thief who will do anything to escape the brutal Regime, including spy on Marcellus, the grandson of the most powerful man on the planet.
Marcellus is an officer—and the son of a renowned traitor. In training to take command of the military, Marcellus begins to doubt the government he's vowed to serve when his father dies and leaves behind a cryptic message that only one person can read: a girl named Alouette.
Alouette is living in an underground refuge, where she guards and protects the last surviving library on the planet. But a shocking murder will bring Alouette to the surface for the first time in twelve years…and plunge Laterre into chaos.
All three have a role to play in a dangerous game of revolution—and together they will shape the future of a planet.
Power, romance, and destiny collide in this sweeping reimagining of Victor Hugo's masterpiece, Les Misérables.
PreOrder Links:
Amazon / Barnes and Noble / Book Depository / iTunes / Kobo / GooglePlay
Why I'm Waiting:
Its been some time since we've had some new speculative fiction from Jessica Brody – the last being Unchanged back in 2015. Since then, we've gotten SO many great contemporary novels but I'm really excited to get more Jessica in the science fiction world and to get a taste of her writing with a cowriter! I super admire anyone who cowrites a book with someone and its always done so well and I can't wait to read what these two come up with and…to make it even more fun…its a twist on Les Mis in SPACE. I don't know if you've noticed – you've probably noticed – but I adore science fiction retellings – look at my obsession with the Lunar Chronicles. I honestly think that Les Mis has a great group of characters and that this book is doing to do a great job giving their story a new and fresh take. Plus I love anything by Jessica and I love science fiction and this cover is so beautiful. Is it wrong that a part of the reason I want this book so much is for the gorgeous cover? Well, if it is, I don't want to be right.
*******************
Support us on Patreon for only $1 a month to gain access to monthly exclusive interviews, ARC and signed book giveaways, reviews for books I DIDN'T like and more by following the link here.